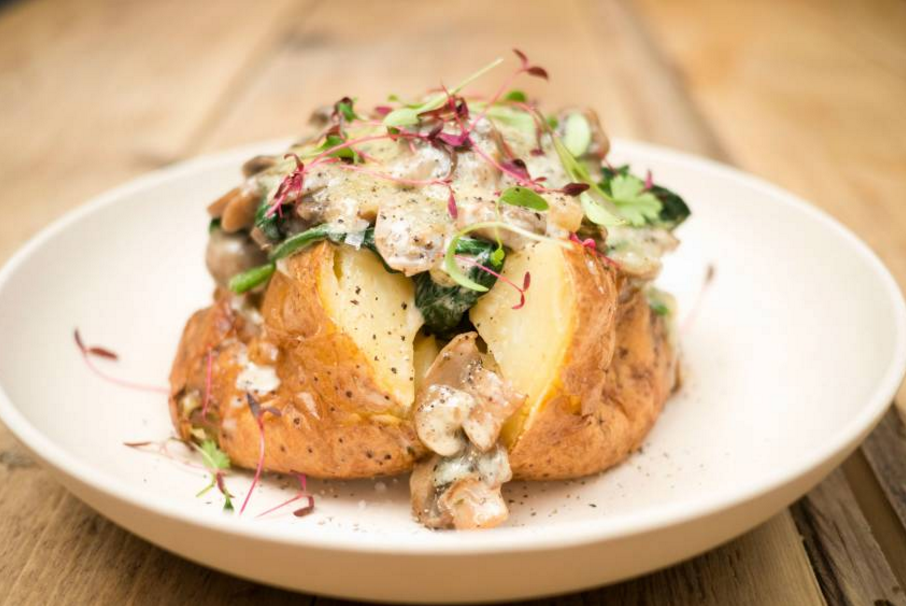 If you grew up in the UK or have lived here for some time, you'll be familiar with jacket potatoes and have probably eaten a fair few over the years. As they require very little effort to prepare and execute well, they're ideal for quick meals on the go, and can be adapted to please meat eaters, vegetarians and vegans alike. A humble potato groaning under the weight of butter, grated Cheddar and baked beans became one of my staple meals at university, which explains why I've barely touched one since I graduated. However, as balmy evenings give way to dark, cold and bitingly windy ones, I gladly accepted an invitation to sample The Potato Project's new autumn menu as it was time to put the potato back on my personal food map.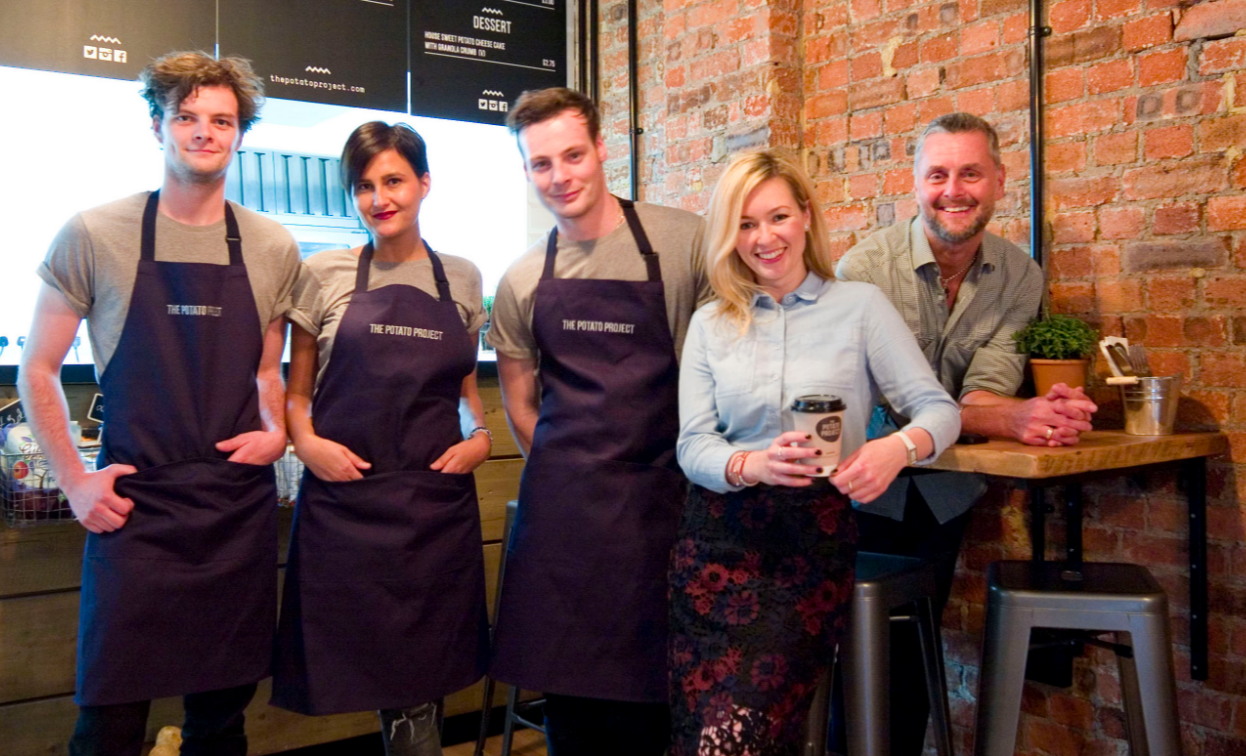 Russian founder Ksenia Karpenko's route to Soho took a little detour via Italian restaurant Four to Eight in Covent Garden and Moscow-based wine bar Wine Religion where she worked as a sommelier and consultant respectively. She and her business partner had originally wanted to convert the Noel Street location into a wine bar, but the site was unfortunately too small. Undeterred by this minor setback, they changed tack and decided to launch a street food concept. Having spotted a gap in the market for top quality spuds, which happened to be a mutual favourite, they launched in late 2015. They meant to rename the site shortly before opening the doors to the public, but the working project name somehow stuck.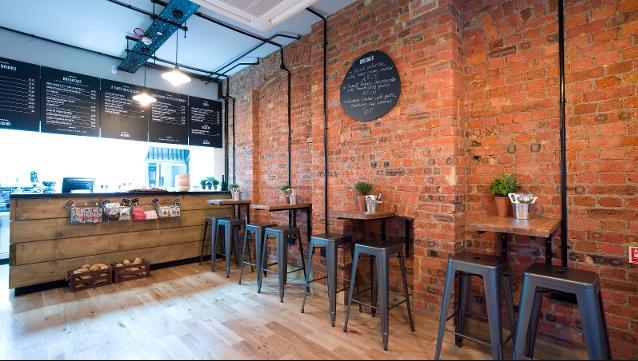 Ambience and décor: The kitchen is at ground floor level and looks out onto the café. Jacket potatoes are an informal eat and this is reflected in the simple yet welcoming setting. Time-poor diners can comfortably perch on one of these stools and get a quick people-watching fix while they fill their bellies. If, however, you're in the mood to linger, there's a large wooden table downstairs where you can pull up a pew and slowly pick apart your potato in peace.
Service: Ksenia and her team are incredibly friendly and eager to share their love of the humble potato and how it can be dressed up or down. After she briefed us on the back story, we heard about regular customers who order the same meal every day and finally agreed to be more adventurous one day of the week at her insistence. The project was partially successful as the clients are still following the schedule, but can't wait to get back to their usual routines.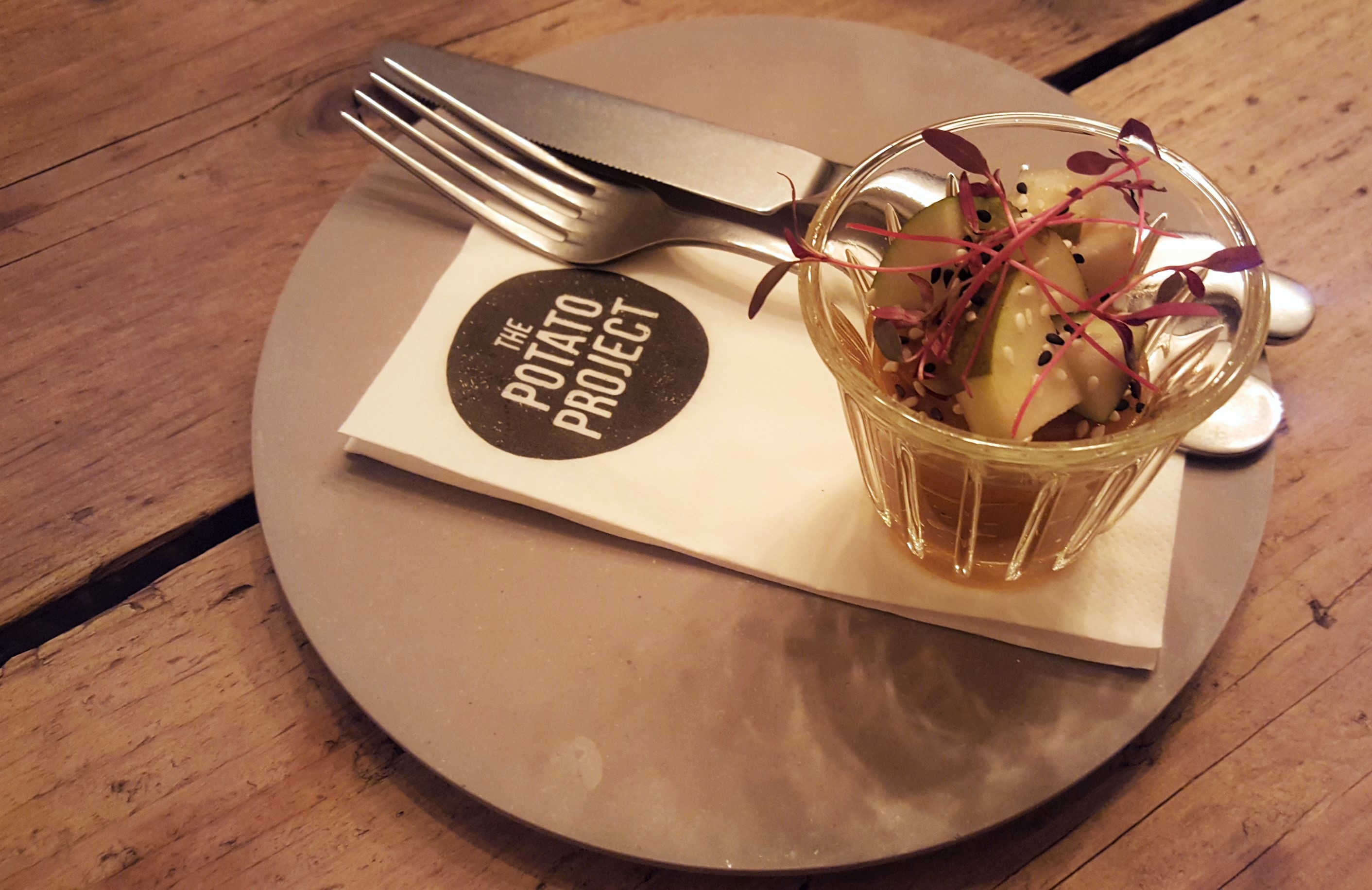 Food and drink: Dinner got underway with a sweet potato hummus topped with cubed pear (£2.00). It was a pretty portion of food, and the overall flavour wasn't overly sweet, although the smooth texture of the hummus was reminiscent of baby food.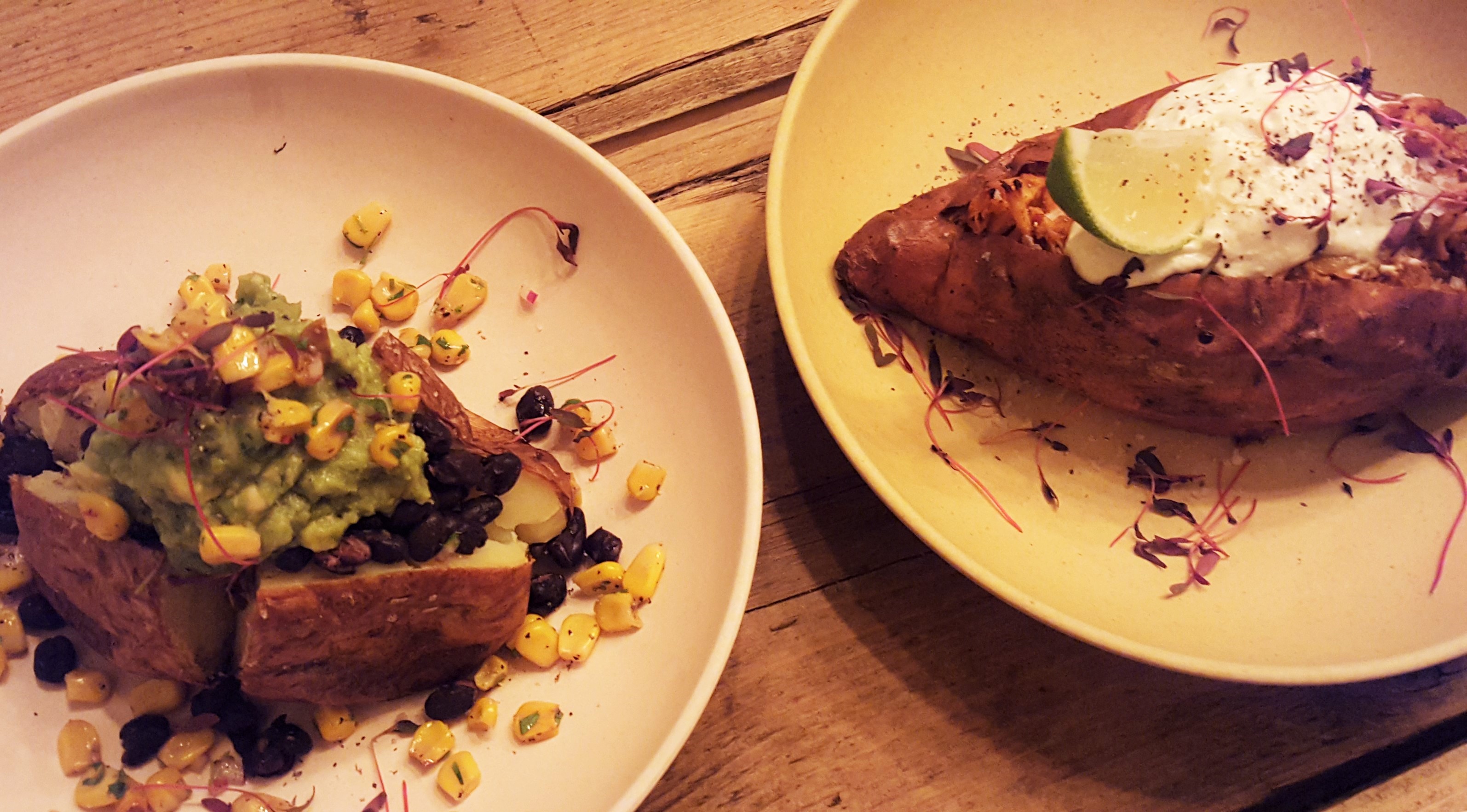 The menu is divided into two sections: "A twist on a classic" and "Something a little different."  From the former, we tried tuna mayonnaise, roasted corn and pickled red onion (£5.55). Tinned tuna has only recently found its way back into my good books and this version enhanced its status. The soft filling contrasted well with the crispy potato skin and slightly charred corn, with the red onion cutting through the pleasantries with its acidic kick. As for the main event, the potato was spot on for me: cooked through yet slightly firm.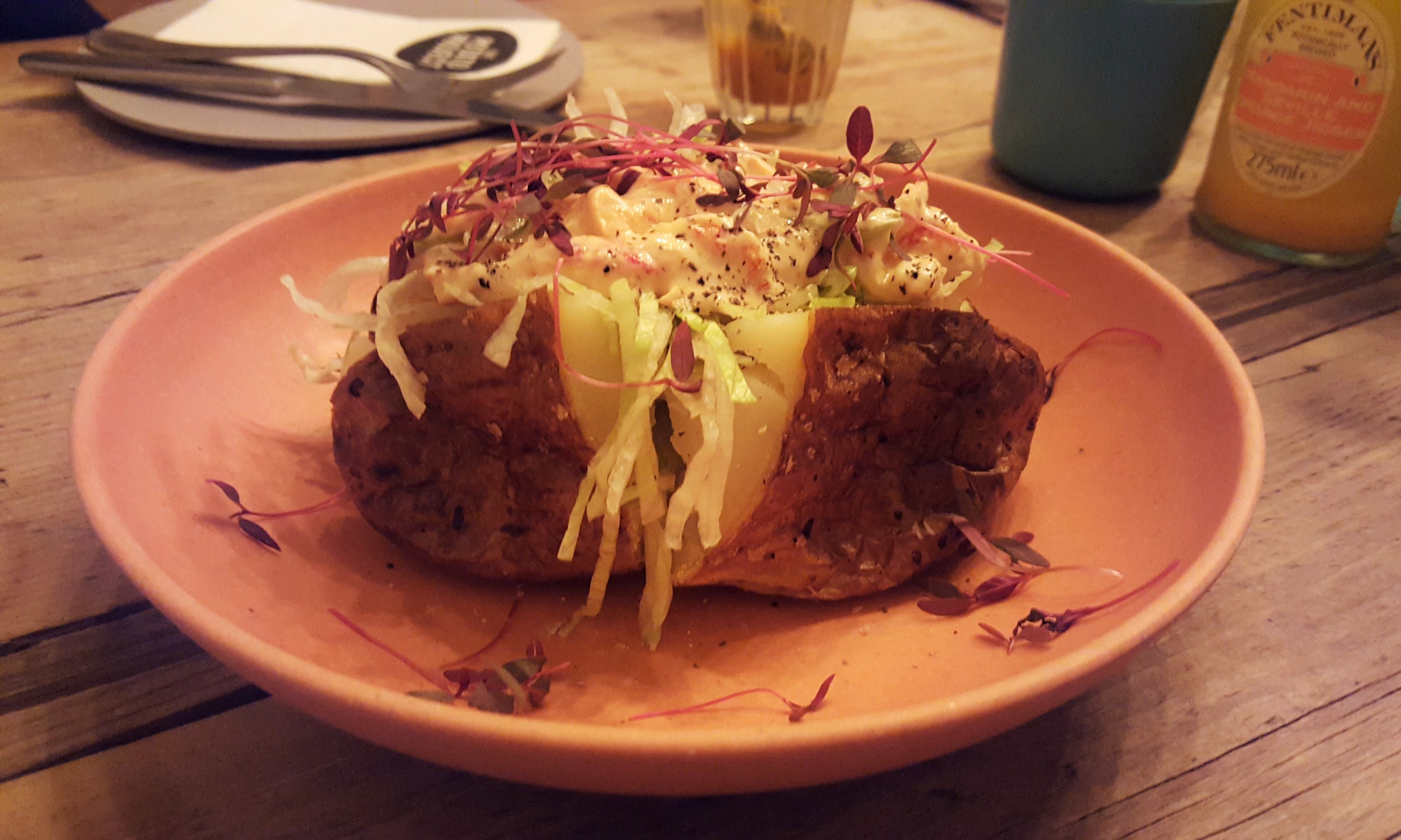 We then moved onto the autumnal newbies, starting with Bloody Mary rose crayfish and iceberg (£5.95). I'm on the fence when it comes to this crustacean and was still firmly planted on it after a few bites of this. The topping was pleasant enough, but not particularly memorable, and it certainly wouldn't be my first choice.
Sweet Potato, Chipotle Braised Lamb, Lime, Mint and Spicy Cranberry Salsa (£6.65): A mouthful on the page and plate, this was the unanimous winner. I was sceptical about this sweet and savoury partnership, especially nestled in a sweet potato, but the risk has definitely paid off. The tender meat, velvety potato and fruity salsa blended into a rich mush, which narrowly avoided purée territory thanks to the tiny cranberry chunks.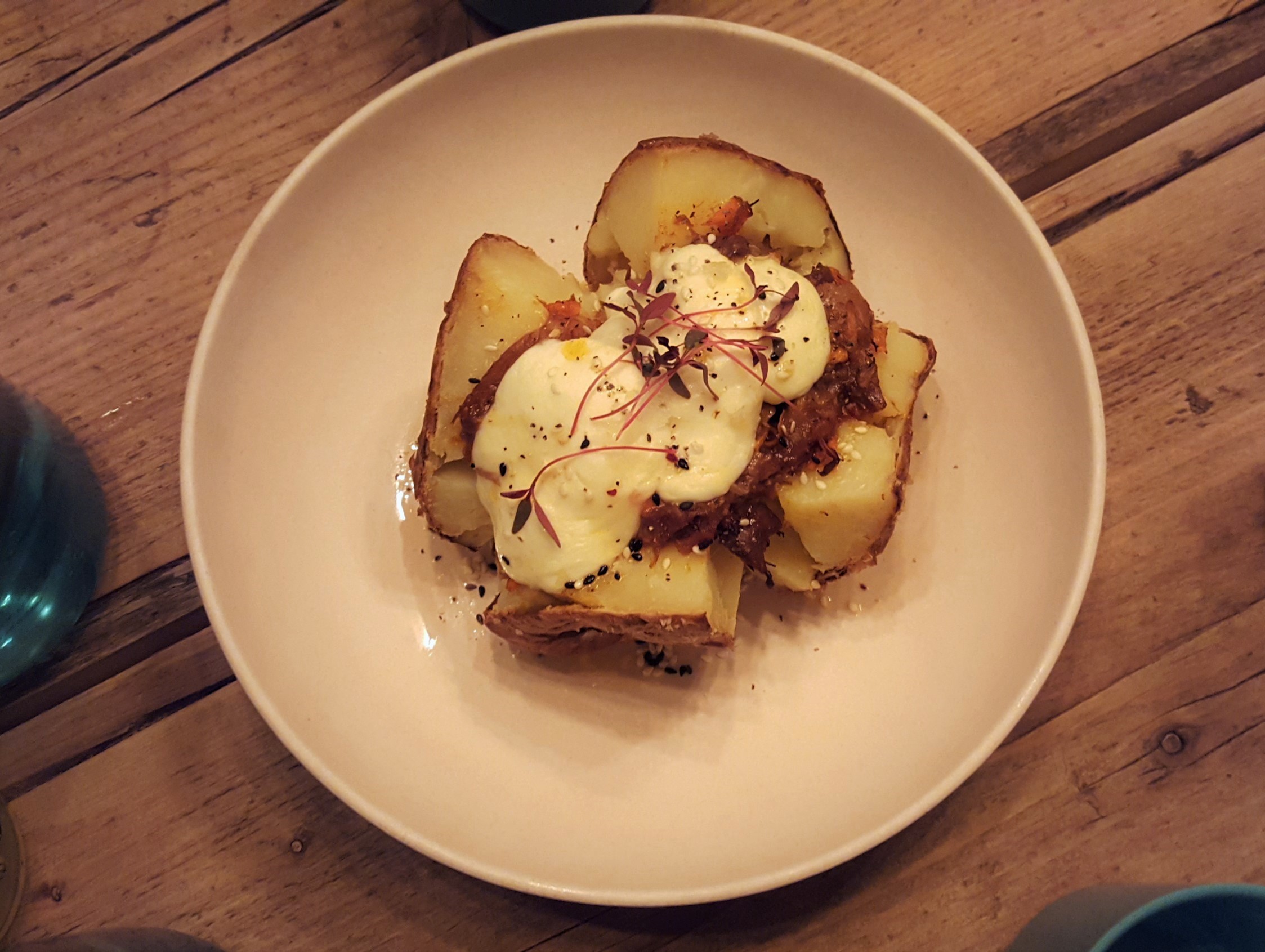 Pulled BBQ duck, mozzarella and sesame seeds (£6.65): The second meat offering wasn't quite to my liking. I loved the dream team that is fluffy potato and thin strips of meat, which were getting on like a house on fire until the cheese turned up and put it out.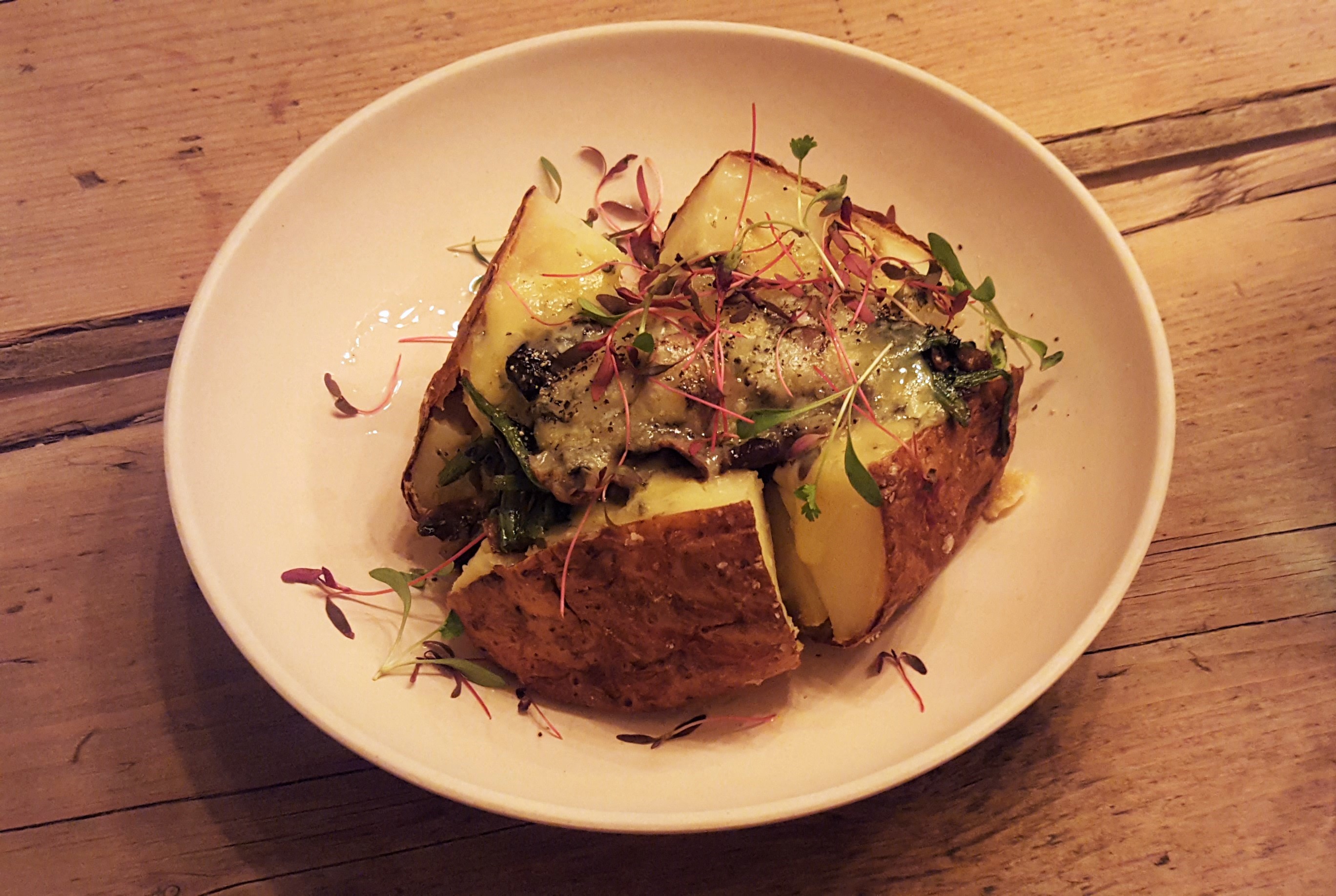 Autumn wild mushrooms, spinach, blue cheese and truffle oil (£6.20): I can't be the only person who's a tad obsessed with truffle oil, especially when it's paired with earthy flavours such as mushrooms. Like national favourite fish and chips, all of these ingredients are a match made in heaven, even the blue cheese, which discreetly turns up to the party instead of gate-crashing and trashing it.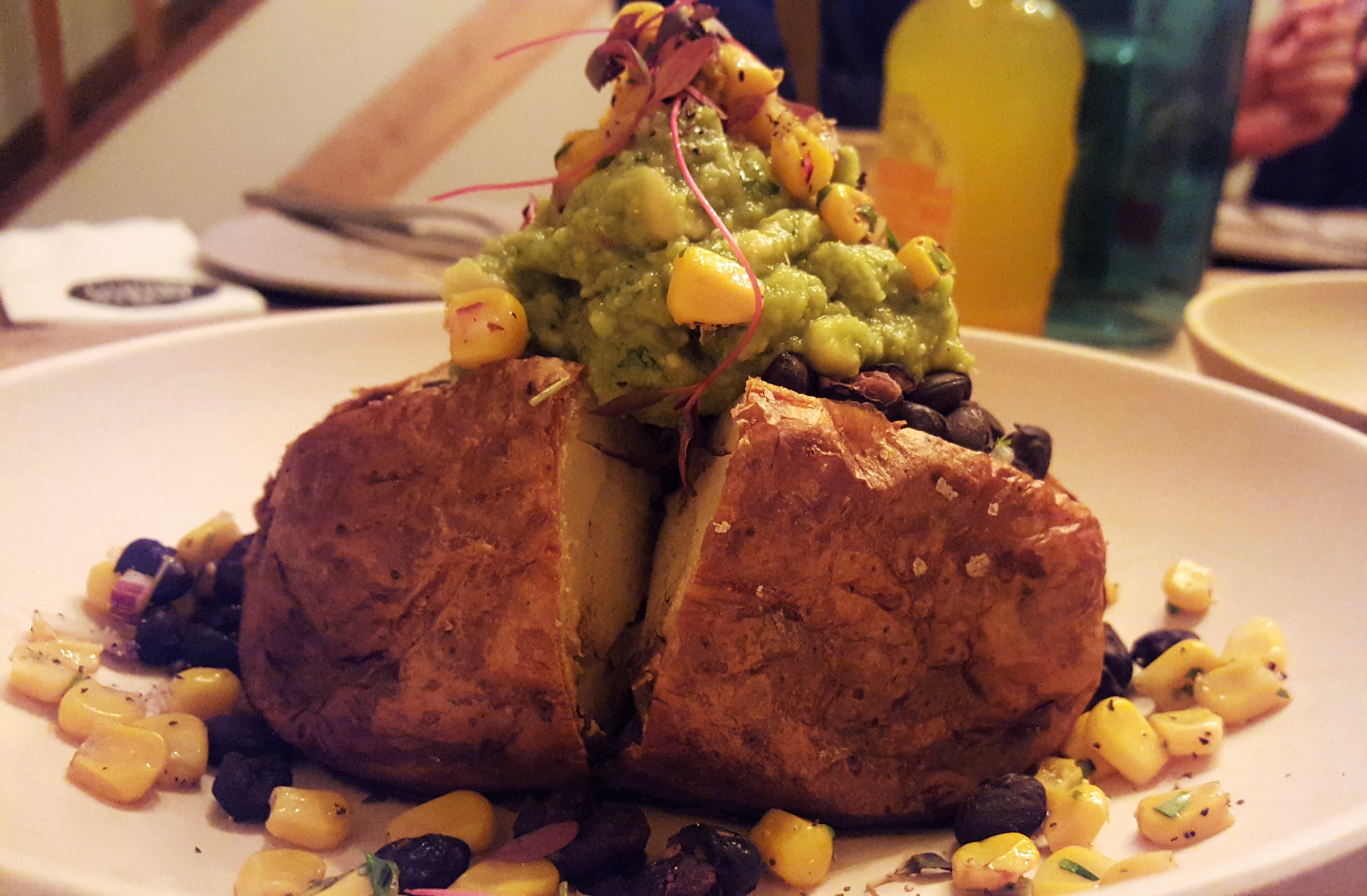 Black Beans, Lime Guacamole & Corn Salsa (£5.80): Of the various vegan-friendly options available, we tried this colourful creation, which I'd happily order on my next visit. The mountainous topping, some of which tumbles down to decorate the plate, is a refreshing alternative to the usual baked beans and feels like a healthy yet indulgent dish.
As a general note, I found the standard potato dishes to be on the dry side; an extra spoon of filling would easily rectify this. No such issues with the sweet potato options, which were perfectly delectable as they were. The kitchen is happy to mix and match as you please, so you can have any topping on any base, or start from scratch with your own combinations. Desserts are intentionally simple; after a carb-heavy meal, a small sorbet or ice cream is probably the only thing you'll have space for.
Verdict: There are a whole host of reasons why I miss working in Soho and being spoilt for choice food-wise is one of them. The Potato Project would be a go-to if I wanted something tasty, comforting, varied and reasonably priced. Eat in or out, and if you prefer the latter, the takeaway boxes conveniently open out flat so you easily dig in whether you're dining al fresco in the summer or al desko in the winter. The team are celebrating their one-year anniversary by opening a second site in BOXPARK Croydon, so expect more deliciously weird and wonderful things very soon.
Disclaimer: My dinner was complimentary, but all views and photos are my own unless otherwise stated.
Links: The Potato Project, Four to Eight, Wine Religion, BOXPARK Croydon