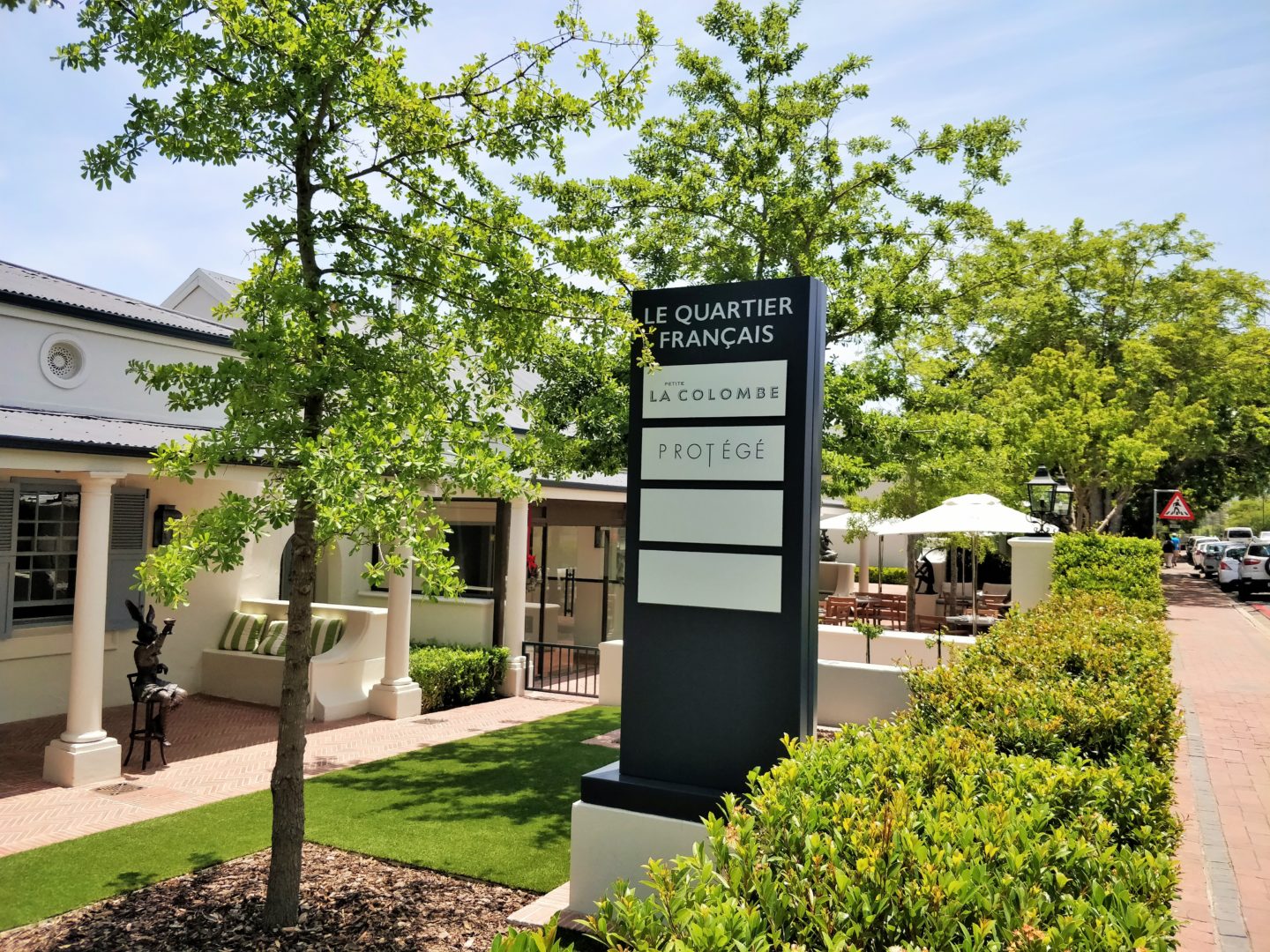 The last time I ate at Le Quartier Français in Franschhoek, South Africa, was at Margot Janse's Tasting Room. Credited with introducing tasting menus to the country, the Dutch head chef regaled countless diners, including myself, with her innovative dishes during two decades at the helm. When we returned to Franschooek for the day in 2018 (the year isn't a typo and this review is overdue; life has thrown us a few IVF-shaped distractions since then), time was tight and so the plan was to walk past, reminisce about one of our most memorable culinary and hotel experiences and head to the Village Market for a light bite.
But sometimes, plans change. The Tasting Room has moved out of the Leeu Collection hotel and La Petite Colombe and Protégé have moved in. The former was familiar as we had eaten at the original restaurant in Constantia a few days earlier, but the latter was somewhat of a wildcard. We were intrigued and hungry, which is enough to derail most plans.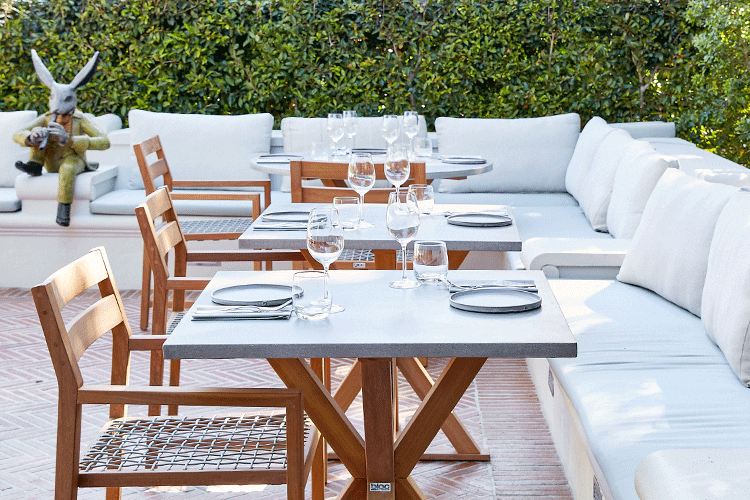 As far as oxymorons go, "casual fine dining" has to be one of the best examples. Everyone seems to have their own interpretation, with the Protégé version translating to an open kitchen, bare wooden tables and a small plates menu featuring local seasonal produce. So far, so on trend. But before you dismiss this newbie for ticking all the boxes, the restaurant also has another aim: to give young chefs a platform to showcase their talents and the opportunity to run a kitchen. Led by head chef Jess van Dyk (previously Stephen Raaff), Protégé is an experience to be embraced.
We love to scoff at small plates and the sharing concept, but there are times when it feels like the most perfect solution. As we slid into our seats on the shaded terrace to shield ourselves from the scorching South African sun, we wanted to sate our appetites without approaching food coma territory, so the fish options immediately leapt off the page.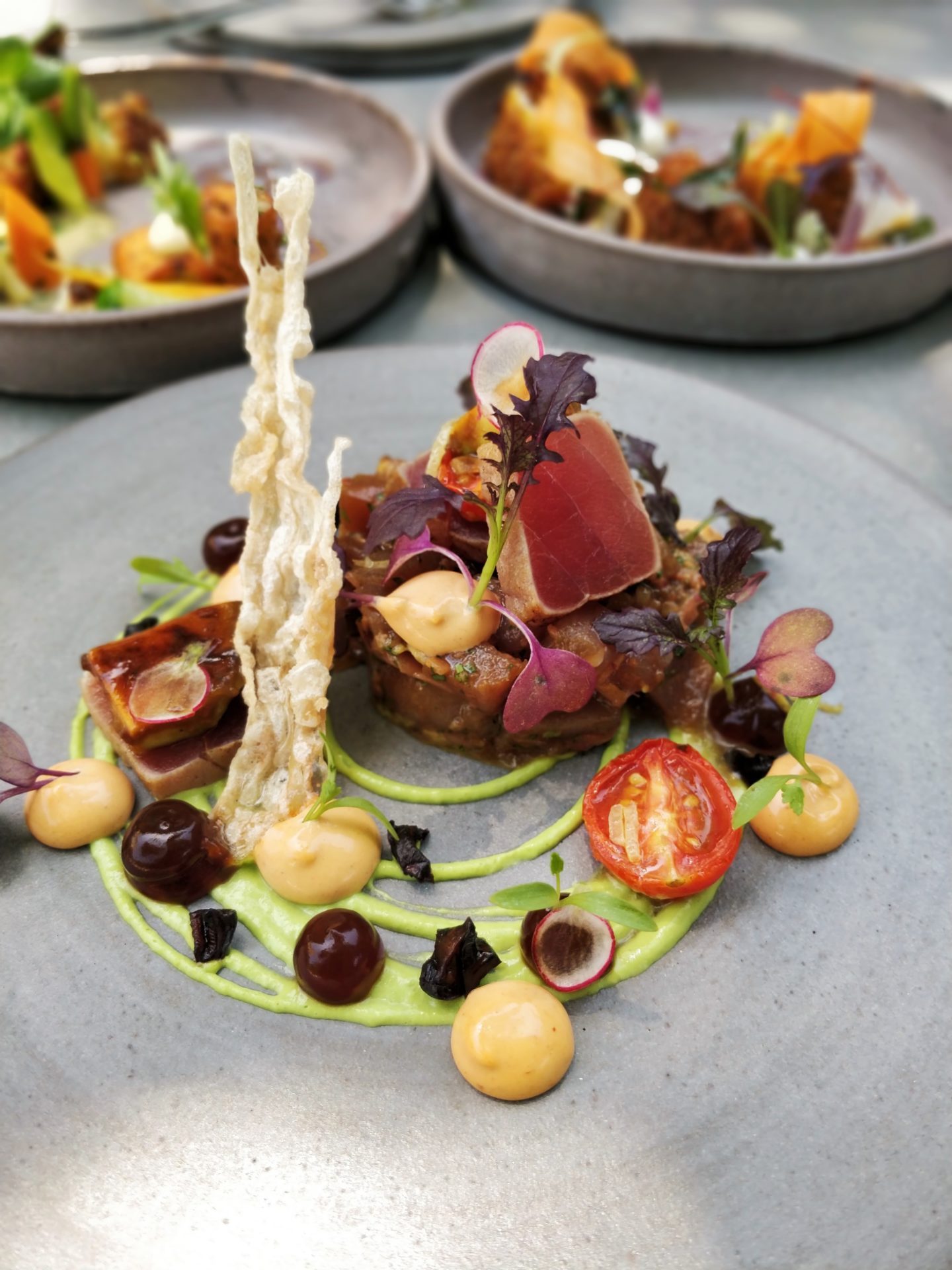 Beautifully presented, tuna tataki and tartare was reminiscent of the solar system: the semi-spherical cherry tomatoes, dollops of chipotle mayo and domes of jelly orbiting the chopped circle of fish on which a sliced square of tuna showed off its deep pink flesh. Standing tall among them was the space rocket-like pork crackling. Such a spectacular dish, with masses of style and substance.
Kerala-style fried line fish was a simpler affair, but no less satisfying: gently spiced fish encased in a thin crispy coating surrounded by snow-white labneh, cucumber and pickles, with carrot ribbons adding colour and crunch.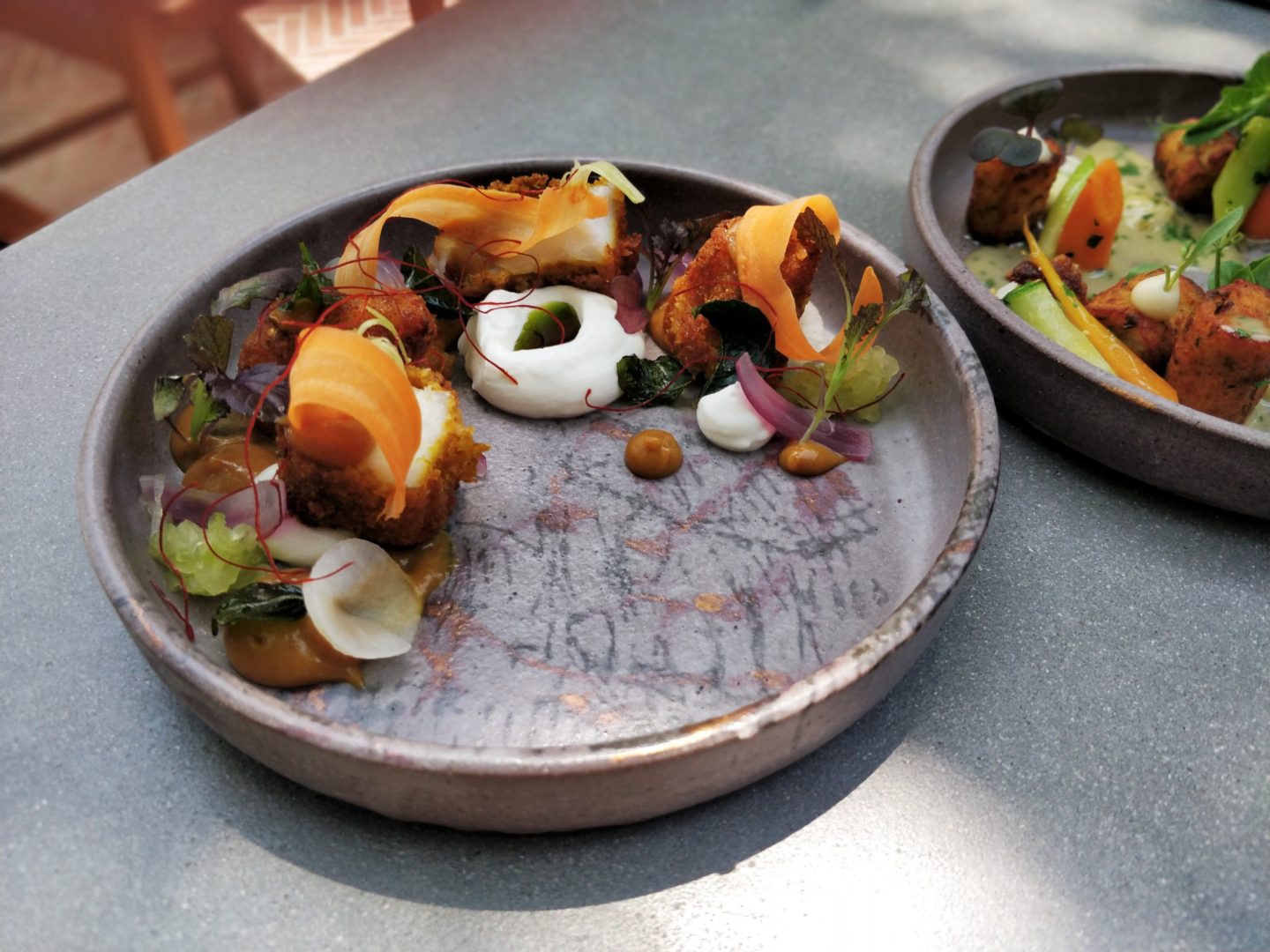 Our final source of protein came in the form of Korean Fried Chicken. Until around 2016, I had a longstanding aversion to eating meat off the bone, especially when covered in a sticky sauce which had the potential to make your hands, mouth and clothes a dirty, embarrassing mess. Shackfuyu's chicken wings slapped this silliness out of me, turning me into a KFC convert after the first few mouthfuls. In the Protégé interpretation of this Korean classic, the tender sweet and spicy chicken was served with a coriander sauce which instantly conjured up fond memories of my mum's chutney.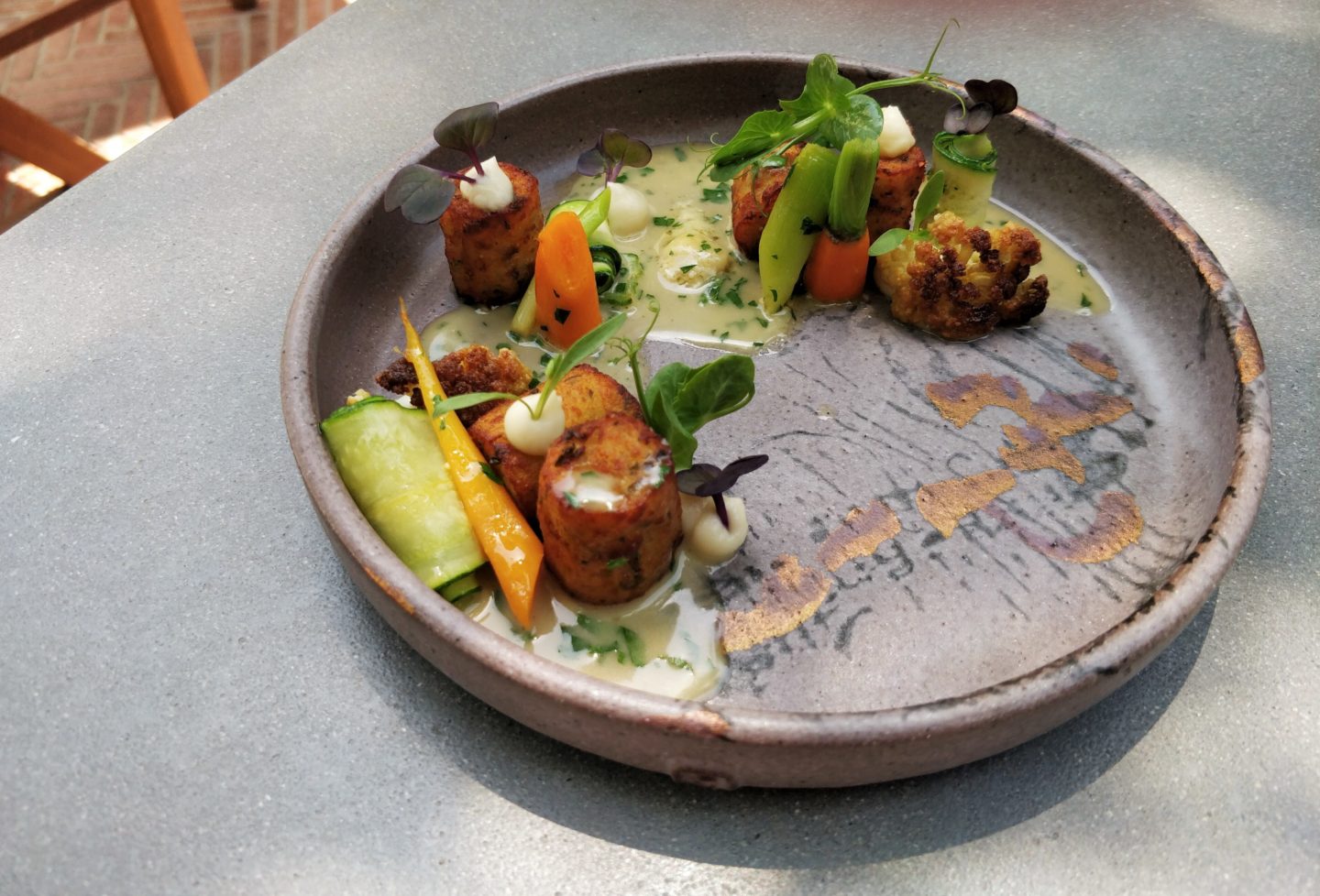 I struggle to resist the call of gnocchi on a menu, so the potato gnocchi was a must. The carby cubes were plated up with seasonal vegetables (carrots, courgette rolls and cauliflower) in a Gorgonzola sauce. The cheese could've easily dominated the dish in less skilled hands, but instead added a tiny touch of richness.
Rounding off our Franschhoek food journey was the chocolate and peanut butter terrine. I've had plenty of conversations recently about my death row meal choices and there would undoubtedly be a version of this dessert to send me off in suitable culinary style. It was chocolatey, rich, smooth with the occasional crunchiness, nutty and visually appealing – what more could you want? It was a tough one to share, but Chef Savla and I are still married, so no irreparable damage was done.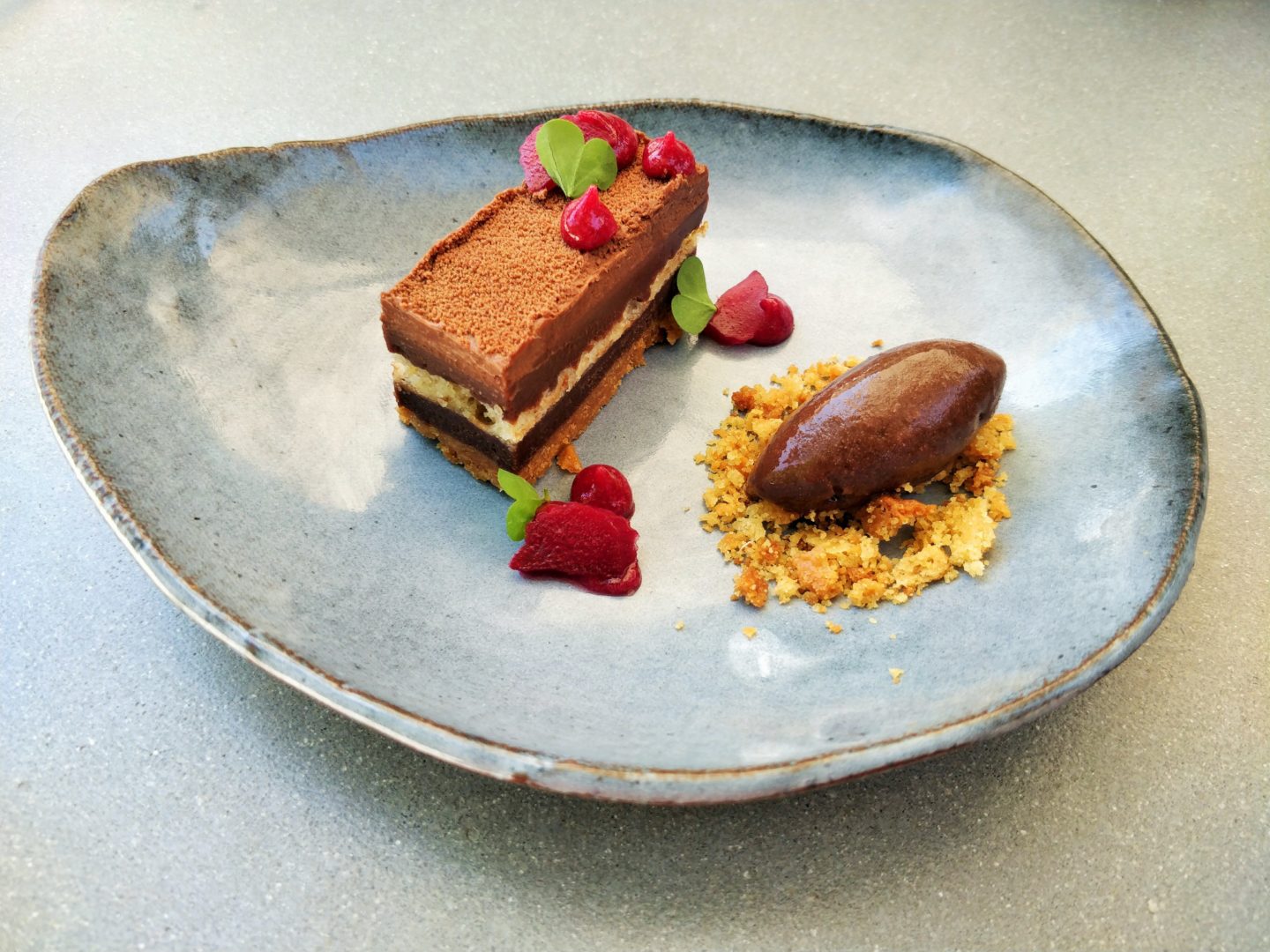 When you're a born planner, the thought of changing course midway, or worse, winging it, is quite daunting; all the 'what ifs' start swirling around in your head and you end up with decision paralysis. While spontaneity seems reckless and unachievable, I've learned to appreciate the unexpected joys that can stem from straying from your plans. Of course, abandoning prior arrangements could equally lead to disaster, but that's part of the excitement. In this instance, our gamble paid off and we strolled back out into the sunshine with happy bellies and hearts.
All words and images are my own, unless otherwise stated, and therefore remain the trademark of www.savlafaire.com
LINKS
Protégé, Le Quartier Français, Stephen Raaff interview, Shackfuyu review, Me, Myself and IVF, Third Time Unlucky (IVF update)
PIN FOR LATER