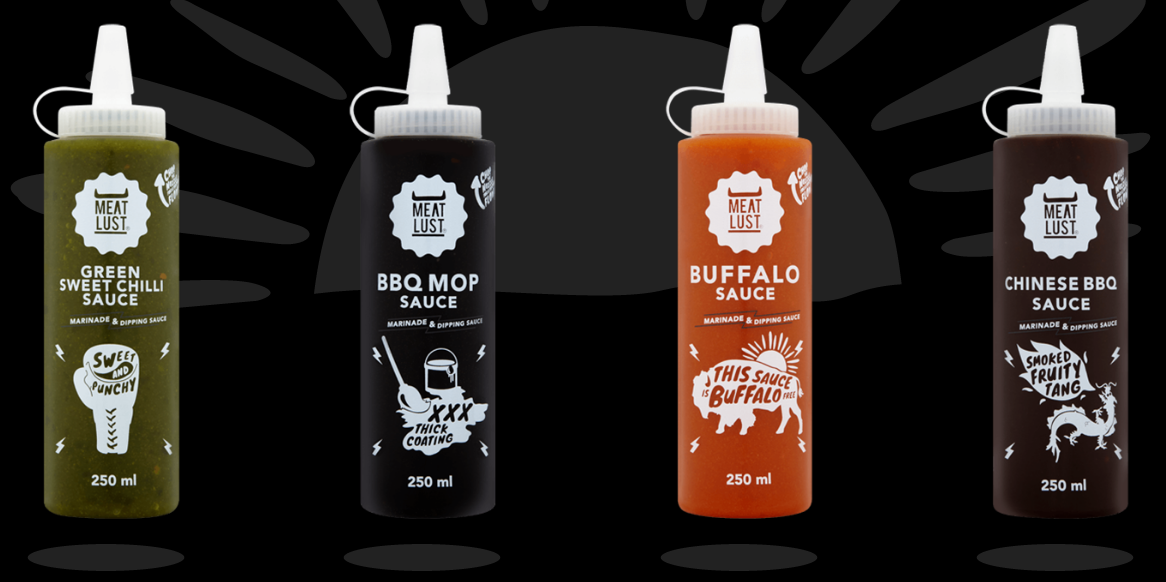 There comes a time in all relationships where routine kicks in and déjà vu can become the norm. Although you still enjoy this familiarity, you occasionally crave something exciting to get your pulse racing. I've haven't exactly tired of eating out in London, but was on the hunt for a quirky experience to shake things up.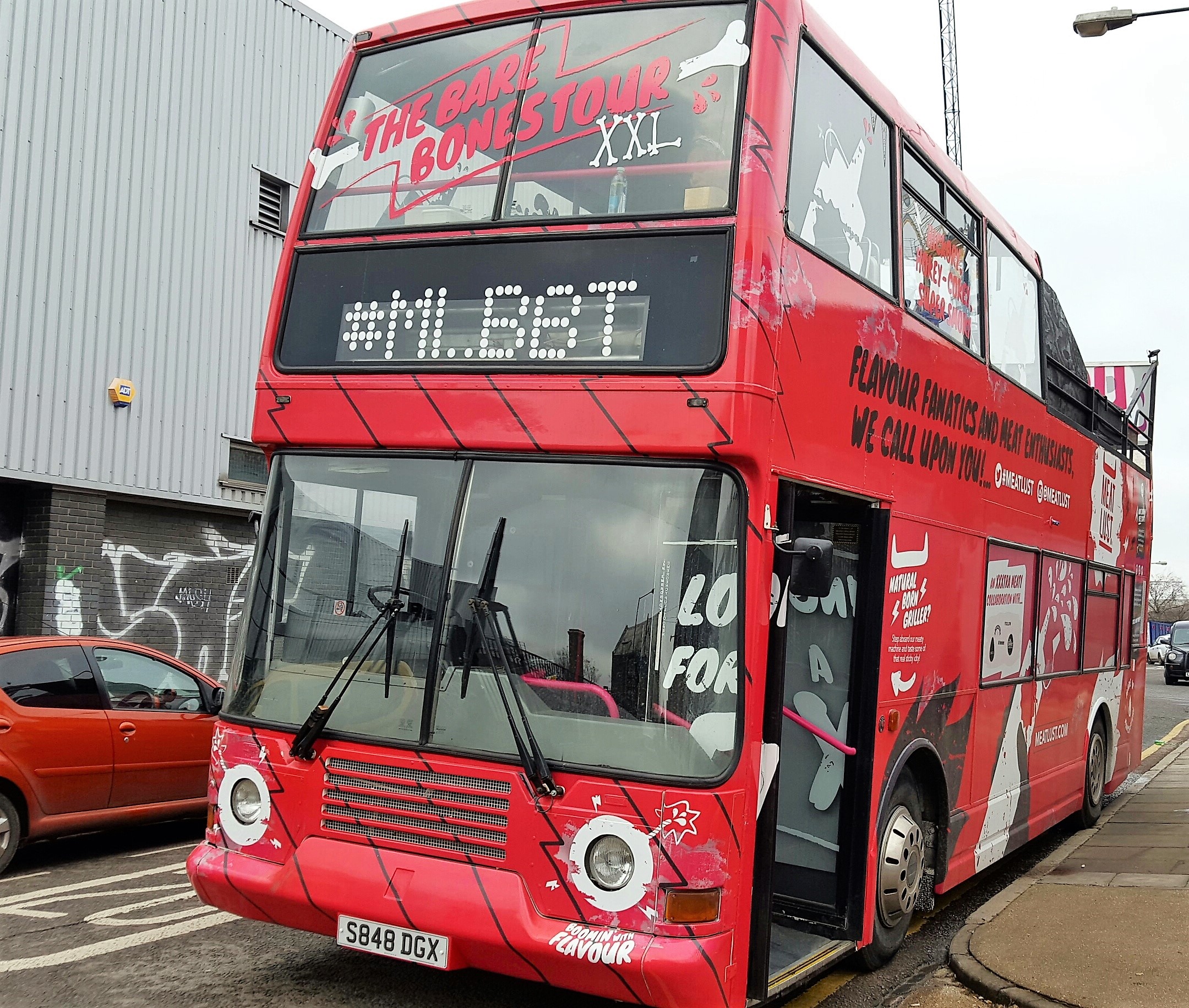 Enter Meat Lust's (ML) Bare Bones Tour. Specialising in sauces to be paired with meat and promising "thug flavours that punch hard and don't apologise", the team recently launched their first event…on a double-decker bus. But this wasn't just any bus: not only had it had a Pimp My Ride-style makeover, ML had installed a bar and Primo BBQ on board. I was intrigued, and knowing Chef Savla (CS) wouldn't object to a good BBQ, I snapped up two tickets.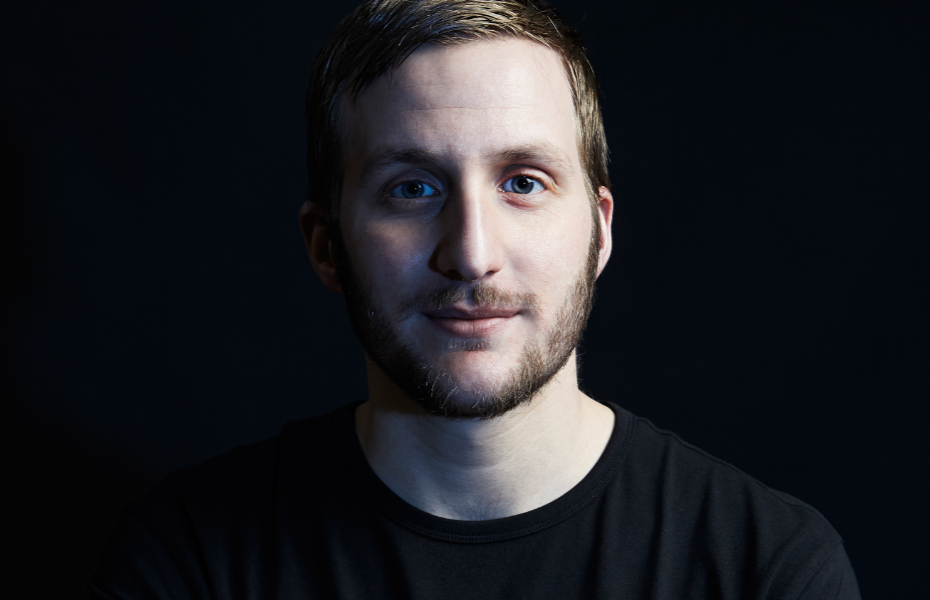 For under £35, we'd be feasting on a carnivore-friendly 10-course menu, five of which would be cooked on the move by Ben Spalding of Roganic, Le Manoir and John Salt fame among others. Ben swapped permanent kitchens for makeshift ones when he founded Puzzle Projects in January 2016, which offers adventurous mobile dining concepts. As for the other five dishes, cue The RibMan, Clutch, Bleecker Burger, Foxlow and The Bowler Meatballs, all stops on the #MLBBT tour.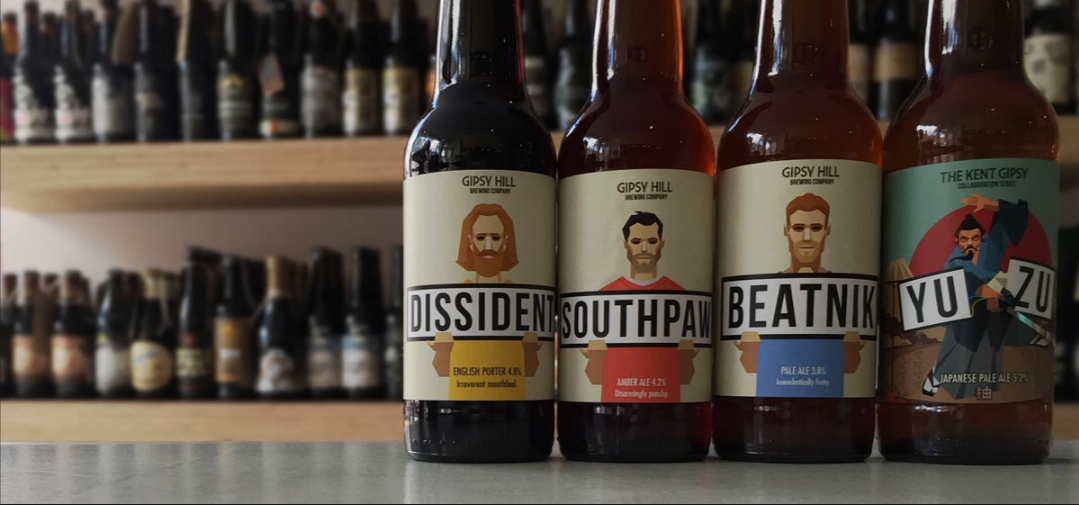 The final collaborator was Gipsy Hill Brewing Company, who'd generously provided four free beers, sadly wasted on us since CS was driving and my heart belongs to red wine.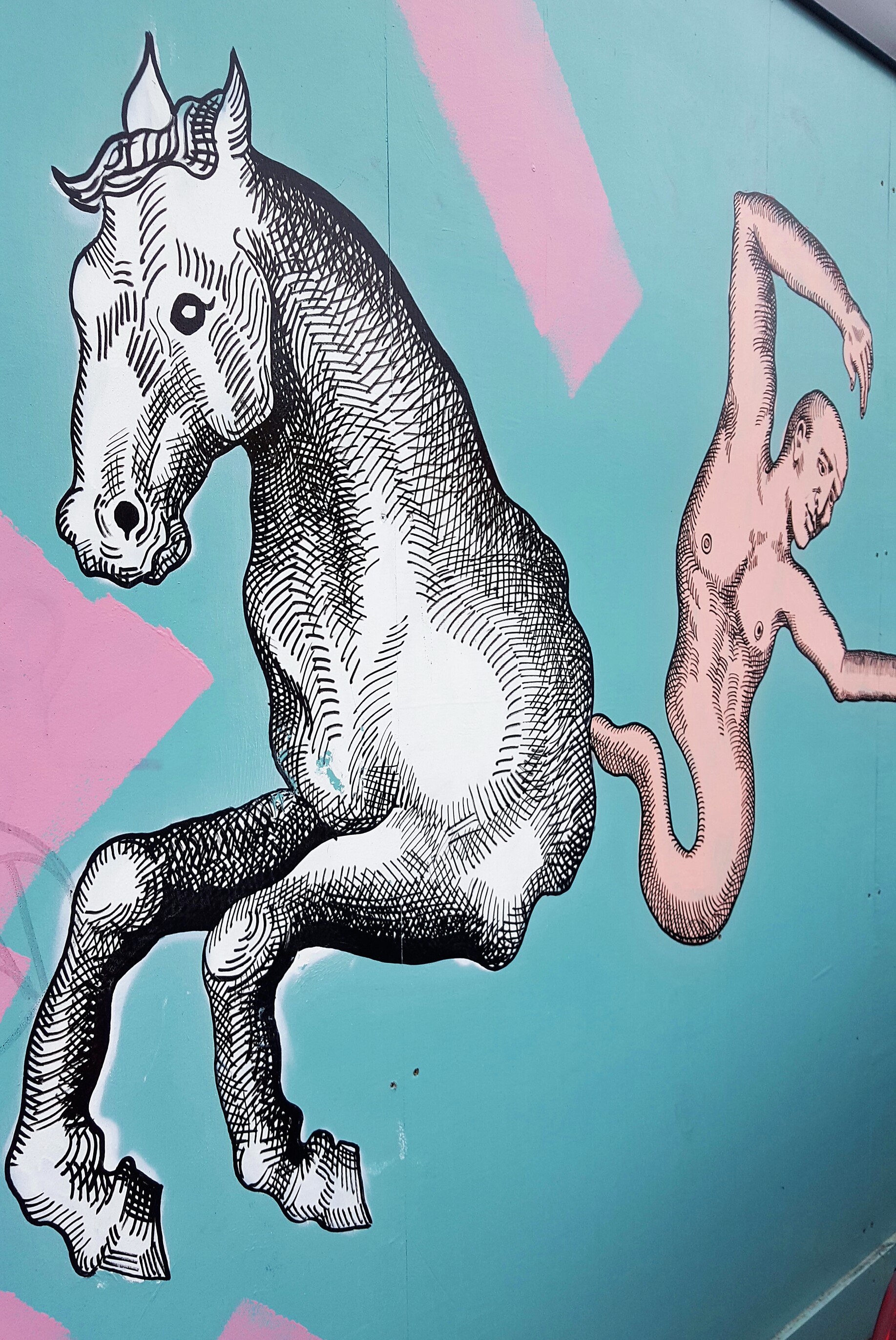 The last time I'd visited Hackney Wick was ten years ago, when I stayed at my cousin's converted warehouse inhabited by artists. Strolling through this area is like being in a contemporary art museum, with almost every wall covered in graffiti. Unfortunately, our surroundings were to remain the same as the bus battery gave up the ghost. Still, onwards and upwards, figuratively speaking, with the first stop conveniently located nearby.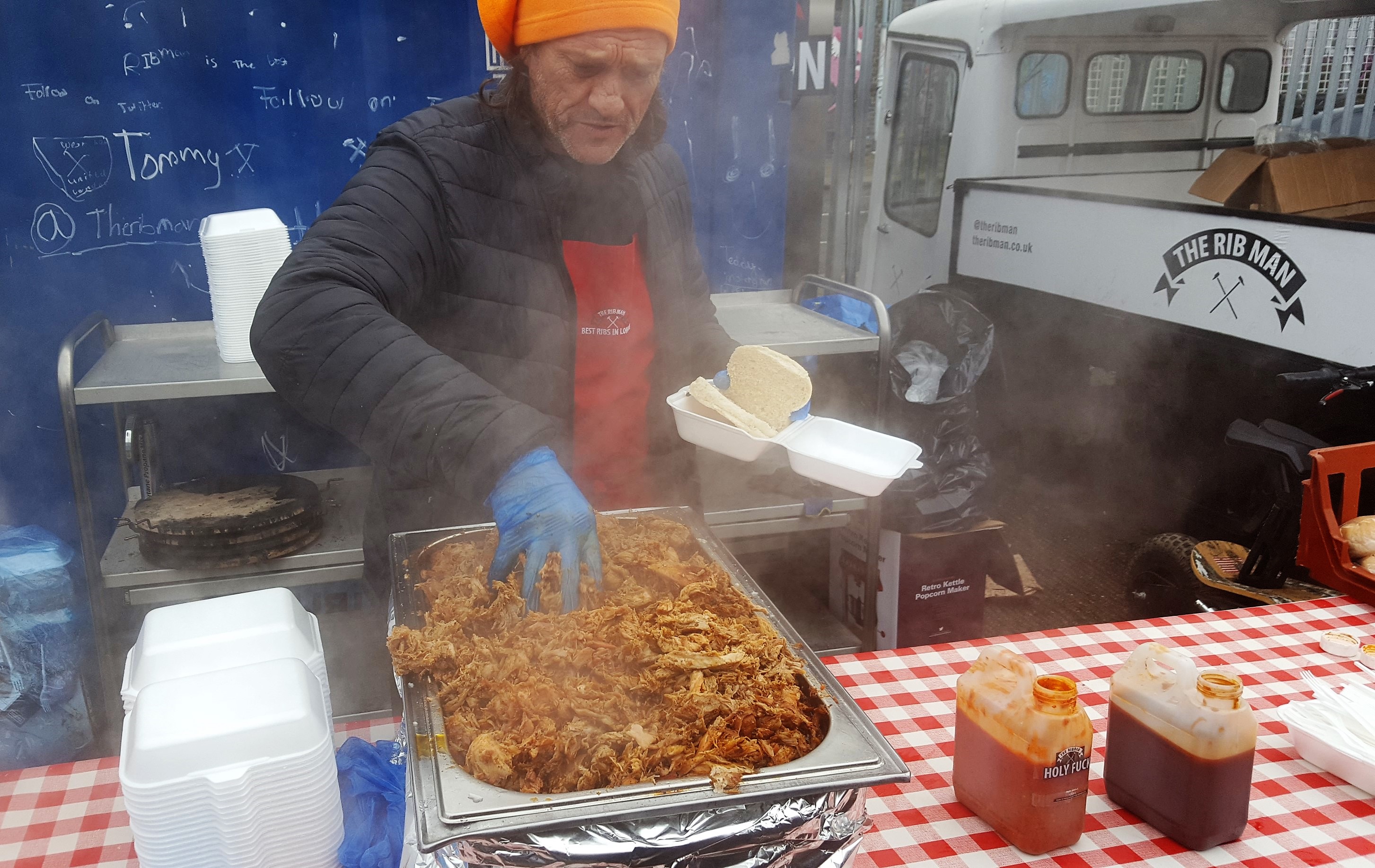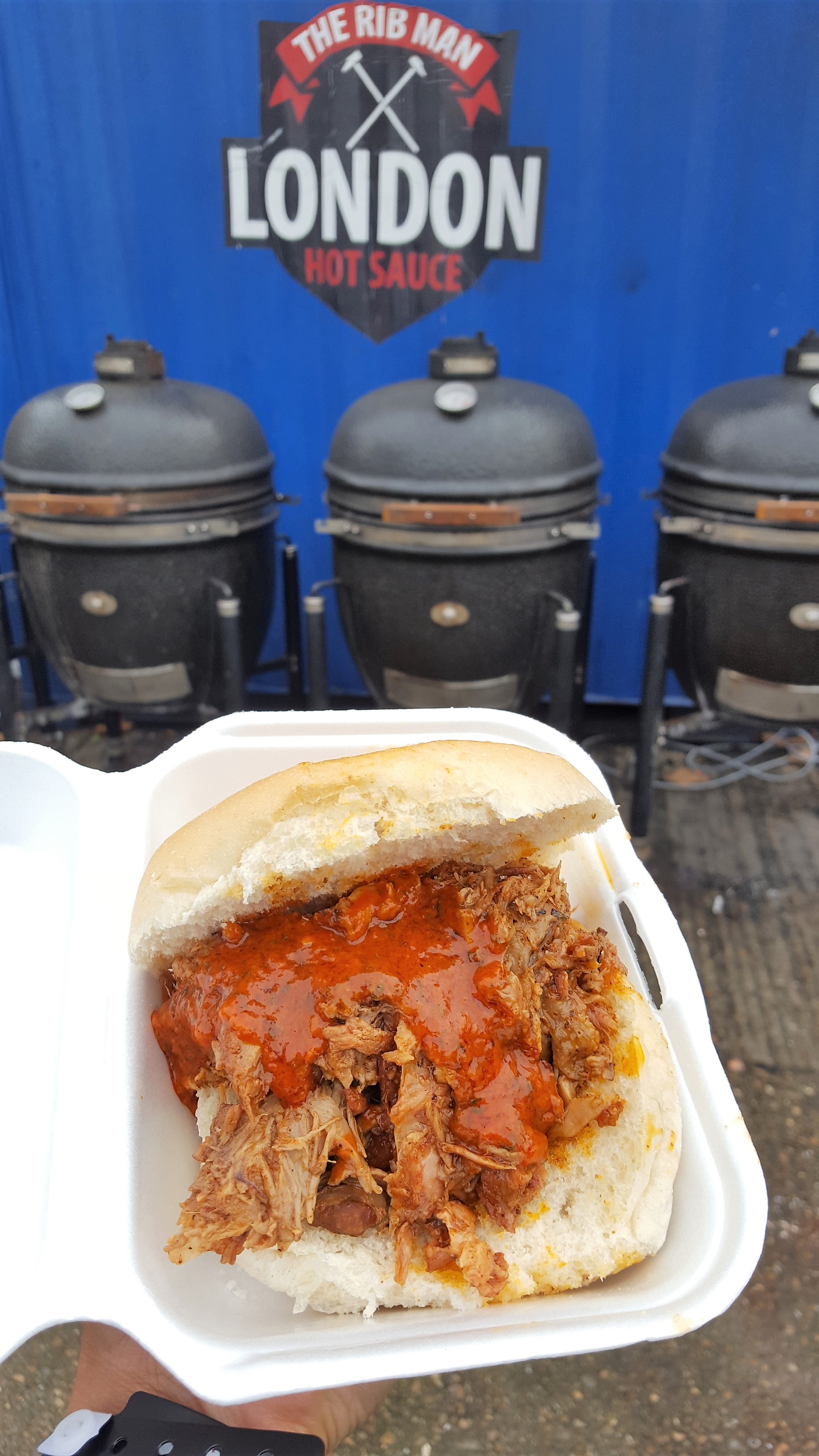 The Ribman is no stranger to West Ham fans, who devour his pork ribs on match days. Hailing from Leicester, married to a Gooner and ambivalent about football, I'm not his typical customer. As CS and I had turned up early, we previewed his infamous "Holy Fuck" sauce; an apt name since that's what I said when I tried it. Dribble it all over a pile of tender, slightly fatty pork and you get a party on your palate. If you like it hot, "Christ on a Bike" and "Holy Mother of God" will rock your world.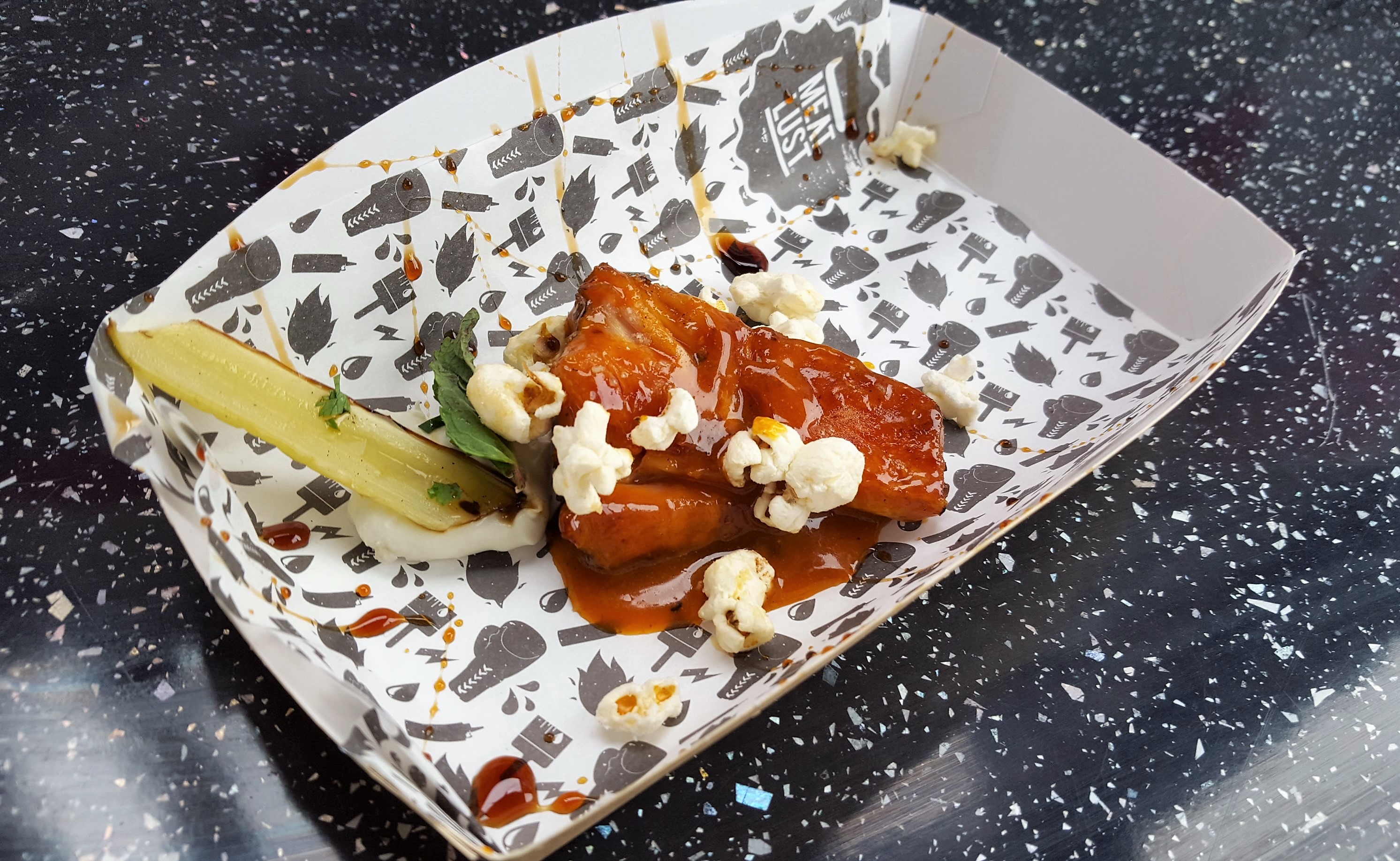 My tongue was on fire, but my fingers were freezing, so we hopped onto the bus to tuck into our first offering from Ben and his team: Chicken vs Turkey. They'd brined, poached and grilled two wings in Buffalo sauce and served it with creamed Saint Agur, grilled celery and blue cheese popcorn. Wings don't make my soul sing as I find them fiddly and messy (despite having eaten curries without cutlery my entire life), but I embraced the experience and was rewarded with sweet, sharp, sticky and smoky goodness. Celery is also my least favourite ingredient and yet I handed back an empty dish.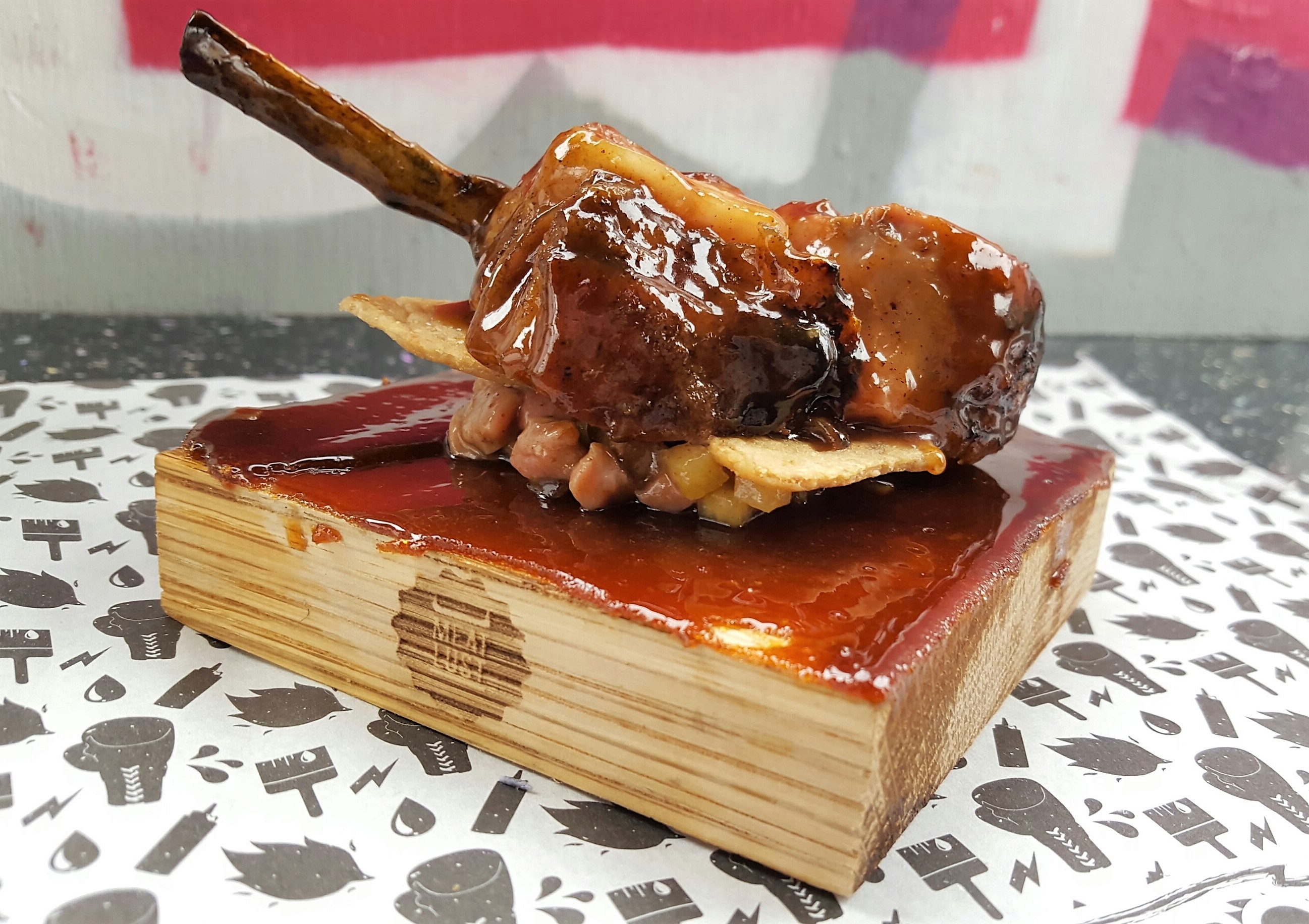 Licking our fingers was a merely warm up for a twist on Ben's signature dish, Chicken on a Brick: New Kid on the Block. How many times have you loved a dish so much you were tempted to lick the plate clean? This faux pas inspired the original creation, and the alternative featured a rack of rare BBQ kid flambéed in a rum jerk sauce. The support acts for the star of the show were kid tartare with tiny cubes of pineapple, crispy chicken skin and goat jelly, slathered over a wooden block. This was textural ecstasy: soft and gentle cooked and raw meat to start, the crescendo of crunchy skin and fat then silky smooth to finish.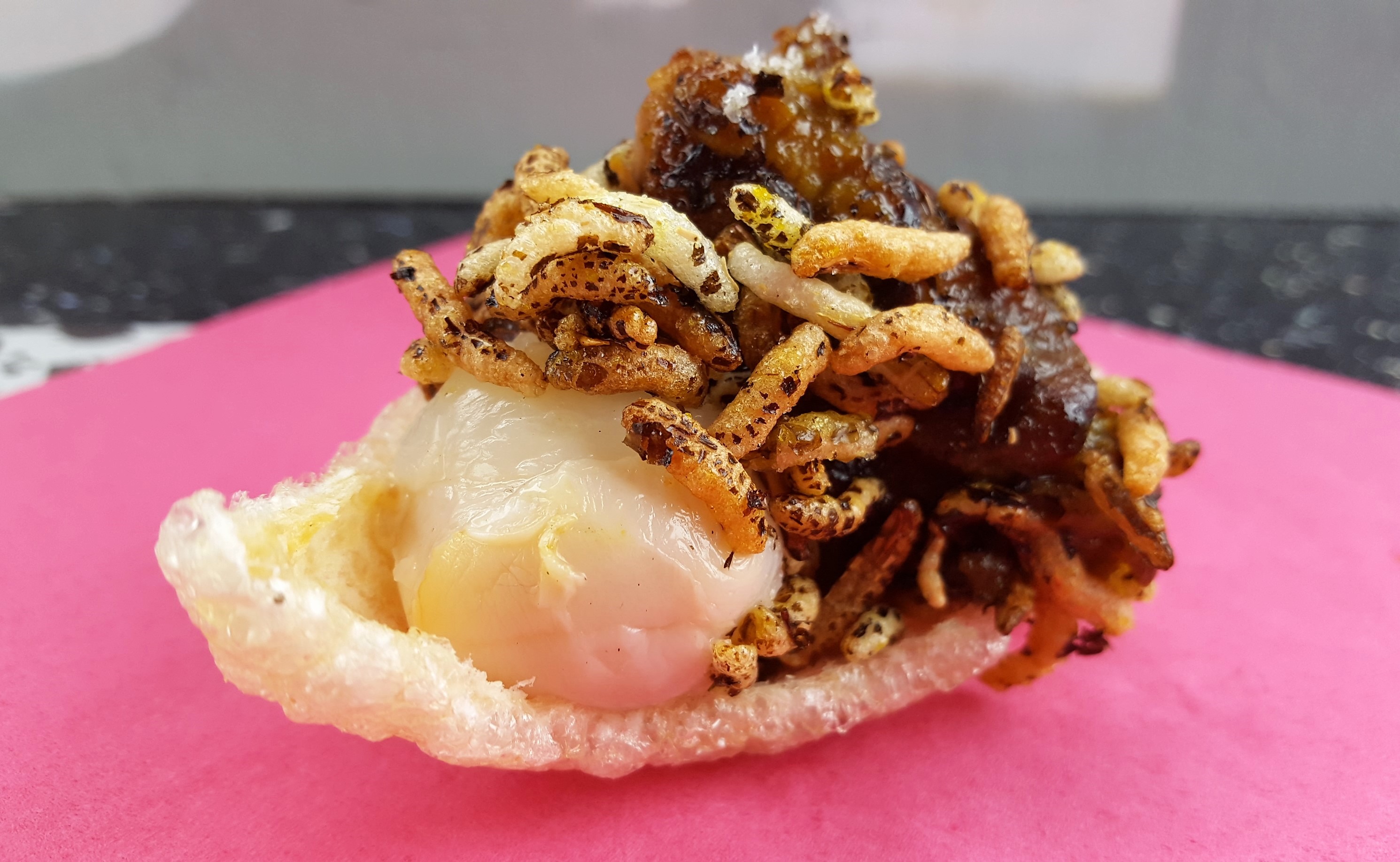 After a short break, This Little Piggy made its entrance. By now, I'd learnt to expect the dazzling fireworks to continue. Brined, grilled and braised pig cheeks were drizzled with a tom yum mayo and Sweet Green Chilli sauce and piled next to a smoked lychee. The whole lot was nestled on a crackling receptacle then scattered with puffed rice. Again, it skilfully oscillated between dense and delicate, although the smokiness of the lychee was lost on me.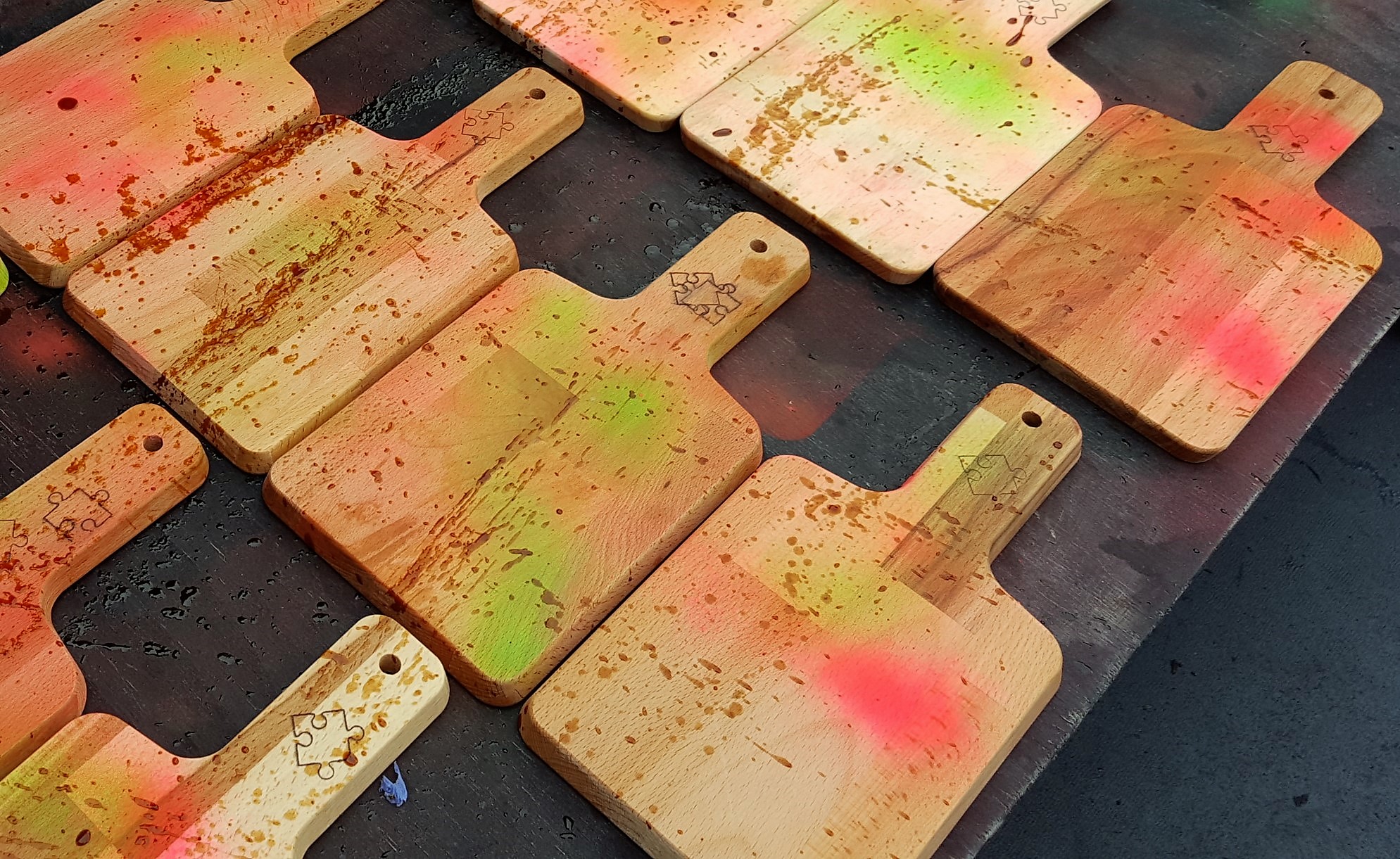 None of the flavours in Ben's penultimate dish escaped me, though. The Crack Rib was Longhorn beef short rib in a BBQ Mop glaze, Bramley apple sauce, croutons and hot dog cornflakes. This was like meeting the love of your life: you may have adored your former flames, but this one leaves you breathless.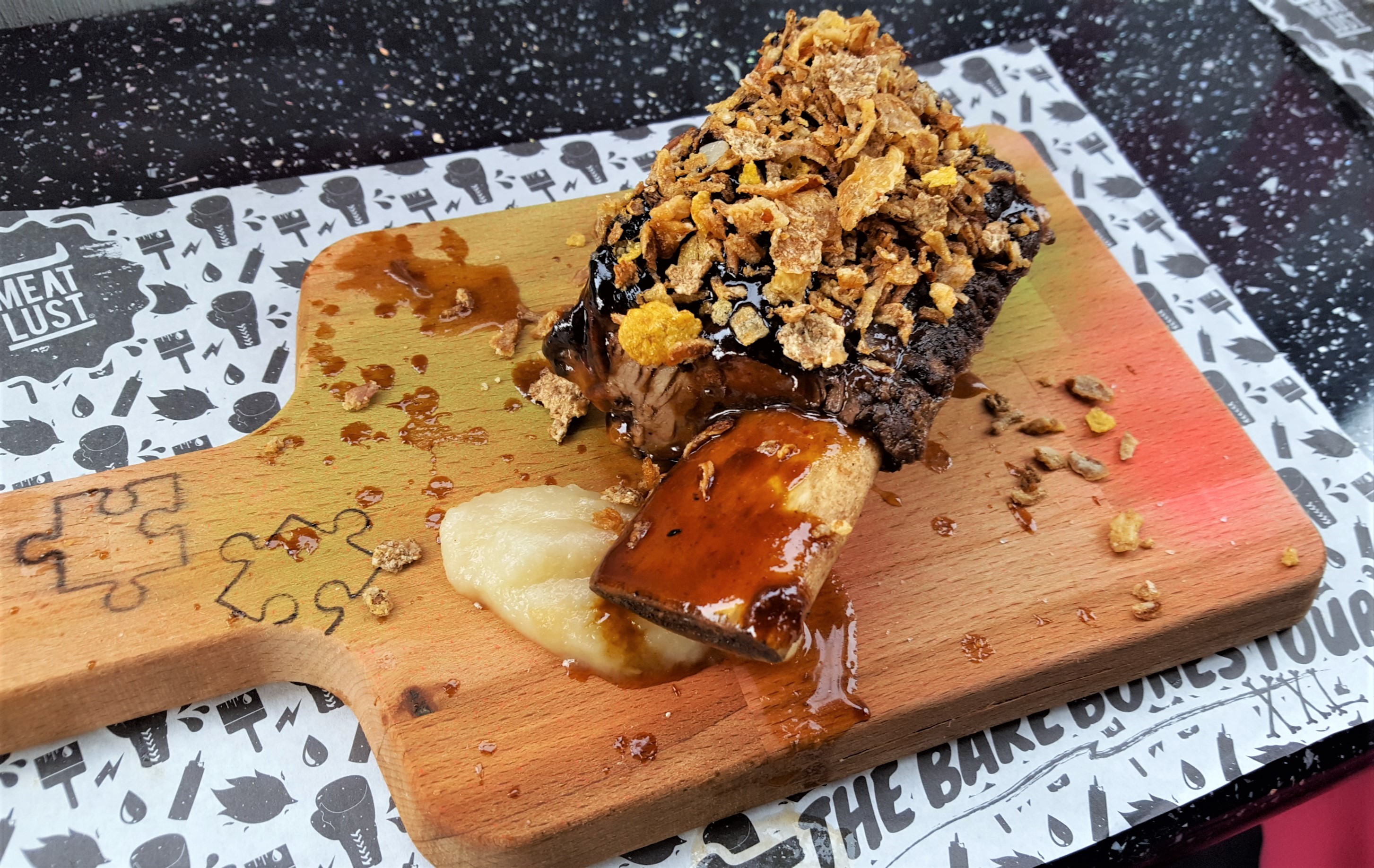 Stripping the meat from the bone with your fingers, dipping it into the sauce then dabbing the mound onto the cornflakes was dirty business. The sensation was heightened when the flavours and textures came together: as the meat melted away, the sweet fruit took centre stage before giving way to its addictive savoury and crunchy counterpart. I still feel sad that I couldn't demolish it all as I was dangerously close to meat overload.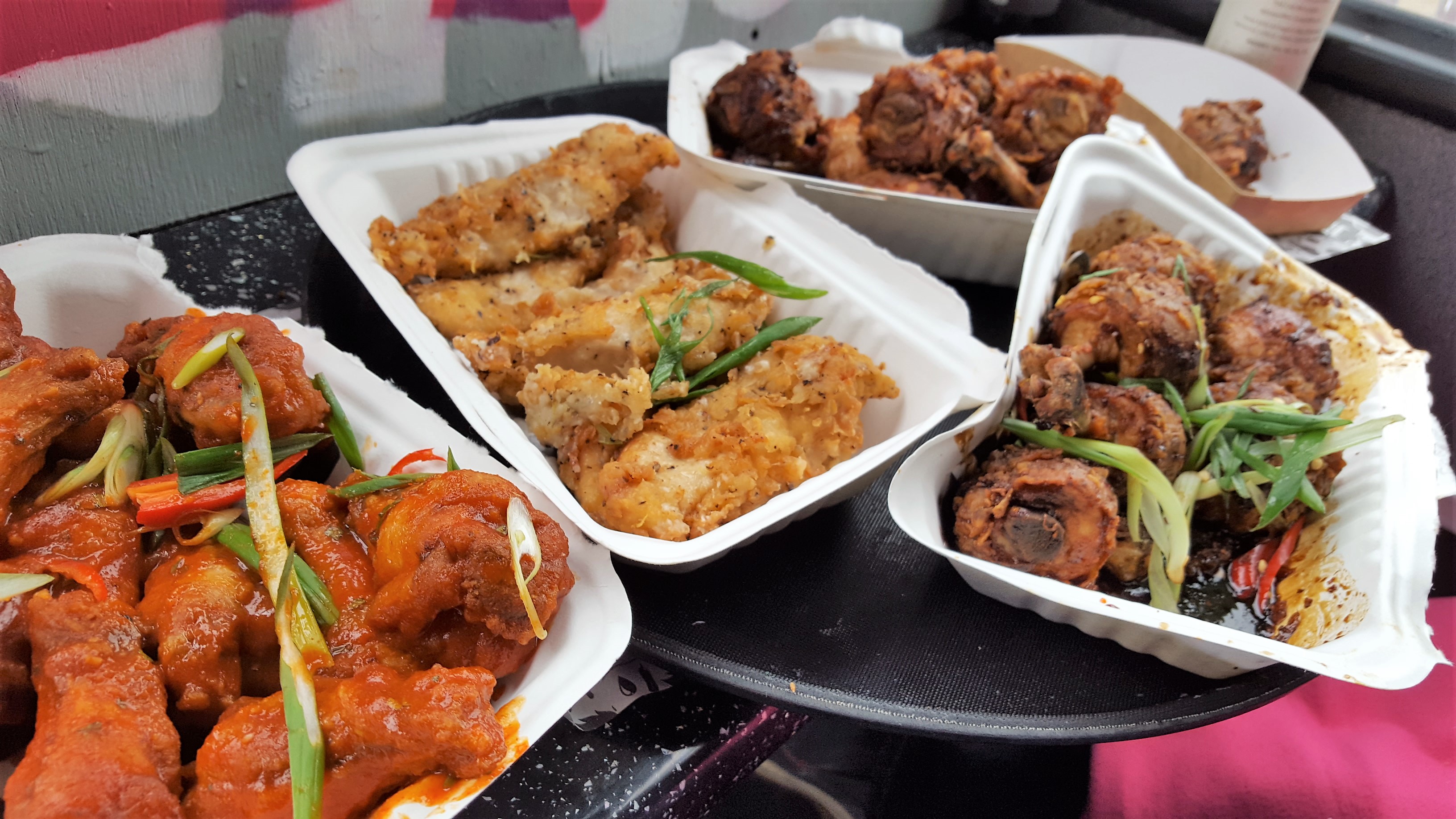 While we'd been chomping away, ML had done a "chicken run" to Clutch and brought back a trio of poultry pleasure: Parmesan and truffle oil wings, soy sauce and garlic lollipops and buffalo wings. After the bulky beef course, this felt light, and the salty and spicy notes cut through my food coma.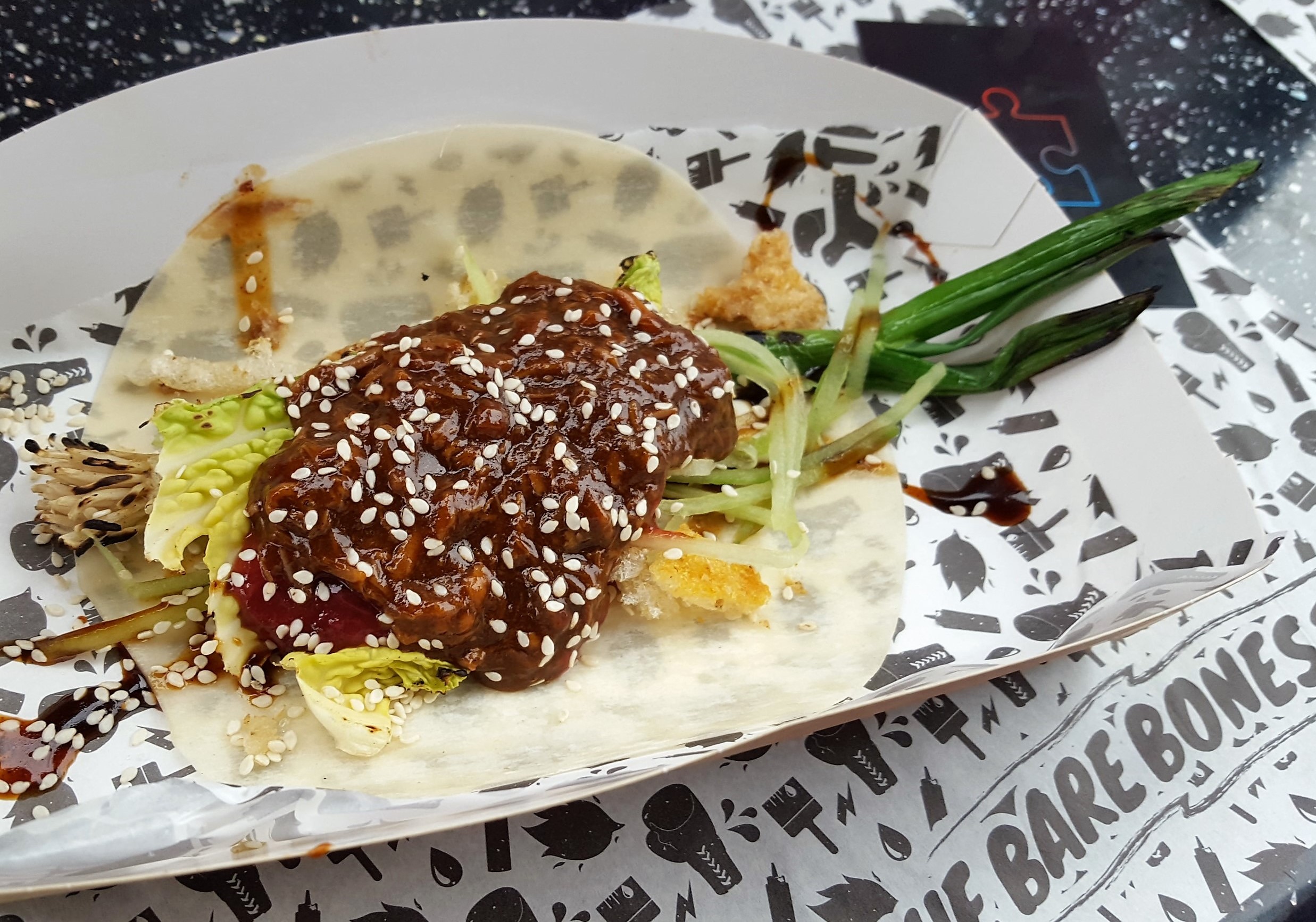 This gave us a second wind, just in time for the on-board finale: Smokin' Duck. Duck pancakes will never be the same now that I've tasted this slow-cooked Gressingham duck, red plum and Chinese BBQ sauces and BBQ cabbage leaf version. My overriding memory of this dish is the sheer depth and intensity of the fruity plum sauce.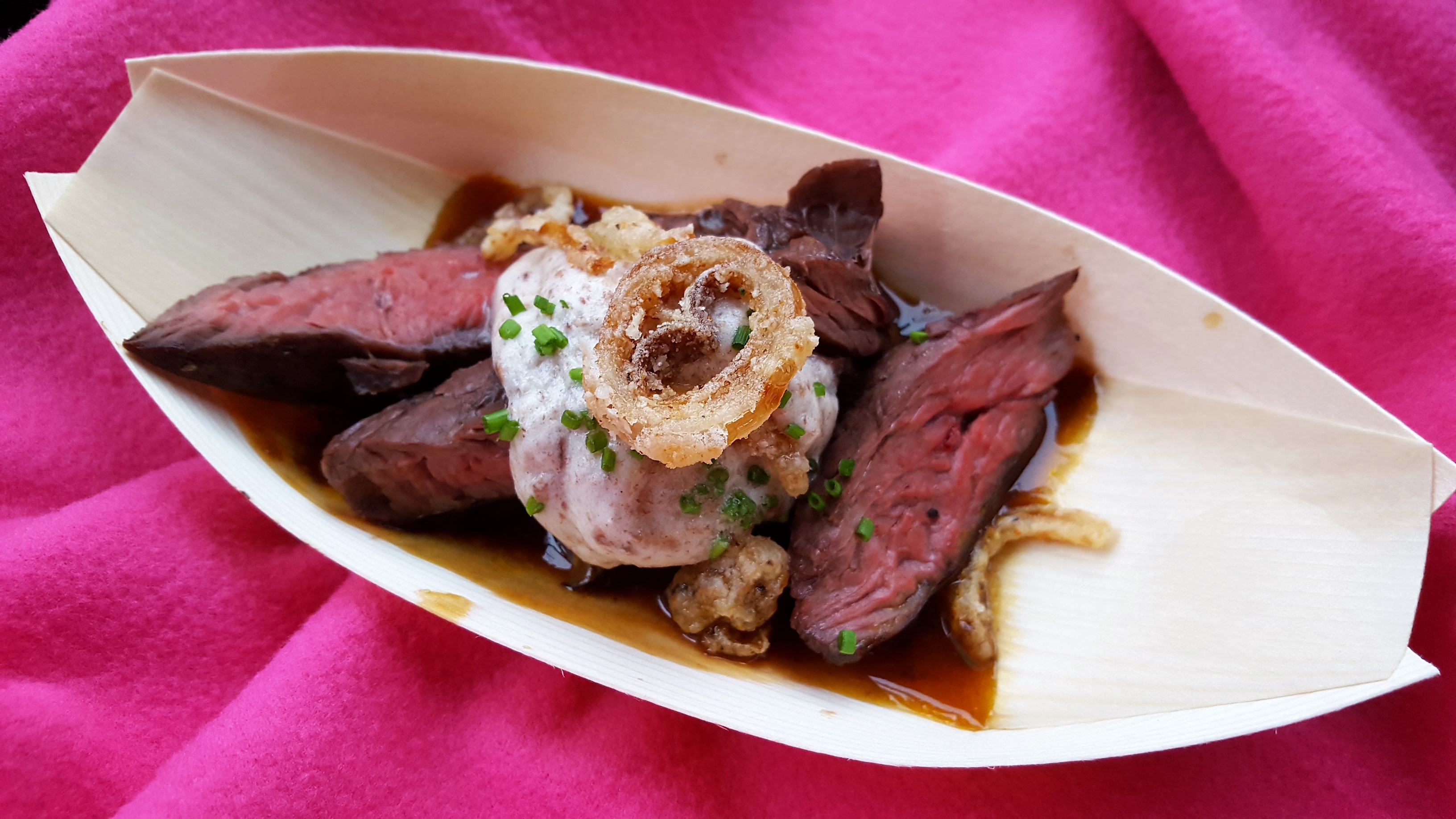 Then a delivery from Foxlow: Hanger steak with shiitake mushrooms, crowned with whipped bone marrow and fried onions. Before I surrendered, I managed a few mouthfuls of medium-rare meat along with the accompaniments, which were subtle yet distinctive.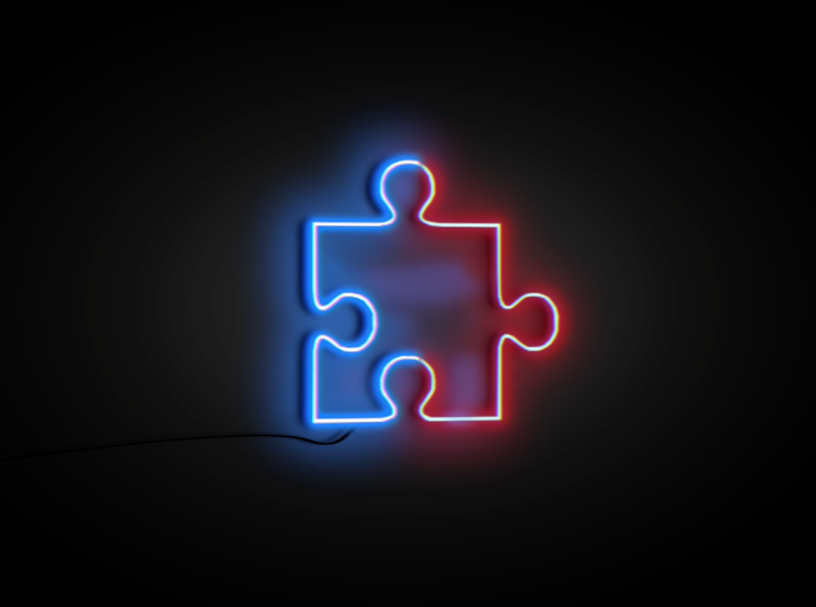 Truth be told, the main draw to The Meat Lust Bare Bones Tour for me had been Bleecker for their excellent, no-frills burgers. I missed out on them and The Bowler as it was getting late, and having the food delivered meant that it was lukewarm on arrival. Nevertheless, I didn't feel short-changed as I'd spent the afternoon tasting some of the most inventive food I've had in a long time using some seriously scrumptious sauces, and in great company. If Ben can produce restaurant-level food in a tiny corner of a bus, I look forward to seeing what he can achieve with his feet on the ground in 2017.
All photos and views are my own, unless otherwise stated, and remain the property of www.savlafaire.com.
Budget: £34.25 per person (including booking fee). The full amount was refunded due to the transport issues.
Links: Meat Lust, Ben Spalding, Gipsy Hill Brewing Company, Puzzle Projects, The Ribman, Clutch Chicken, Bleecker Burger, Foxlow, The Bowler Meatballs.