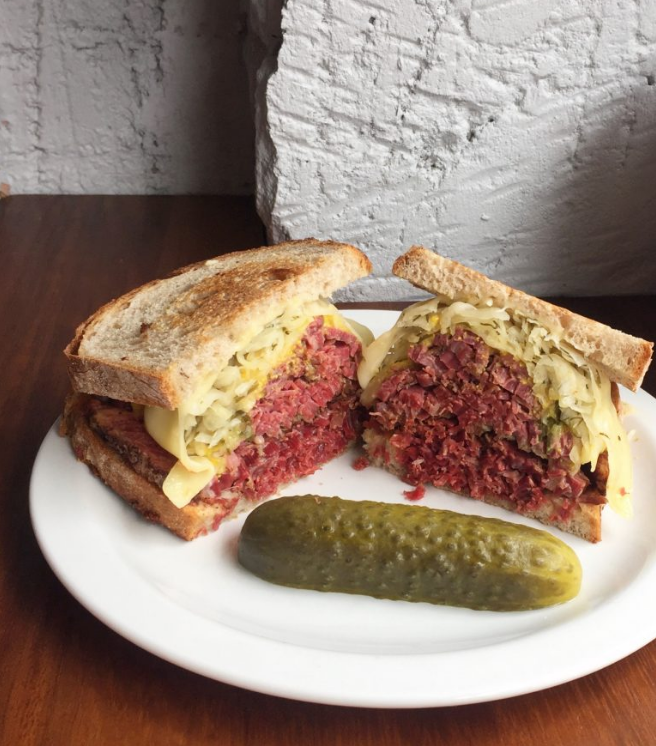 During the time that I worked for a translation agency in Levallois, Paris, I'd occasionally bring in a homemade sandwich for lunch. As soon as my colleagues had registered my inoffensive meal, they'd trot out the familiar stereotypes about British staples being bland and boring, conveniently sidestepping the fact that all boulangeries sell simple baguettes daily. My versions were also made from fresh baguettes, not the much-despised sliced bread, with different fillings each time; boring they were not.
Sandwiches still suffer from this poor reputation to a certain extent despite the quirky options available at Pret, M&S, EAT et al. But instead of being drawn to the shiny Photoshopped images like a magpie, I find myself craving the classics. Classics like the mighty salt beef sandwich.
Monty's Deli makes some of the best salt beef and pastrami sandwiches in London. Like many of their peers before them, founders Mark Ogus and Owen Barrett set up stalls at Maltby Street and Druid Street Markets then moved into their permanent Crowdfunded home in Hoxton in April of this year.  Previously a bakery, the US-style site has been given a new lease of life: walls stripped of plaster to reveal the original tilework; workers' café-inspired booths throughout, dedicated to family and friends; a long bar where diners can watch their sandwiches being prepared.
And what glorious creations they are. All the meat is made in house, along with their bagels and condiments, and this labour of love leaps off the plate and palate. My Reuben is basically a mini meat mountain: multiple layers of juicy, deep pink beef, topped with sauerkraut and a slice of melted Swiss cheese, the lot framed by two pieces of lightly toasted rye bread. Unless you have a mouth the size of Homer Simpson's, it's virtually impossible to take a full bite from top to bottom without laying a very heavy hand on it for a while. But messiness is happiness: juices slowly soak into the bread, softening and flavouring it; bits of beef break off and are promptly picked up; the chunky pickle crunches between your teeth, its flesh unleashing bursts of saltiness.
Sandwiches aside (you can also combine salt beef with pastrami if you're a Man vs Food type), our table is covered with fresh lattice-like latkes (served with sour cream and apple sauce; remind me of my grandma's versions, albeit without the Indian spices), fries, smoked chicken (flavourful yet slightly dry) and picked vegetables representing the earthy shades of autumn.
Being a group of seven, it makes sense to try every dessert on the menu. We tear strips off a wedge of rich chocolately babka, chew on coconut macaroons, argue over the pile of chocolate cookies with ice cream and snap croissant-shaped rugelach sprinkled with cinnamon and brown sugar. Bagels are ordered to take home, which I polish off with smoked salmon and cream cheese the following morning.
The deli is named after Mark's grandfather; the menu inspired by the food he introduced to his grandson. One such dish was the humble sandwich, which Mark and Owen have proven can be transformed from mundane to magical in the right hands. They don't refer to their dishes as "Jewish soul food" for nothing.
Budget: £15 pp (excluding service, and soft drinks only)
Links: Monty's Deli, Maltby Street Market, Druid Street Market
Disclaimer: Desserts and bagels were kindly offered by the restaurant due to a personal relationship.
All words are my own and remain the property of www.savlafaire.com.