Until I walked into the Marylebone branch of Sushi Shop, I had no idea that it'd been founded by two French entrepreneurs who were inspired after a trip to California. Regular readers will know that I lived in Paris for 3 years; I have no excuse. Grégory Marciano and Hervé Louis set up the deluxe delivery and takeaway service in 1998 after spotting a gap in the French market for affordable, restaurant-quality sushi and sashimi. It was an immediate hit with Parisians, and the company now has several branches in 14 countries. Londoners can currently enjoy fresh, made-to-order dishes in Marylebone, Notting Hill and South Kensington, with another three locations to follow by late 2017.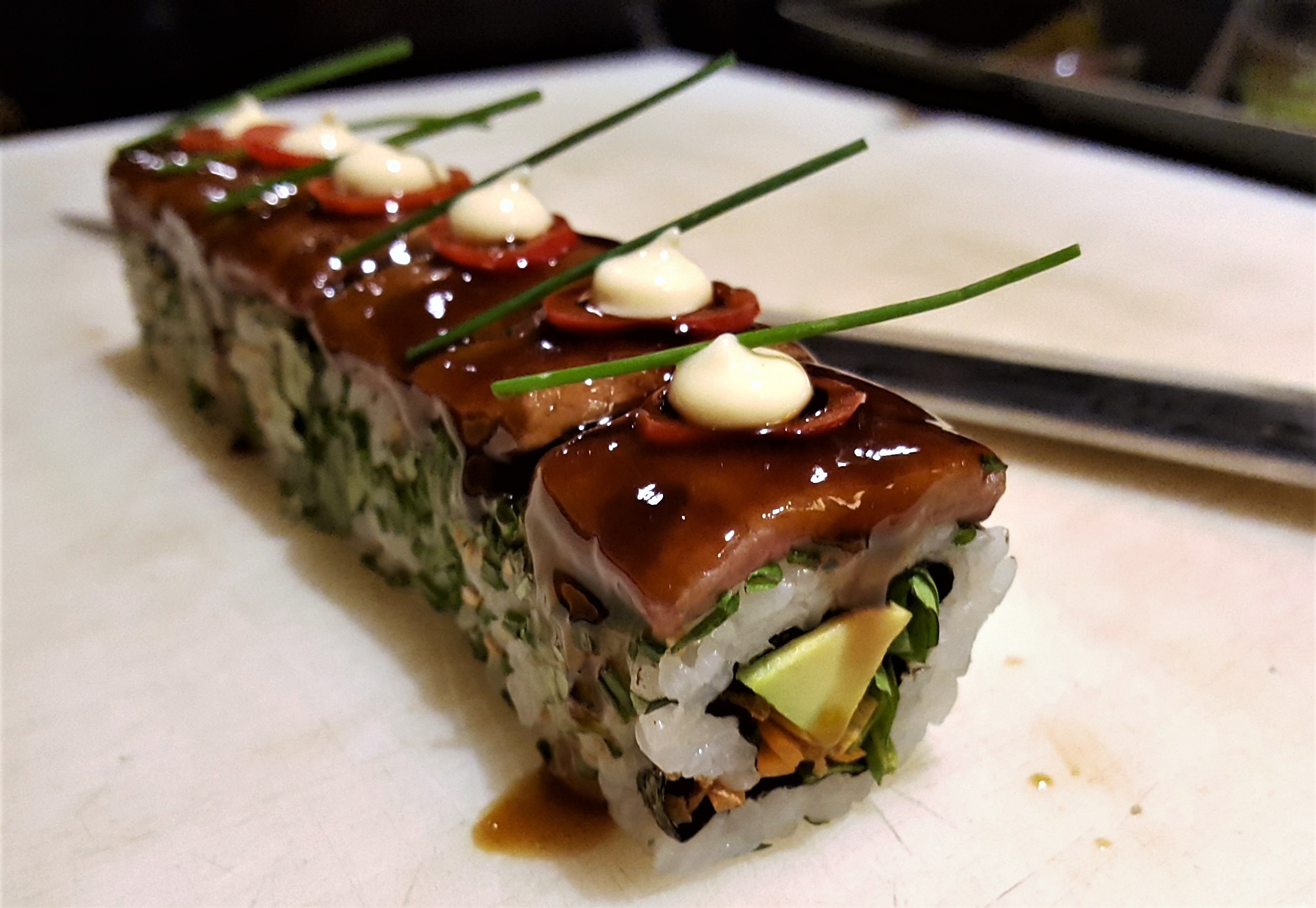 So, what's different about Sushi Shop? If you popped into a branch, you might think that it's just a French take on our current high-street favourites. This isn't entirely off the mark as each dish is prepared using the traditional techniques which characterise French haute cuisine. However, their USPs differ greatly from those of their competitors, especially in the UK: each order is made from scratch using the freshest ingredients and they regularly collaborate with eminent chefs to solicit their feedback and make fine dining more accessible to the public.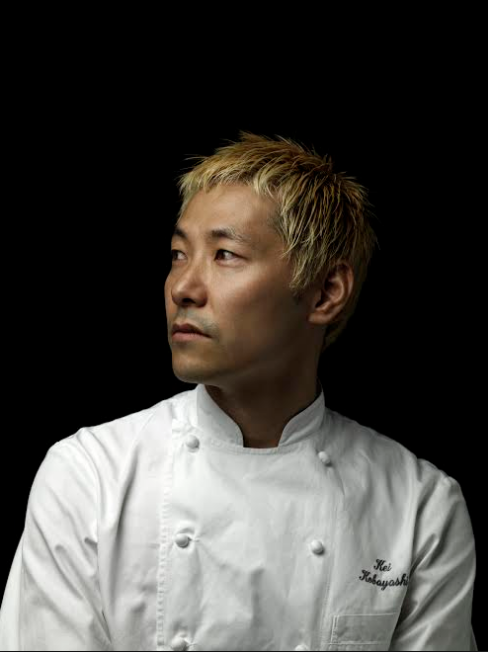 Following collaborations with the likes of Joël Robuchon, Sushi Shop have now teamed up with Michelin-starred chef Kei Kobayashi. Born into a family of chefs in Japan, Chef Kobayashi lived and breathed French cuisine from afar until he finally moved to Paris to pursue his culinary dreams under Alain Ducasse no less (link to my review below). His dedication bore fruit in 2011 when he opened his eponymous restaurant KEI, winning a coveted Michelin star a year later.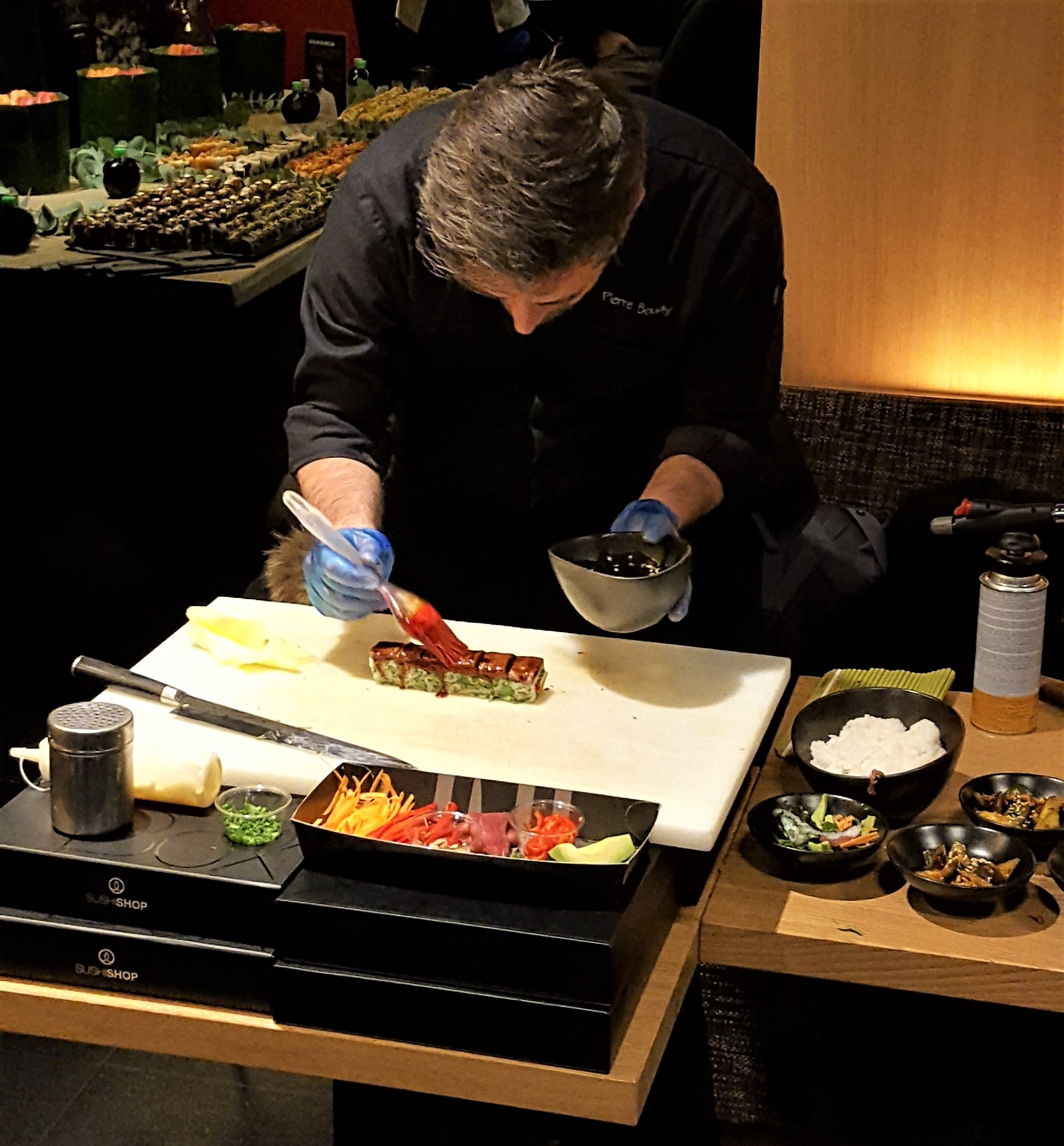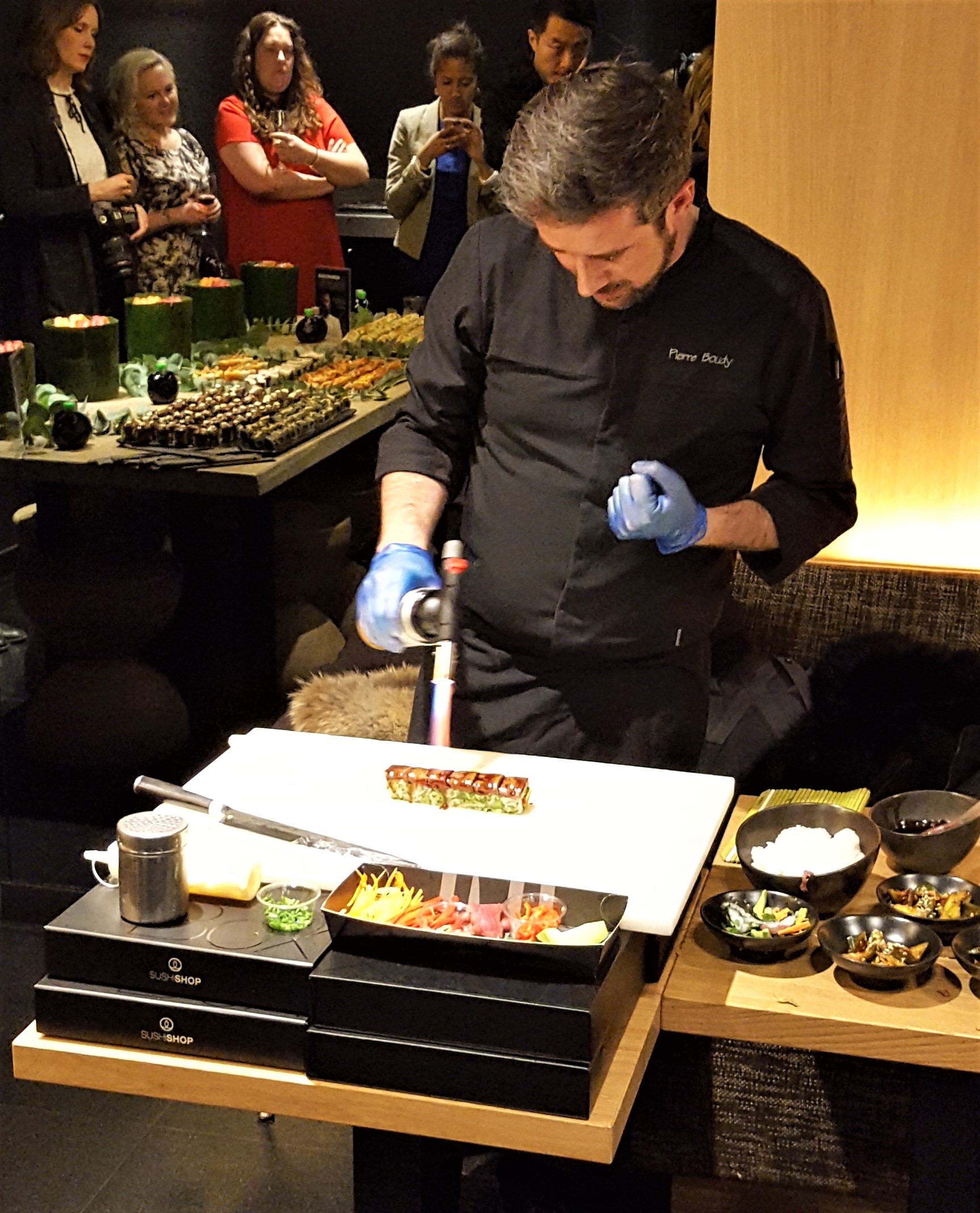 The new menu for 2017 at Sushi Shop is the perfect marriage of modern Japanese influences and classic French techniques, i.e. East meets West on a plate. Chef Kobayashi has taken their Californian-style sushi and reinvented it by introducing some delicate and playful creations. I was recently invited to sample these at the menu launch in the Marylebone branch, which was preceded by a short demo from head chef Pierre Boudy culminating in the unexpected appearance of a blowtorch.
Chef Kobayashi's signature dishes are as follows:
Gyu Special Roll: Carpaccio-style beef, lacquered with teriyaki sauce and topped with raw peppers, carrots, rocket, fried onions and sesame oil mayonnaise.
Chef Boudy chose to make this roll in his demo, and quite rightly so as it's show-stopping sushi. Not only does it look impressive, it's absolutely delicious: smooth intensity from the meat, crunchy salad and freshness from the coriander, which isn't a common feature of Japanese cuisine.
 £8.90 for 6 pieces.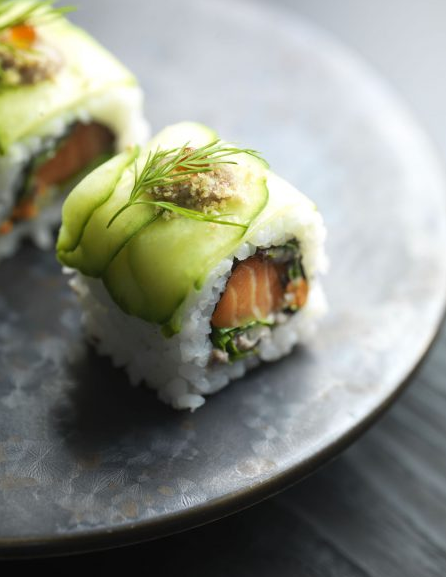 Salmon Gravalax Roll: Gravalax salmon, with raw carrot, cucumber, salmon roe and black olive tapenade.
Again, the surprising additions of black olive tapenade, crumble, dill and mint elevate this salmon roll from average to sublime. Its exquisite form draws you in then the earthy, spicy notes convert you. The texture is softer then the Gyu roll, but the thinly sliced cucumber prevents it from being overly so.
£8.90 for 6 pieces.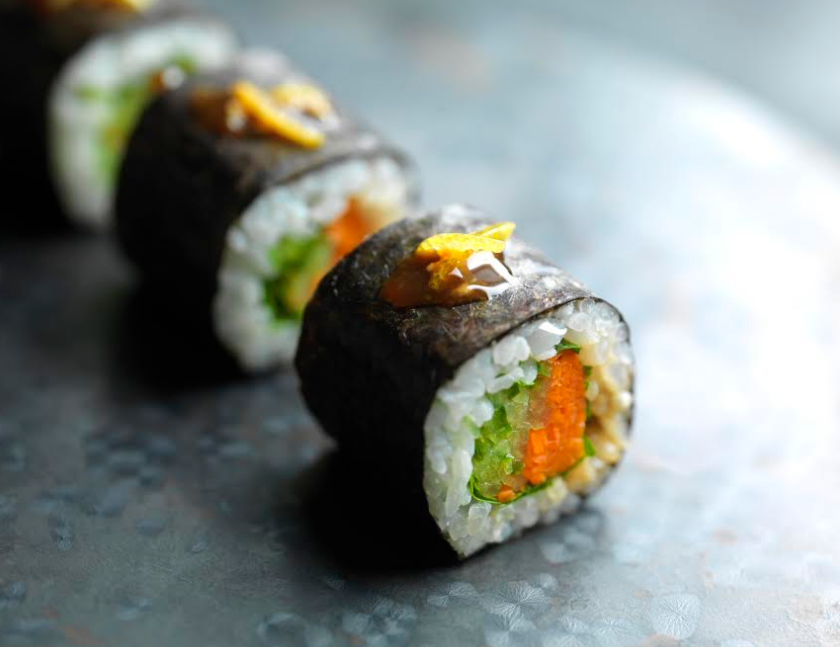 Garden Maki: Raw carrot, cucumber red miso, peanuts and rocket.
I'm not keen on vegetarian makis in general as I feel like they're missing a few ingredients. The Garden Maki puts paid to this notion by dressing simple salad with some subtle, unexpected flavours such as sesame, lime, maple syrup, yuzu zest and chili. It was so tasty that I'd be happy to feast on a few rolls alone to fully appreciate how the flavours come together in each mouthful.
£4.50 for 6 pieces.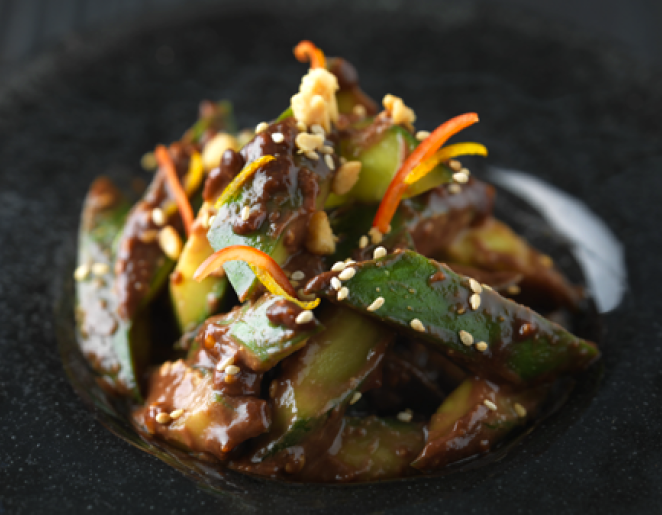 Red Miso Cucumber Salad: Cucumber, red miso and peanuts.
Another crowd-pleaser of a dish: what's not to like about cool, crunchy cucumber coated in a slightly nutty, sweet sauce?
£4.50 for 6 pieces.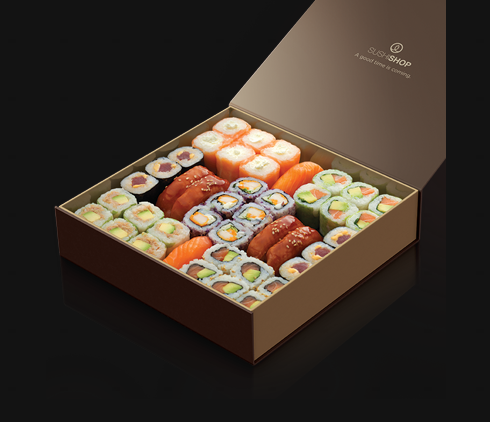 If you haven't booked a table for Valentine's Day yet, how about swapping eating out for eating in? Priced at £35, the luxurious 42-piece box set at Sushi Shop includes classics like Salmon Avocado Rolls and Spicy Tuna Maki Rolls as well as the more contemporary Chicken Caesar Rolls. For the full list, head over to the website (link below), where you can place the order in a couple of clicks then sit back and let the food come to you.
Disclaimer: I was invited to review the 2017 menu, but all views and photos are my own, unless otherwise stated. Both remain the property of www.savlafaire.com.
Links: Sushi Shop, Sushi Shop Box for Two, Joël Robuchon, Kei Kobayashi, Alain Ducasse, Alain Ducasse at The Dorchester Review, KEI.