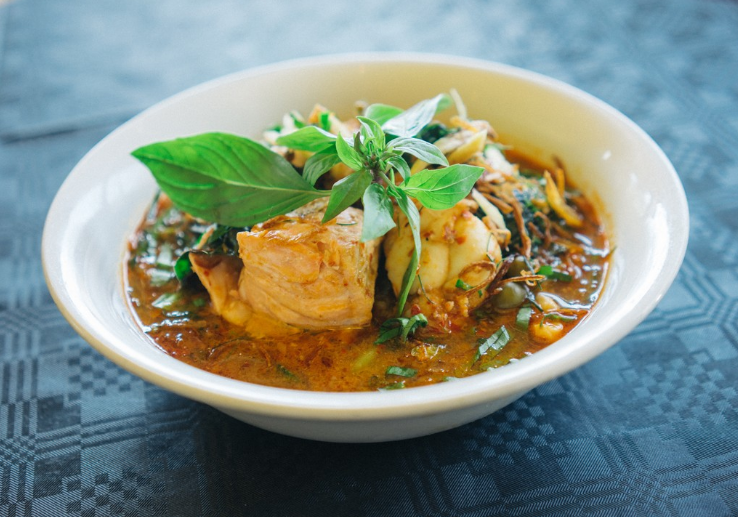 Most people assume that Indians can handle the heat, culinary and meteorological. To be fair, I conformed to this stereotype until 12 years ago. What triggered this change? Leaving my aversion to the sun to one side, this is when I started dating Chef Savla (CS). His family uses chillies so infrequently for several reasons that over time, I too have become accustomed to mild curries.
The prospect of visiting Farang therefore made me slightly uneasy. I'd already enjoyed their food at Taste of London a couple of years ago, but it was in burger form; hardly authentic Thai cuisine. Since then, food critics have unanimously spoken about the spice levels, which CS confirmed after his first experience of the pop-up with friends. Between them, they'd ordered almost every dish on the menu and thoroughly tested their tolerances.
Not wanting to renounce chillies forever, I made a reservation with CS and some friends. Initially a stall at street food favourite Dinerama, Farang has now put down temporary roots in Highbury. Originally intended as a six-month pop-up, the residency has been extended until late January, a testament to its popularity. But this is no ordinary residency: it's in an Italian restaurant. Owned by founder and head chef Seb Holmes' stepfather, San Daniele's simple, traditional trattoria décor has remained intact, meaning all eyes are focused on the food.
Aperitifs of beers, a passionfruit Bellini and kaffir lime martini went down well while we debated our dish choices. The savoury selection is split into 'Small Plates' and 'Larger Plates', all intended for sharing. We ordered in "Culinary Countdown" style: two from each section, including the specials and sides. Som-tam spicy green papaya salad with sticky pork ribs was a beautifully balanced creation to ease us in: sweet, tender meat with a fresh, sharp salad spiked with chilli slices. It gently started the fire, the fans of which were flamed with grilled sardines and a sour salad, tossed in tomatoes, an array of coarsely cut herbs and chilli aka red nham yum.
The jungle curry was ferocious in name and nature, and not to be tamed by jasmine rice or flaky, buttery turmeric roti. Cornish monkfish and salmon chunks were innocent bystanders in a sauce which transformed our mouths into furnaces. But instead of rushing to douse the curry in coconut cream before admitting defeat, we continued and conquered: the flavours were so pleasurably multifaceted that it was impossible to slam on the brakes. Gluttons for glorious punishment that we are, we kept the fire ablaze with luxury chilli jam broth with tiger prawn, salmon, monkfish, shrimp and rice noodles.
We extinguished the fire with pandan and banana ice cream with cashew nuts and butterscotch and lychee sorbet with fresh rambutan before waving the white flag. While the smooth ice cream with a hint of fruit and some cheeky crunch satisfied my sweet needs, one of my friends would've preferred more than two options. Banana and lychee being her nemesis, she rounded off her meal with a second Bellini.
Thai usually doesn't feature highly on my list of cuisines when deciding where to eat out, but I've clearly been missing a trick. Not only was each dish a positive revelation, service was charming and informative, albeit slightly slow at certain points. As for the dated décor, it's odd at first and then comforting, like going back to your childhood home after months or years. Don't be afraid of the heat: if I can hack it, and ultimately relish it, so can you.
Budget: Approx. £30 pp (including two rounds of drinks for four, excluding a glass of Prosecco (complimentary due to delayed service)).
Links: Farang, Taste of London review, Dinerama
All words and photos are my own, unless otherwise stated, and remain the property of www.savlafaire.com.