While my blog charts my London-based culinary adventures, I also wish to shine a spotlight on exciting eateries around the world, mainly through my own experiences and occasionally those of my fellow bloggers via guest posts. The first installment is from Raj at The Two Roads (link below), who's kicking off the series in style with an account of his luxurious lunch at Jean-Georges Restaurant in New York. Check out his blog for more tales of his recent trip (various posts on NYC, with more to follow on San Francisco and Napa Valley), travel tips and airline reviews. Warning: Side effects include food envy and serious wanderlust. Jean-Georges review  Jean-Georges
Jean-Georges is the jewel of Jean-Georges Vongerichten's expanding empire, tucked on the side of the Trump International Hotel in Columbus Circle. The restaurant has been mentioned over the years in several sitcoms and I know it to have the best value three Michelin-starred lunch in the USA, offering two plates for $58, with additional plates at $29 each. A tasting menu is also available at $158. I opted for the former as I didn't feel that I could handle the full version after the Cronuts from Dominique Ansel's bakery.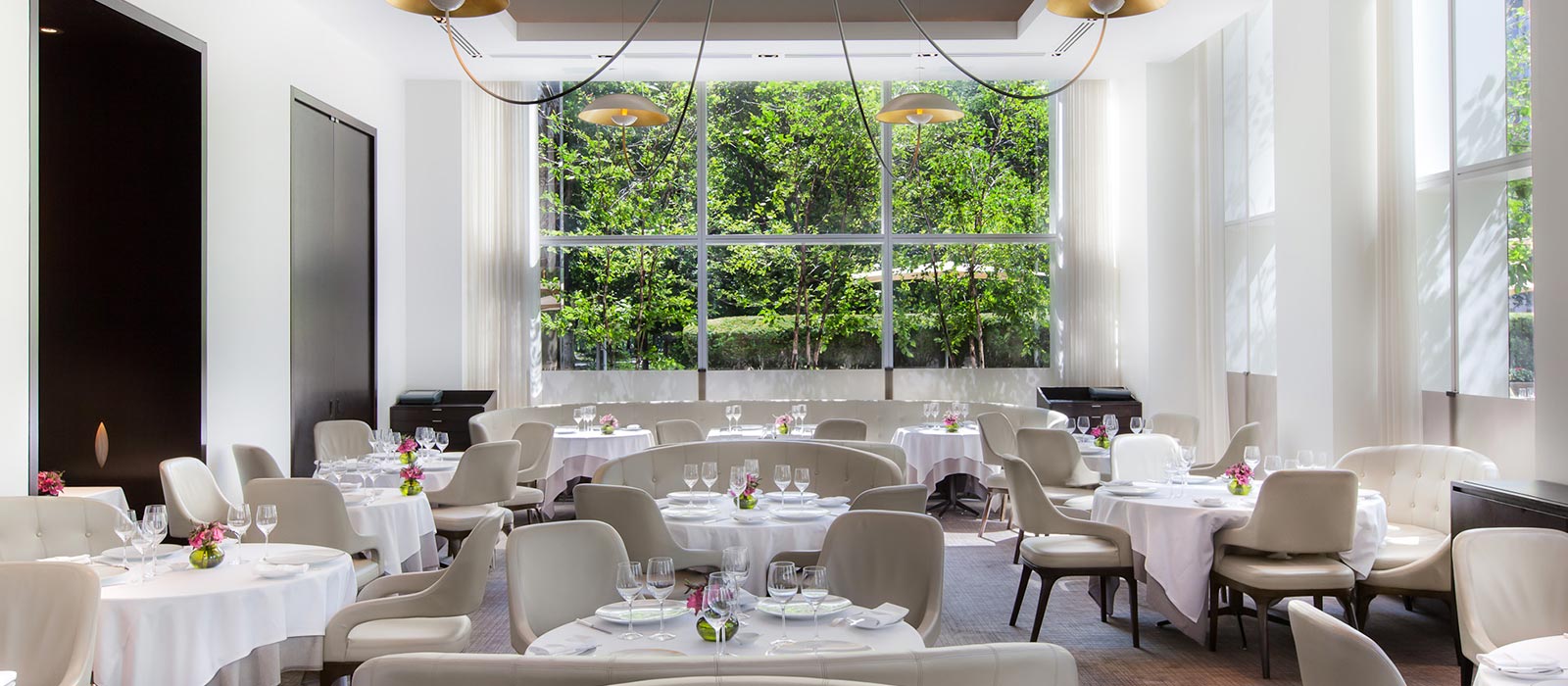 I arrived a few minutes ahead of my booking and was swiftly accompanied to the bar by the host while my table was prepared. Strangely enough as a solo diner, both the host and barman asked if I'd be more comfortable seated at the bar for my lunch over the main dining room; I told them I'd booked my table as a solo diner, intended to stick to it and was comfortable dining solo. Due to this, my experience at Jean-Georges began by annoying me, but this soon changed once I was sat at my table. The dining room was bright and airy and I was given a table with a view of the entire dining area: a great people-watching spot and perfect for a solo diner. Jean-Georges
I started off with a glass of rosé, Domaine de Marquiliani, France 2015, which was at a reasonable $18 per glass. This rosé was so light in colour that it could almost be described as clear. It was a good choice as it didn't overpower my food and was refreshing; just what the doctor ordered after the long walks that morning.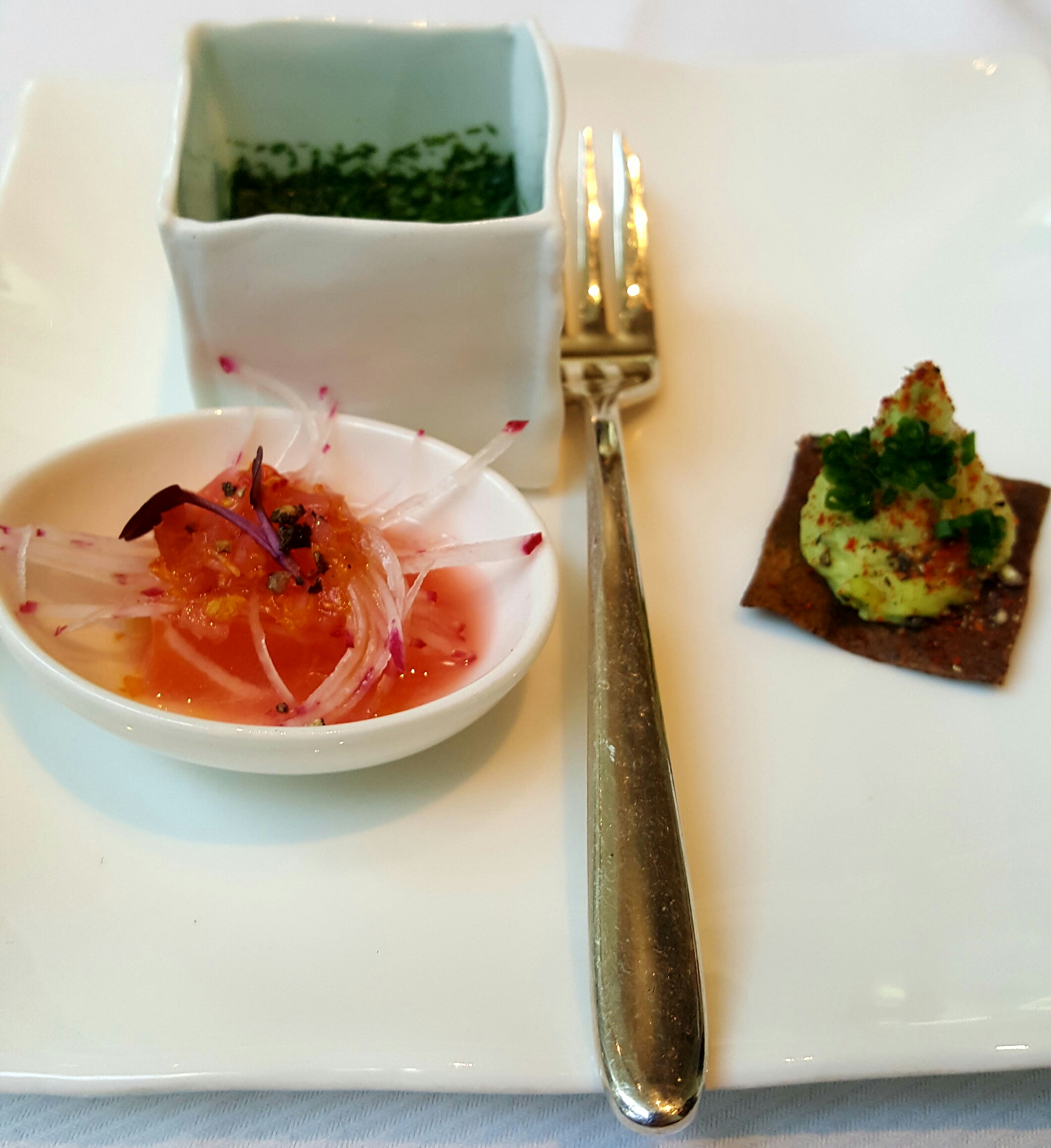 The trio of amuse-bouche's that day were a rye crispbread with a chilli and avocado mousse, a spicy salmon in soy, served with radishes and a coriander tea to finish off. First things first, avocado is the new Marmite: you either love it or hate it. I'm quite strange in that I dislike avocado, but love guacamole. Seeing as avocado is everywhere at the moment, I'm trying to learn to embrace it and embrace it I did with this dish: the chilli avocado mousse had a great balance of flavours. The salmon was delicate, but I felt that the soy unfortunately masked its subtlety. I won't comment on the coriander tea as it was something that wasn't to my liking at all.  Jean-Georges
For my meal, I chose Yellow Fin Tuna Ribbons, Foie Gras Terrine (extra dish at $29, plus an $8 supplement), and for my main, Sourdough Crusted Wild King Salmon. Jean-Georges review  Jean-Georges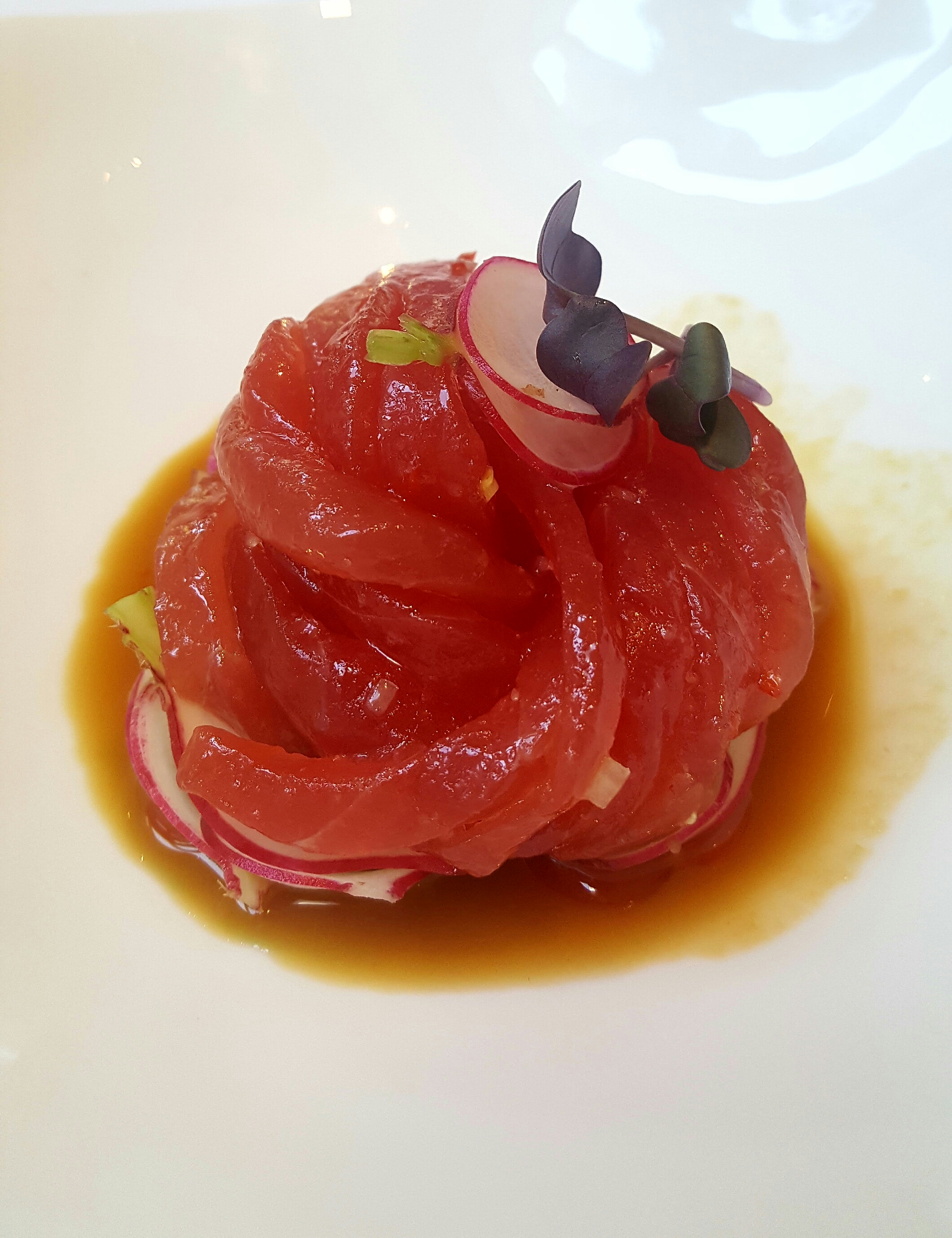 The Yellow Fin Tuna Ribbons with avocado, spicy radish served over a ginger-soy marinade mixed with kaffir lime syrup: this was a clean, well balanced dish, with the fish being just as tender as the salmon from the amuse-bouche.  Jean-Georges   Jean-Georges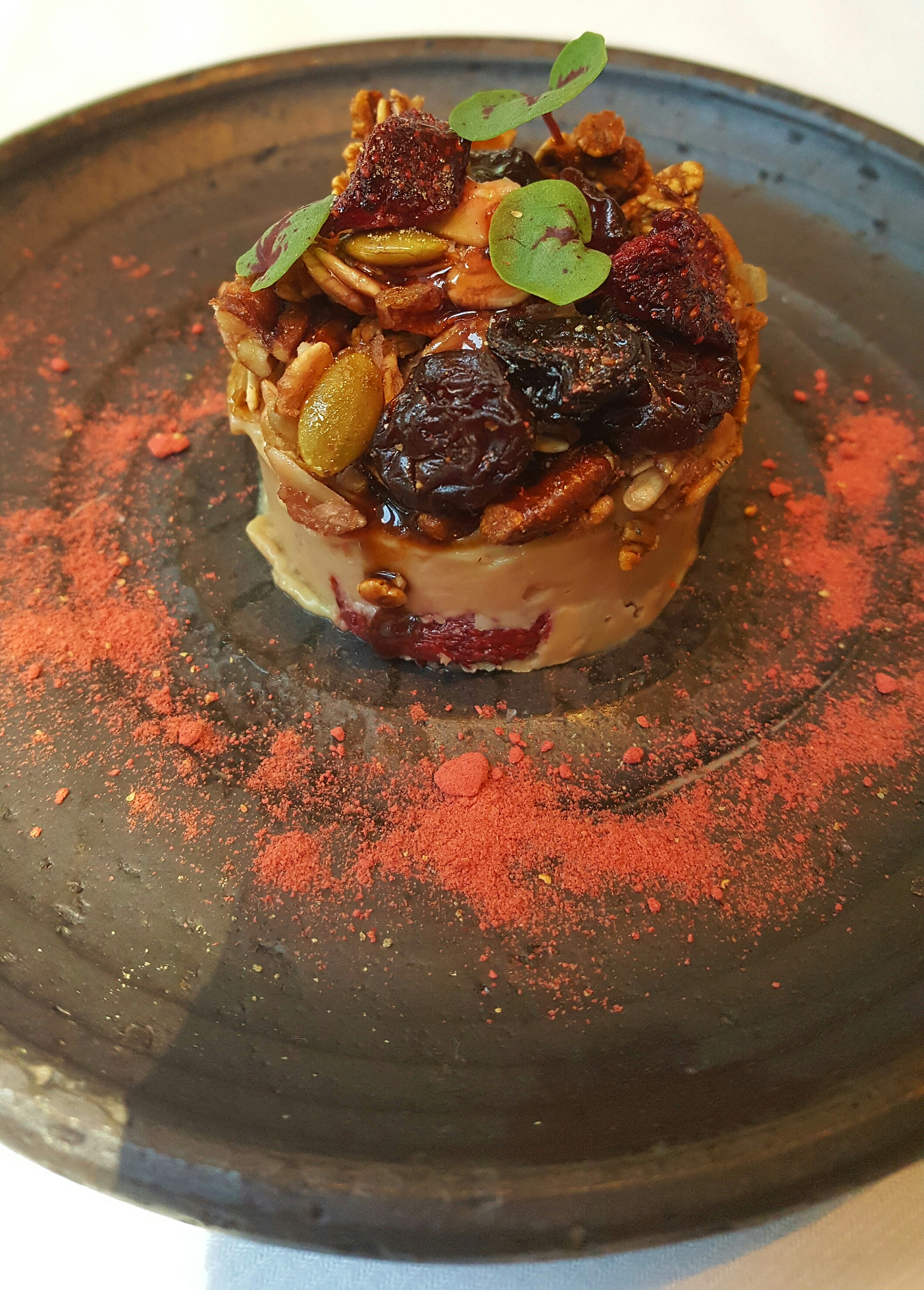 The Foie Gras Terrine was served with strawberry granola, aged balsamic and chilli. This was a dish I found strange and felt compelled to order to see what a rich dish would taste like with sweet, acidic and spicy additions to an ingredient which could, and often is, just be served as is. After ordering this dish, I did have second thoughts, expecting this to be a dish where the foie gras played second fiddle  to the elements, but I couldn't have been further from the truth. The strawberry granola, with the chilli and hit of balsamic, transformed the foie gras into a rich, silky, melt-in-your-mouth texture, making it a stand-out dish for me.  Jean-Georges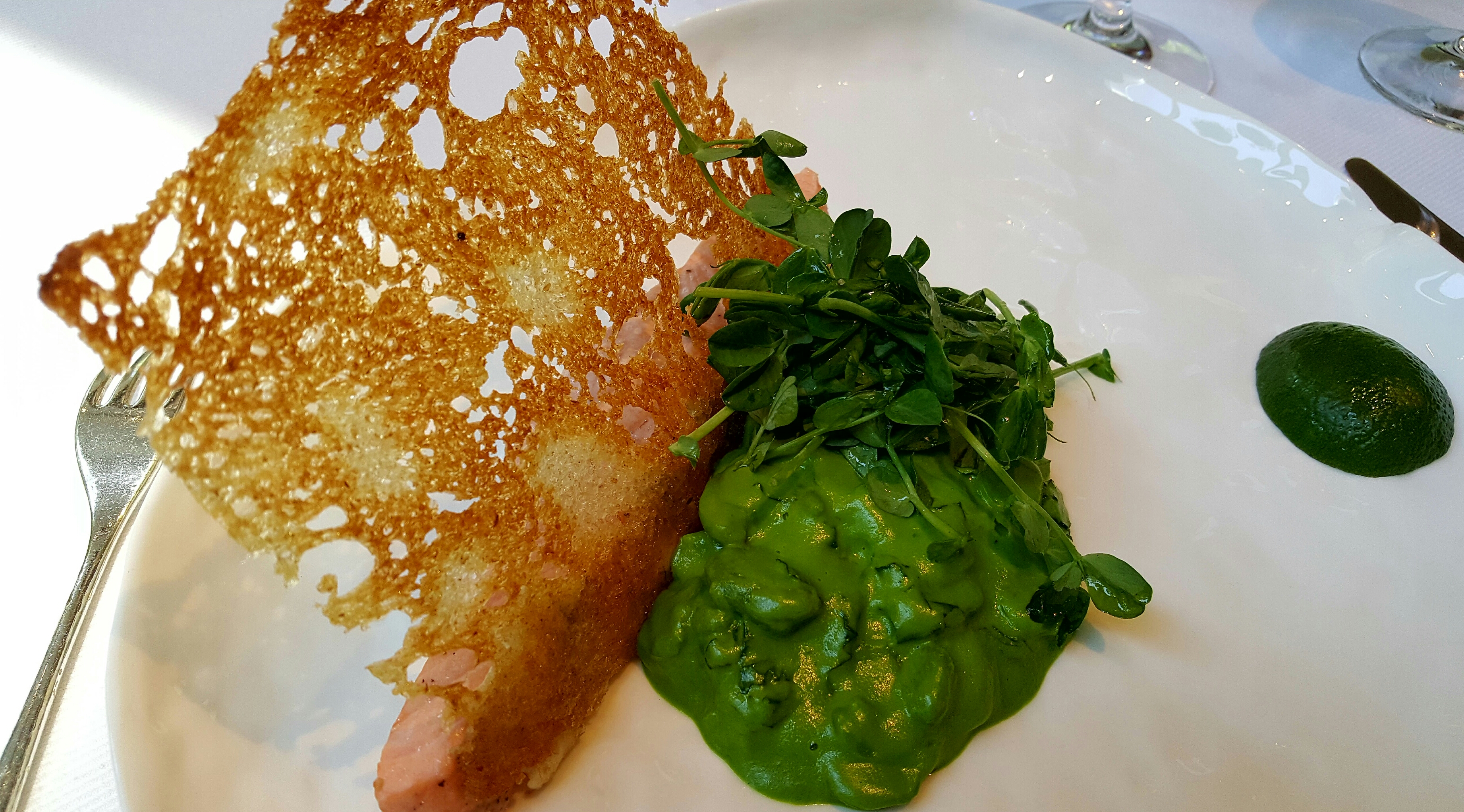 For the main, I settled on the Sourdough Crusted Wild King Salmon with creamed Fava beans and lime. This dish was a delight, with the sourdough crust protecting one side of the pan-seared salmon. My only complaint on this would be that it was only a small serving of salmon.
Jean-Georges are also famed for their $12 Dessert Tastings, and the choices that day consisted of Chocolate, Strawberry, Tropical or Stone Fruit. I went with the chocolate tasting, which were as follows:  Jean-Georges
Dark Chocolate Mousse, Milk Chocolate Ganache and Passion Fruit Gelée
Mini Warm Chocolate Cake, Hibiscus Sorbet
Crystallized Rose, Peanut Caramel
Olive Oil Powder, Fraises des Bots and Macademia Nut Milk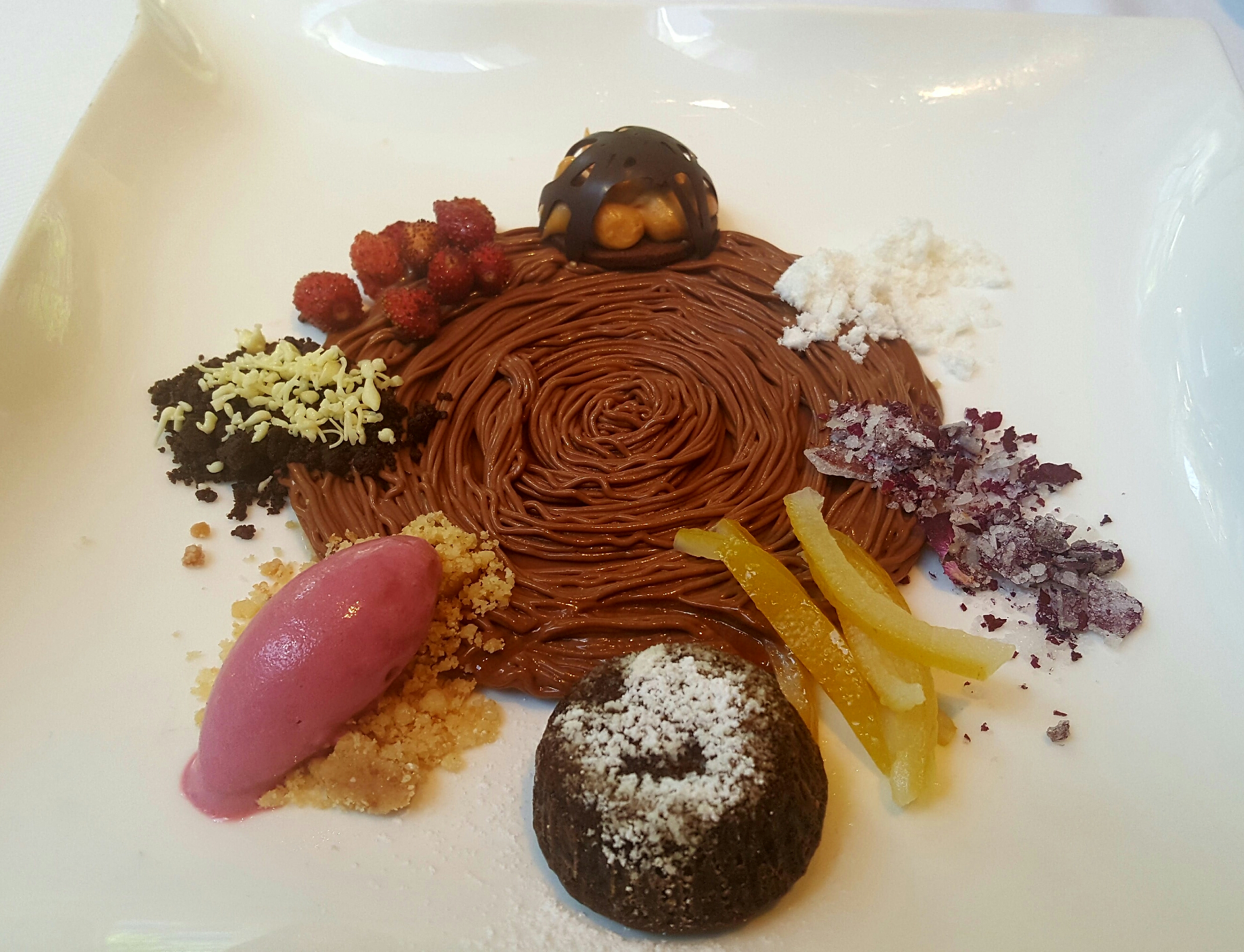 I can't do this dessert justice by describing it, but all I can say is it has lifted the bar for desserts everywhere for me. I'll let the picture do the talking – unfortunately, I did not get a picture of the macadamia nut milk, but it was a nice way to finish such a chocolate-heavy dessert. The sweets weren't over just yet; next followed the Truffles and Vanilla Bean Marshmallows cut at my table.
My view of Jean-Georges was that it was a great experience: the food was very good and reasonably priced; the service (after the initial issues highlighted above from the host) and the barman were faultless. Would I go again? It 's a yes from me, and I'd like to go for dinner next time and try the tasting menu with paired wines.  Jean-Georges
Links: The Two Roads blog, Jean-Georges, Tuna Ribbons recipe