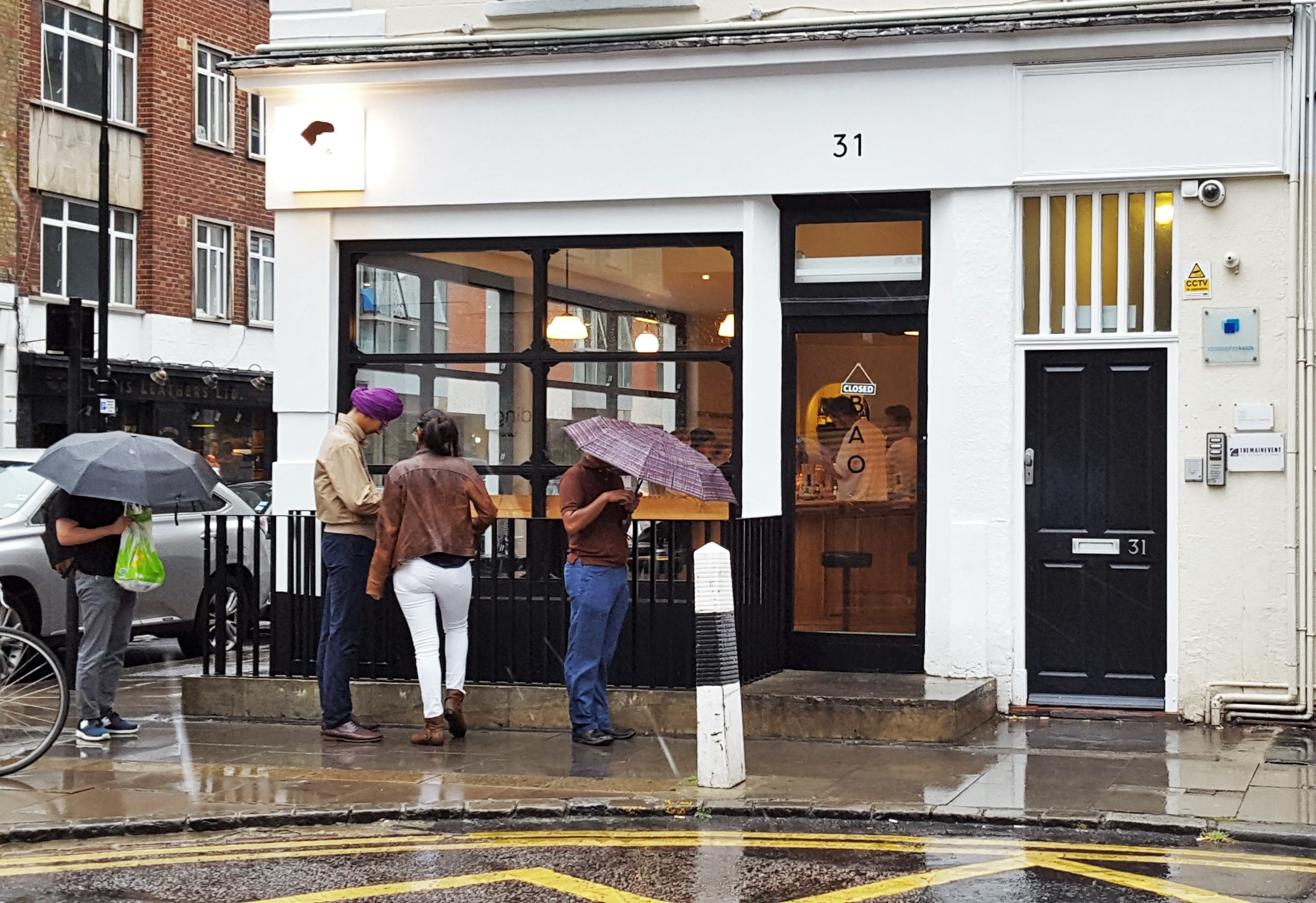 Londoners are barmy about buns, so much so they're willing to wait for upwards of an hour to get their hands on some. Their patience knows no bounds, their usual logic clouded by the anticipation of sinking their teeth into smooth and silky softness. Desire builds as the toing and froing indoors gathers pace behind the glass window separating these hungry souls from the objects of their affection. Just when the teasing becomes almost unbearable, the doors are thrown wide open and the ravenous crowds pour in. Bao Fitzrovia review
Having ridden this emotional rollercoaster on my last visit to Bao Soho, I was hoping for a gentler experience at Bao Fitzrovia. Rumours had been circulating about an extended menu featuring a cod bao as well as plenty of small plates, so Chef Savla (CS) and I decided it'd be the perfect pit stop to break up our trek to Wimbledon for a friend's birthday celebrations that evening. As with our journey to Soho Food Feast, we pulled on our trainers and walked the 7 miles to bao bliss. Motivated by food, our feet carried us to the threshold 30 minutes before opening time. Unfortunately, what had started out as a pleasant day deteriorated en route and the riotous wind and rain also joined us in the queue. Bao Fitzrovia review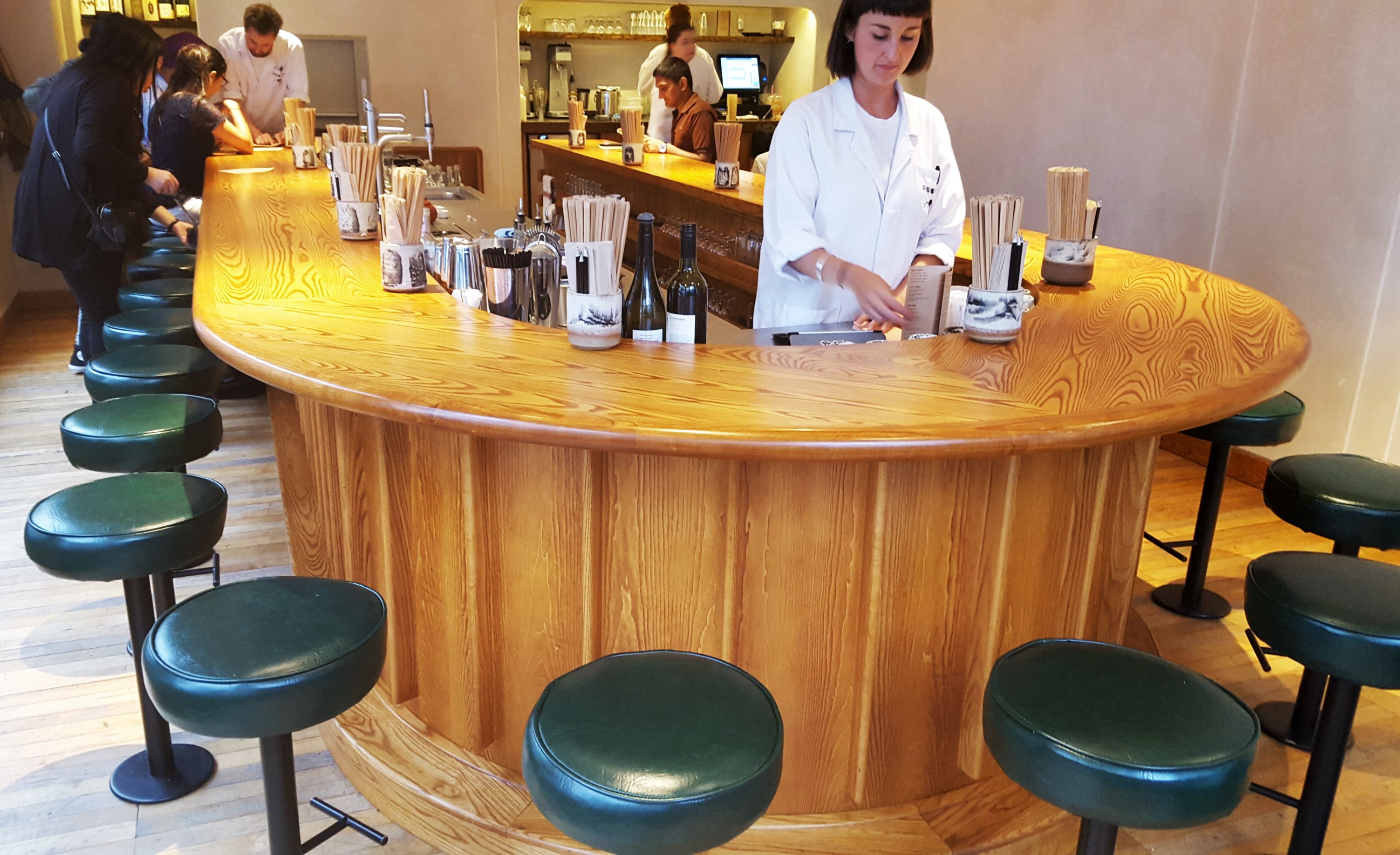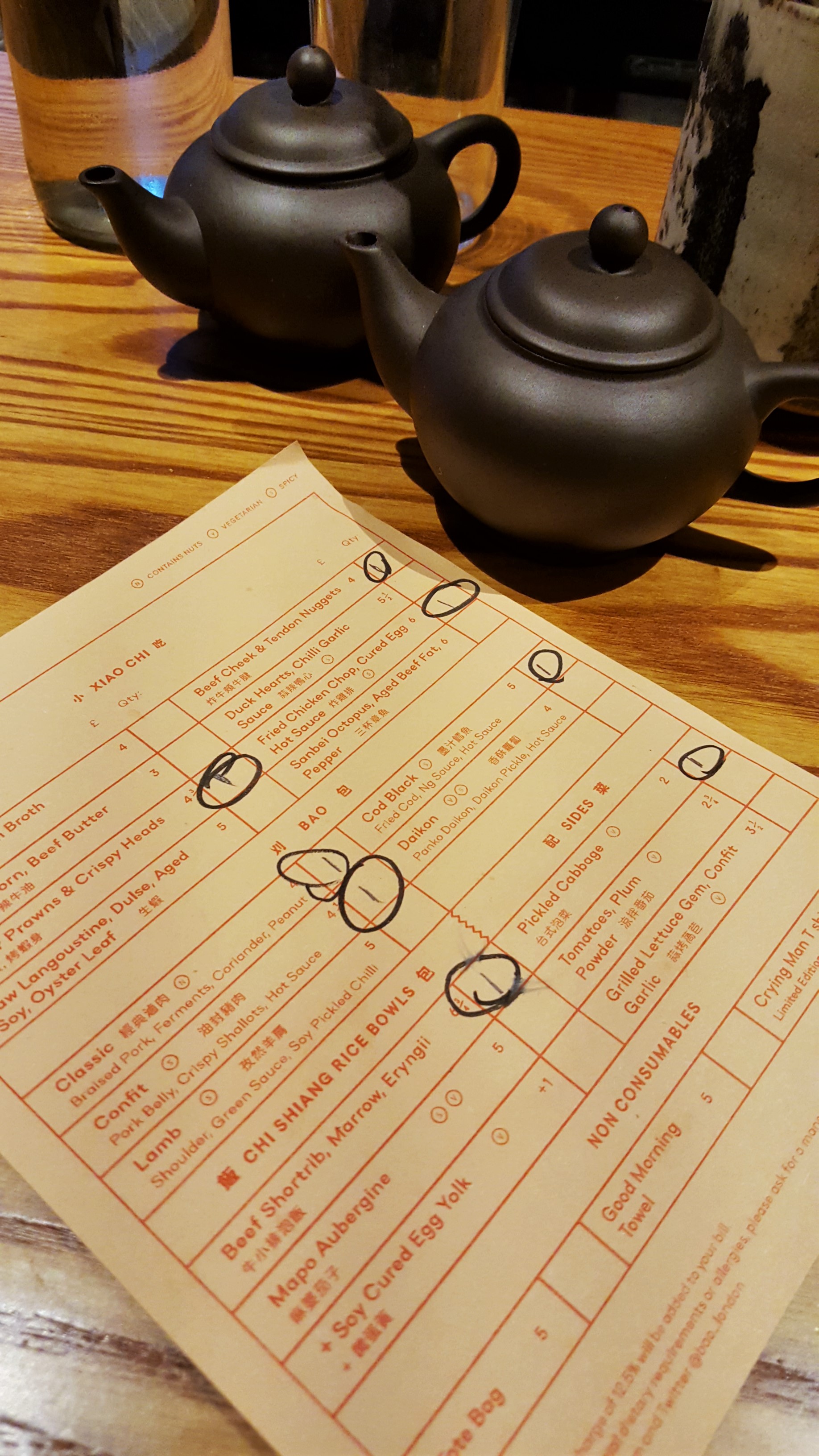 Ambiance and décor: My fingers and toes were frozen by the time I entered and I eagerly wrapped them around the tiniest teacup while contemplating my surroundings. Minimalist chic reigns supreme yet again, with an on-trend single horseshoe counter dominating the ground floor rather than the window counters and tables in the Soho branch. Unlike the original, Fitzrovia boasts a basement area where tables surround the bustling open kitchen. However, the space and liveliness comes at the expense of light. Bao Fitzrovia review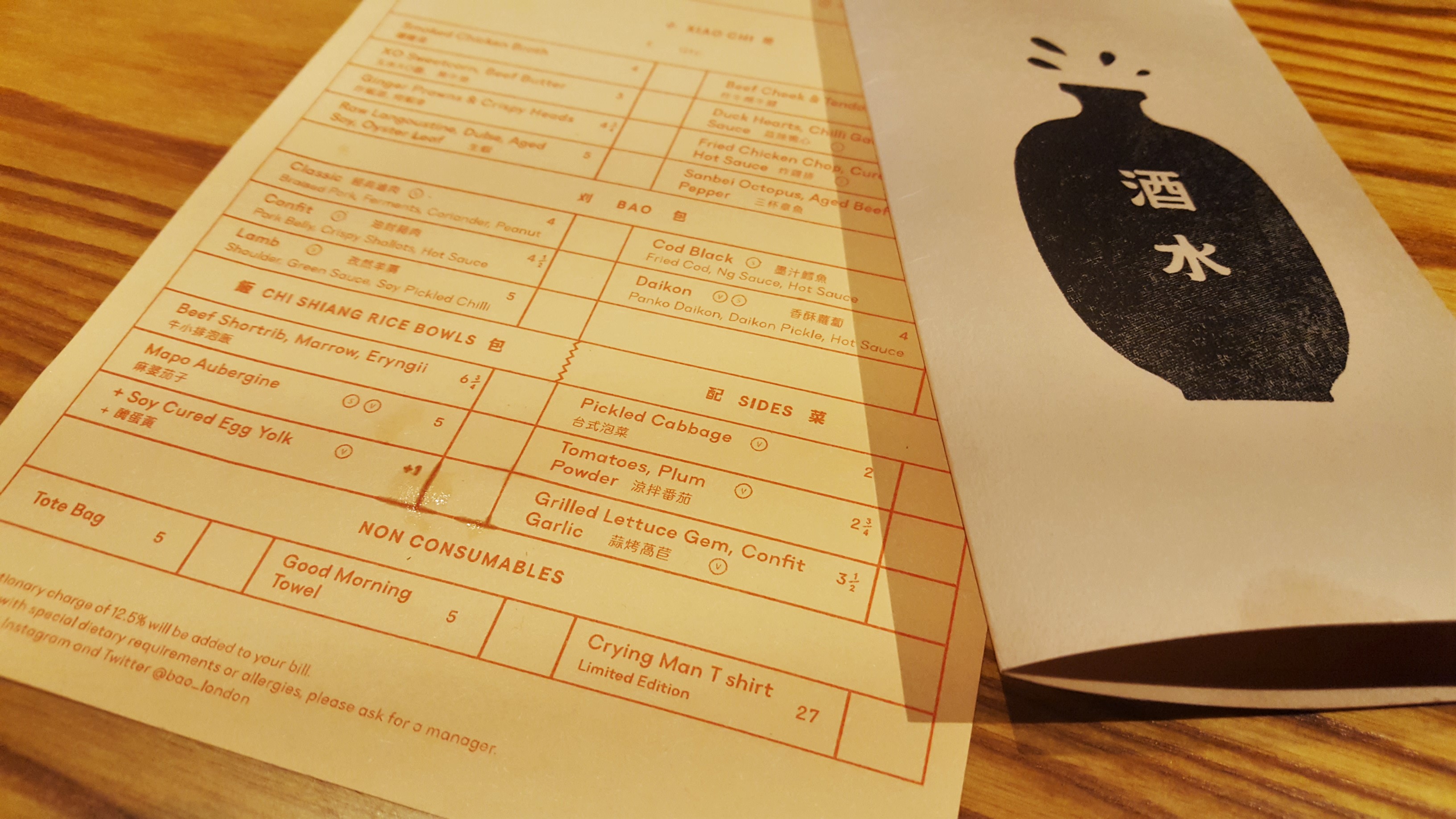 Service: Front of house were welcoming and happy to satisfy my curiosity regarding some of the drinks and dishes, specifically the cream-topped cold brew tea and new rice dishes. I did expect a higher level of engagement, similar to what I'd experienced on my inaugural trip, but this wasn't forthcoming; surprising given that it wasn't phenomenally busy when we arrived.
Food and drink: Having finally warmed up, our attention turned from the interior design to the short and sweet menu, where all options are clearly laid out and ready to be ticked off. From the small plates section ("Xiao Chi"), we picked the following 3 options: Bao Fitzrovia review Bao Fitzrovia review Bao Fitzrovia review Bao Fitzrovia review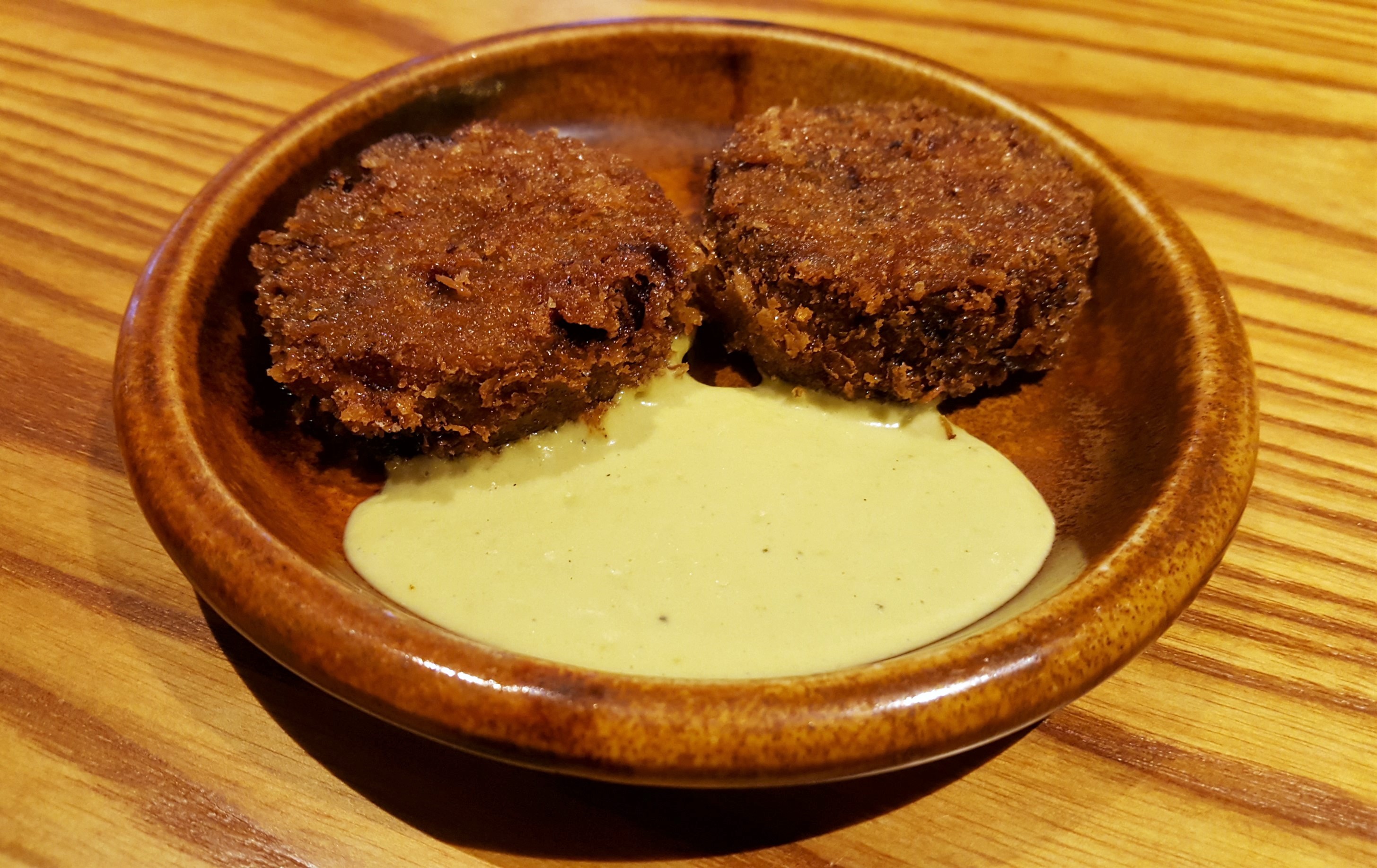 The Beef Cheek and Tendon Nuggets were hot and heavenly. As you bit into them, the thin and crispy coating burst open and out tumbled tiny strips of juicy meat, the slightly fatty flavour rounded off by the sharp burnt chilli sauce. Wanting to save space for the rest of the meal, I resisted the urge to order another portion for myself. Bao Fitzrovia review Bao Fitzrovia review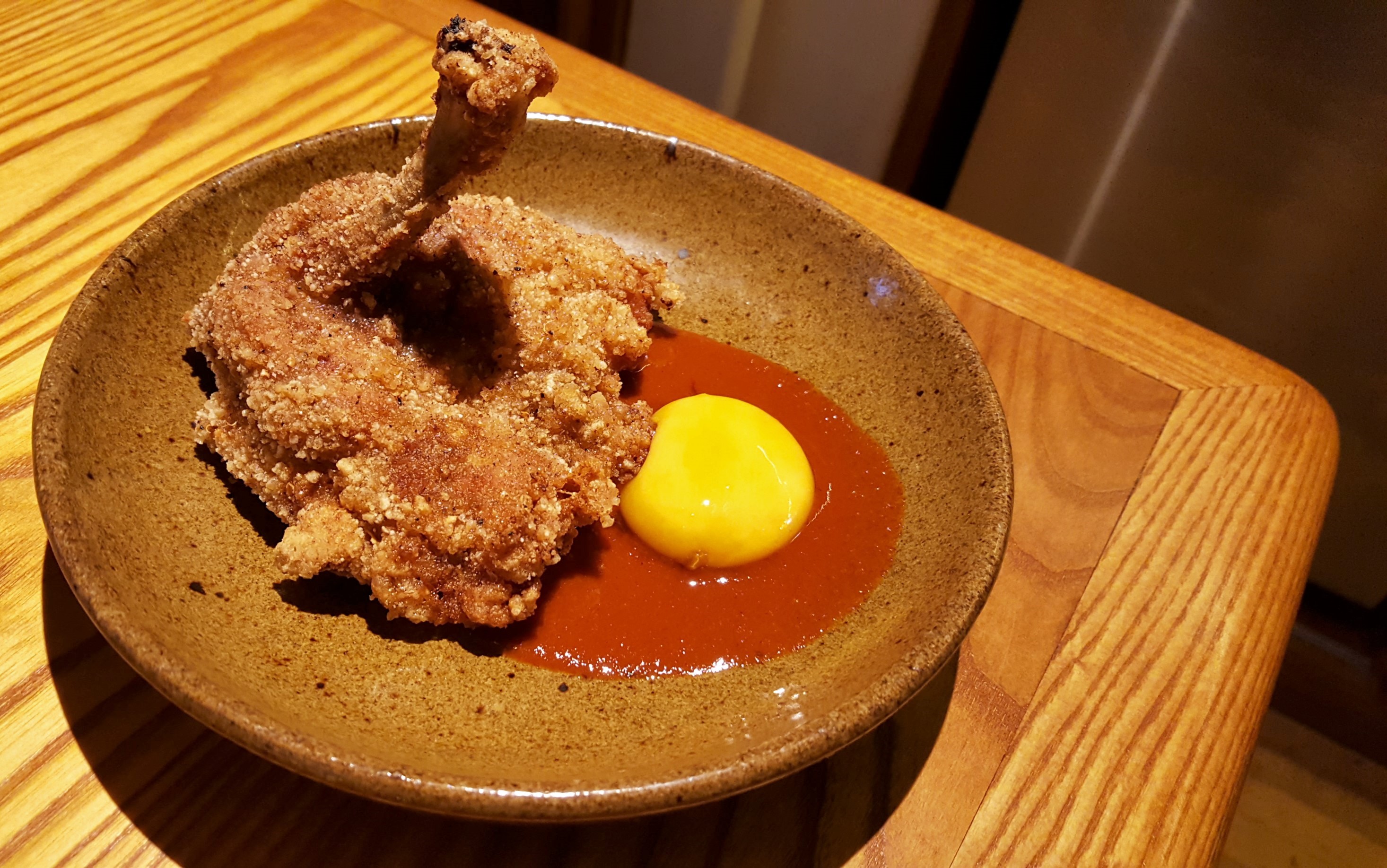 Meat on the bone is very rarely my first choice, much less after it's spent time in a deep-fat fryer, but I let CS persuade me to give the Fried Chicken Chop a try. Instead of the expected greasiness, the batter was delightfully skimpy and light. By contrast, the soy-cured egg yolk, which slowly oozed all over the red hot sauce to form a two-tone accompaniment, was loud and lascivious.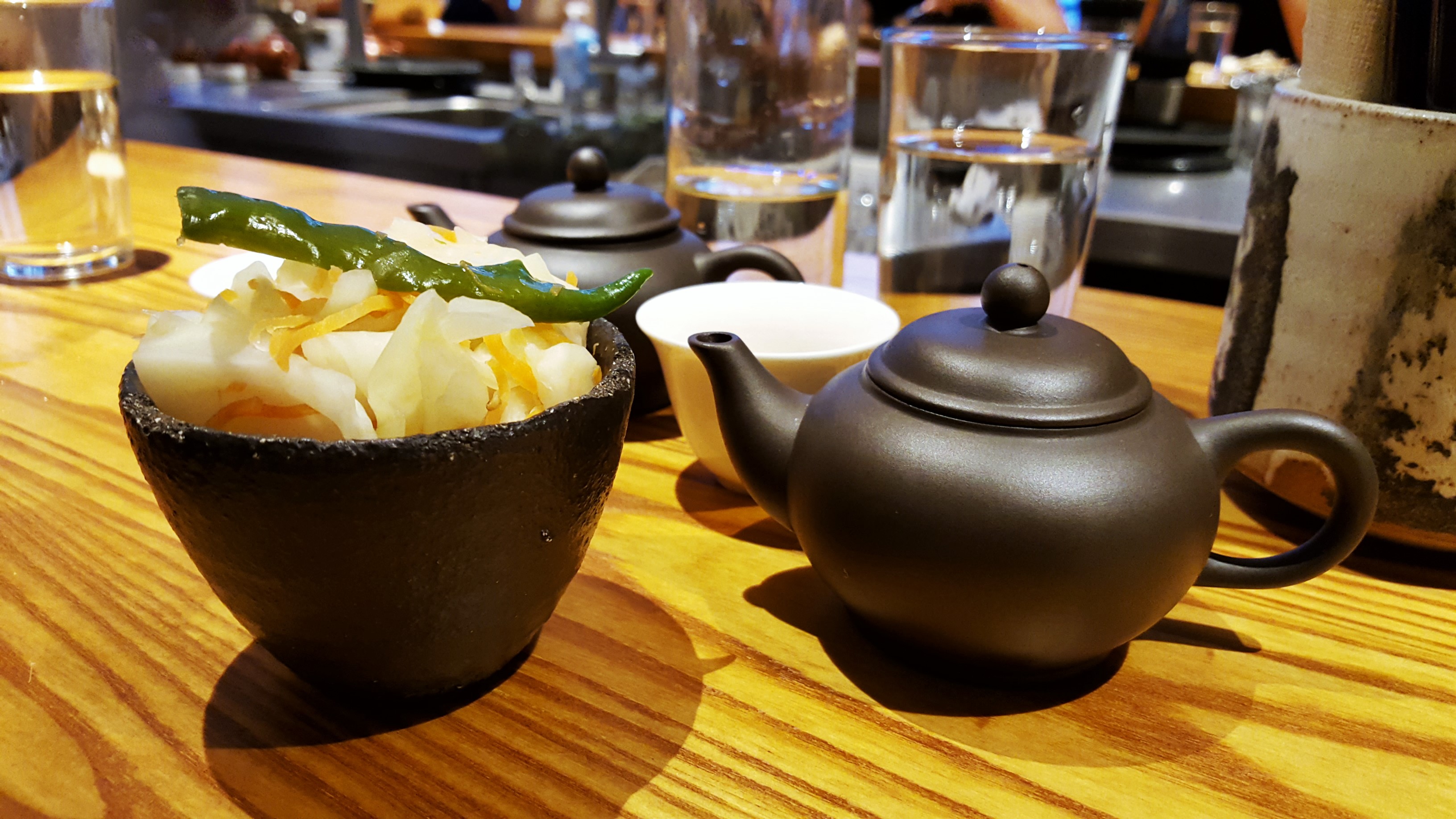 The red and white meat gave way to seafood in the form of Ginger Prawns and Crispy Heads. Apparently the parts we usually discard contain the most flavour, although the only ones we detected were ginger and garlic. These were followed by the Pickled Cabbage, which outshone its predecessor by miles. Bao Fitzrovia review Bao Fitzrovia review Bao Fitzrovia review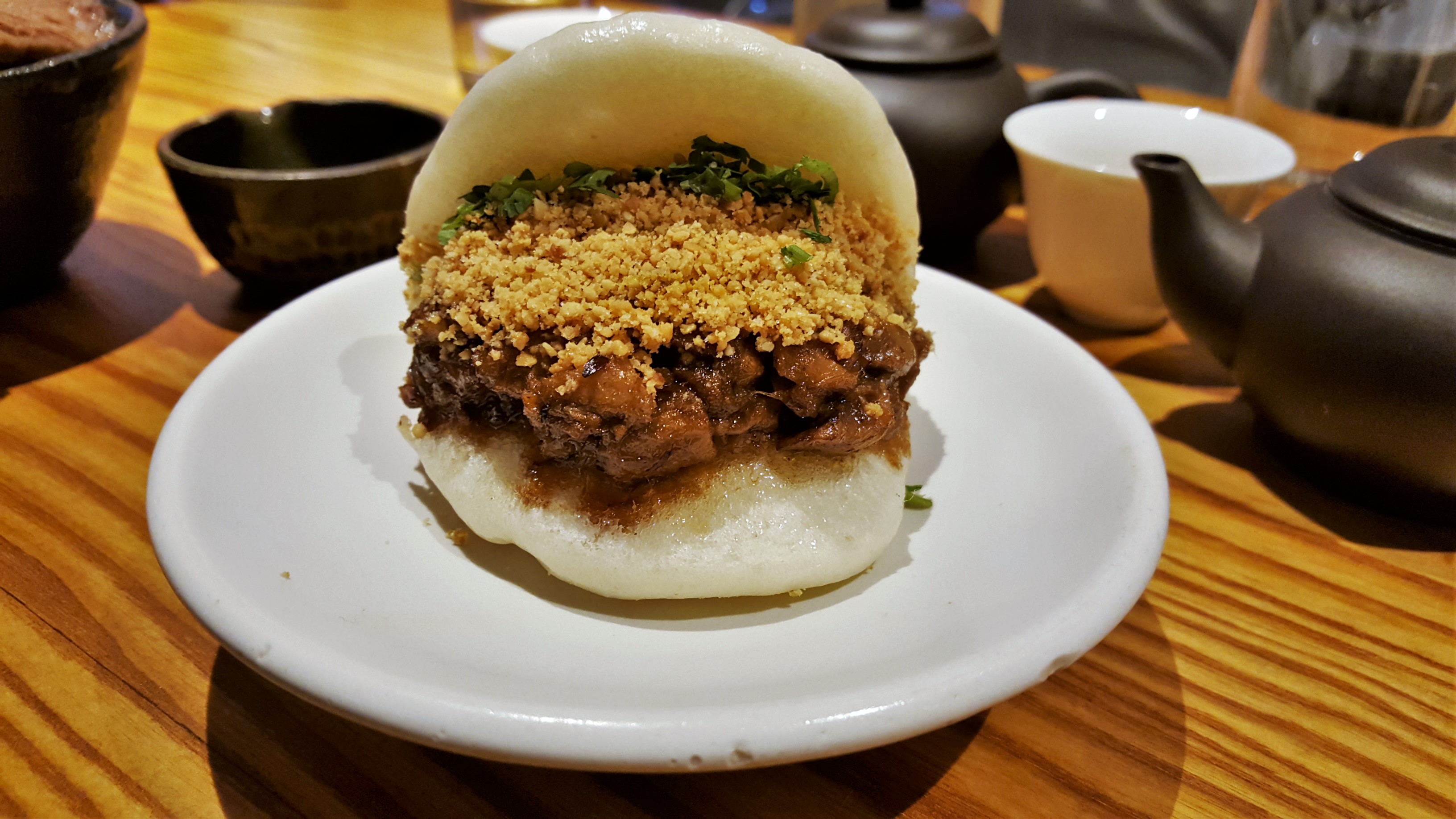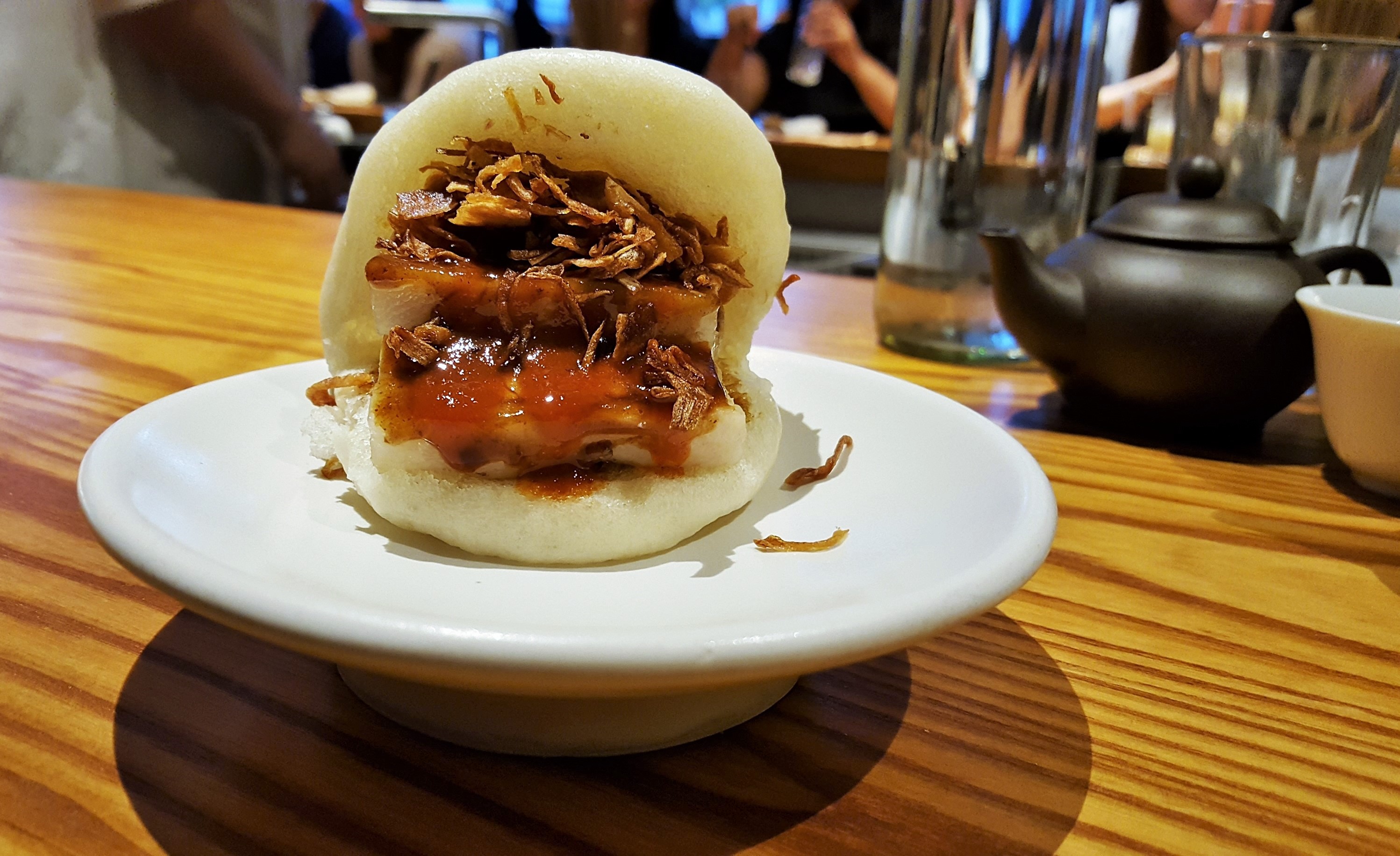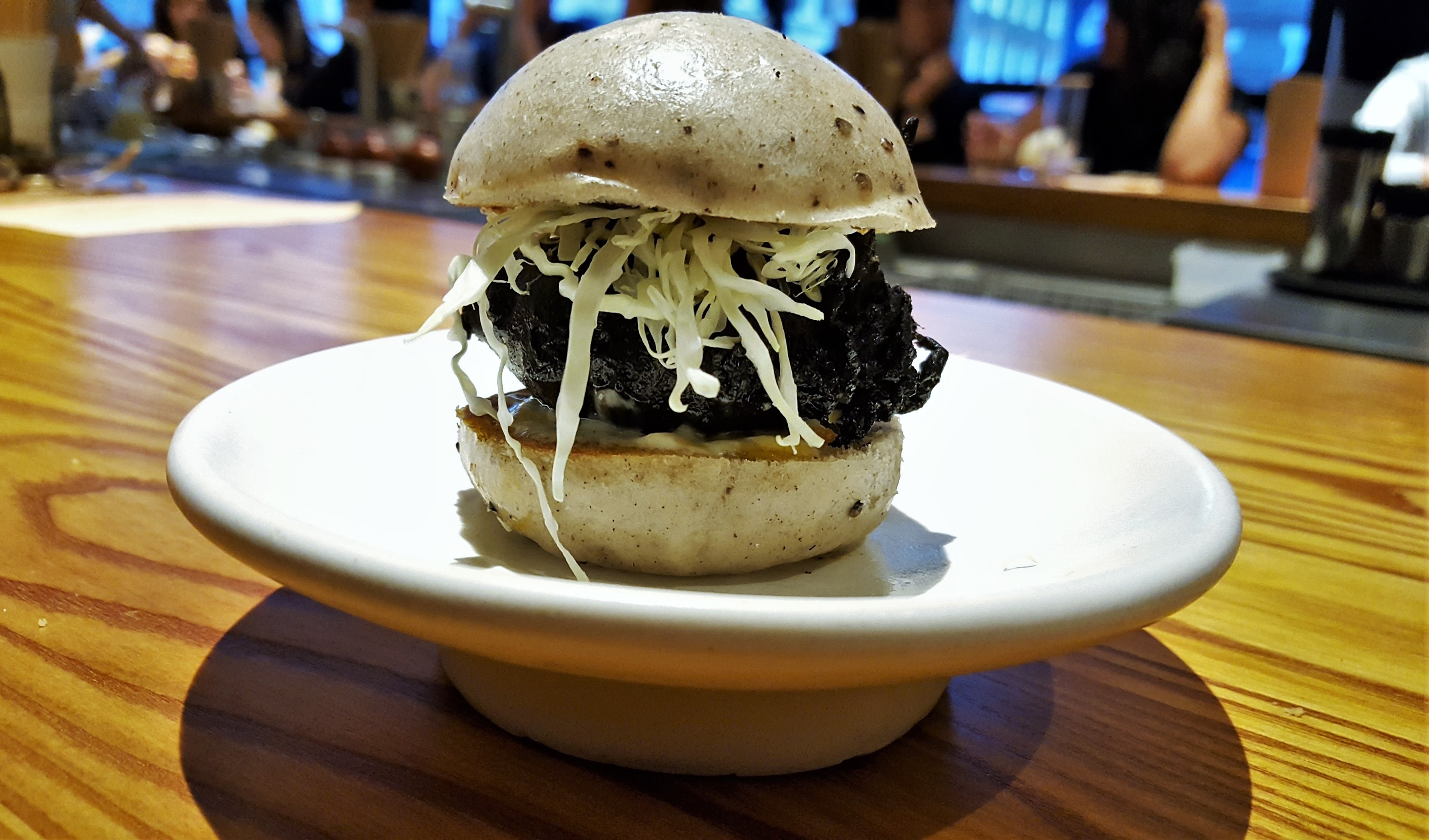 Having had our fill of crunchiness, we targeted the baos: Classic, Confit and Cod Black. Numbers one and two were still little powerhouses of pillow-soft pleasure protecting their respective precious braised pork and pork belly contents. The classic has the edge for me as the peanut powder adds another savoury note to the mix. But these thoughts fade away after a mouthful of the new bao on the block: sandwiched between toasted sesame buns, the fried fish flaked on contact and took us by surprise for its simple, clean taste. Bao Fitzrovia review Bao Fitzrovia review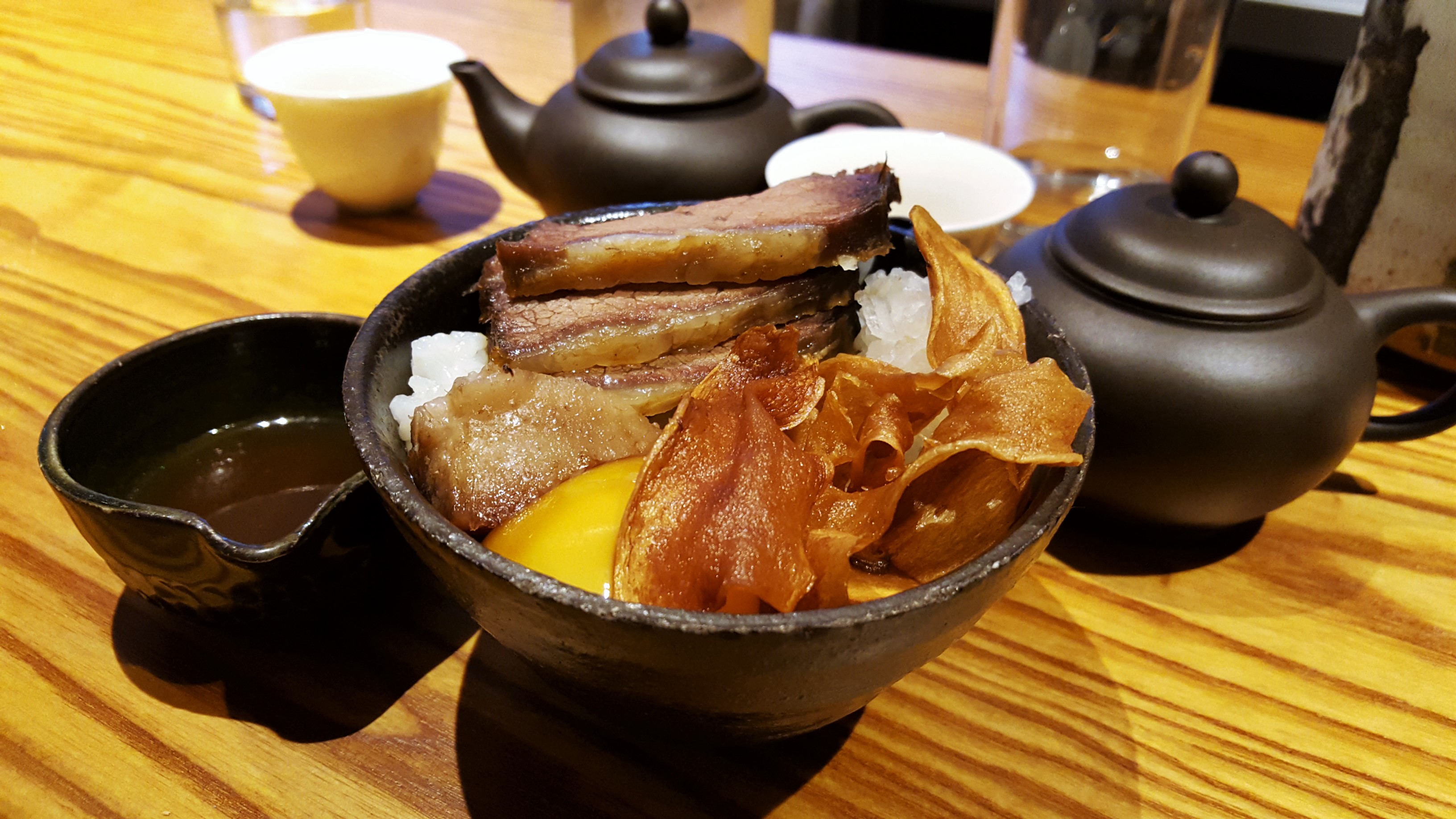 Rice-based dishes ("Chi Shiang") don't usually catch my eye, unless they're topped with Beef Shortrib, Marrow and Eryngii Mushrooms, that is. A golden egg yolk glistened underneath these winning ingredients, all of which were doused in a beef stock reduction. The individual elements in this small bowl were made for each other, as the layers of richness built up to an overwhelming conclusion; a standout dish. Bao Fitzrovia review Bao Fitzrovia review Bao Fitzrovia review Bao Fitzrovia review
Verdict: While we had no qualms about the carefully crafted menu and counter dining, the downside is that the small plates don't necessarily add up to big value, just a potentially large hole in your pocket. We enjoyed everything we tried, some plates more than others, but our appetites hadn't been fully sated as we'd shared each dish. The small eats are exactly that, so my advice is to be a bit selfish at Bao, order what you like then sample the other options instead of splitting them down the middle. The delectable Horlicks bao didn't make the cut for this menu, so we headed over to Soho for a slice of my favourite pecan brownie in London. Bao Fitzrovia review Bao Fitzrovia review Bao Fitzrovia review Bao Fitzrovia review
Budget: £33 pp (including service)
Links: Bao Soho Review, Bao Fitzrovia, Soho Food Feast Review