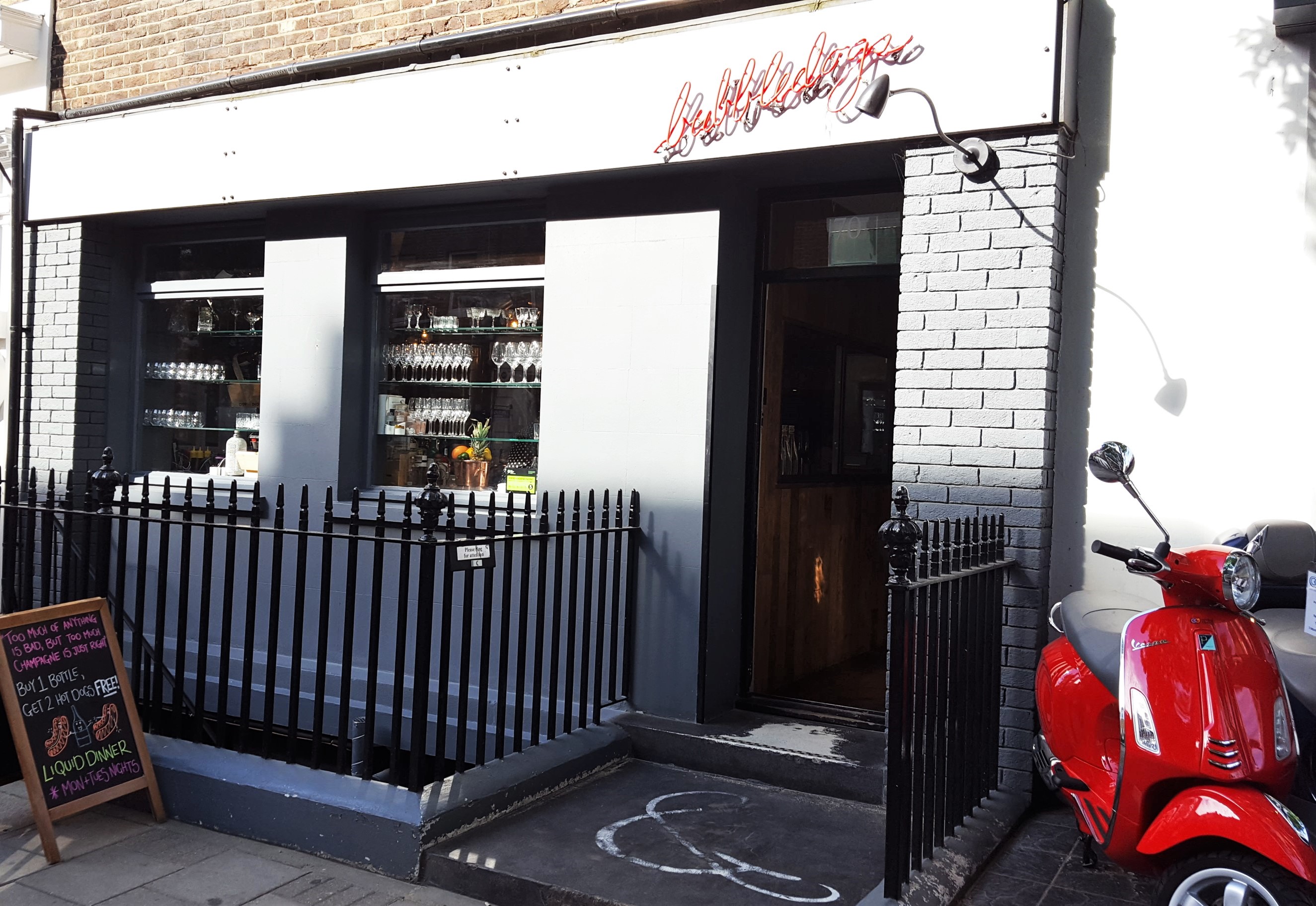 Good things do come to those who wait. Even though I'd wanted to go to Kitchen Table (KT) for years, I was actually meant to have my birthday dinner elsewhere this year as I hadn't got around to booking months in advance. But as luck would have it, I happened to be on their site and came across a 6pm slot on Friday, the big day itself. Once I'd recovered from the surprise, I quickly reserved two spots, simultaneously informing Chef Savla (CS) to be available earlier than planned. Backed by the Sethi family, Kitchen Table is another successful husband-and-wife collaboration, with James Knappett and Sandia Chang at the helm. Their combined talents secured them a Michelin star in 2014 and they continue to wow customers with their innovative cuisine.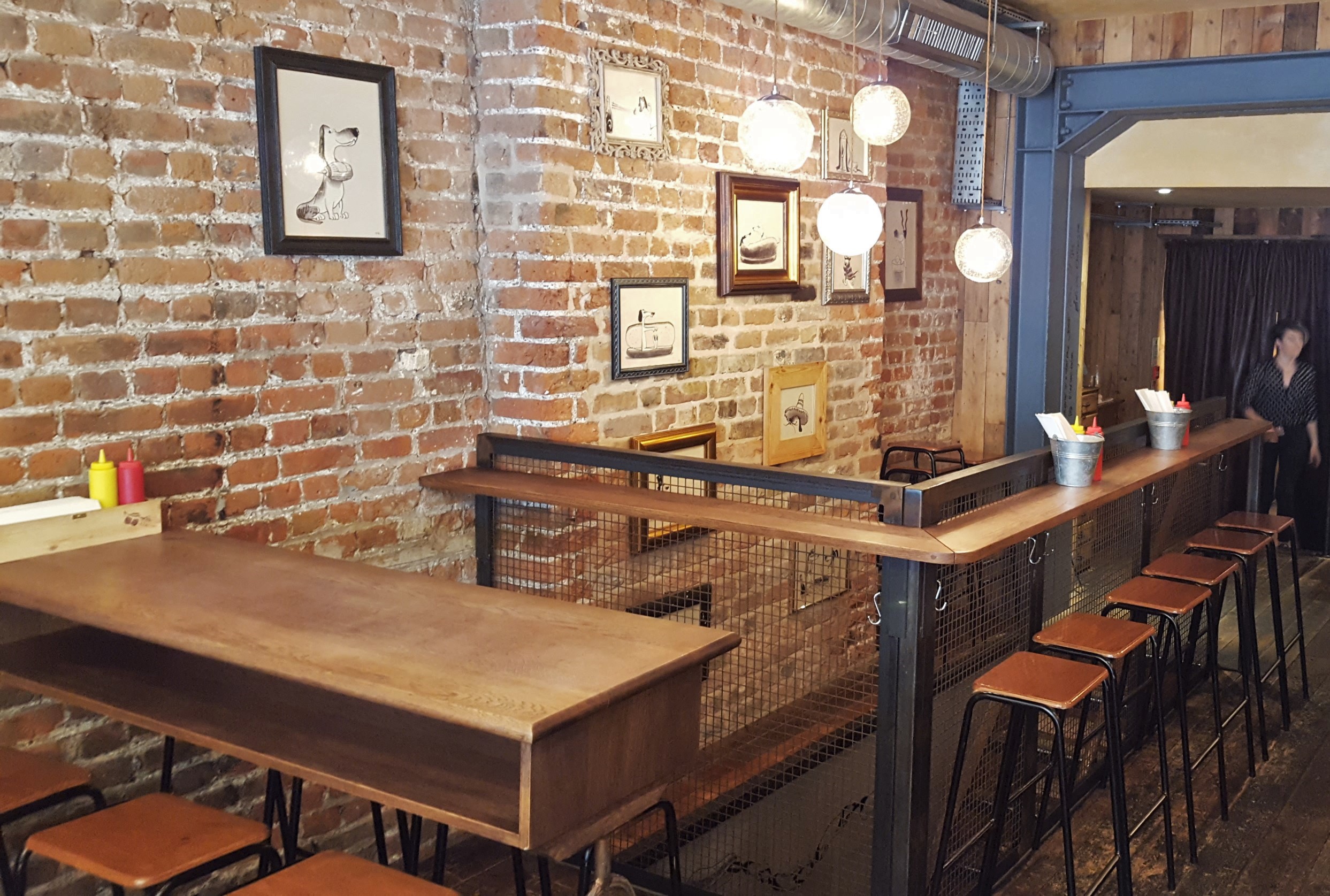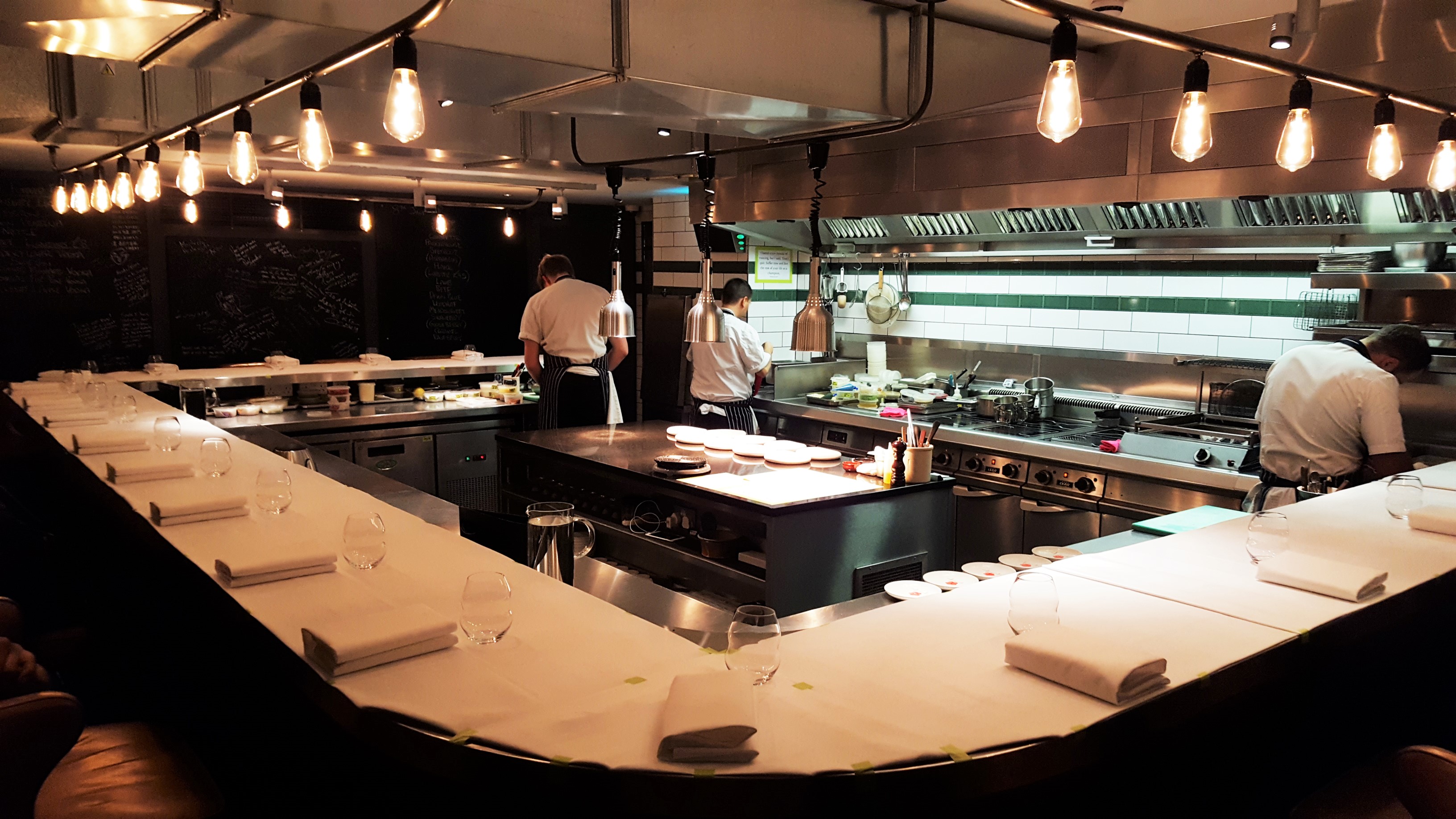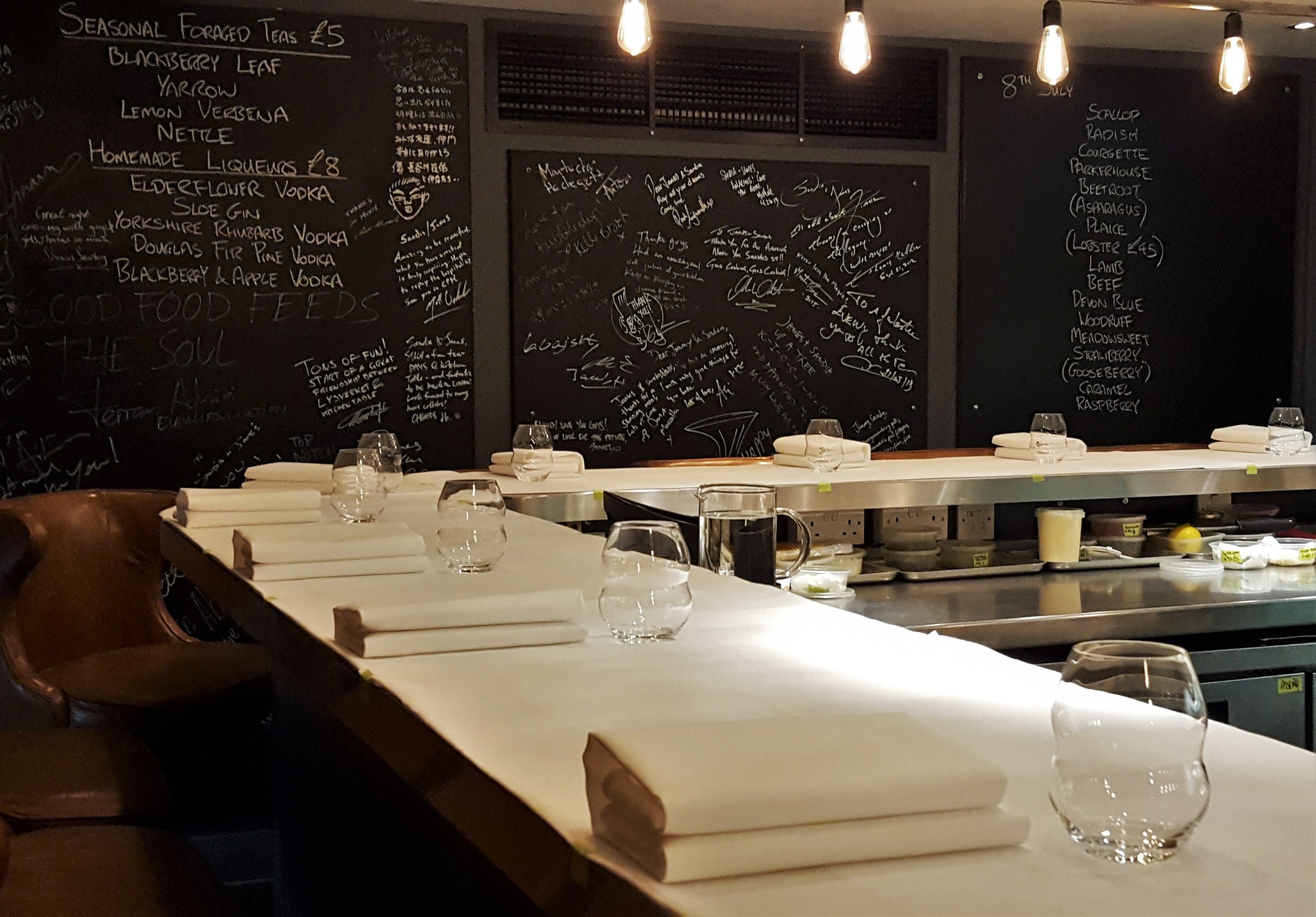 Ambience and decor: The exterior is very unassuming, clinical even, with its plain grey walls. Then you notice the shiny champagne glasses through the windows, the Bubbledogs sign and the ampersand-imprinted doormat and know you're in the right place. Bubbledogs is the other restaurant on the premises, offering gourmet hotdogs alongside a glass of fizz. Naturally, we indulged in the latter before being led through to KT, which is completely hidden from view. Walking in was like stepping into the wardrobe in The Chronicles of Narnia and being transported to my version of a magical world: 19 seats around a small, open kitchen, with the entire room bathed in a soft glow. There's no fancy artwork or sculptures to distract you, simply three blackboards with foodie quotes and menu teasers. Kitchen Table Blogger Review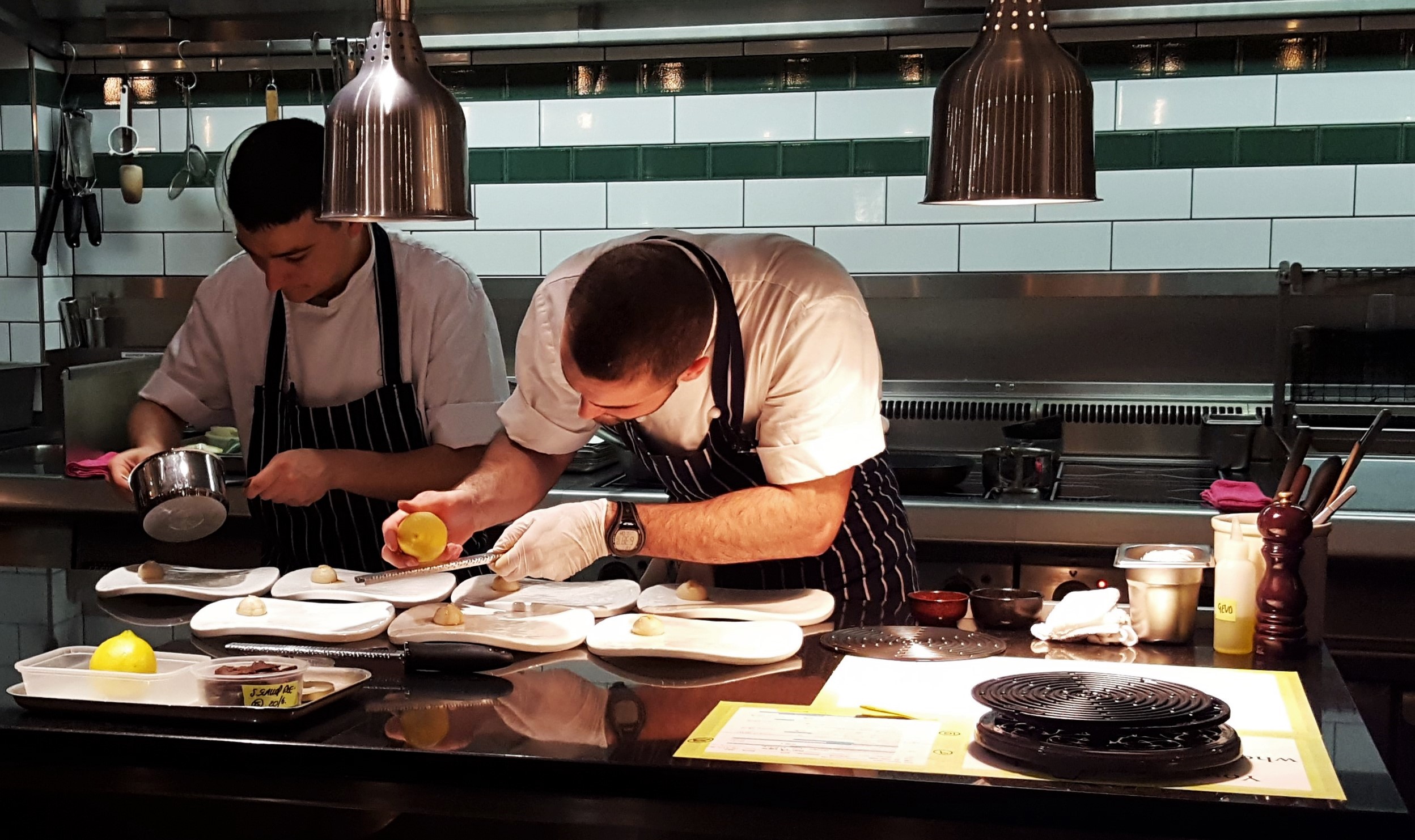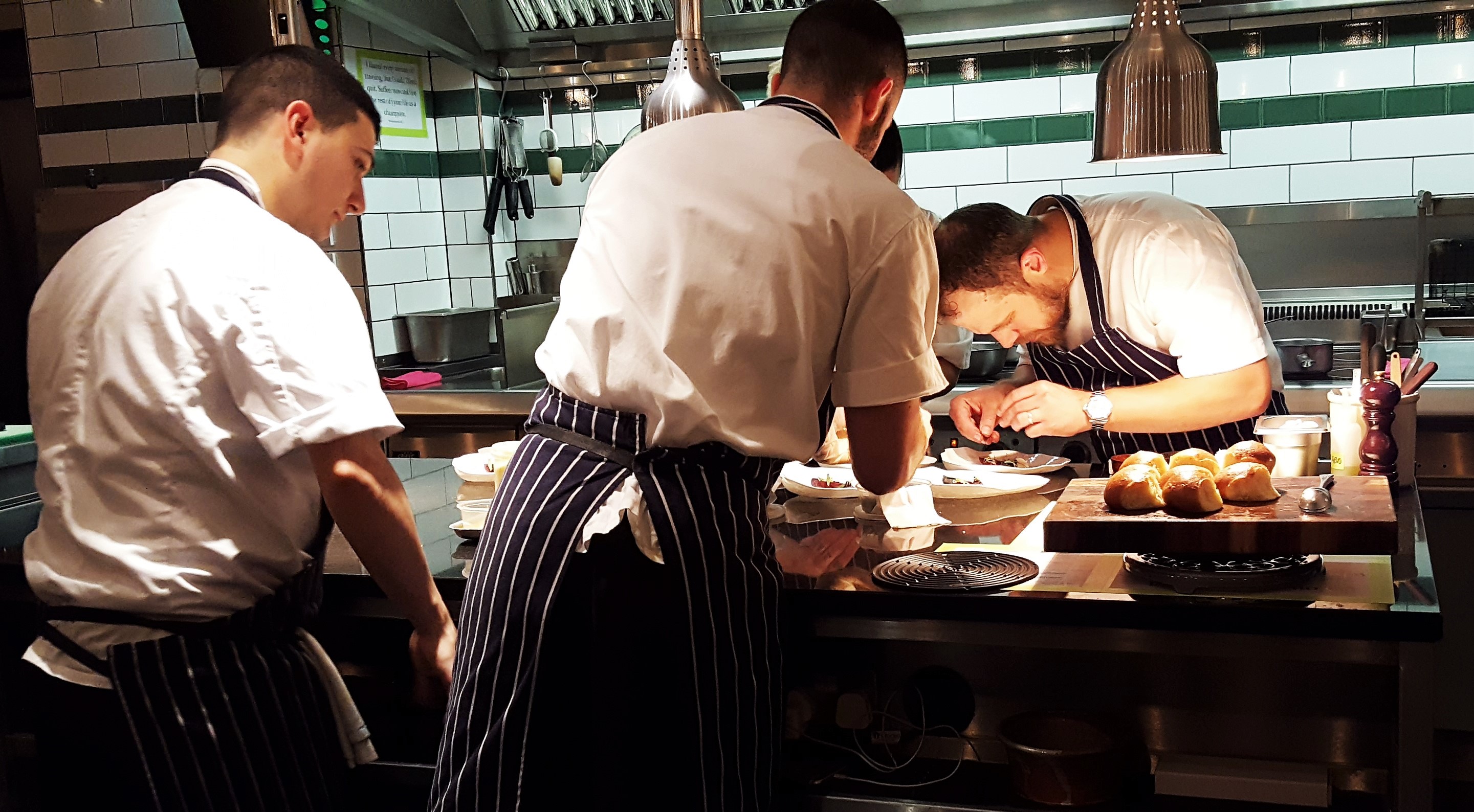 Service: Dining here is a unique experience because you feel like a fly on the wall, finally in a position to observe the process of kitchen to table. While KT isn't the only place with this setup, the atmosphere is more intimate and calmer than others, e.g. Barrafina, since diners are served at the same time (they only have 2 sittings for dinner), The restaurant manager was attentive and charming as he explained the concept, advised on wine and ensured we were comfortable throughout our meal. But the highlight is undoubtedly having James talk you through the origins of each dish and how it was prepared in detail, then answer any questions before and/or after you've tasted it. How often do you get the chance to witness your food being cooked and plated to this standard and quiz the chef who devised the menu, all with a glass of wine in hand? Kitchen Table Blogger Review
Food and drink: Curious about what sort of food you can expect? Well, there's no online menu as it changes daily. A printed version won't be provided either; the only clue you'll be given is a list of main ingredients per course, of which there are 14. If you're feeling adventurous/gluttonous, you can add another 3 for an additional £45. Worried about bursting out of my dress, I chose the former and CS enthusiastically requested the latter. For vegetarians, vegans or those with allergies/intolerances, you can specify your dietary requirements when you book and the dishes will be adapted accordingly. Kitchen Table Blogger Review
We drank Châteauneuf-du-Pape (2013, 100% grenache) and ate the following (in chronological order): Kitchen Table Blogger Review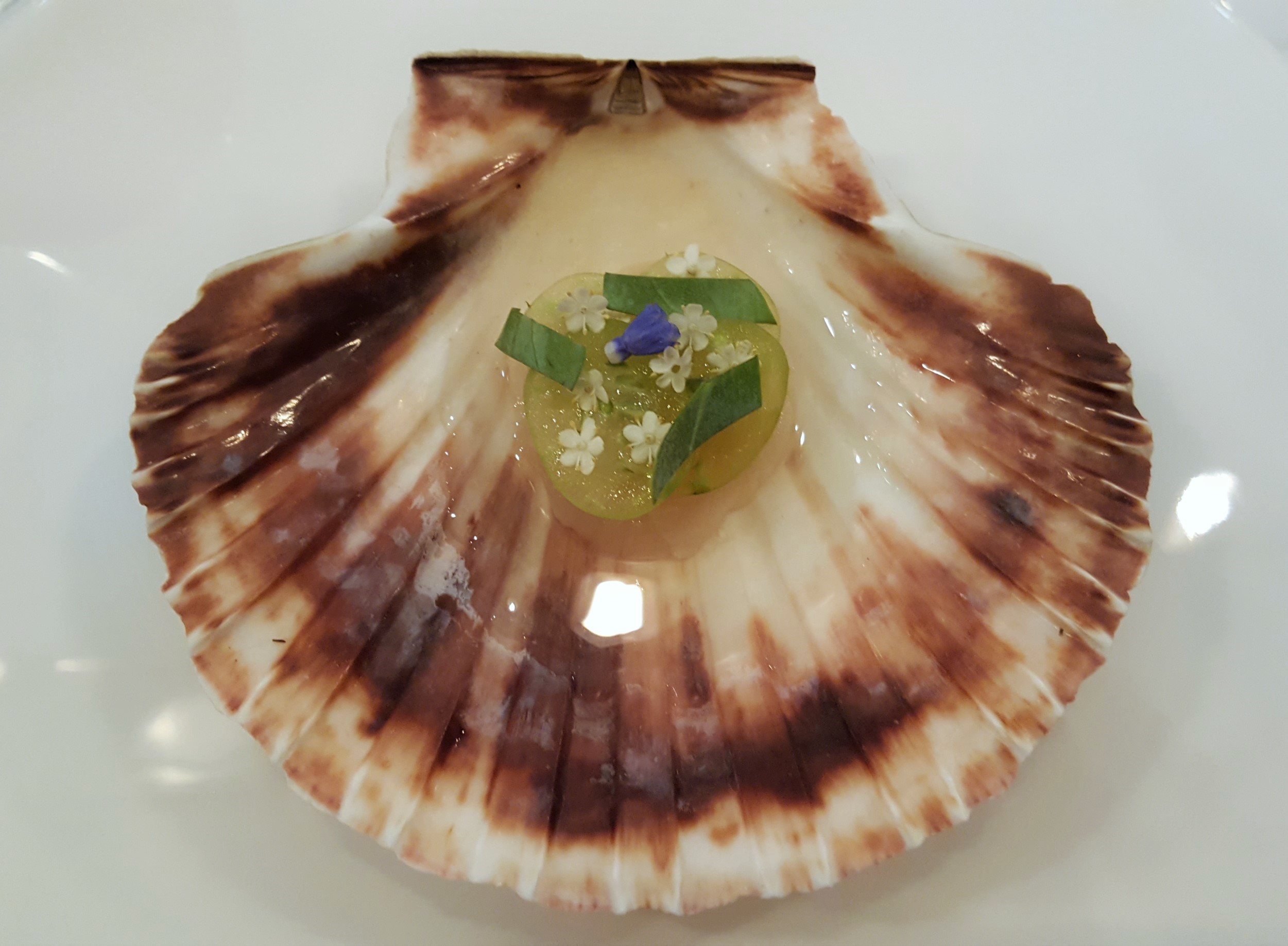 Scallop: Ceviche with sliced gooseberry and elderflowers in a lightly smoked tea. I enjoyed the fresh flavours and temperature before we tackled the richer dishes, but CS was less enamoured as he found the tea too bitter. Kitchen Table Blogger Review Kitchen Table Blogger Review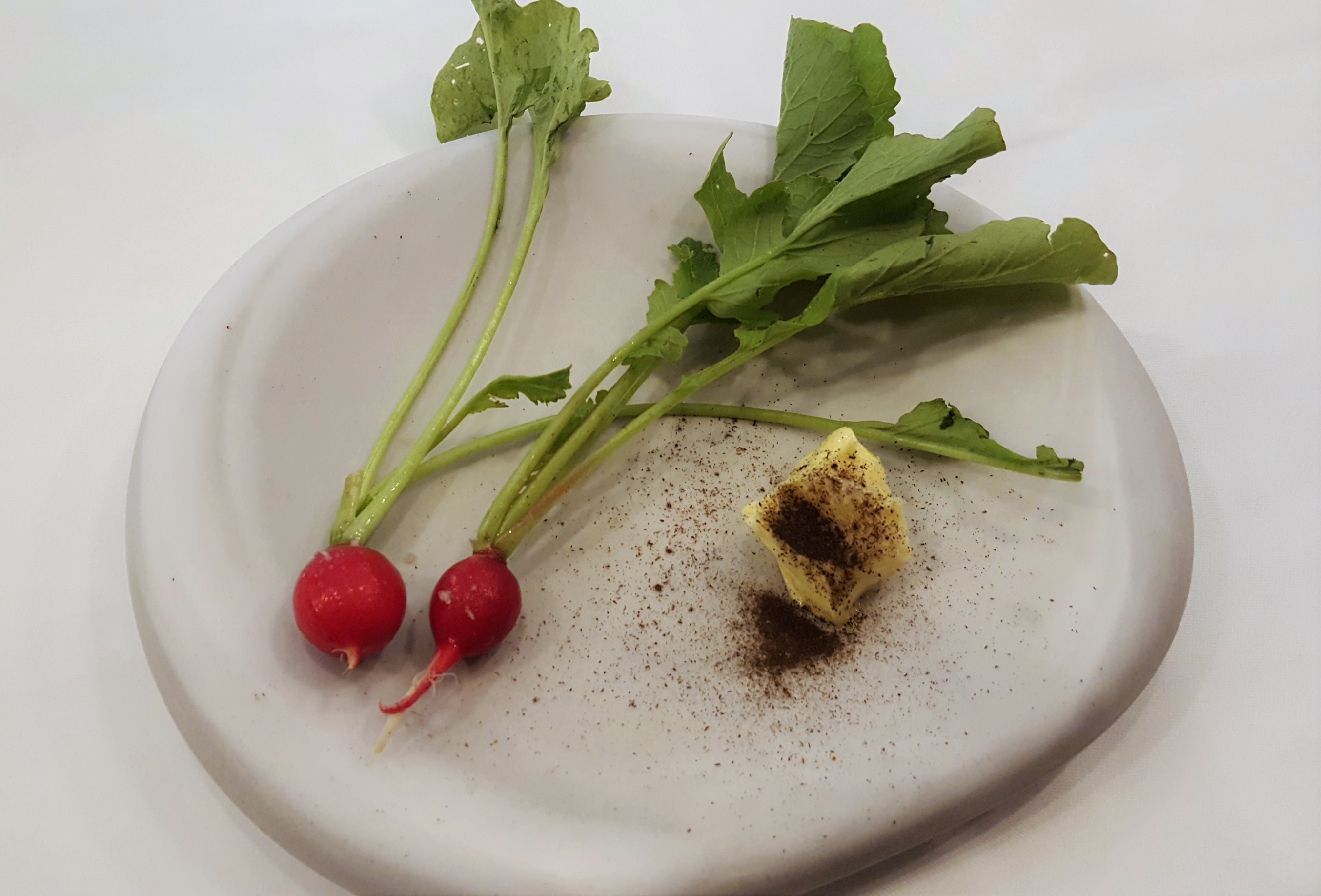 Radish: Served with smoked salt and butter. Although it was pleasant, this was our least favourite dish as it seemed lost among the other complex creations.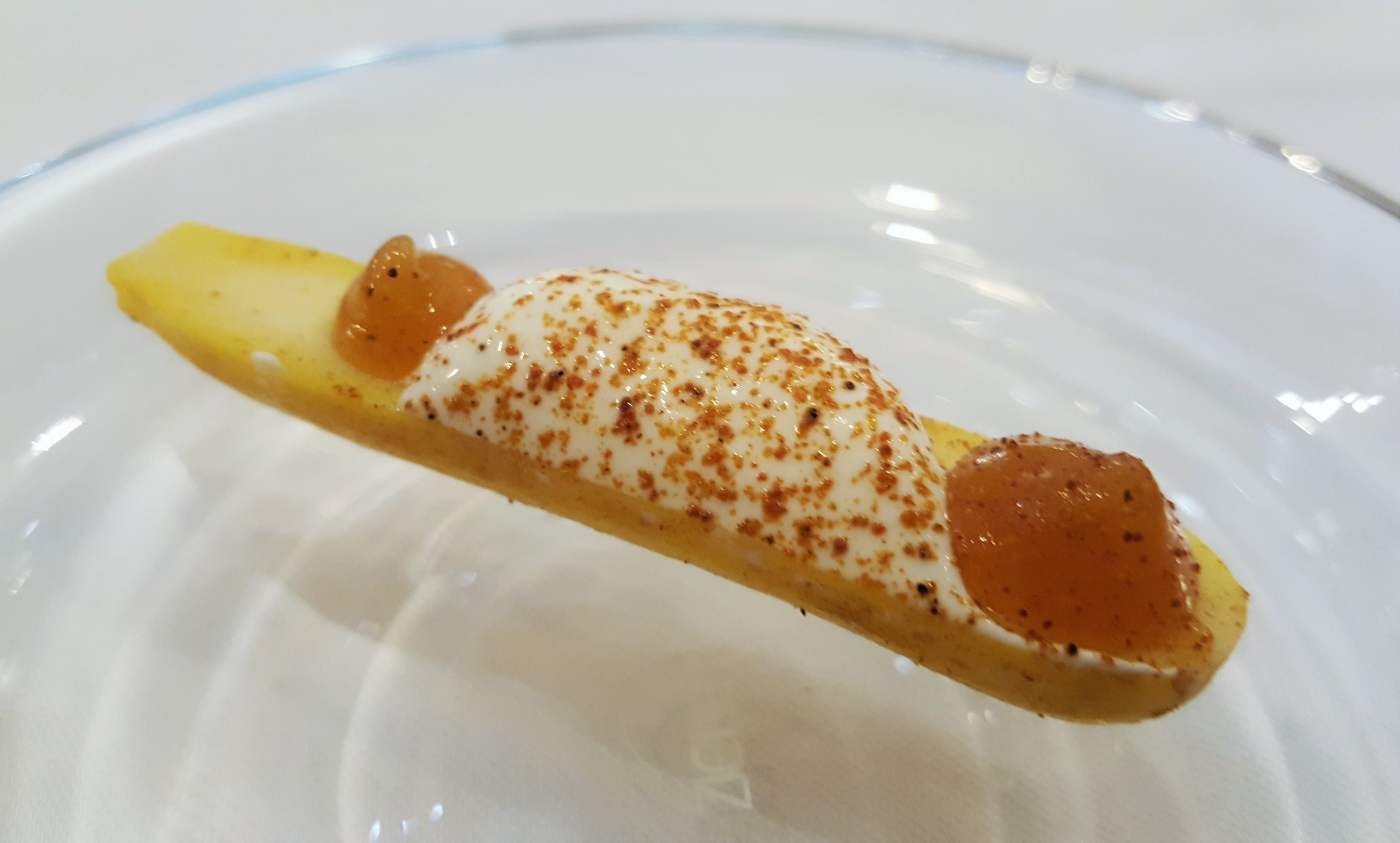 Courgette: Thin sliver topped with sour cream and mango chutney. The smattering of curry powder is made in-house and carefully balanced to tingle the taste buds instead of assaulting them; this was an impressive little vegetable. Kitchen Table Blogger Review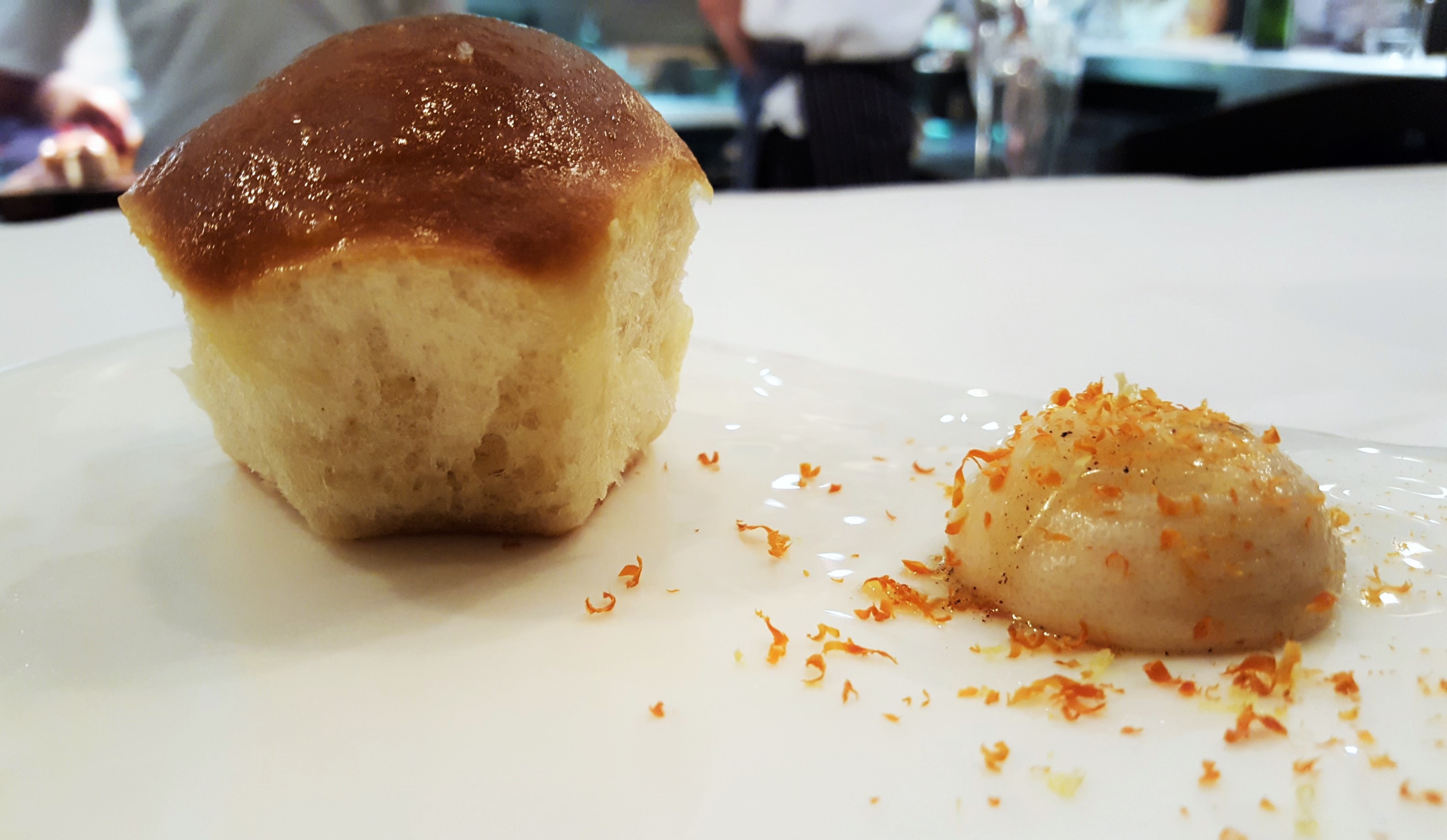 Parkerhouse: Turbot and smoked salmon roe, with brown butter and lemon. Don't be fooled by its unadorned appearance: this was a cracker. It's impossible to complain about warm, pillow-soft bread roughly torn into pieces then dragged through a silky smooth, delicate dip. We unashamedly asked for another round of bread.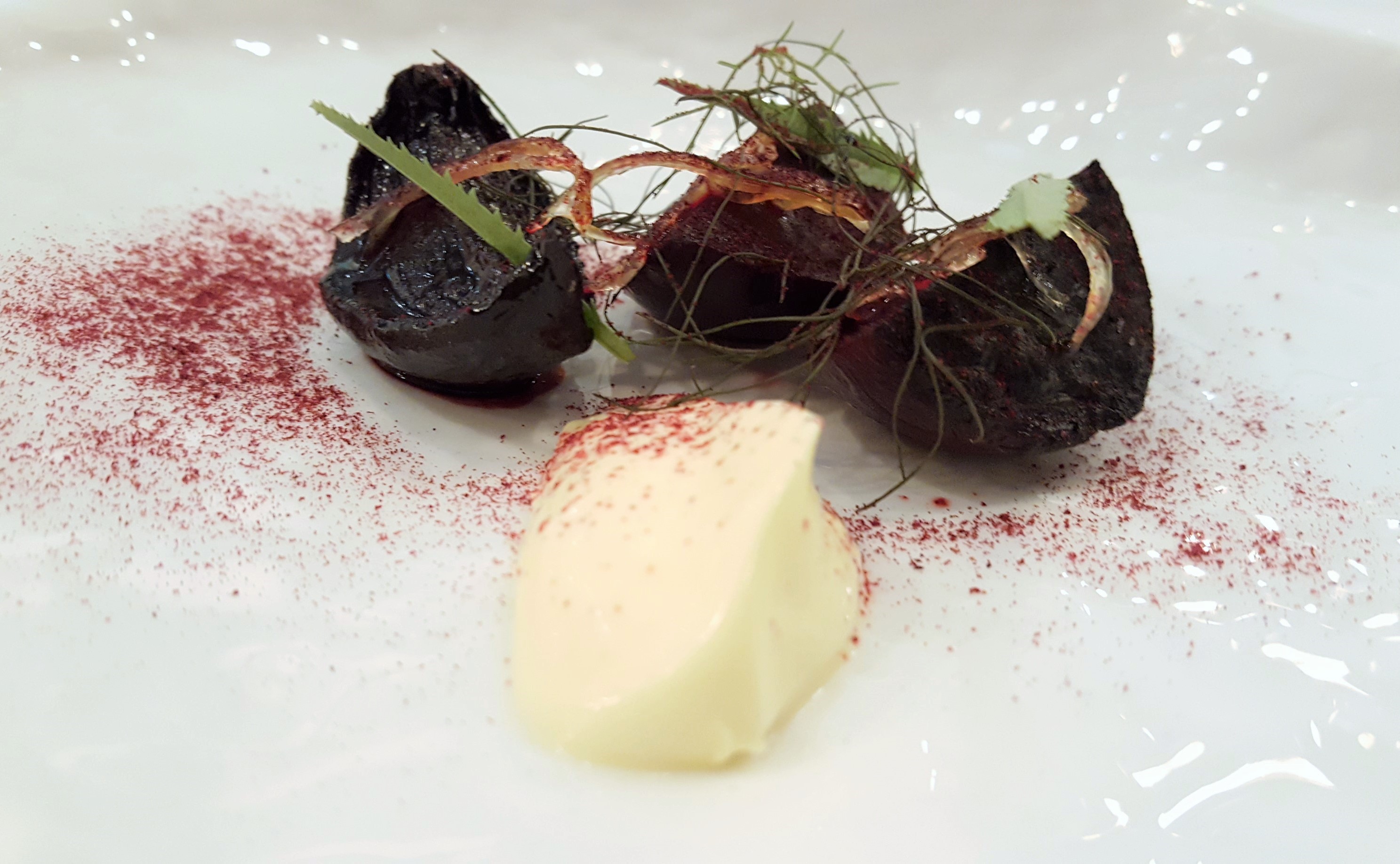 Beetroot: One vegetable done three ways, accompanied by crème fraîche, apple marigold, bronze fennel, confit lemon and blackcurrant. The intensity of each chunk was offset by the dollop of dairy then punctuated by sharpness from the citrus and blackcurrant dust. Kitchen Table Blogger Review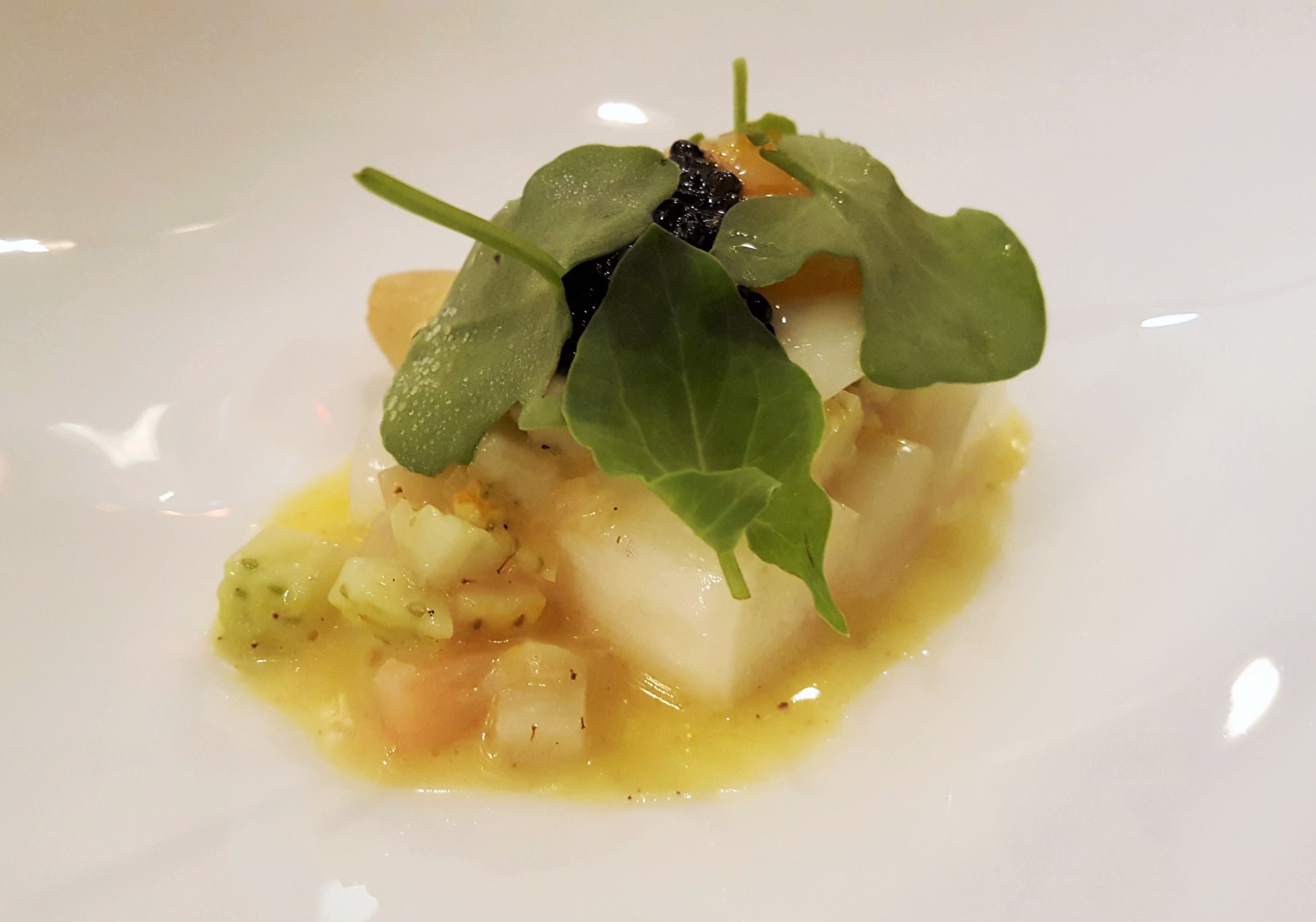 Asparagus: This was the first dish on the expanded menu. Caviar, strawberry, gooseberry and quail egg were skilfully piled onto white asparagus batons and drizzled with shallot butter: summer on the plate and palate alike. Kitchen Table Blogger Review Kitchen Table Blogger Review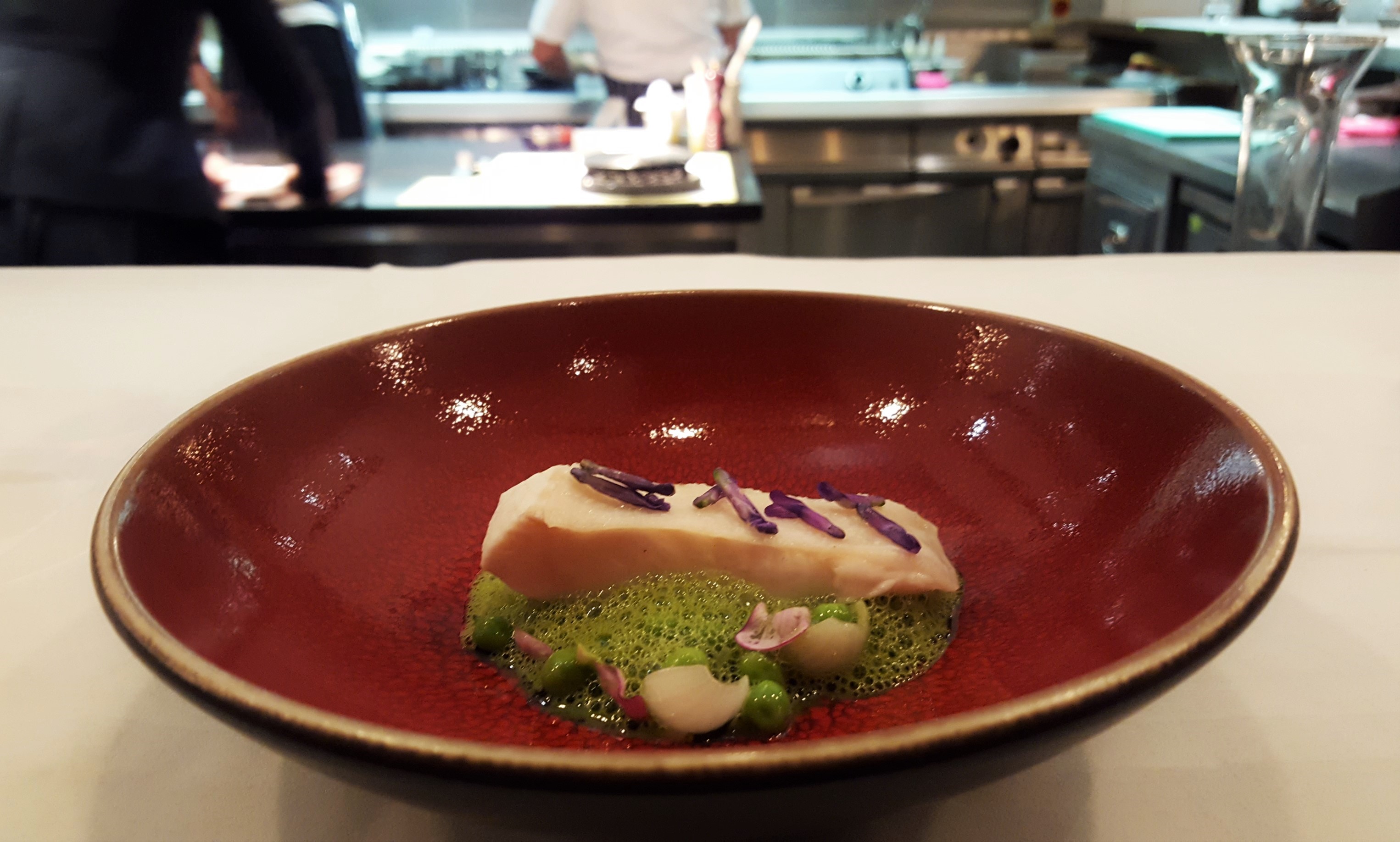 Plaice: Served with onions, verbena, black garlic, peas and rose. Bolder flavours and visuals in display here, with the fish practically melting on your tongue and perfectly combining with its fellow ingredients. After this winning dish, we were eagerly anticipating the heavyweight to come. Kitchen Table Blogger Review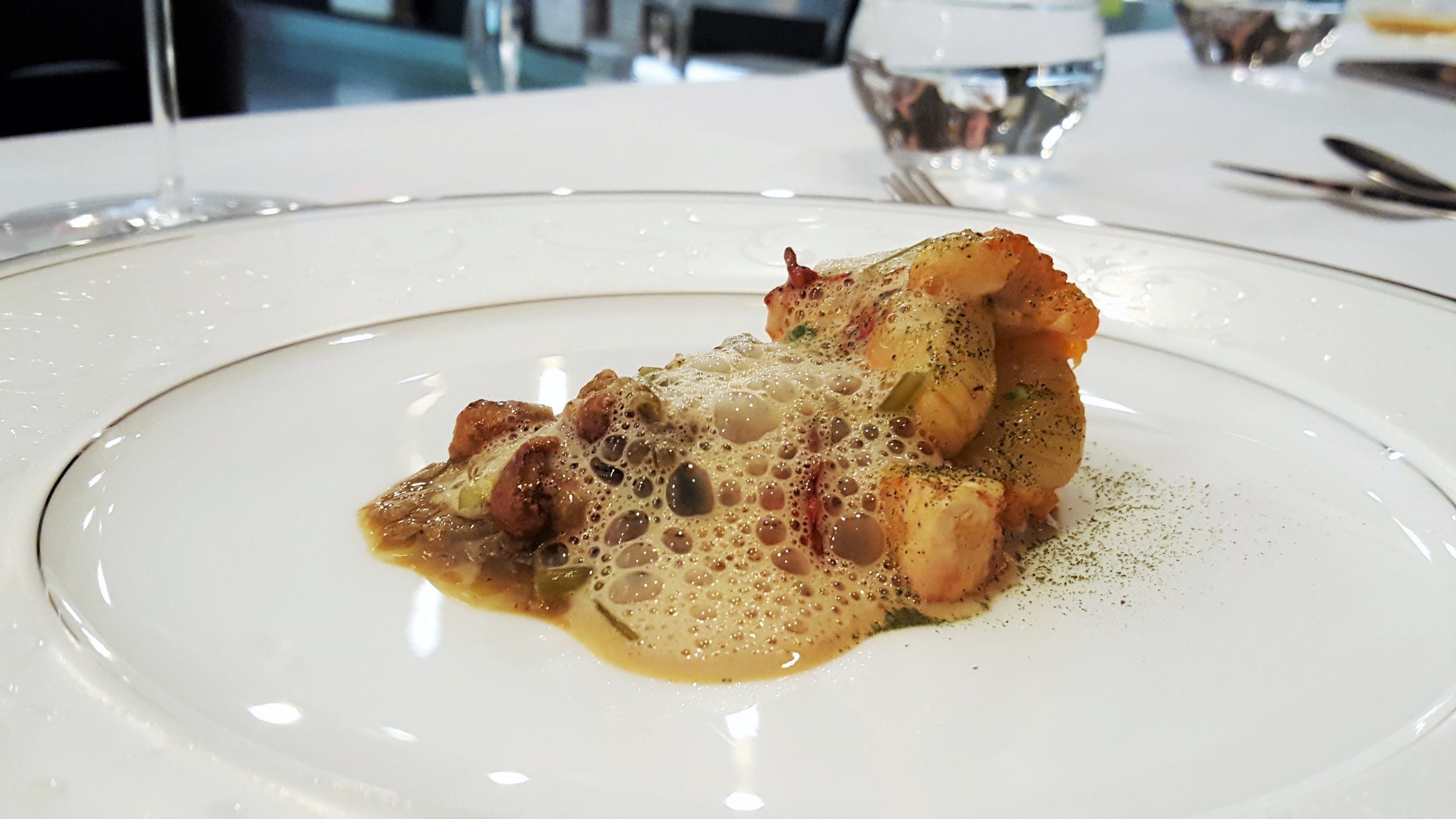 Lobster: With girolle mushrooms, wild garlic, basic and a reduction made from the brain and coral. It may not sound appealing to some, it may not be a feast for the eyes, but this extra course seduced our noses and mouths thanks to the luxurious lobster coated in a decadent jus and slightly meaty mushrooms. I only expected to get one bite and so was delighted when CS gave me half of it.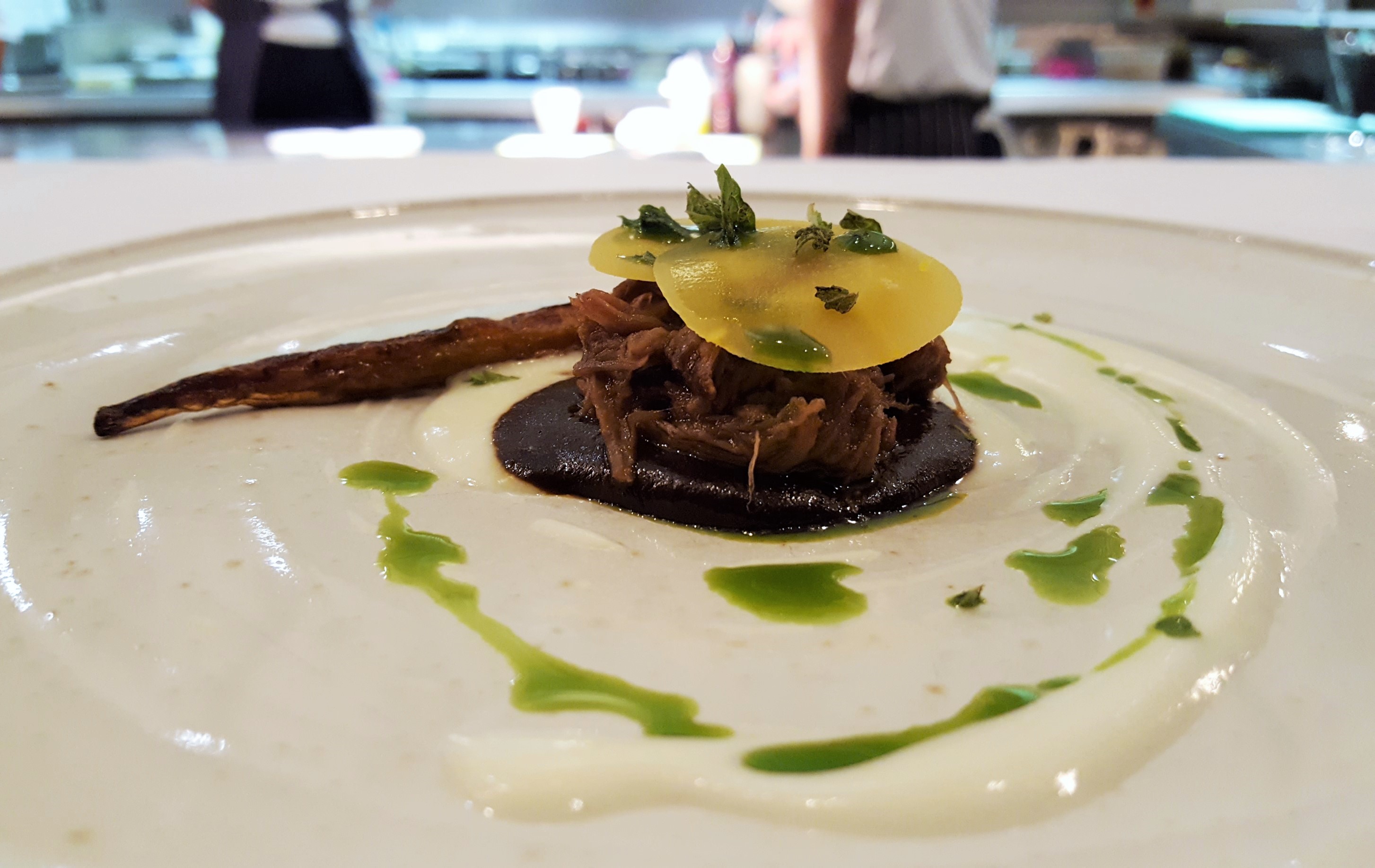 Lamb: Partnered with molé, caramelised carrot, mint and yoghurt. Having never tried molé, this was a revelation: its depth made it almost chocolate-y – which worked so well with the pulled lamb – but the back note was lifted by the mint and yoghurt. Yet again, we didn't have a bad word to say. Kitchen Table Blogger Review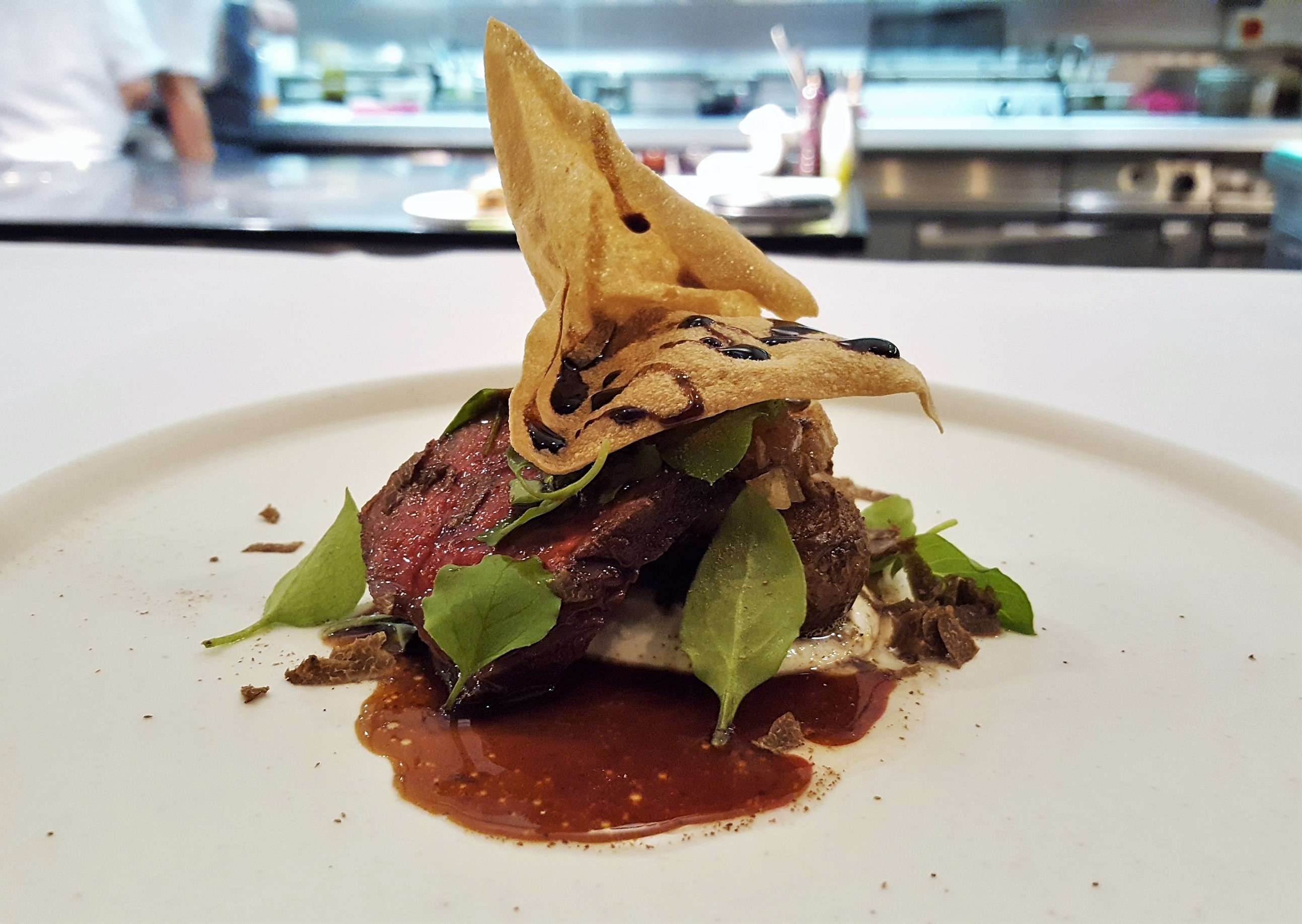 Beef: Accompanied by potato, truffle, balsamic among other items. We'd seen this meat cooking in the background while we ate the previous courses and were dying to dive in. It was rare, just as we both like it, and satisfied my red meat cravings for the entire week. I often find that truffle doesn't enhance food as it should because it's bland, so it was a pleasure to rediscover its authentic flavour.   Kitchen Table Blogger Review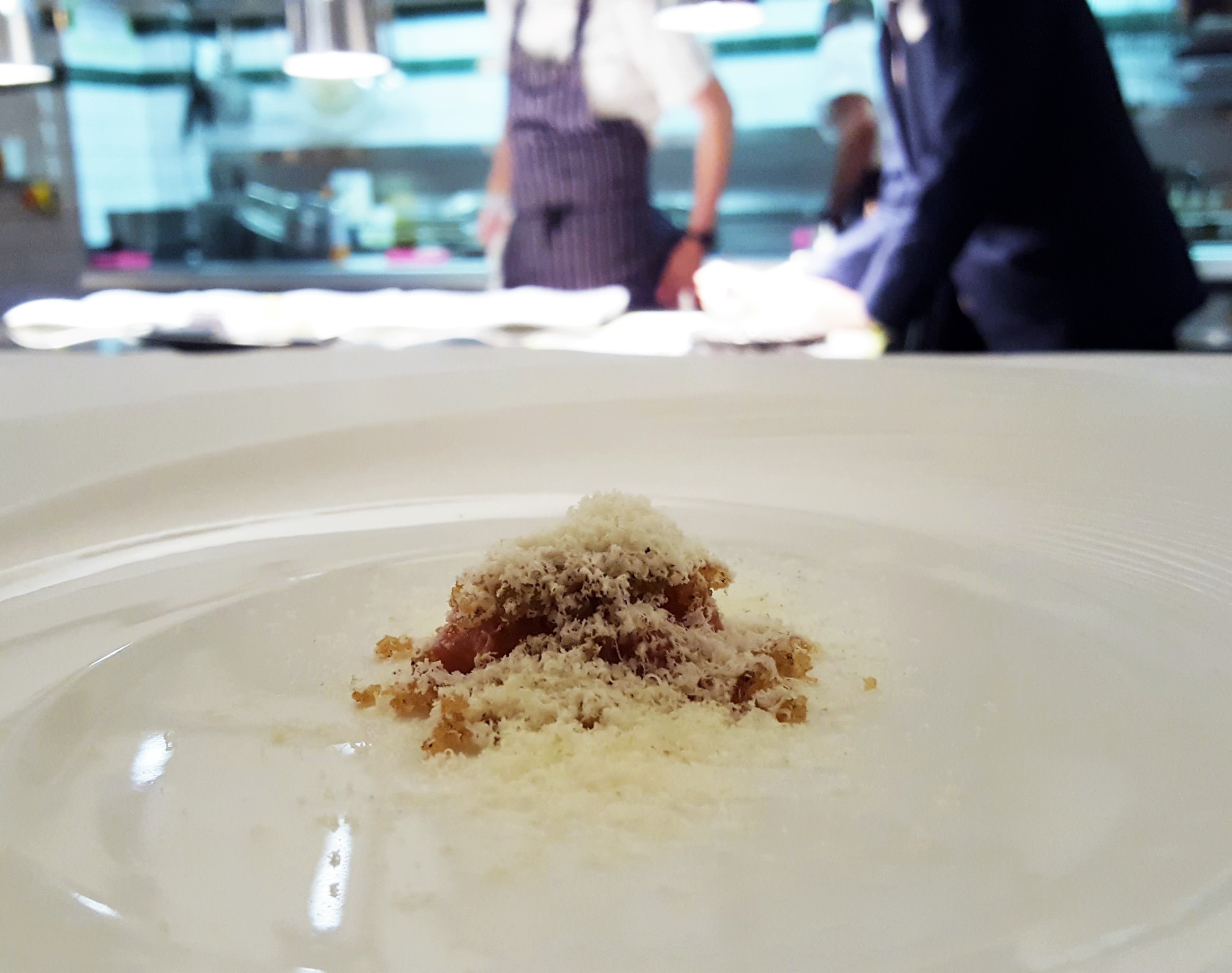 Devon Blue: Finely grated cheese over stewed rhubarb. A nice break after some serious savoury dishes, this gently eased us into the sweeter side of the menu. Rhubarb hasn't really been a favourite until recently, and its mellow sweetness has definitely won me over now. Kitchen Table Blogger Review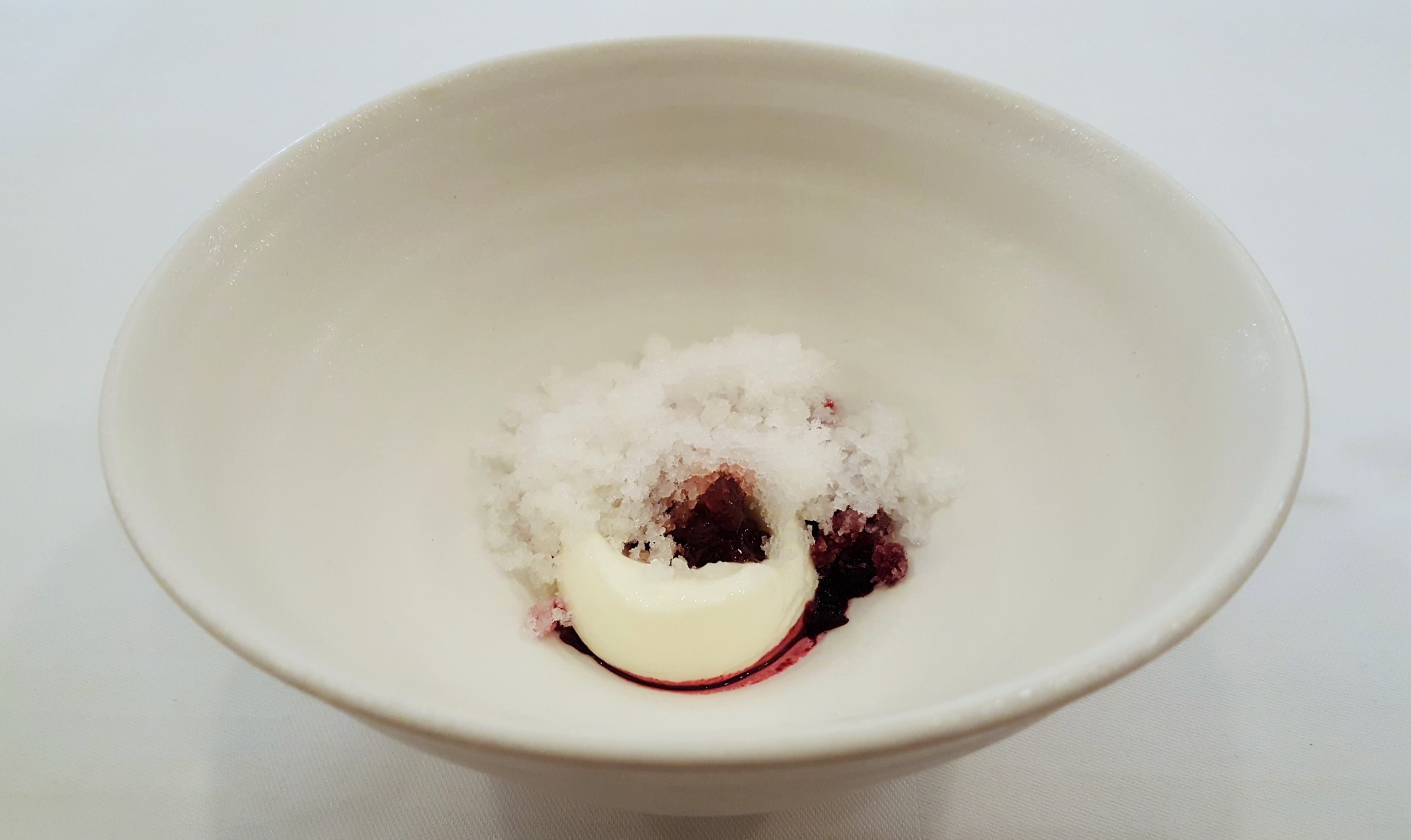 Woodruff: Served with beetroot and soured cream. An illustration of cool, calm and collected, tasting this dish was like winding down after a long, hard day. I'll always pick ice cream over sorbet, but using cream blurs the lines between the two and made both of us happy. Kitchen Table Blogger Review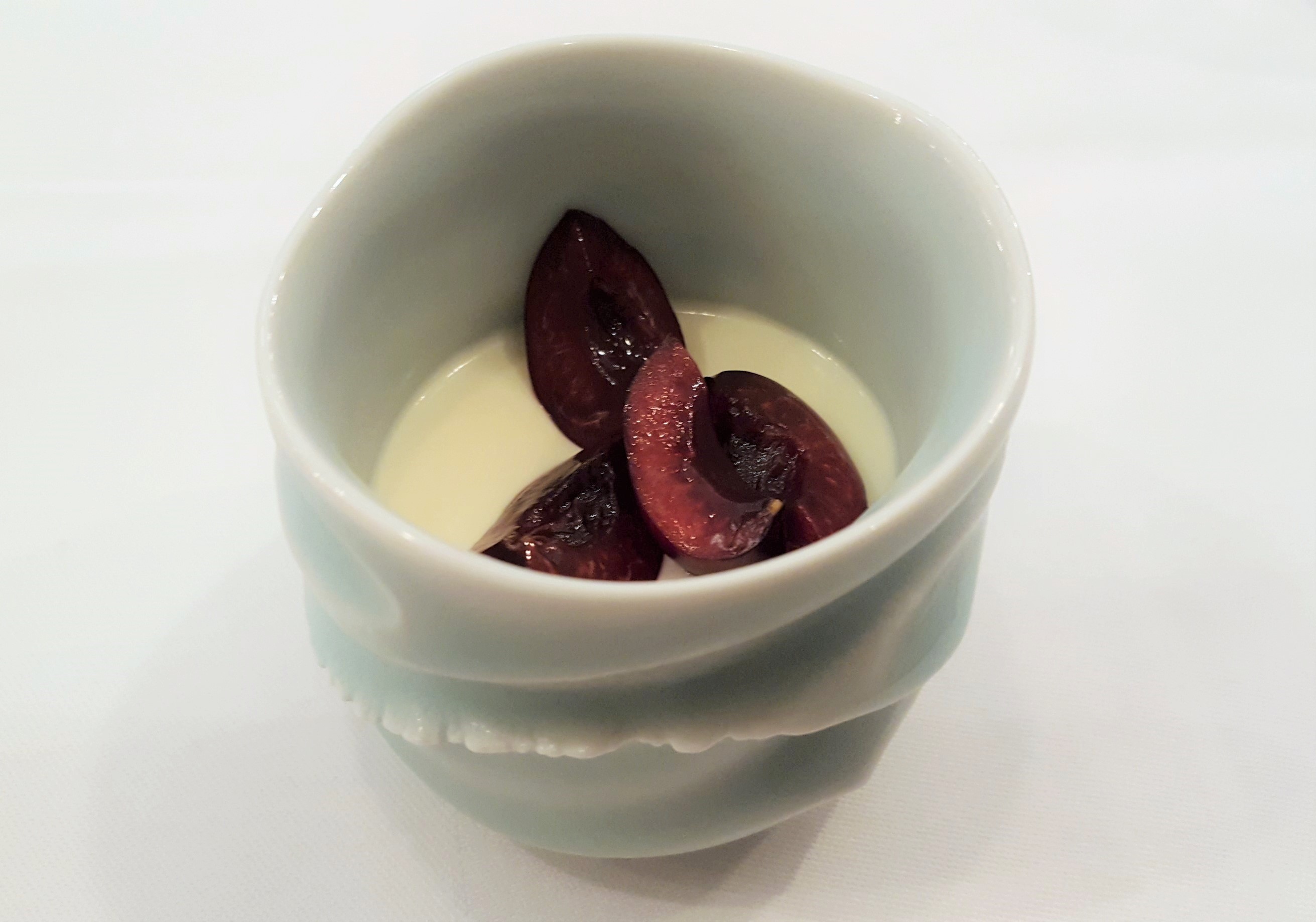 Meadowsweet: With cherries. Short and sweet personified: juicy cherries sitting pretty on a rich cream. I have a very high tolerance for all things sweet, but sadly this is where CS started to raise the white flag a little. Kitchen Table Blogger Review
Strawberry: With liquorice ice-cream, sorrel granite and yoghurt. Liquorice seemed pointless to me as a child, but I've come to appreciate it slowly, and this incarnation triumphantly continued to cool the palate. We also loved the various textures: smooth, crisp and soft. Kitchen Table Blogger Review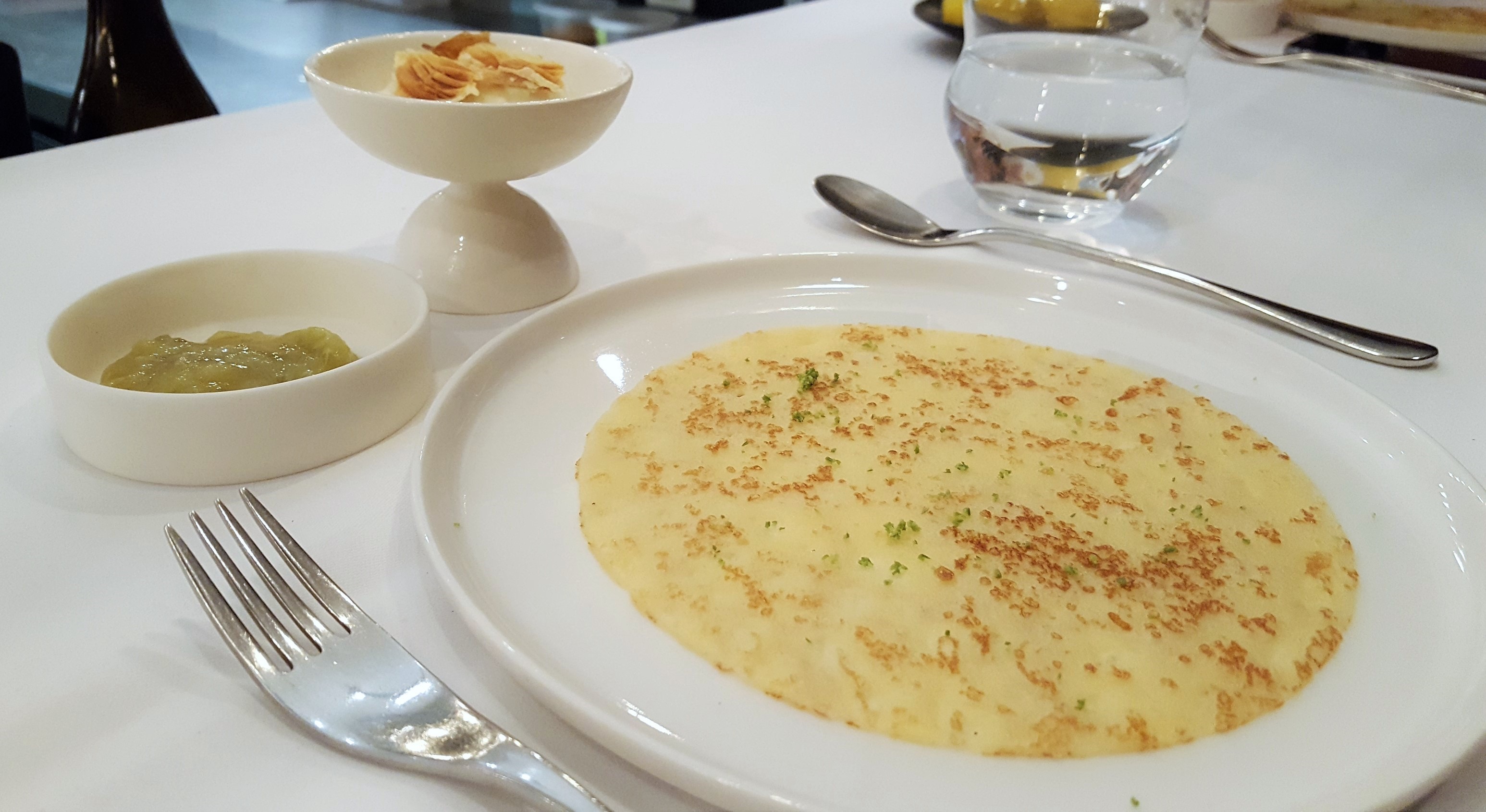 Gooseberry:  Compote with milk ice-cream, pine nuts and a crepe. The final dish on the full menu, and once more, the kitchen struck the right balance of flavours (tart and sweet) and textures (soft and crunchy). Kitchen Table Blogger Review Kitchen Table Blogger Review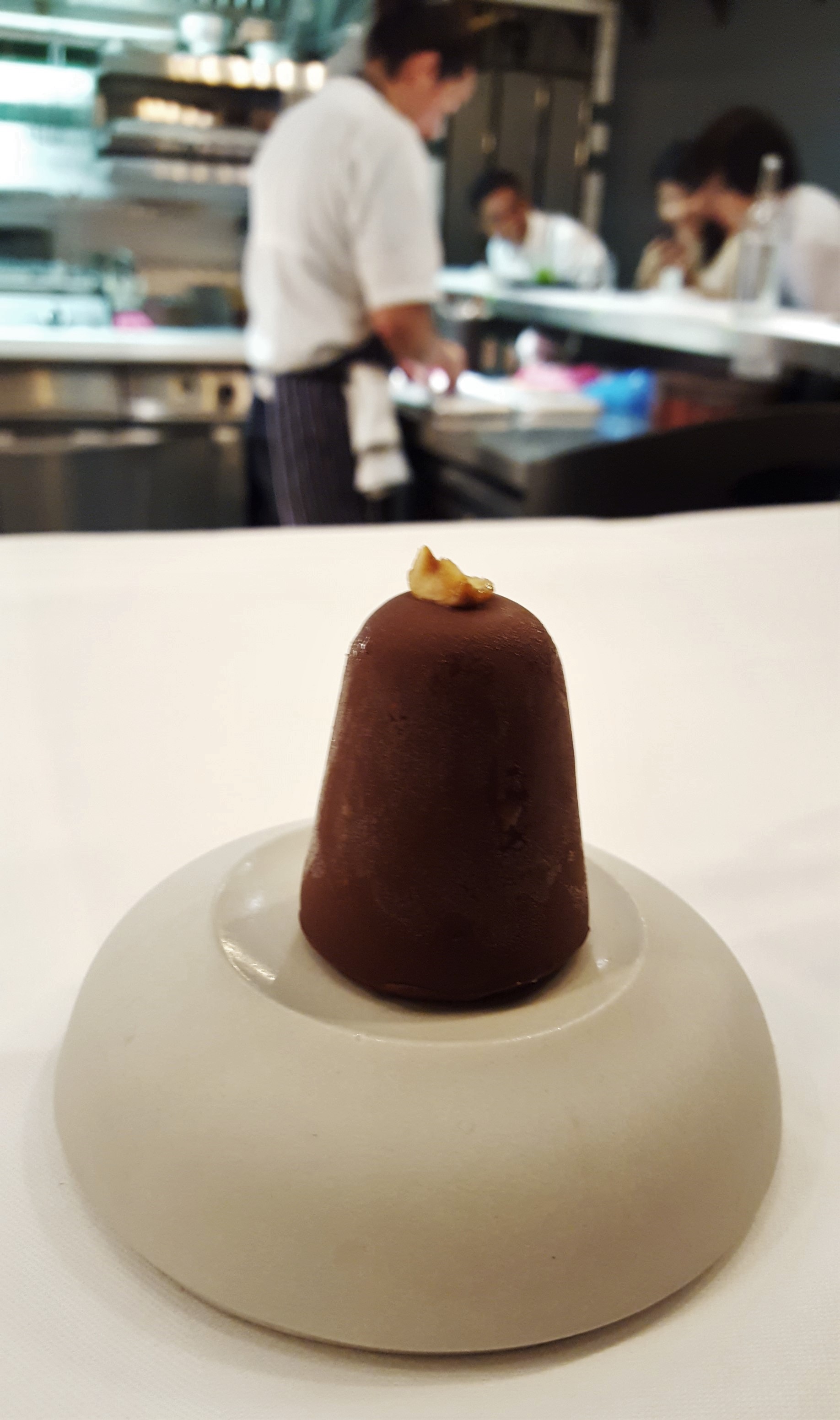 Caramel: Chocolate-coated cookie ice-cream with caramel and hazelnut. A thick, simple exterior which revealed one last hit of richness courtesy of some classic combinations. At this point, I was savouring every last morsel because I just didn't want the meal to end. Kitchen Table Blogger Review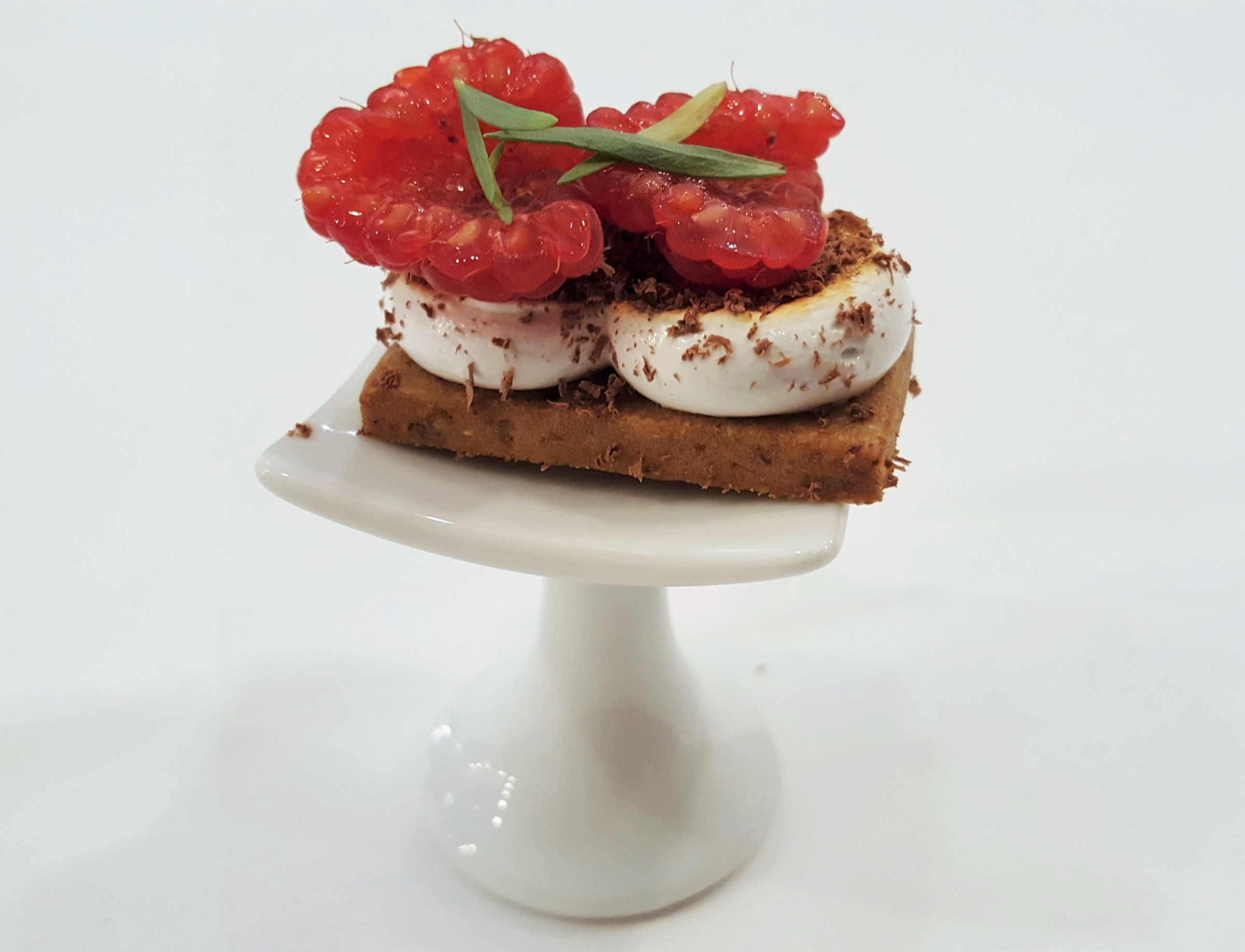 Raspberry: On a Graham cracker, with meringue, cocoa, black pepper and tarragon. The meringue, having been toasted with a piece of English charcoal, was smoky and added more crunch to the base. The other elements rounded off the flavour profile, which lingered long after the course disappeared in two bites; a dish befitting the tiny pedestal on which it was served. Coffee liqueur followed to bring me back down to earth after a heavenly meal. Kitchen Table Blogger Review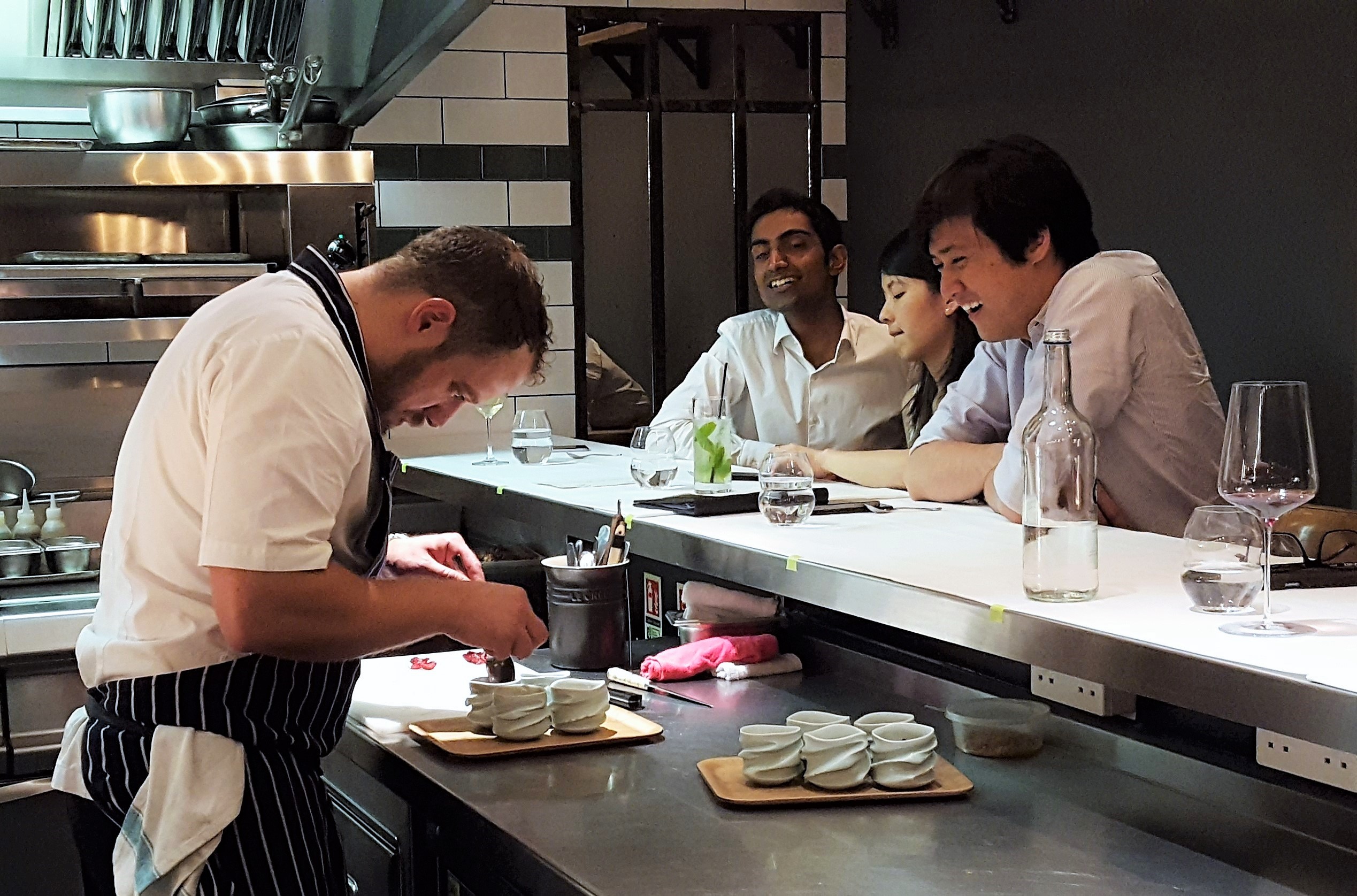 Verdict: Seeing chefs prepare dishes up close and personal may not be the original concept it once was, but the difference with Kitchen Table is their level of intimacy. From the moment you arrive, you're treated so well that you're reluctant to leave, and your curiosity is very welcomed by all. The absence of a traditional menu is exciting and builds anticipation throughout; I was flabbergasted by the rationale behind each course and the skills required to execute it flawlessly. The final flourish was a small cake and a song to celebrate my birthday, by which stage I'd put the camera away to soak up the rest of my time there. If you enjoy good food with a side of theatricality, make sure this place is on your list.
Budget: £185 pp (including 12.5% service) Kitchen Table Blogger Review Kitchen Table Blogger Review
 Links: Kitchen Table, JKS Restaurants, Bubbledogs, Barrafina, Barrafina Frith St Review, Barrafina Adelaide St Review