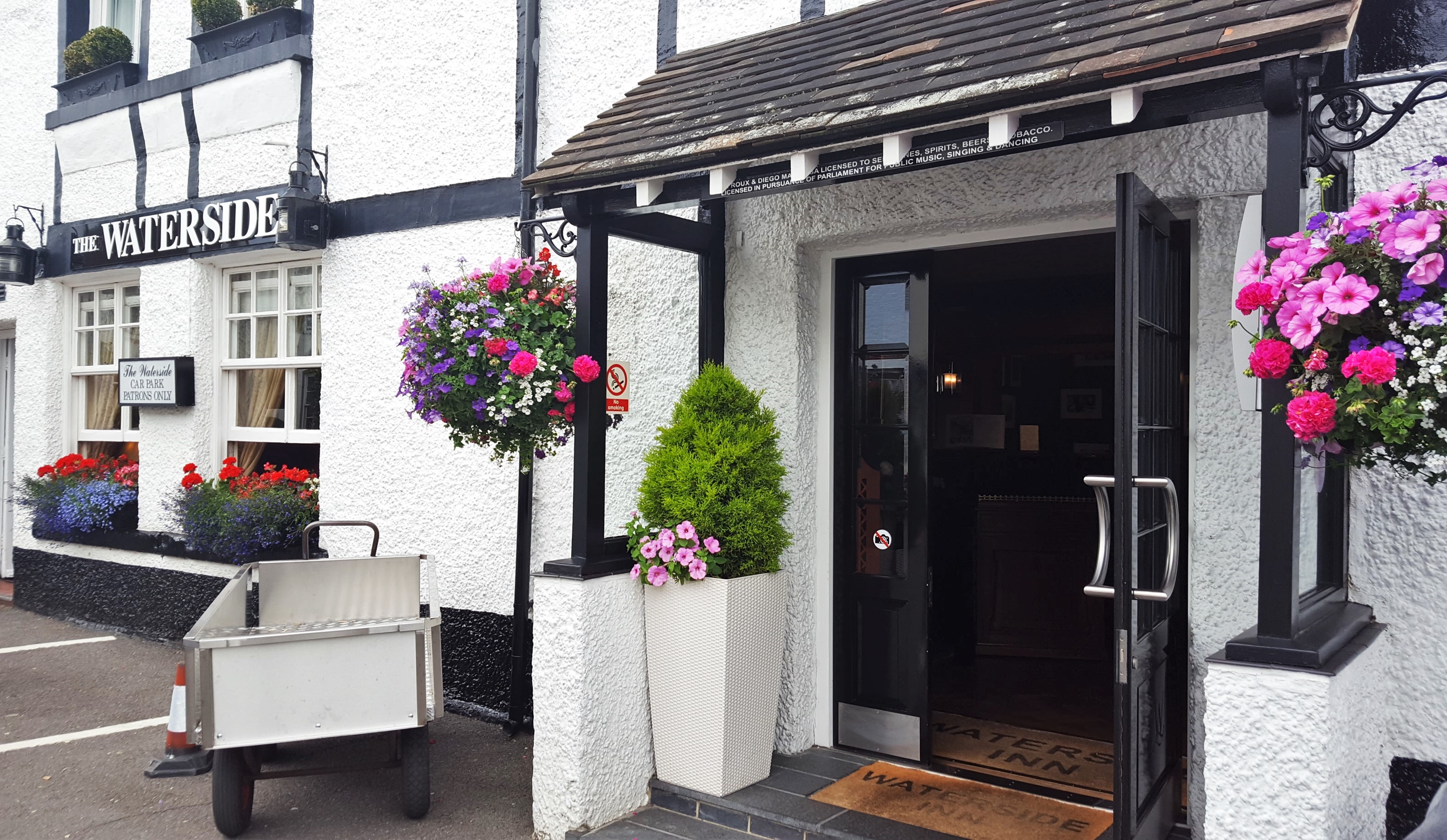 Reaching the 40-year milestone in a marriage deserves a special celebration, and when it falls in the same month a couple of birthdays in the family, including my own, it's a good reason to push the boat out. Speaking of boats, our restaurant of choice was surrounded by plenty of them: The Waterside Inn. Making group decisions can be challenging, especially in the busy summer months, but this one was surprisingly easy, and even my vegetarian mother-in-law (MIL) was happy with a French menu. But this is no ordinary French menu: established in 1972 by the legendary Albert and Michel Roux, The Waterside Inn is the only UK restaurant to have held 3 Michelin stars for over 30 years. The kitchen has been overseen by Michel's son Alain for more than a decade. Waterside Inn Blogger Review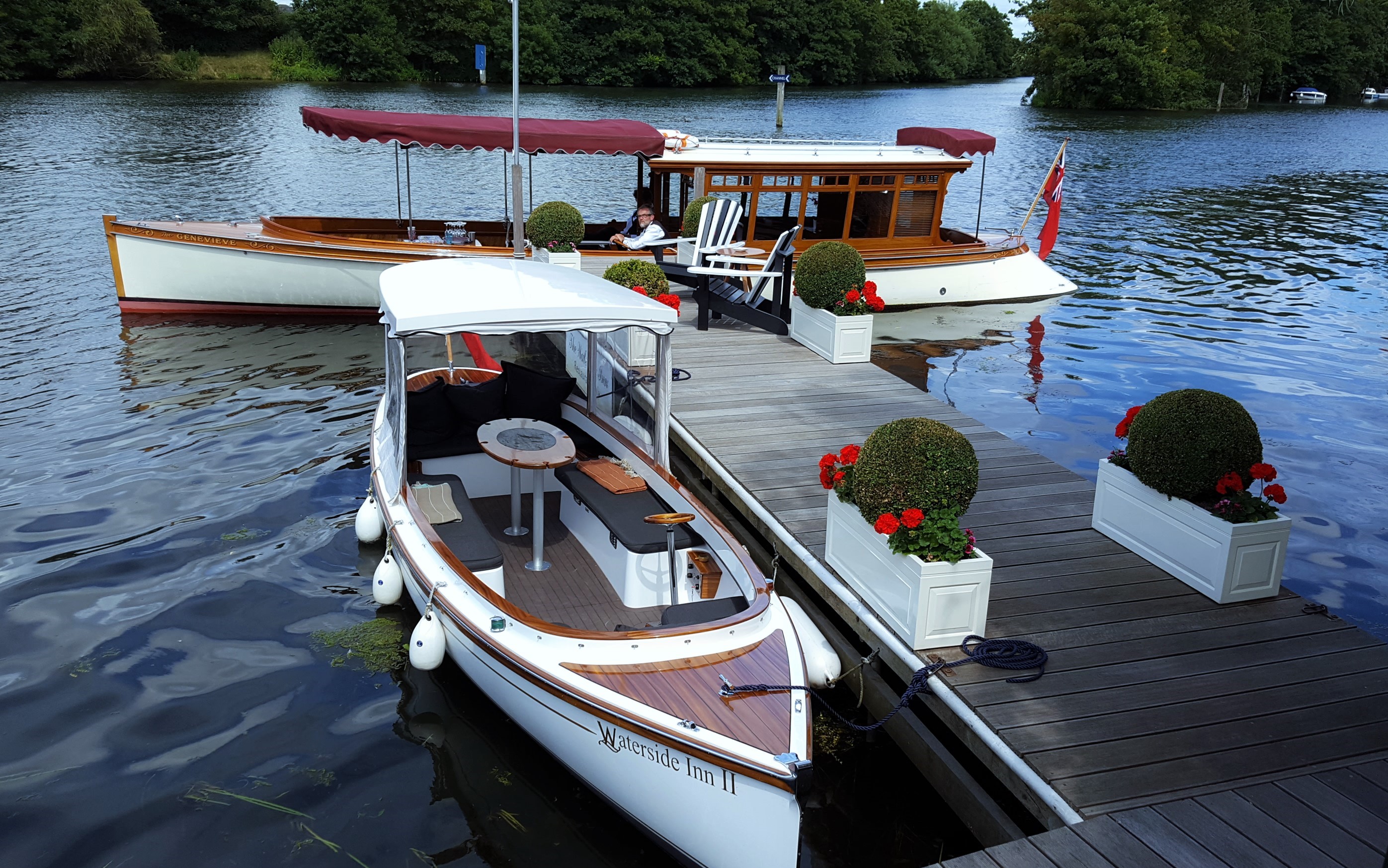 Travelling to Bray didn't quite go as planned, though. My father-in-law (FIL), MIL and youngest sister-in-law (SS) set off early to squeeze in a pre-lunch stroll around the village. Unfortunately, my other sister-in-law (AS), who was giving Chef Savla (CS) and I a lift, was running behind schedule, so after hitting some traffic en route, we finally made it an hour later than expected. Not the best start. Waterside Inn Blogger Review
Service: Front of house excelled themselves long before we'd set foot on the premises. All lunch orders are to be placed by 2pm, which would've given us half an hour to decide had we been on time. Thinking we'd have to order via SS, we'd started looking up the menus online, only to be told that the kitchen would stay open. On arrival, Diego, the maître d', brushed off our profuse apologies, encouraging us to enjoy the view, food and company. His joviality immediately put us at ease and made the event even more memorable. Similarly, the rest of the team were equally light hearted, professional and knowledgeable.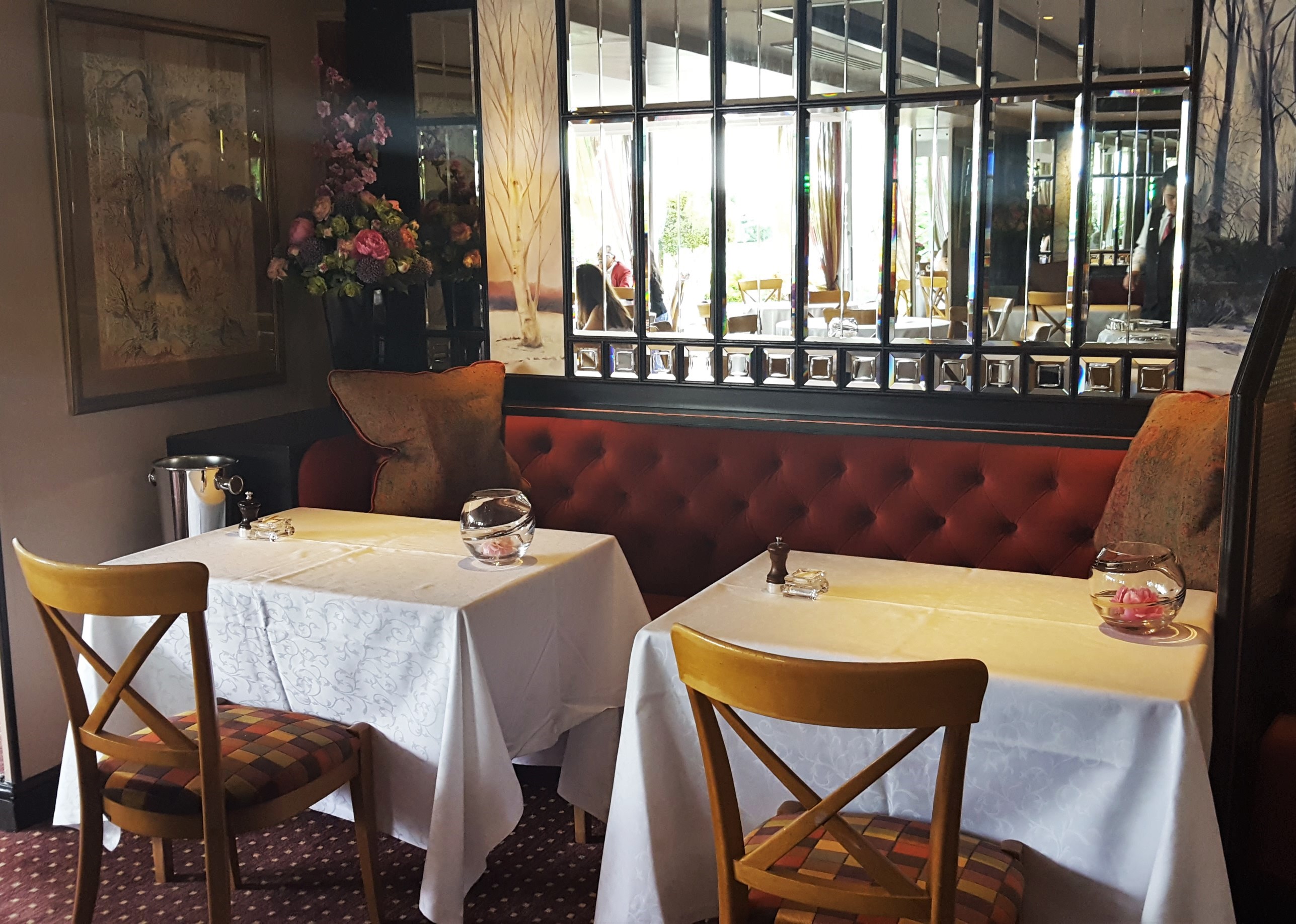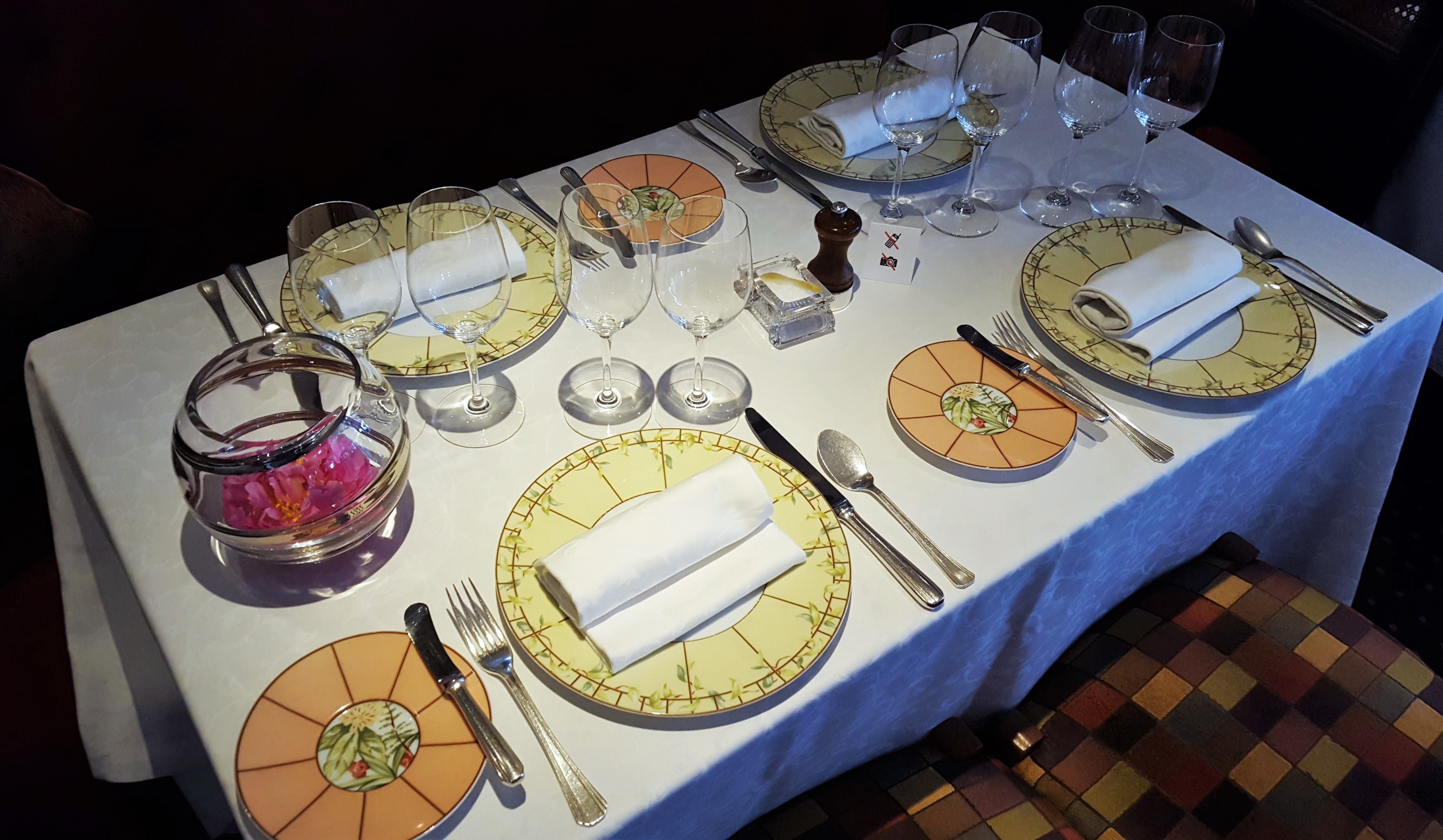 Ambiance and decor: Waterfront dining on a sunny day is always pleasurable, so adding haute cuisine and an exquisite setting can only enhance the experience. The main section of the restaurant is housed in a conservatory and is therefore flooded with sunlight from all around. The doors open out onto the beautiful terrace overlooking the River Thames and welcome passing breezes, preventing it from feeling like a stuffy greenhouse. Chequered fabric-covered seats are tucked around tables draped with white linen, although there are quirky touches such as the mismatching China plates in pale shades used for the amuse-bouches.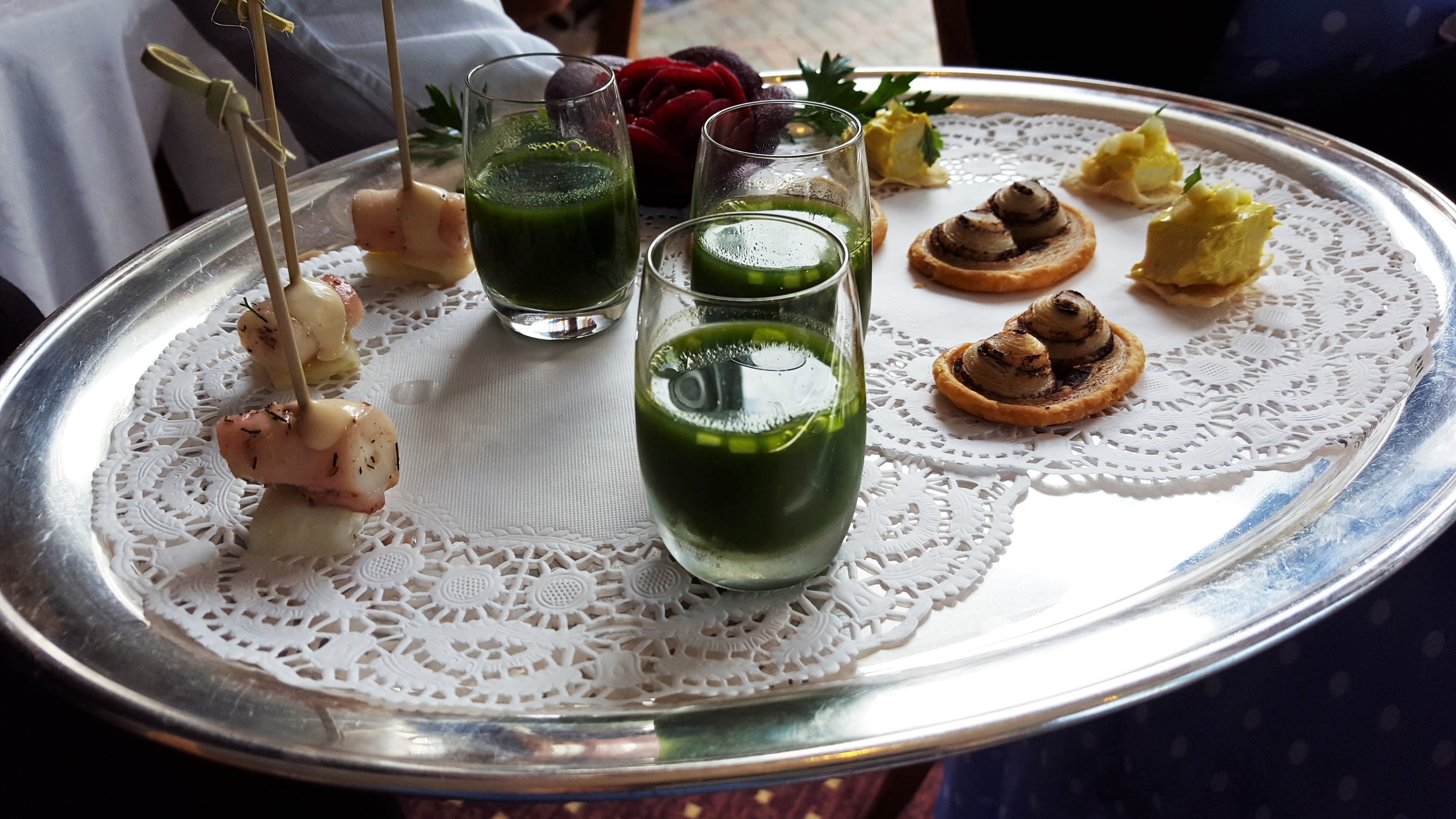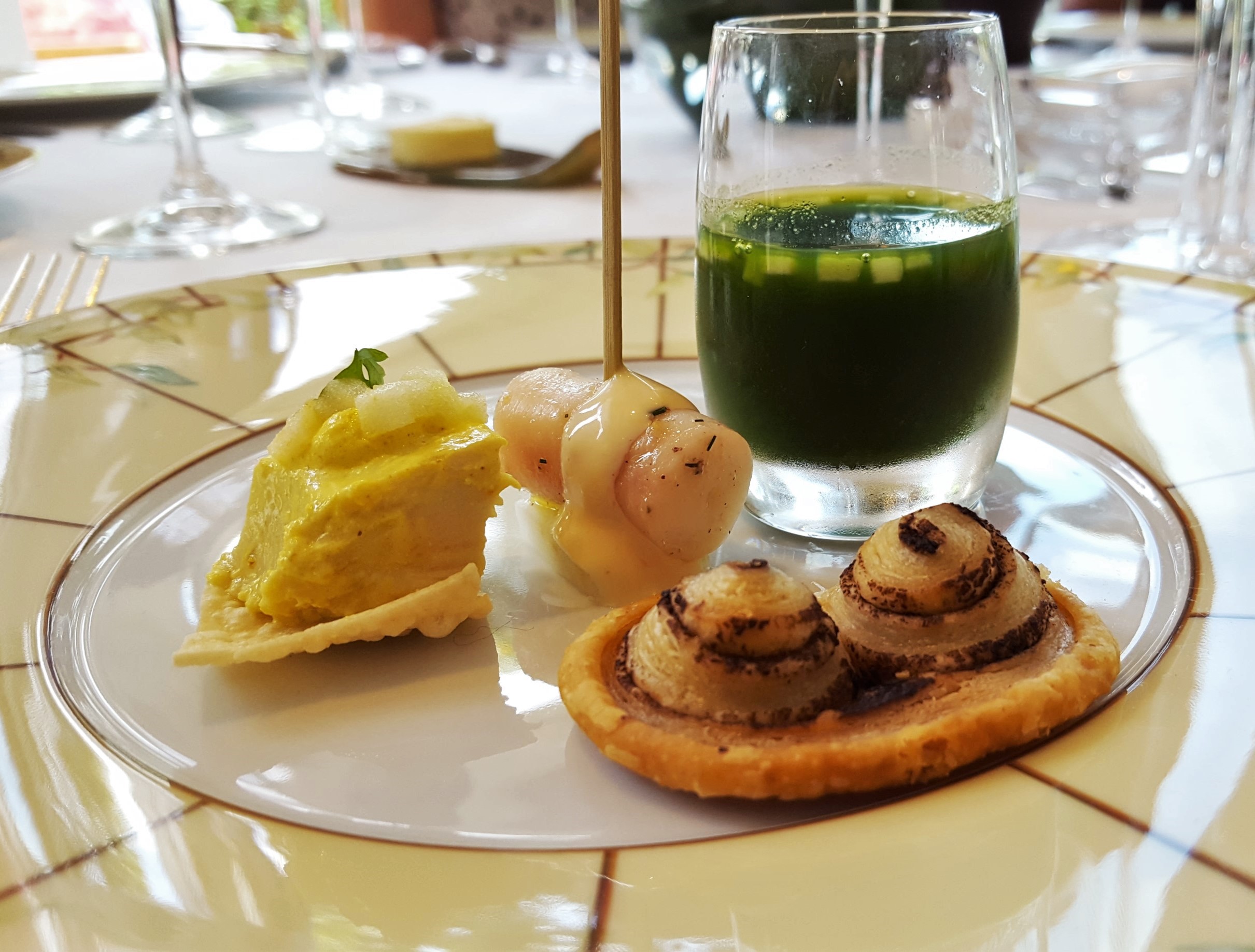 Food and drink: Celebrations start with Champagne, and we ordered the spectacular Dom Pérignon Vintage 1976, which is incomparable to anything we'd ever tasted: golden in colour, very fruity bouquet and a sweet finish, almost like a dessert wine. Choosing a red wine to accompany our meal was tough after such a high, but our Pinot Noir went down a treat. We enjoyed curried chicken on a wafer-thin cracker, grilled octopus and grapefruit, green gazpacho with rocket and a black olive palmier. While the palate was pleased – especially with the octopus, which I usually politely decline – the eyes were slightly disappointed with the simple presentation. Waterside Inn Blogger Review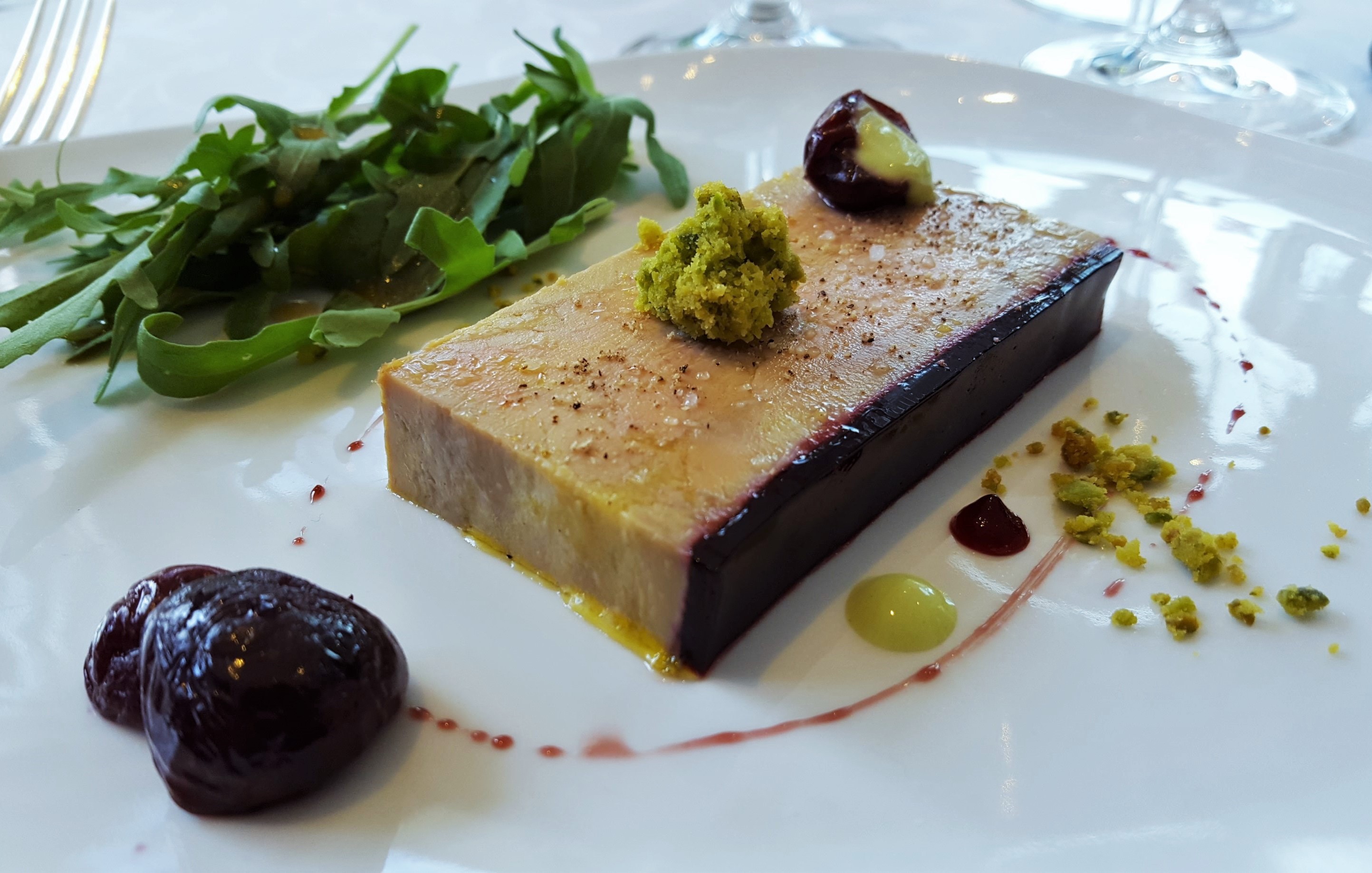 Having seen restaurant critic Elizabeth Auerbach's photos of her visit to The Waterside Inn earlier that week, I already had my eye on a couple of dishes, the first being foie gras terrine with cherries, pistachio and brioche toast. It was delightfully smooth, gliding over the warm brioche like butter on hot toast. The cherry jelly and halves were sweet, sharp and intense, and made a welcome change from the traditional onion confit accompaniment. Waterside Inn Blogger Review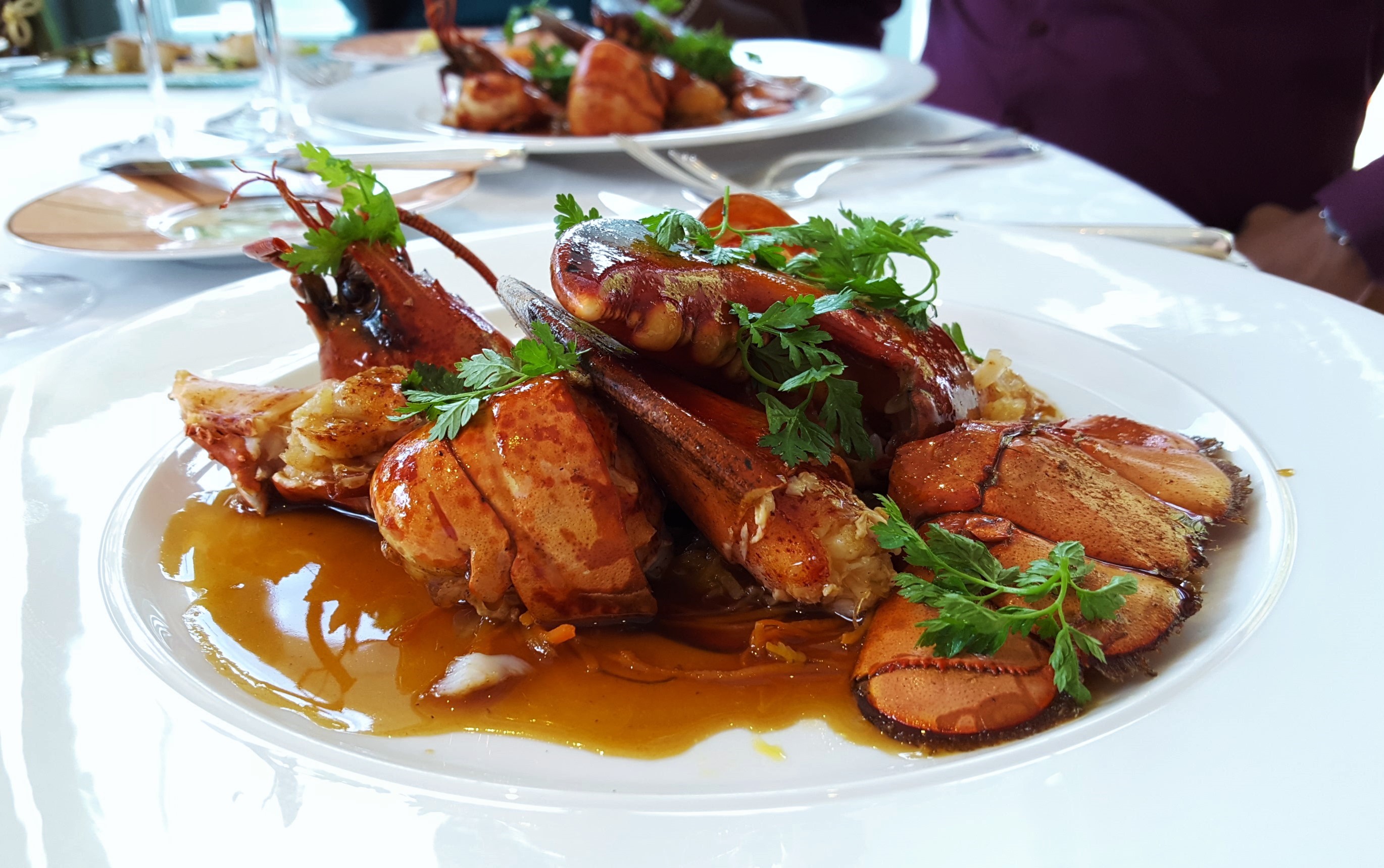 Chef Savla, SS and FIL chose the lobster medallions in a white port sauce, which they both devoured, although the latter generally prefers it to be served steamed with garlic butter. AS and MIL were equally satisfied with their respective scallop and cucumber salad dishes; I tried a bite of the former, which was soft and flavourful.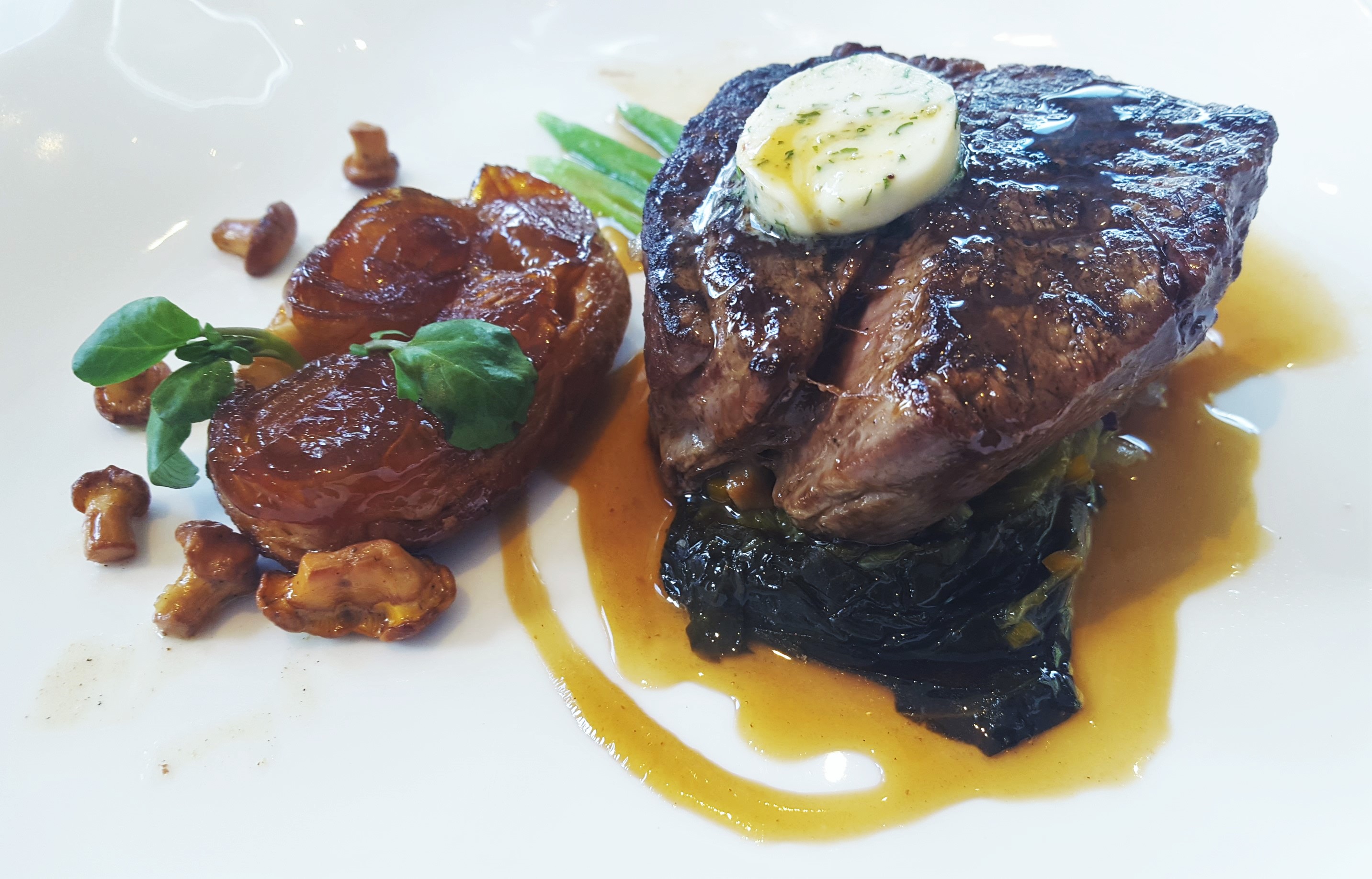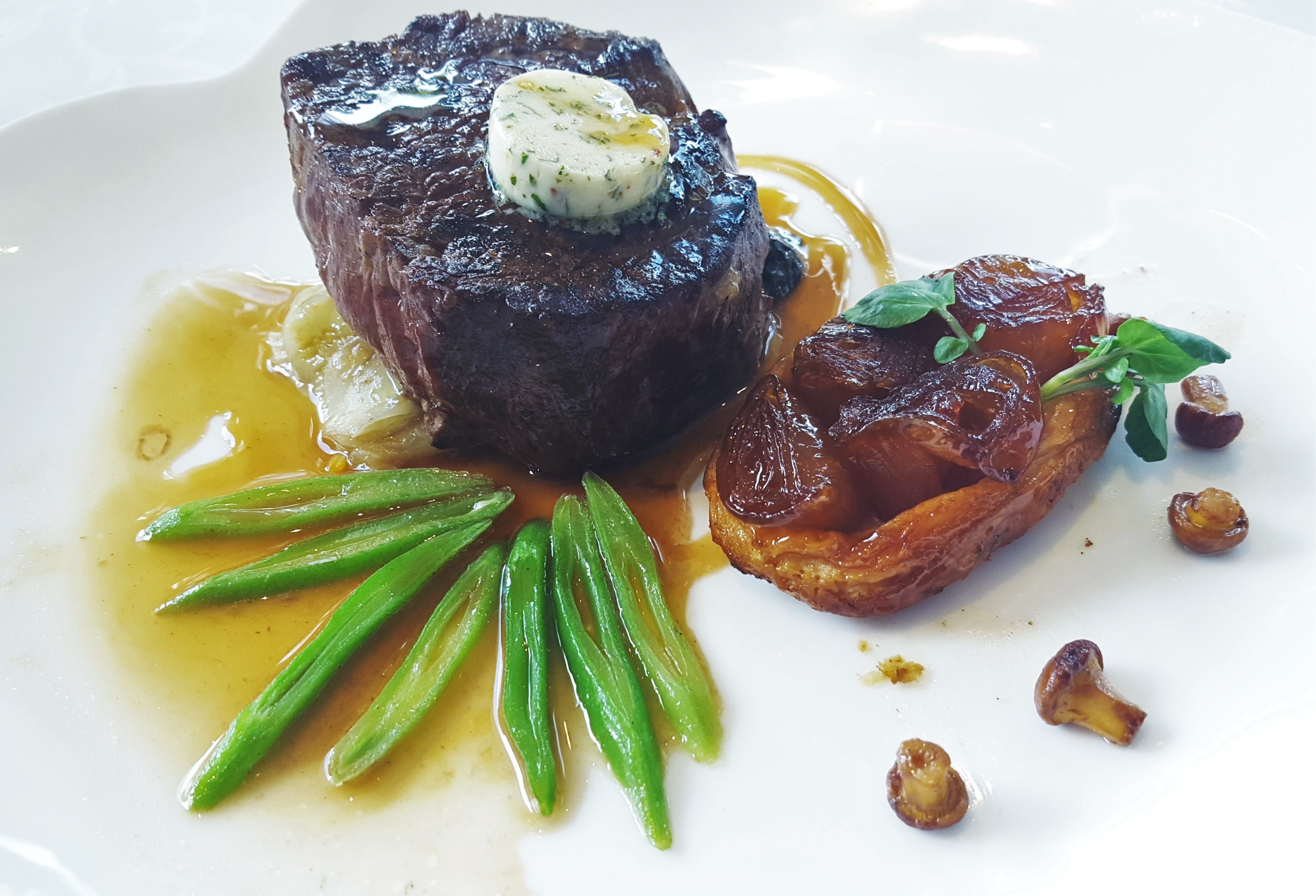 Normally the last to give my order, the tables were turned again as I gleefully asked for the Angus beef fillet with caramelised shallot tart tatin with girolle mushrooms and a savoury jus. Enticingly rare meat, as requested, accompanied by the best tart I've had to date: the onions were crispy and sweet, the pastry rich and flaky, and I'd happily eat it on its own as a main. FIL, AS and SS opted for the same dish, cooked medium, but found the beef to be overly generous. Waterside Inn Blogger Review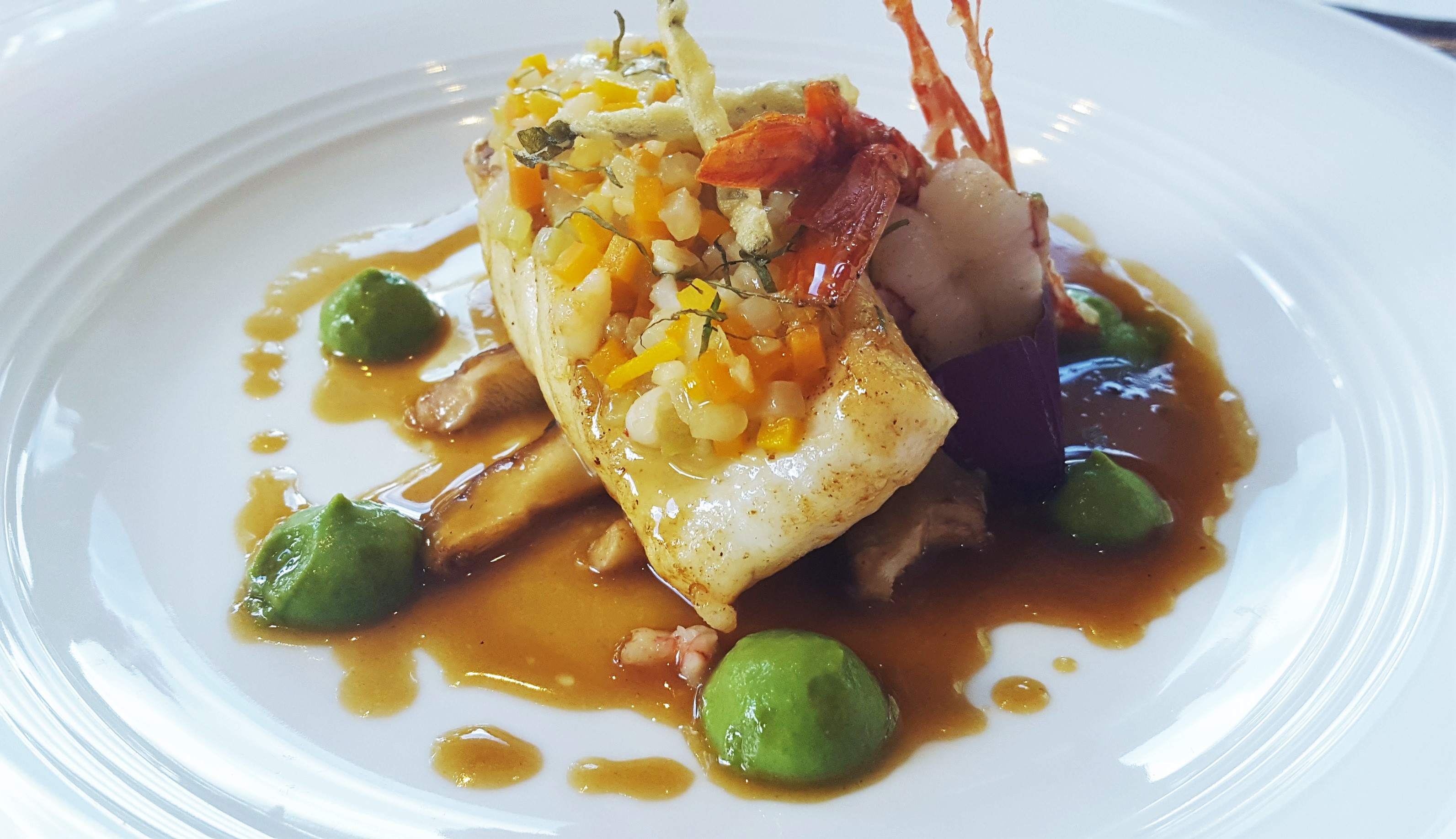 Not a big fan of fillet as he finds it lacking in flavour compared to other cuts, CS was seduced by the turbot fillet with a red prawn in a shitake mushroom-flavoured chicken jus. A meaty fish, it was well matched with the heavier-tasting jus and vegetables. Waterside Inn Blogger Review
SS's boyfriend was surprised to be offered the beef instead of the veal with a crispy calf's head fritter in white wine that he'd ordered. This hiccup turned out to be a blessing in disguise as he much preferred the beef (sans tart as he abhors caramelised onions). Both dishes were removed from the final bill to compensate for the error.
Finally, MIL picked the artichoke en croute, although I'm afraid I can't give you much more detail other than she liked it since I was completely engrossed in my main.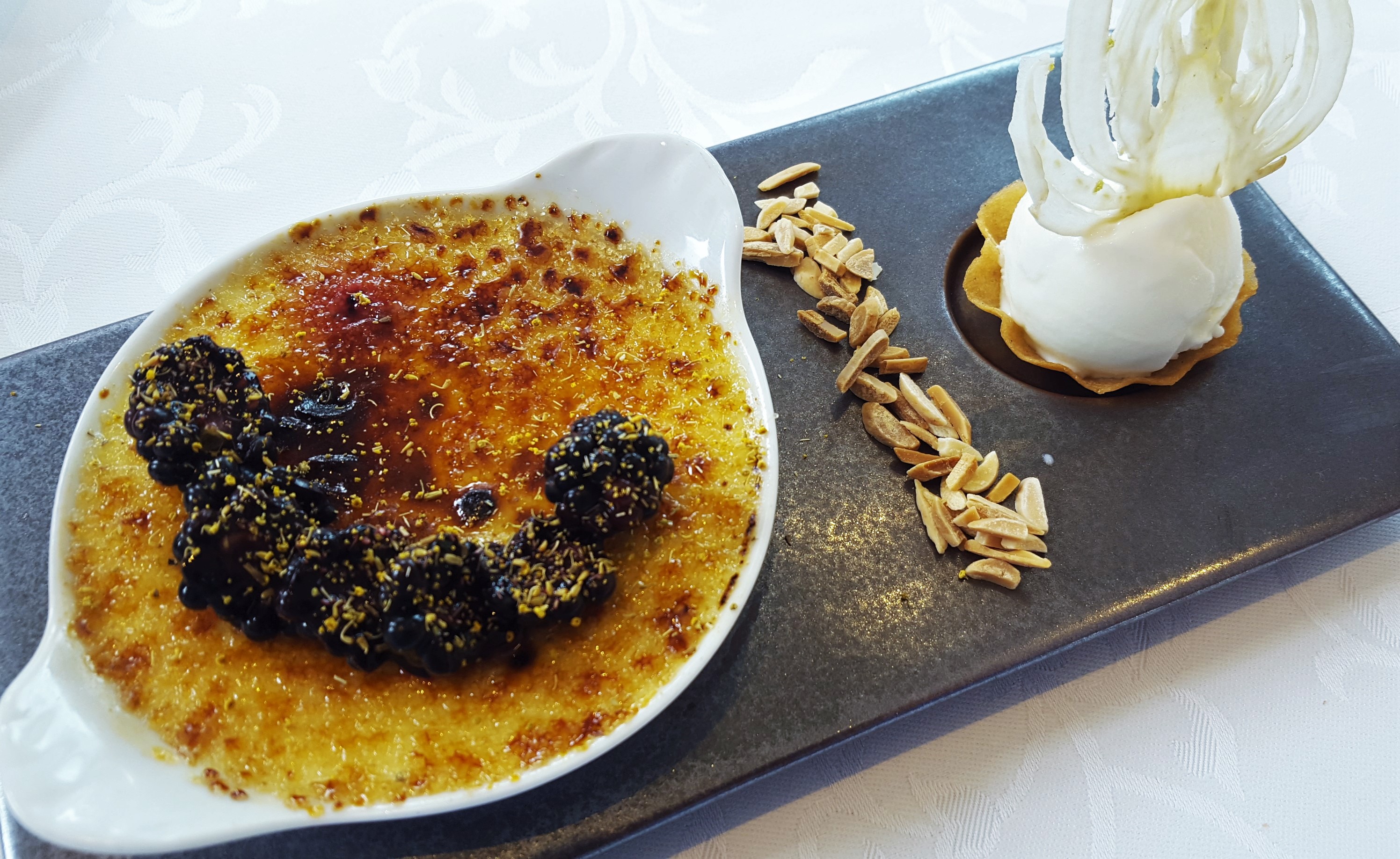 With the number of dessert lovers around the table, the sweet course was always going to be an indulgent affair. To simplify matters, we each chose something different, starting with my blackberry crème brûlée with fennel ice cream and grilled almonds. Here, what the star player lacked in wow factor, the supporting cast provided in spades, the ice cream being sharp, earthy and refreshing. Waterside Inn Blogger Review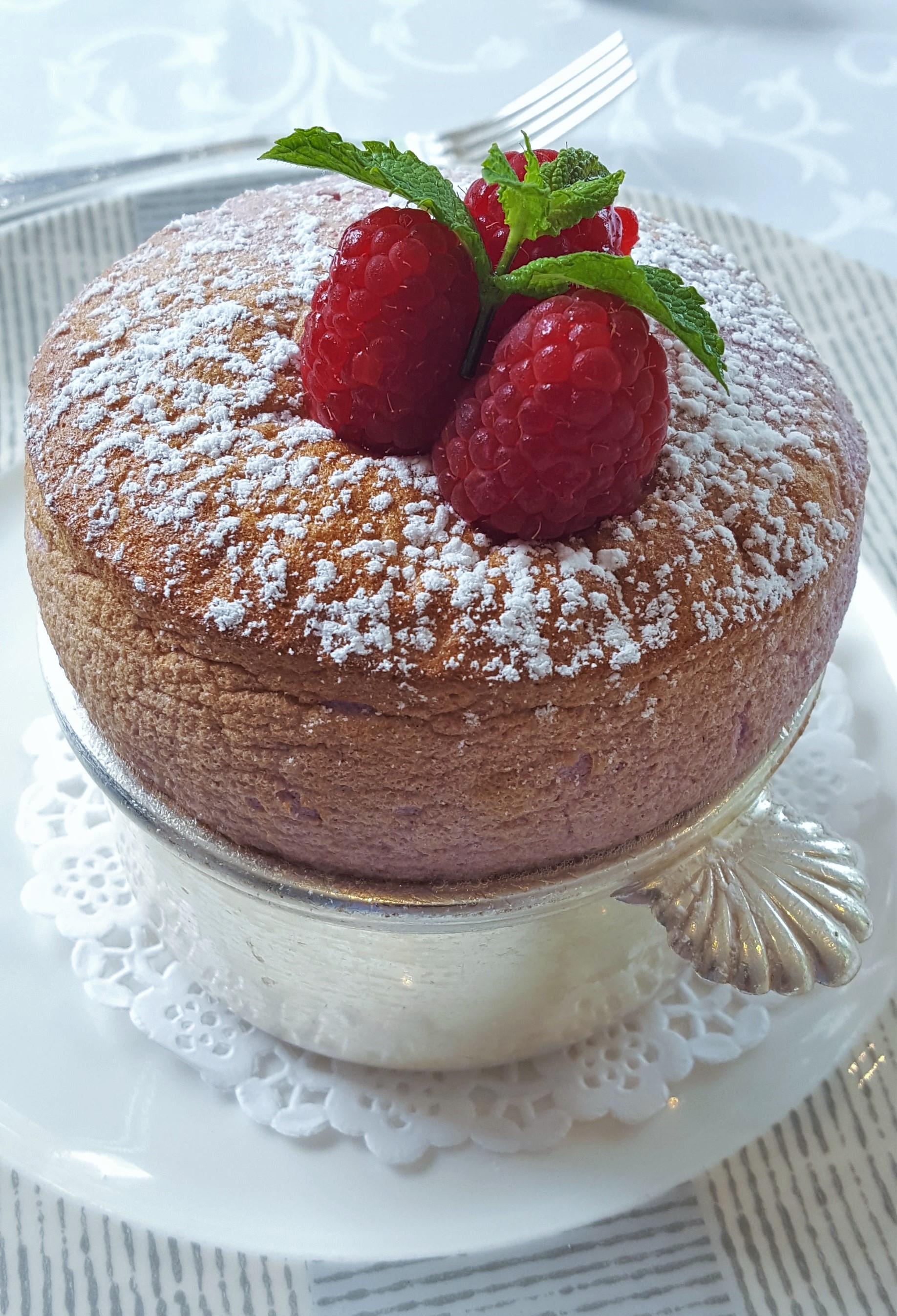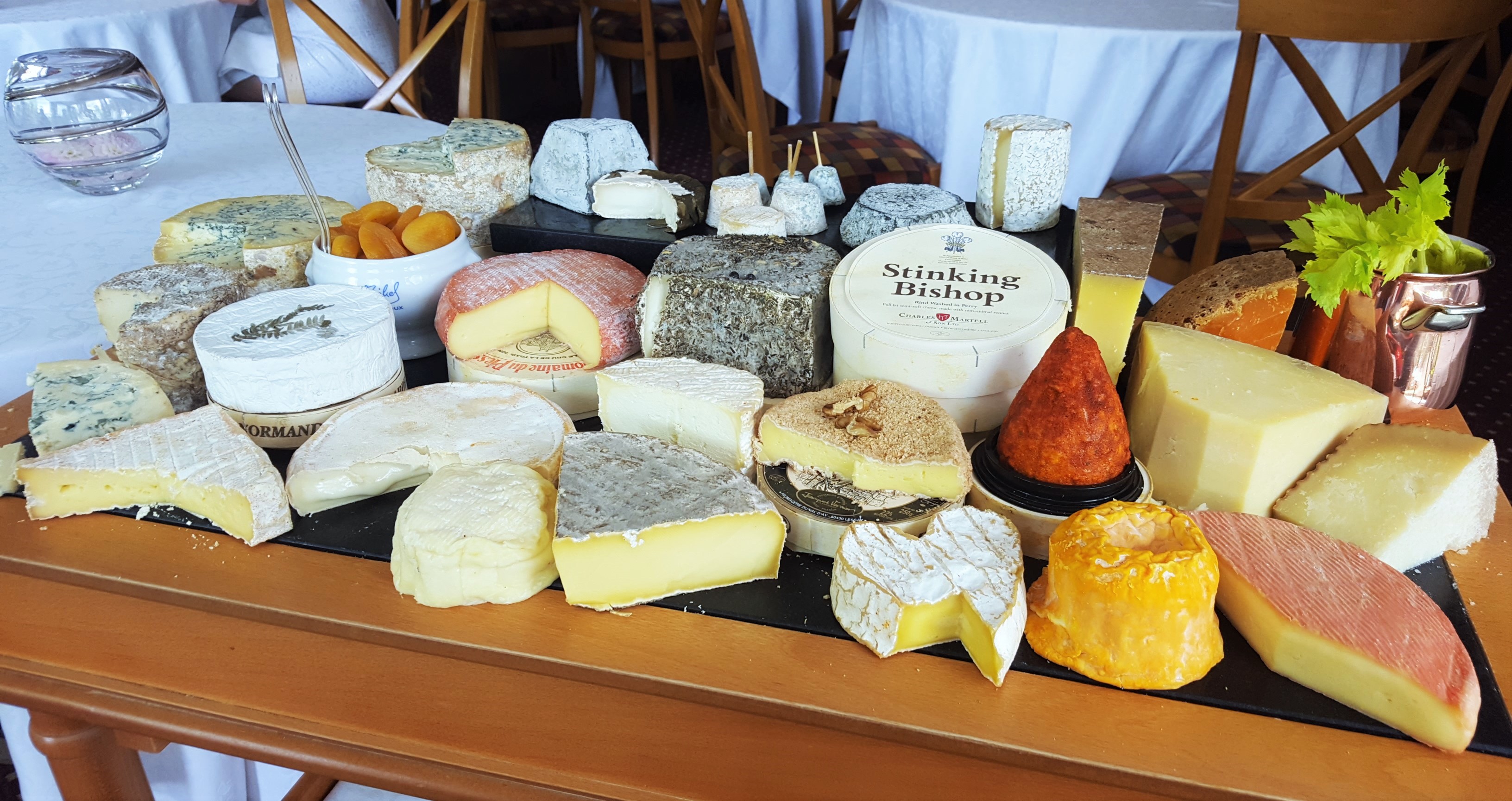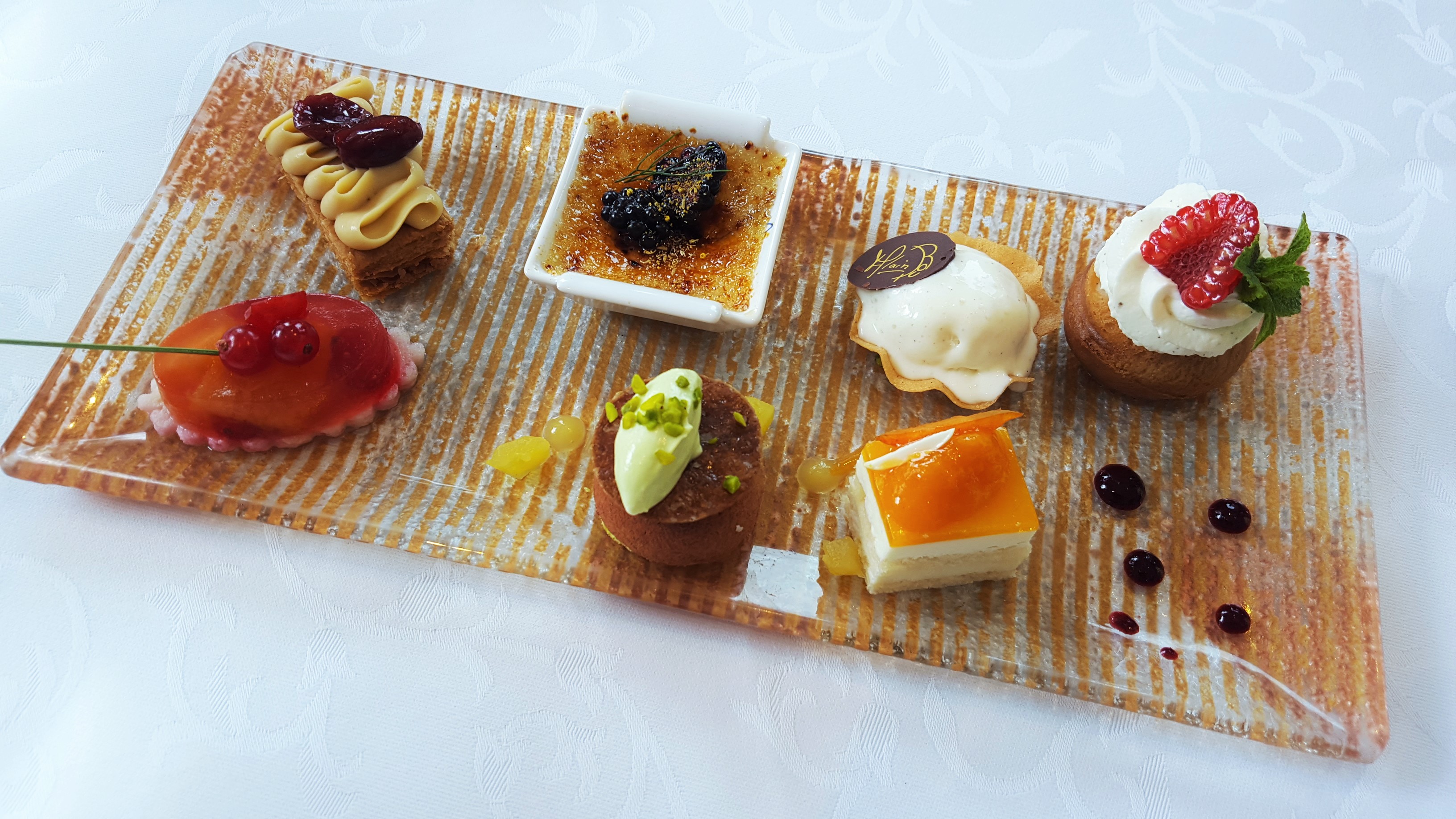 The chocolate parfait and raspberry soufflé were perfectly nice, and more impressive visually, but not quite to my liking. Shunning the sugar, CS tackled the plentiful cheese trolley, the highlight being pungent garlic and paprika-encrusted goat's cheese. The kitchen contributed to the celebrations by spoiling us with 2 trays of miniature desserts.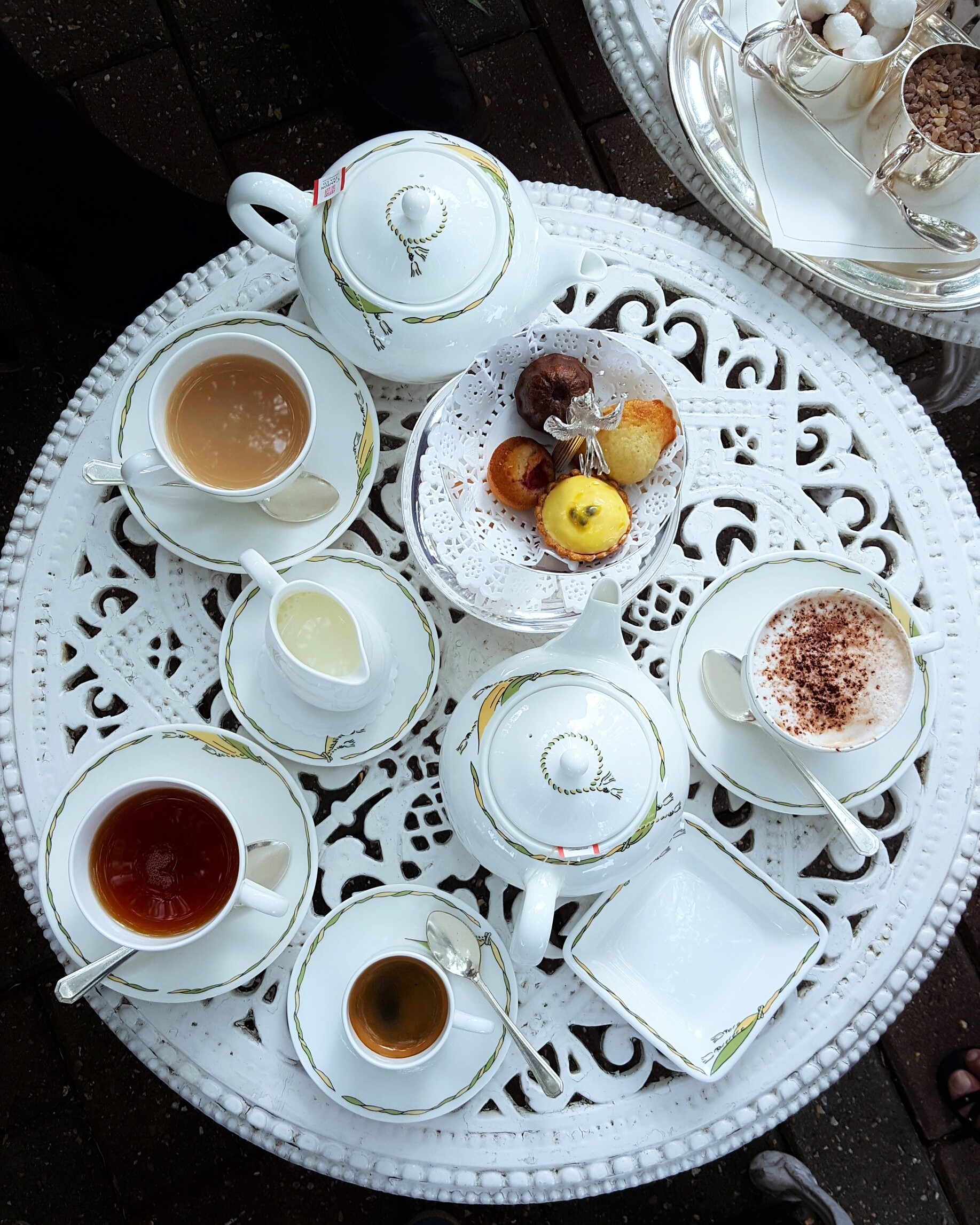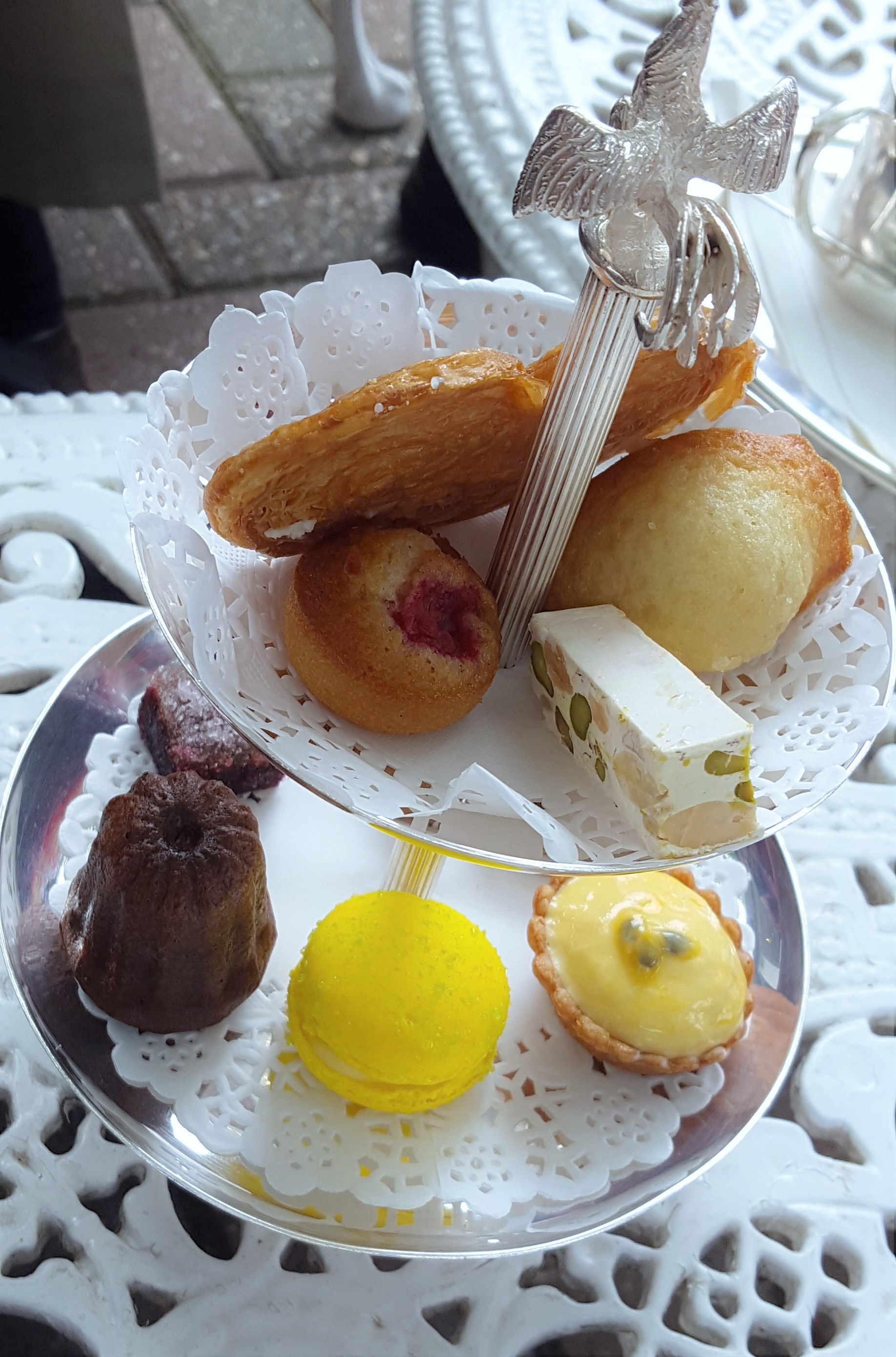 We needed to move after such a feast, and got as far as the terrace, where we stopped for coffee and mignardises, including macarons, lemon tarts, cannelés and chocolates. A food coma beckoned as we watched the boats drift by, but the offer of a kitchen tour dragged us from our reveries. Waterside Inn Blogger Review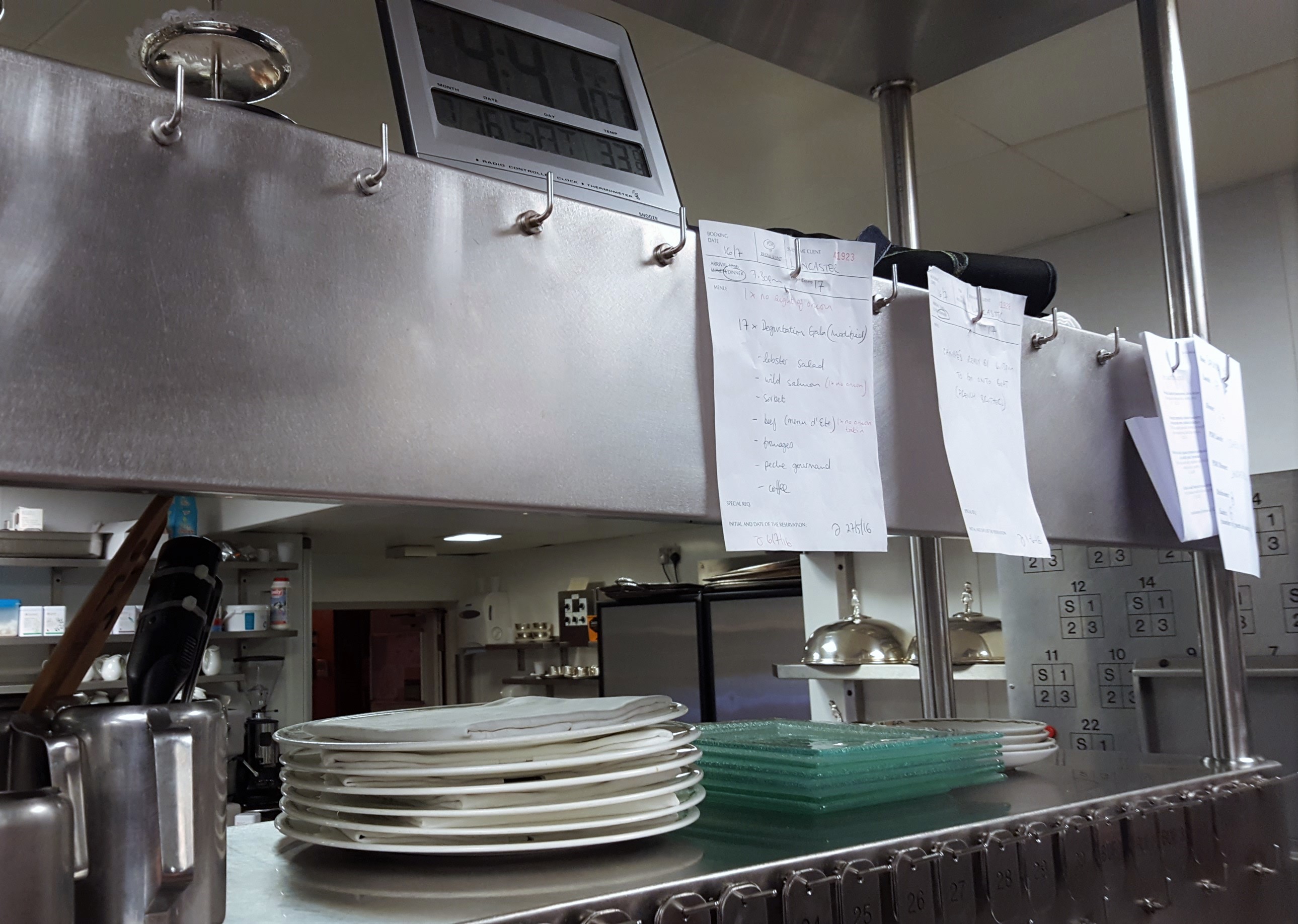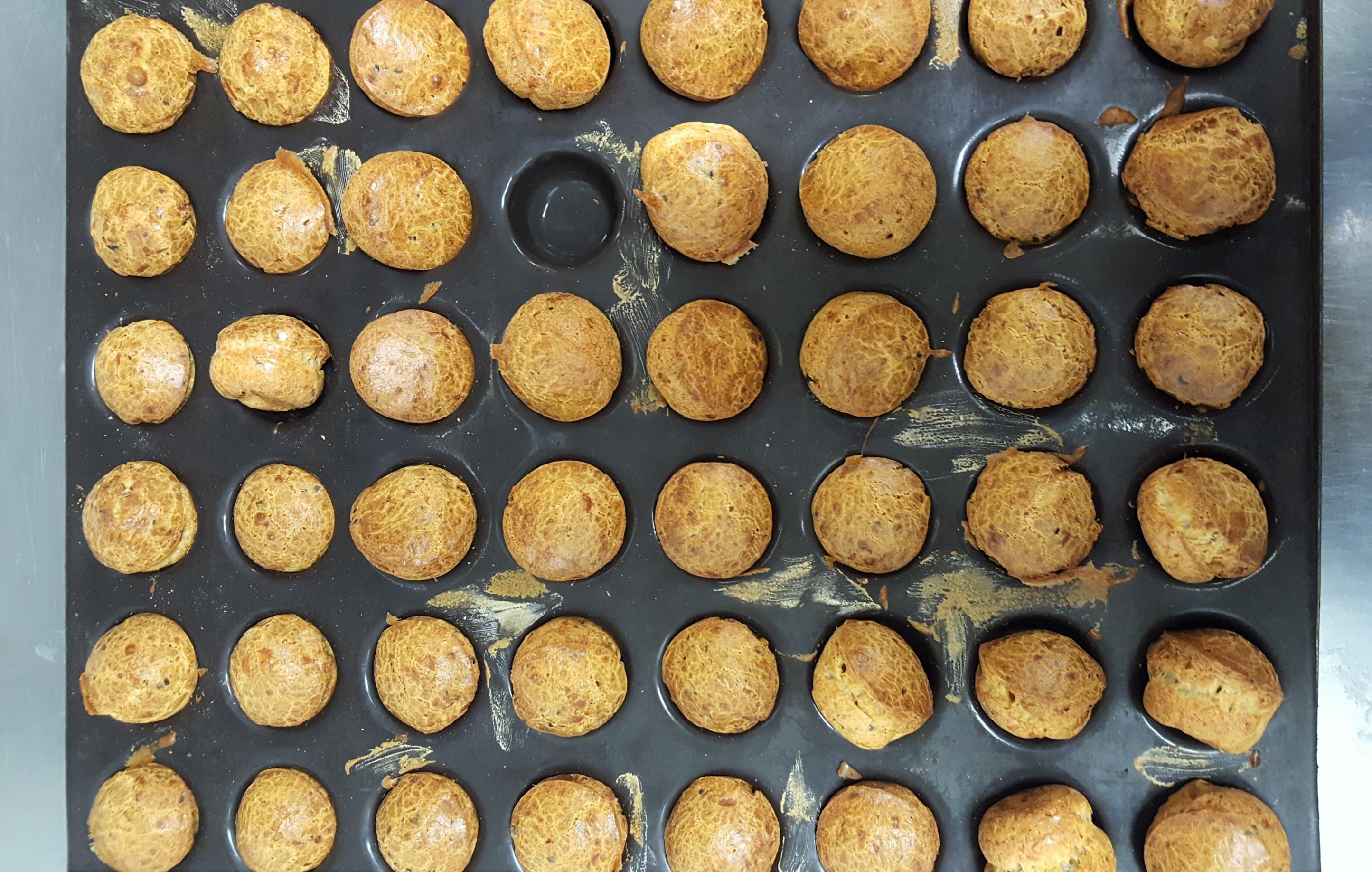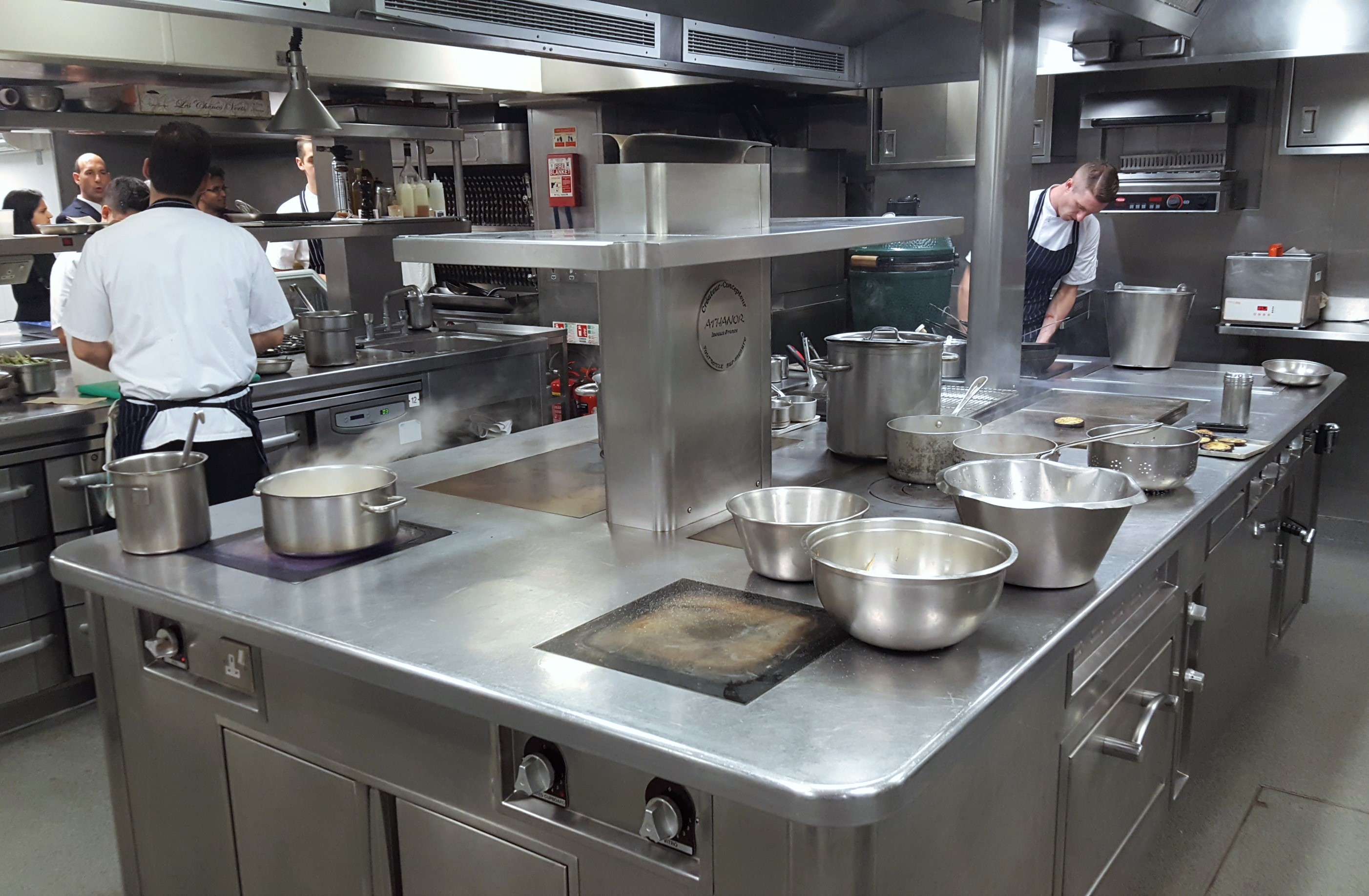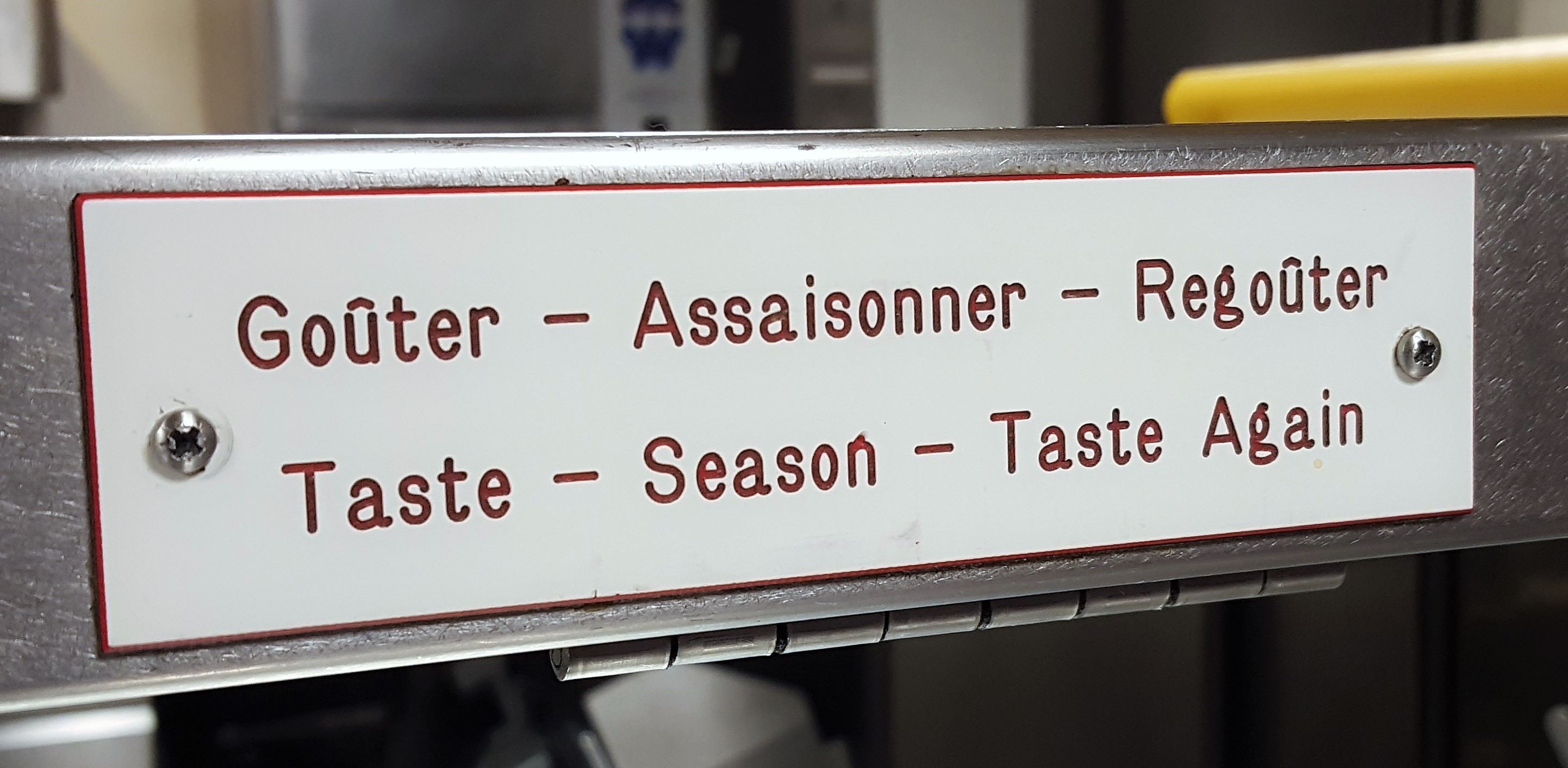 On walking into the kitchen, you see a large thermometer panel above the pass, which at the time read 33C; we were told this rises to around 50C during service. The ambiance was calm as the team were starting their prep for the evening service, so we were able to walk around the various stations, talk to the chefs and have a sneak peek at some of the food. I've long been fascinated by the behind-the-scenes operation of a kitchen, the camaraderie and how everything comes together on the plate, and my favourite part of this exclusive experience was an inconspicuous sign reminding the chefs of the importance of tasting each and every dish before it is served. Waterside Inn Blogger Review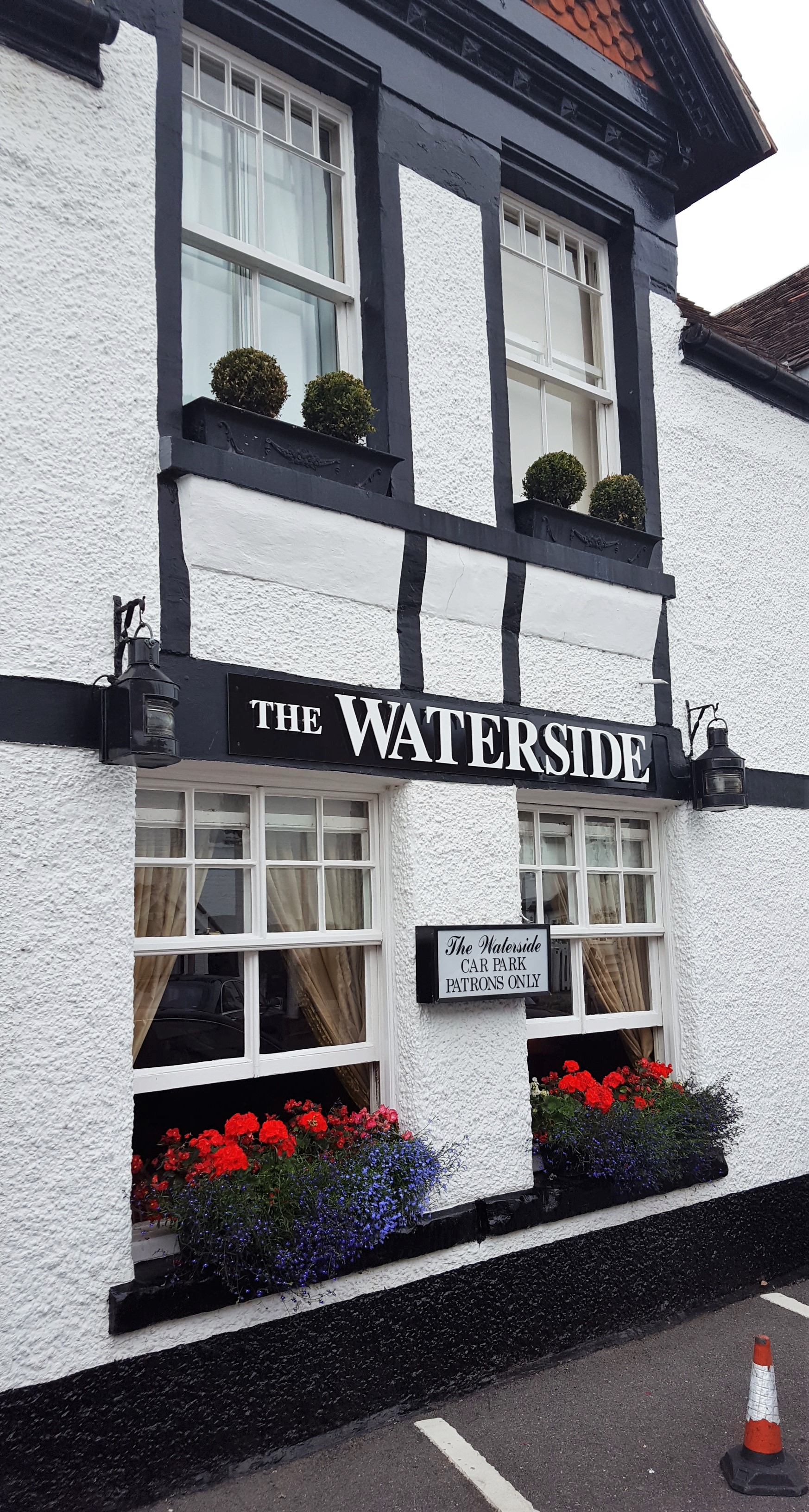 Verdict: Visiting a 3 Michelin-starred establishment is naturally synonymous with sky-high expectations. Despite our late arrival and its inconvenience for the kitchen's schedule, we were enthusiastically welcomed, entertained then spoiled. Each dish and course was a delicious delight, enjoyed in a calm and elegant environment. I'll forever look back on this meal as one of my dining highlights, as will the rest of my family. The only tiny quibble is related to the plating, which I feel could've been a touch more contemporary. That said, the flavour profiles were faultless, hence the accolades. If you have a special occasion on the cards, I strongly recommend venturing to Bray and making a day of it. Incidentally, a blogger friend Binny made the journey out west to celebrate her husband's birthday shortly after my visit; you can read about her thoughts here.
 Disclaimer: I work for a global concierge company as a Lifestyle Account Manager. Due to our longstanding relationship with the restaurant, a kitchen tour was provided as a dining benefit.
 Budget: £350pp (including 12.5% service).  Waterside Inn Blogger Review
 Links: The Waterside Inn, Roux Brothers, Dom Pérignon, Elizabeth Auerbach