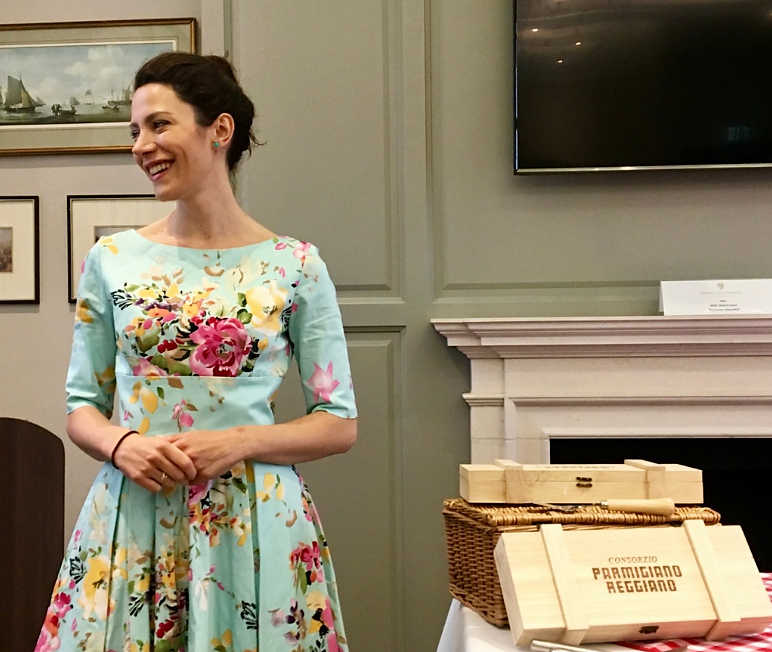 Food nourishes both our bodies and souls, a message which the charismatic Italian cook, writer and teacher Eleonora Galasso is very keen to promote. Her love of Italian cuisine is inspired by her family's recipes, which are closely guarded secrets until the times comes to share them with the next generation. Over dinner hosted by Parmigiano Reggiano P.D.O. (Protected Denomination of Origin) to celebrate Italy's Republic Day with a "Taste of Italian Summer" menu, Eleonora told us that this seminal moment traditionally takes place when a woman gets married. A book containing these precious handwritten recipes is handed over with bedsheets so that she and her husband may eat and sleep well forever.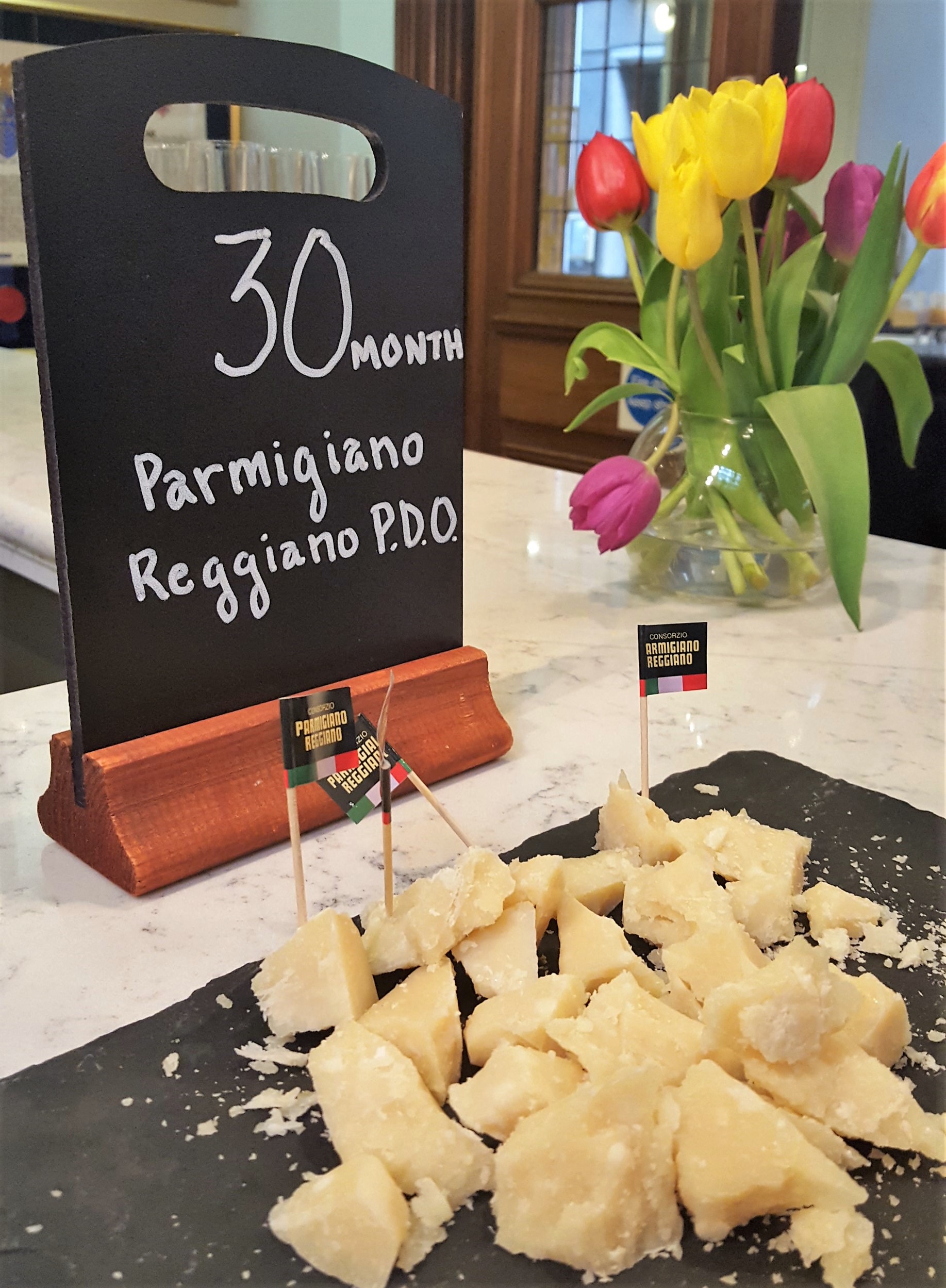 Before serving us some of these beloved dishes featuring "The King of Cheeses", Eleonora explained how a cheese can only be labelled as Parmigiano Reggiano if it is produced in the provinces of Parma, Reggio Emilia, Modena, Bologna (west of the river Reno) and Mantua (south of the river Po). This hard, granular cheese made from unpasteurised cows' milk is not "sticky in the stomach" and is therefore an ideal accompaniment for a pre-dinner aperitif. We got to test this for ourselves when we were presented with two Parmesan platters to be savoured alongside a glass of Prosecco. The cheesy chunks were 18 and 30 months' old respectively; I preferred the former for its slightly milder flavour and less crumbly texture.
When buying Parmigiano Reggiano, we were told that 18 months is the minimum age in which we should invest. It is to be stored in the fridge, but do not commit the cardinal sin of wrapping it in cling film or keeping it in an airtight container: this cheese needs to breathe. In Italy, food is "treated like a person", so loosely covering your wedge in greaseproof or kitchen paper is advised. When its savoury services are required, grate it finely to add to a pasta dish or use the short, teardrop-shaped blade of a Parmesan knife to split it coarsely and maintain the crystals and "movement" instead of cutting straight through it.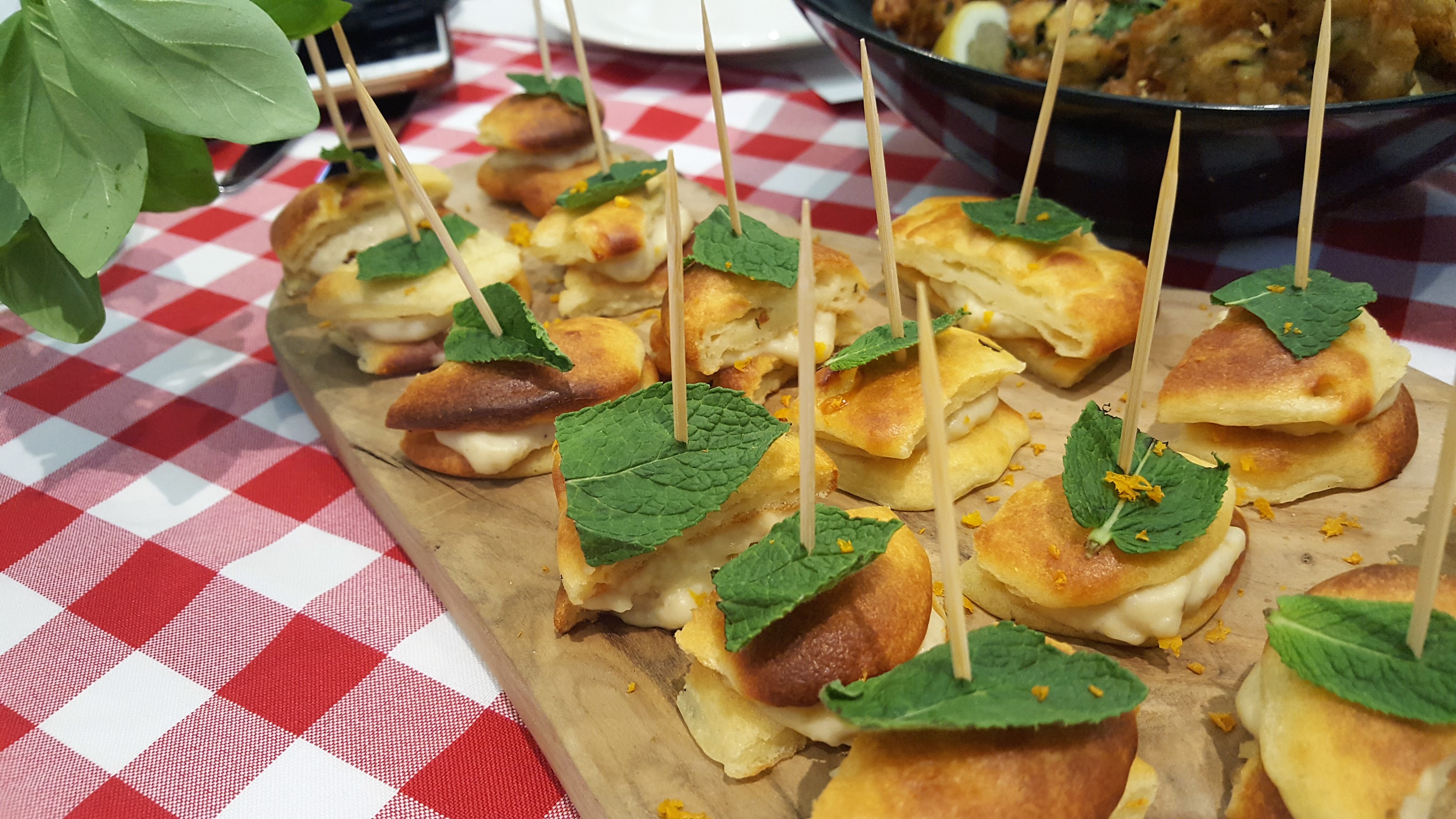 All this talk of food had us practically salivating, so the arrival of the starters was very welcome. There were lemon-kissed courgette fritters, the batter a mix of beer and Parmigiano Reggiano, and mini flatbread sandwiches stuffed with chicory cream and skewered together with a hint of mint. Both were tasty and light, although the highlight of the trio was the aubergine rolls: pan-fried slices carefully curled around a ricotta and hazelnut filling and garnished with a few drops of pesto. This topping really brought the vegetable to life thanks to its vibrant visual appeal and fresh, summery flavour.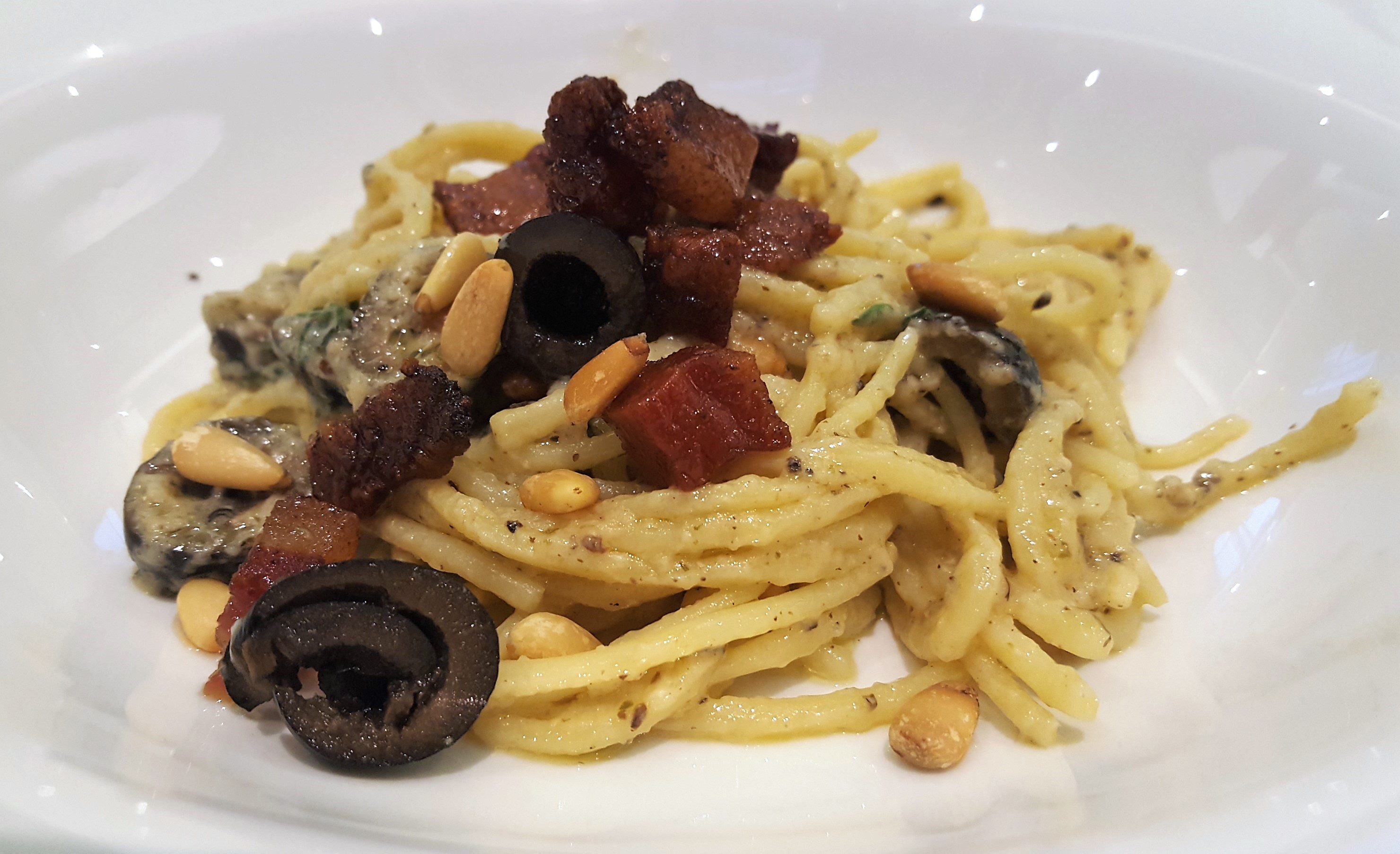 The main of spaghetti with chopped olives, toasted pine nuts and thyme with optional guanciale (pork cheek) sounded more like comfort food for cold winters than sunny summers. Al dente spaghetti was coated in a lemon, thyme and Parmesan-rich sauce, made creamier by adding the starchy salted water used to cook the pasta. Into the mix went the olives, nuts, peppercorns and meaty bits, all of which was sprinkled with a light dusting of cheese. Sublime smells spread throughout the room as we all twirled the silky, slippery strands around our forks. It was a triumph of textures – soft, crunchy and chewy – and tastes, and ultimately not as heavy as I'd expected.
To round off our meal, we enjoyed cantucci: twice-cooked biscuits with notes of fennel. Leftovers (of which there would be none in my household as I adore fennel) can be lightly crushed and used to top a crumble.
On her website, Eleonora refers to herself as a "food interpreter"; a unique way of describing how she takes rustic dishes and presents them with her own modern twist. She has a Masters in Gastronomy under her belt, but she's not a trained chef and so is the first to admit that her creations aren't necessarily the most photogenic. However, she has remained true to her Roman roots by popularising Italian home cooking, which she once summarised on Saturday Kitchen as being "ugly but good". You can't help but warm to a woman like this.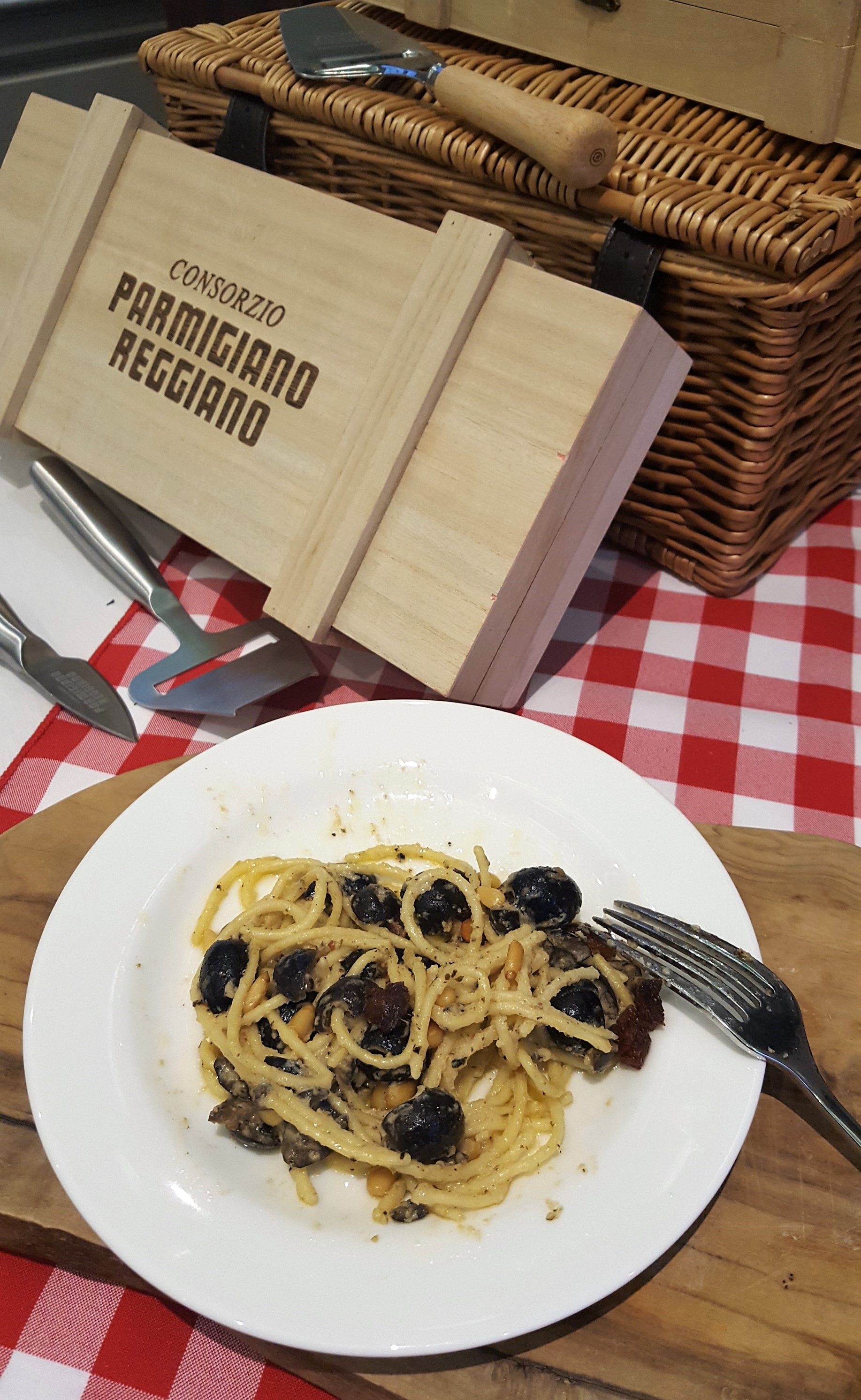 Recommended ways to enjoy Parmigiano Reggiano:
Served as chunks with raw vegetables like celery or plum tomatoes (minimum 12 months);
Or with fresh or dried fruit (18 months);
Grated or shaved onto traditional Italian dishes (24 months);
Shaved on beef or fish carpaccio with olive oil or on its own with balsamic vinegar (24-28 months).
I was a guest of Parmigiano Reggiano P.D.O. All views and photos are my own, unless otherwise stated, and remain the property of www.SavlaFaire.com. 
Links: Eleonora Galasso, Parmigiano Reggiano P.D.O., The Pretty Dress Company