At the risk of sounding like a pompous princess, I've dined in many memorable restaurants, both at home and abroad. While I'm not oblivious to how fortunate I am, it can desensitise a person's palate to a certain degree. Everything tastes nice, but if you ask me to recall what I ate a few months later without reaching for my phone, I'd be lost. The memory of lunch at 64 Degrees in Brighton, however, will never fade because I experienced it from a very different perspective.
When deciding where to eat during my short weekend break with a childhood friend, I briefly considered revisiting somewhere that Chef Savla and I had enjoyed last year. This time, we only had one full day and two small appetites, so there could only be one indulgent meal. As tempting as it was to meander down the Michelin route, especially as it was unchartered territory for my friend, we wanted somewhere casual, creative, convenient and comfortable. We don't ask for much.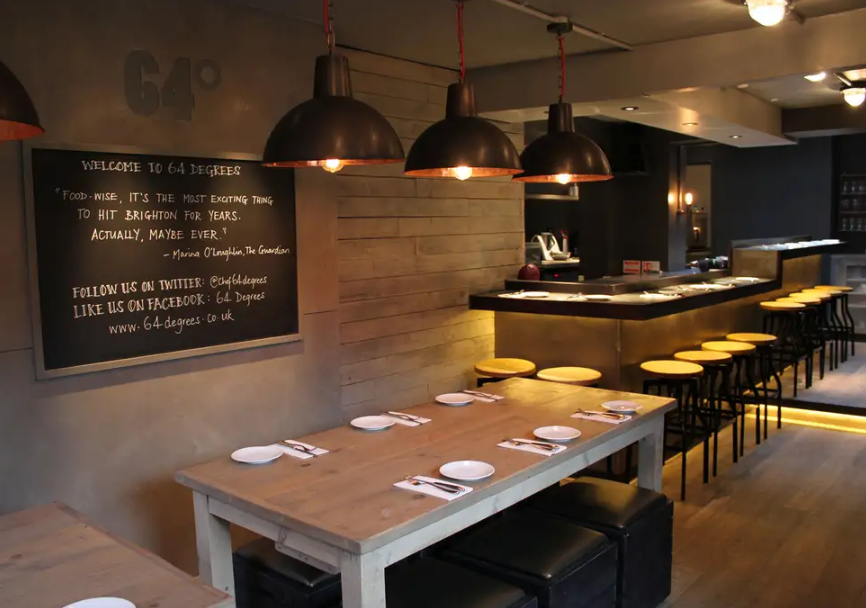 64 Degrees (the temperature of their signature sous-vide egg) is the type of place that you'd walk past without stopping. Situated a few minutes' walk from the beachfront, it doesn't attempt to compete with the flashy jewellery-filled windows of its neighbours in The Lanes. Its discreet façade is in keeping with the minimalist industrial chic interior, which sounds off-putting and is anything but. The browns, greys and bronzes of the wood, metal and furnishings, and only having a maximum capacity of 27, creates an intimate cocoon. 10 of the seats curl around the pass, where you can observe each dish being prepared in glorious detail (and fire frequent questions at the chefs).
Chef Michael Bremner's menu is mercifully short. There's a 7-course tasting menu for a reasonable £51 (I wonder if the odd number has anything to do with superstition and luck, like when Indians gift money at weddings), or you can pick and choose small plates like we did. (Yes, the concept is small sharing plates, but please stifle those yawns – I haven't finished yet.)
After having eagerly watched a chef meticulously devein a pile of juicy red prawns for tacos while the head chef (aka the Spanish Joshua Jackson) was plating up beef tartares, those were the first two dishes we ordered.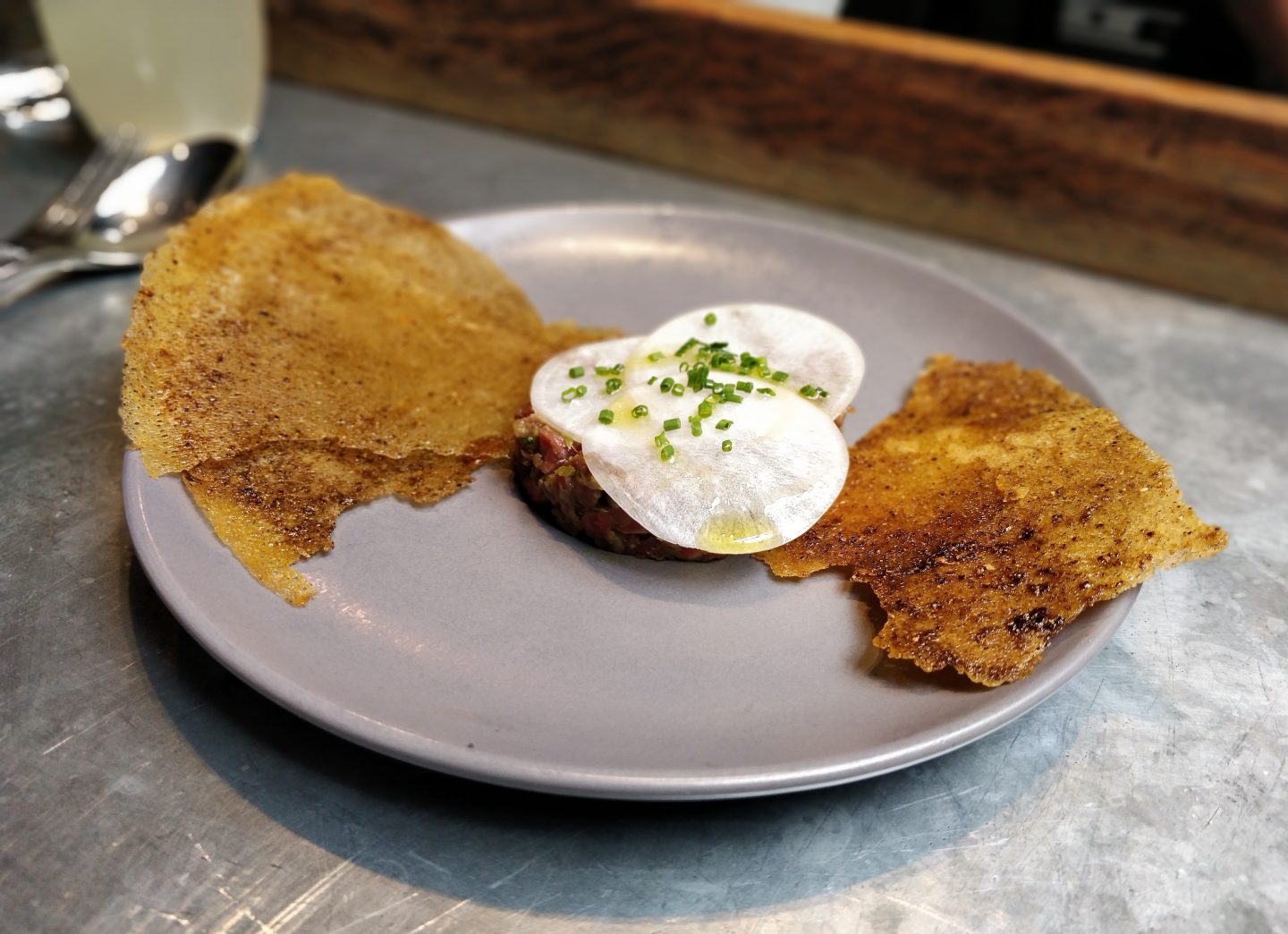 Seeing my friend cautiously take a bite of raw beef with wafer-thin Tokyo turnip and horseradish for the first time and processing the unfamiliar flavours and textures was eye-opening. It made me consider the individual components more than usual and appreciate why they were combined in that way. This version was heavier on the herbs than others that I've tried and I for one was very happy about that.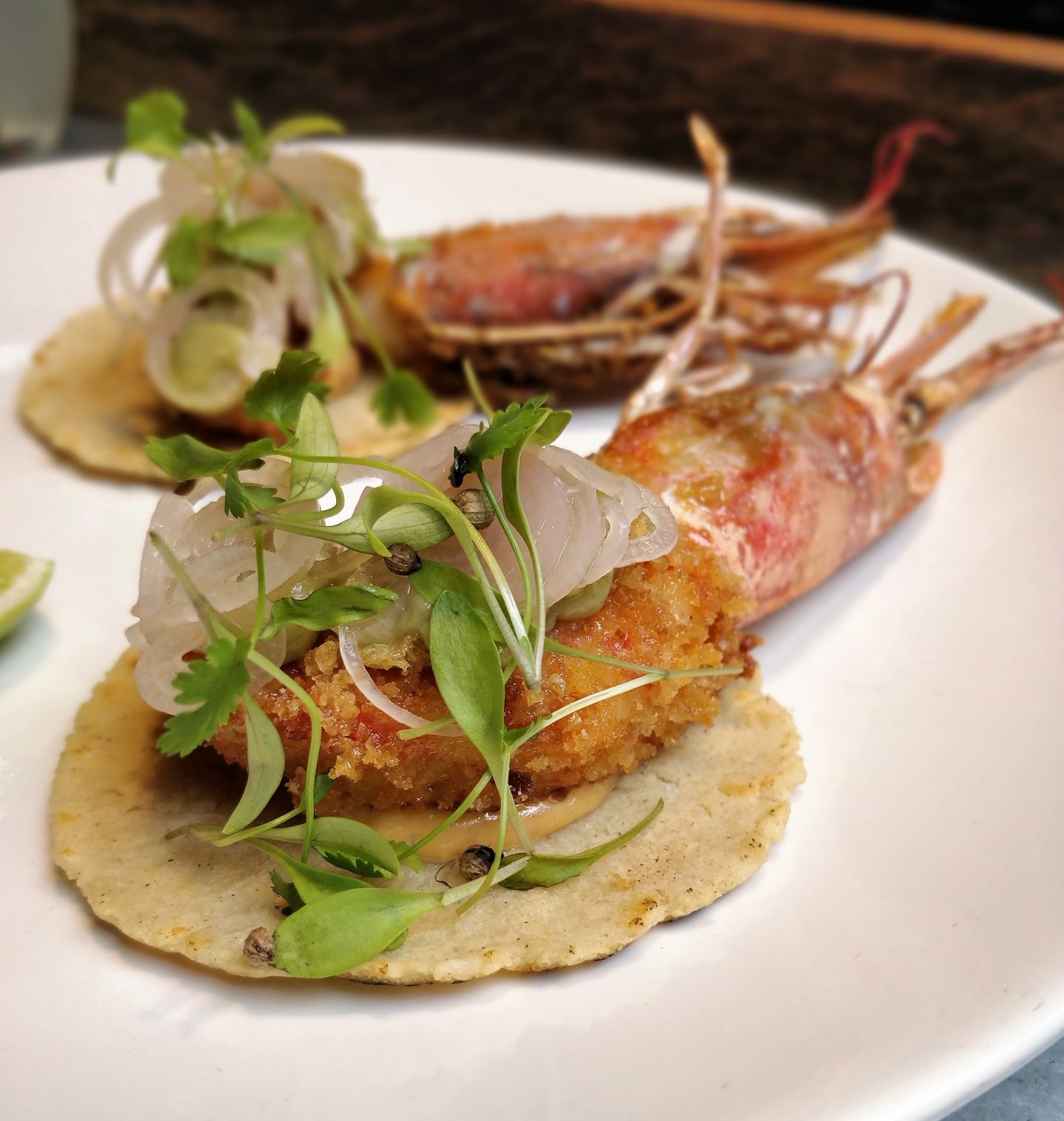 We paused before pulling off the prawn heads, momentarily worried about messy fingers, then just got stuck in. Get one each; it's not difficult to cut the taco into two, but you'll want to have as much of the lightly battered, deep-fried sweet flesh wrapped in the soft chipotle-covered, hot-off-the-griddle taco as you can. We won't be forgetting that dish in a hurry.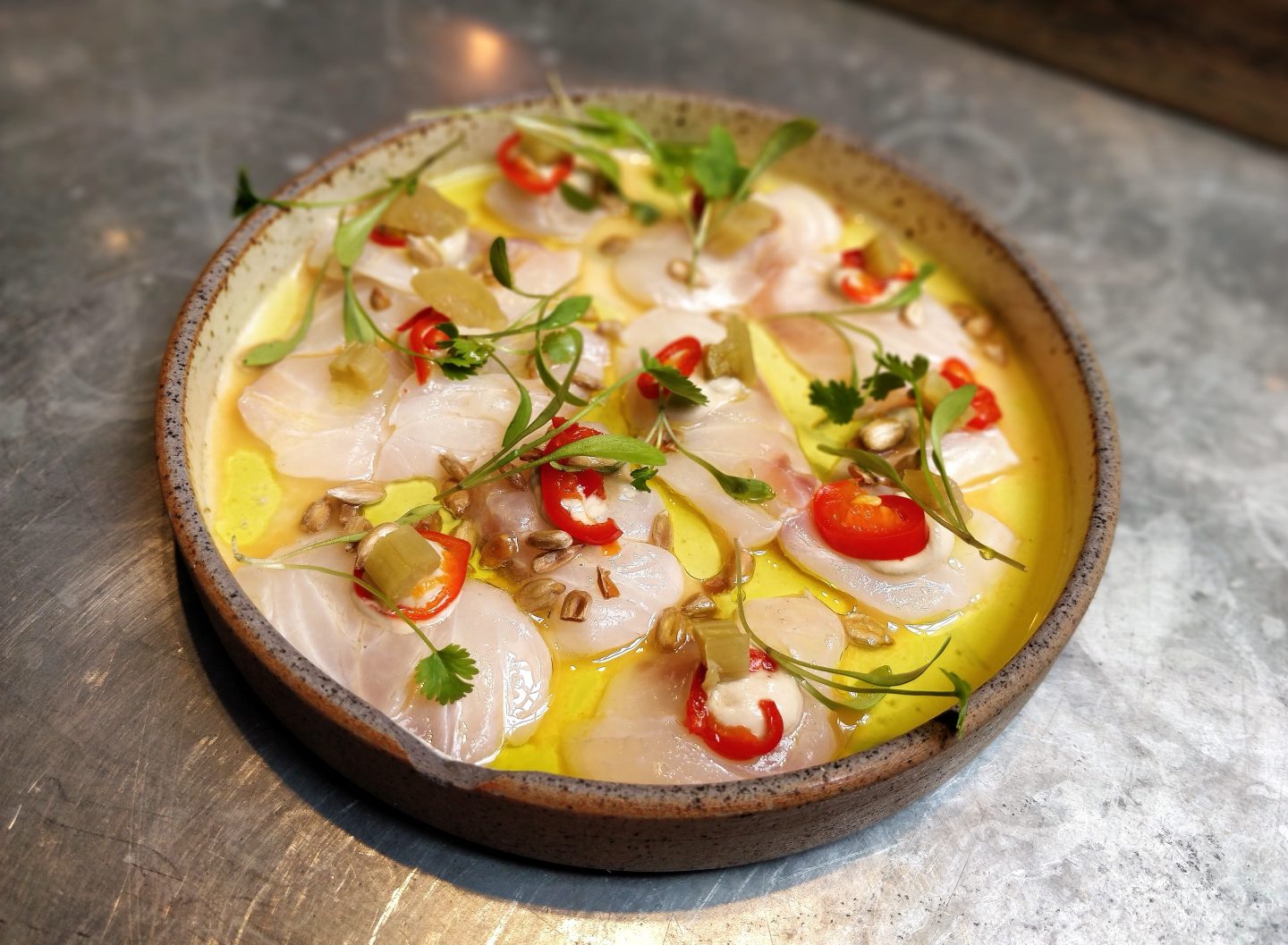 Having never tried ceviche before, the bits of bass with sliced red chillies and sunflower seeds were another major milestone for my friend. We savoured the smooth fish, its sweetness punctuated by gentle heat, and asked for more bread so as not to waste a single drop of the oil flavoured with these delicious ingredients. It too got the thumbs up.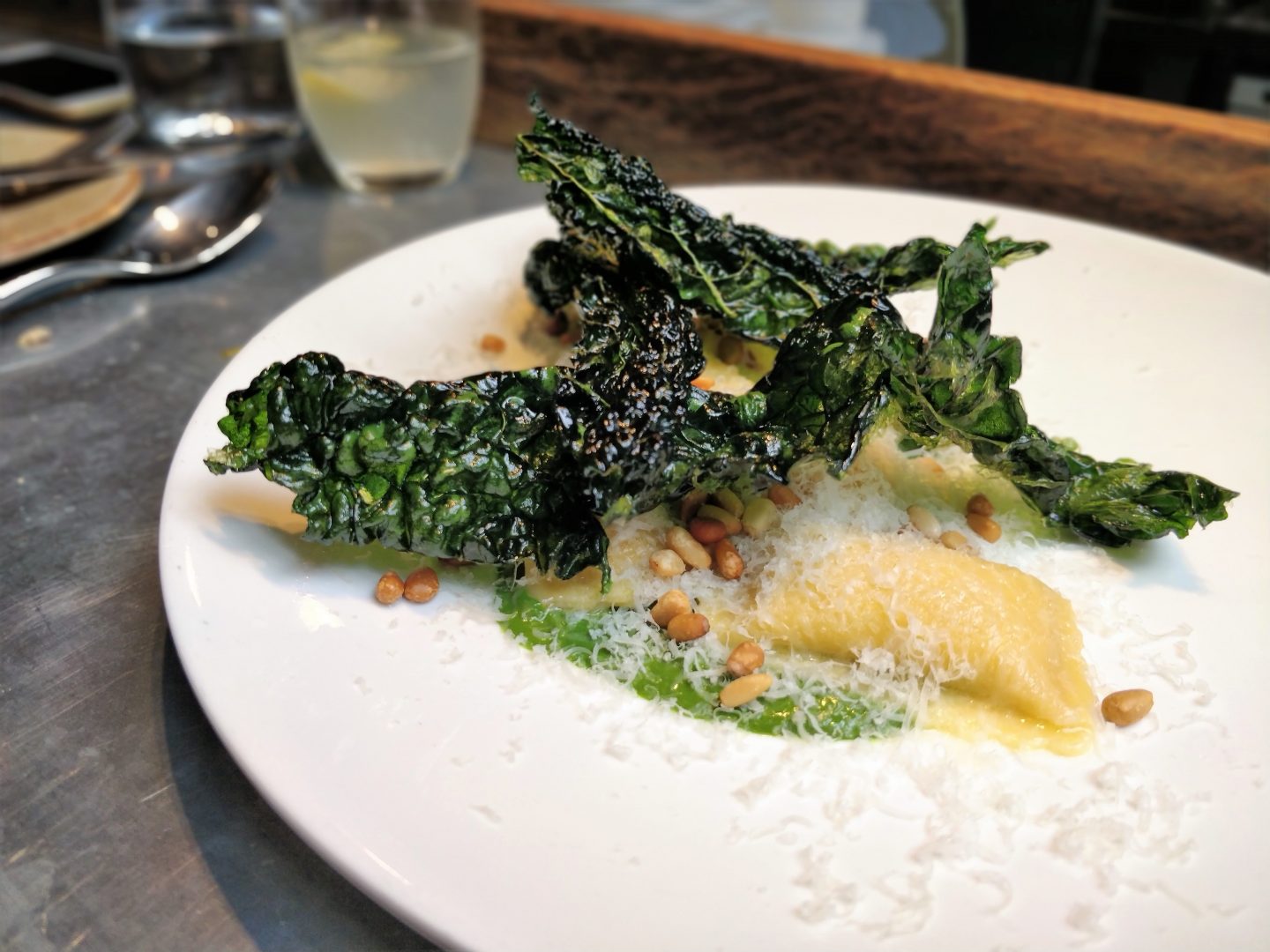 As did the ricotta agnolotti, served partially shaded by the crispy cavolo nero. Whenever I order pasta these days, I crave simplicity, which translates as vegetarian to me: it tends to be lighter and brighter. This dish was both of those things and therefore an ideal end to our savoury selection.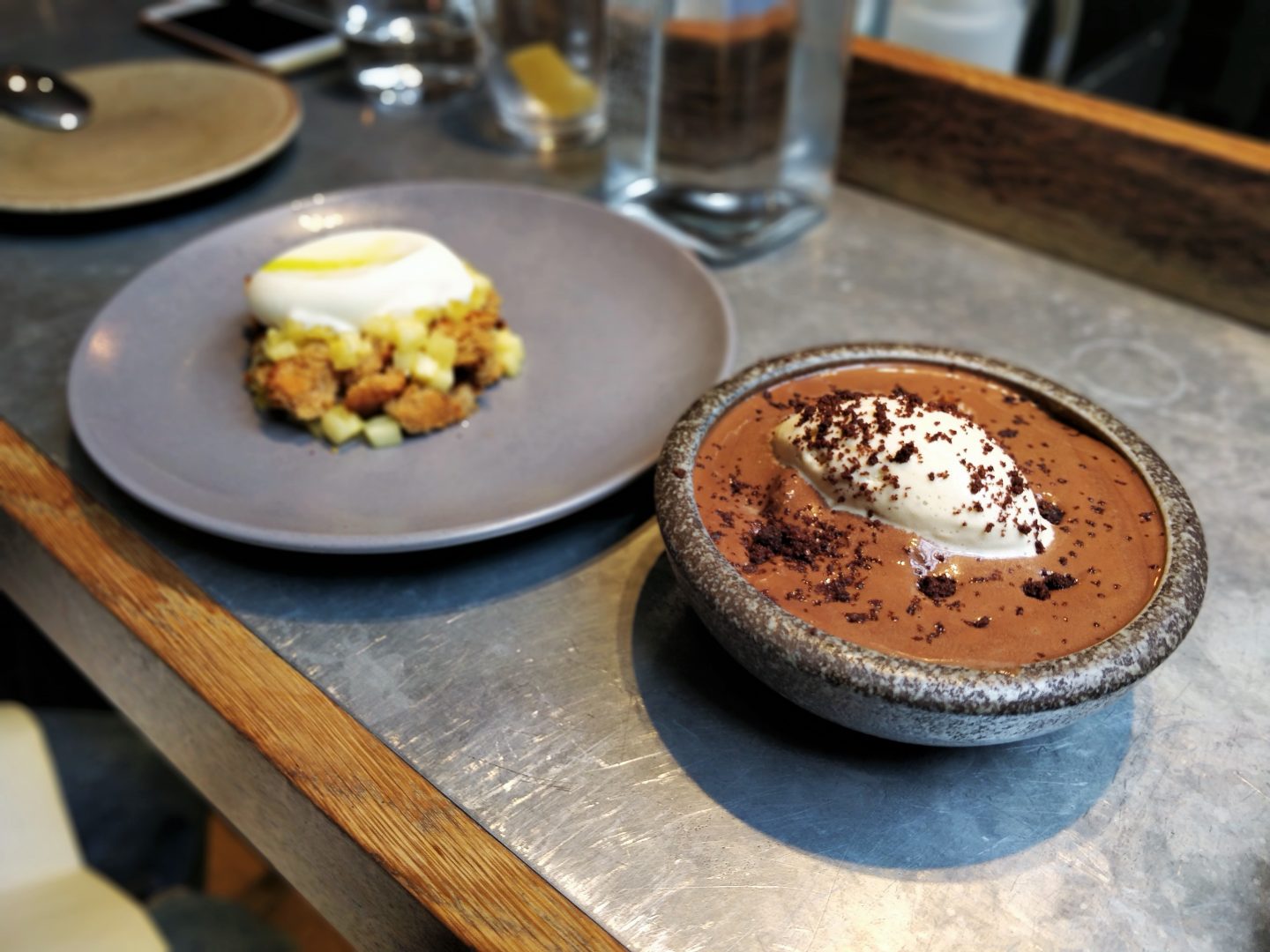 Going easy on the meat meant that we had space left for dessert; I used to believe in having a separate stomach for all things sweet, but that has disappeared with age, sadly. What the chocolate mousse with salted caramel, peanuts and malt ice cream may have lacked in presentation, it certainly compensated for in taste. Each spoonful made me want to dive headfirst into its ridiculously rich chocolatey depths, never to resurface. My friend surrendered early, so I gleefully scraped the sides clean on my own.
She left me in the moment and tucked into our second dessert: rum cake with pineapple and yoghurt sorbet. The bite-sized, irregular pieces of delicately flavoured cake with mini uniform pineapple cubes and a simple sorbet were diametrically opposed to the chocolate mousse, giving our taste buds a break when they needed it.
64 Degrees fulfilled our brief and exceeded our expectations. We wanted a relaxed atmosphere, a place where we could hold a normal conversation without having to whisper or shout, eat good food and not have to go to out of our way to obtain it. The restaurant gave us all of this, plus a ringside seat to an enthralling culinary performance and the time to appreciate it and each other's company.
Budget: Approx. £40pp, including 2 soft drinks and service.
Links: 64 Degrees, Midsummer House Review, Restaurant Sat Bains Review,
PIN FOR LATER