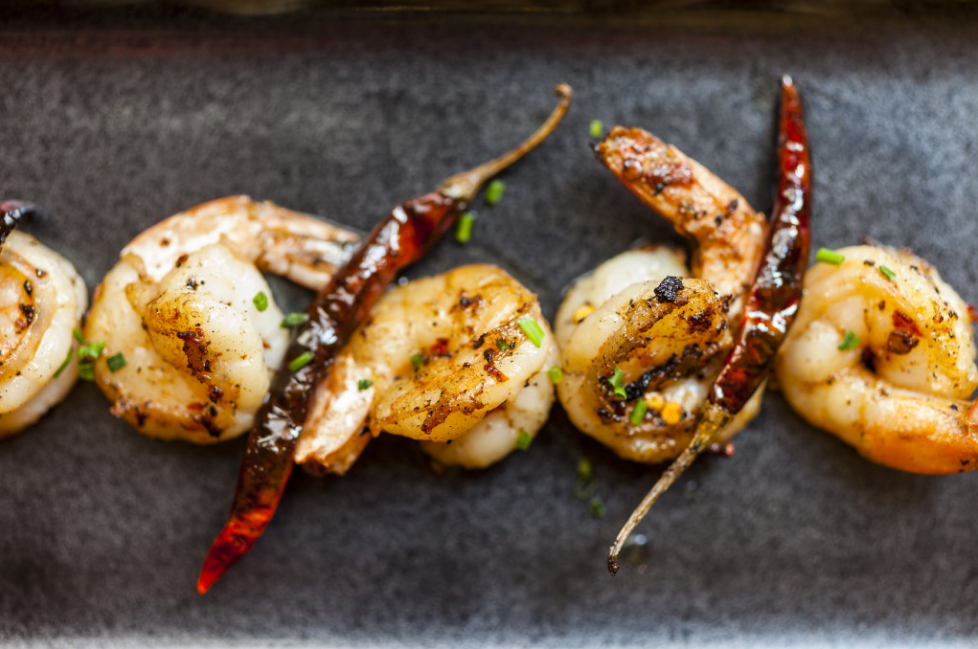 Confession #1: I have never tried goat curry/curried goat. Confession #2: I have never been to the Notting Hill Carnival. Confession 3: I used to live in Kilburn, so it was not exactly a million miles away. Nine years later, goat has since graced my table in BBQ form, while the curried version has remained unintentionally off menu.
Until last month. I had not expected my first experience of this dish to be at Darjeeling Express, but then again, I had not planned to be anywhere near Carnaby Street that Saturday. A friend had bailed on our catch-up for the nth time, so instead of sitting home solo (Chef Savla was at the Illuminating India exhibition at The Science Museum; worth a visit), I consulted my lengthy restaurant list. Hot Indian food on a cold November day was always going to be a winner.
And the goat curry did indeed win us over. Chunks of meat in a thick, dark-chocolate-coloured sauce, cooked Bengali-style; layer upon layer of flavour, which all worked as harmoniously as an orchestrated piece of music. Then came the chilli-noted crescendo, stunning us into momentary silence.
Asma Khan's cooking is a rollercoaster of a journey, and the lady herself has covered remarkable ground. Unable to boil an egg when she left Calcutta for London in 1991, she has gone on to master the Royal Nawabi/Mughal cuisine of her ancestors and achieve international recognition. Initially hosting supper clubs at home, then later at The Sun and 13 Cantons in Soho, her dream of owning her own place was realised earlier this year.
But she will be the first to mention that this venture is a team effort. Her all-female brigade – all of whom are second daughters, who had limited prospects and no professional experience in the kitchen – have been by her side since her supper club days. The family portraits and snapshots of Calcutta artfully arranged on the walls were taken by long-time collaborator and friend Ming Tang-Evans. Across the room, the terracotta pottery emblazoned with the restaurant's logo was handcrafted by Pakistani potter and close friend Maham Anjum.
For me, dining at Darjeeling Express is indeed like eating at home among loved ones. The food itself is reminiscent of what my mother and grandmother patiently create, and served in equally generous portions. You will be warmly welcomed, lovingly fed and leave satisfyingly sated.
We certainly filled our bellies to the brim. My Goat Kosha Mangsho was joined by Methi Chicken, Basmati pulao and salad. Chicken thighs were the enemy for years after some I cooked at university took on a greyish hue (they were not out of date, bizarrely), but these were nothing of the sort: flavourful, fresh and full of fenugreek. Sauces were scooped up with puris (fried bread), which were pleasantly grease-free.
Starters – often my favourite course when eating in Indian restaurants – exceeded my expectations. Having had many overcooked prawns in my time, I tried to steer Chef Savla away from the Tangra Chilli Garlic Prawns. I'm glad I was overridden: these curly crustaceans were delicately cooked, retaining every ounce of juiciness. The low spice level enabled the prawns' natural flavour to dominate. Similarly, the Mutton Shikampuri Kabab (spiced minced mutton cakes) didn't appeal to me until I took a bite and discovered that the dryness I had expected was nowhere to be found. Papri Chaat aka potatoes and black chickpeas on a crisp papri, with tamarind chutney, sev and coriander, was a case of opposites attract: soft and crunchy textures versus sweet and sour tastes.
Spicy drinks bookended our dinner: cardamom chaitini and masala chai. Both were strong characters, with the latter containing enough ginger to ward off all manner of ills. Admittedly, this won't work for everyone (like some may find the goat curry too oily and spicy), but I would drink it by the gallon.
In a faux pas of a tweet from the official Michelin account on 23rd November, Darjeeling Express was commended for having an "all-female kitchen team coping effortlessly with the demand". Poor phrasing aside, they raised a valid point: Asma and her team are making a very well-deserved name for themselves.
Budget: £44 pp, including 2 drinks and 12.5% service.
Links: Darjeeling Express, Spotlight on Chefs: Asma Khan, Illuminating India, Ming Tang-Evans, Maham Anjum
All words are my own, unless otherwise stated, and remain the property of www.savlafaire.com.