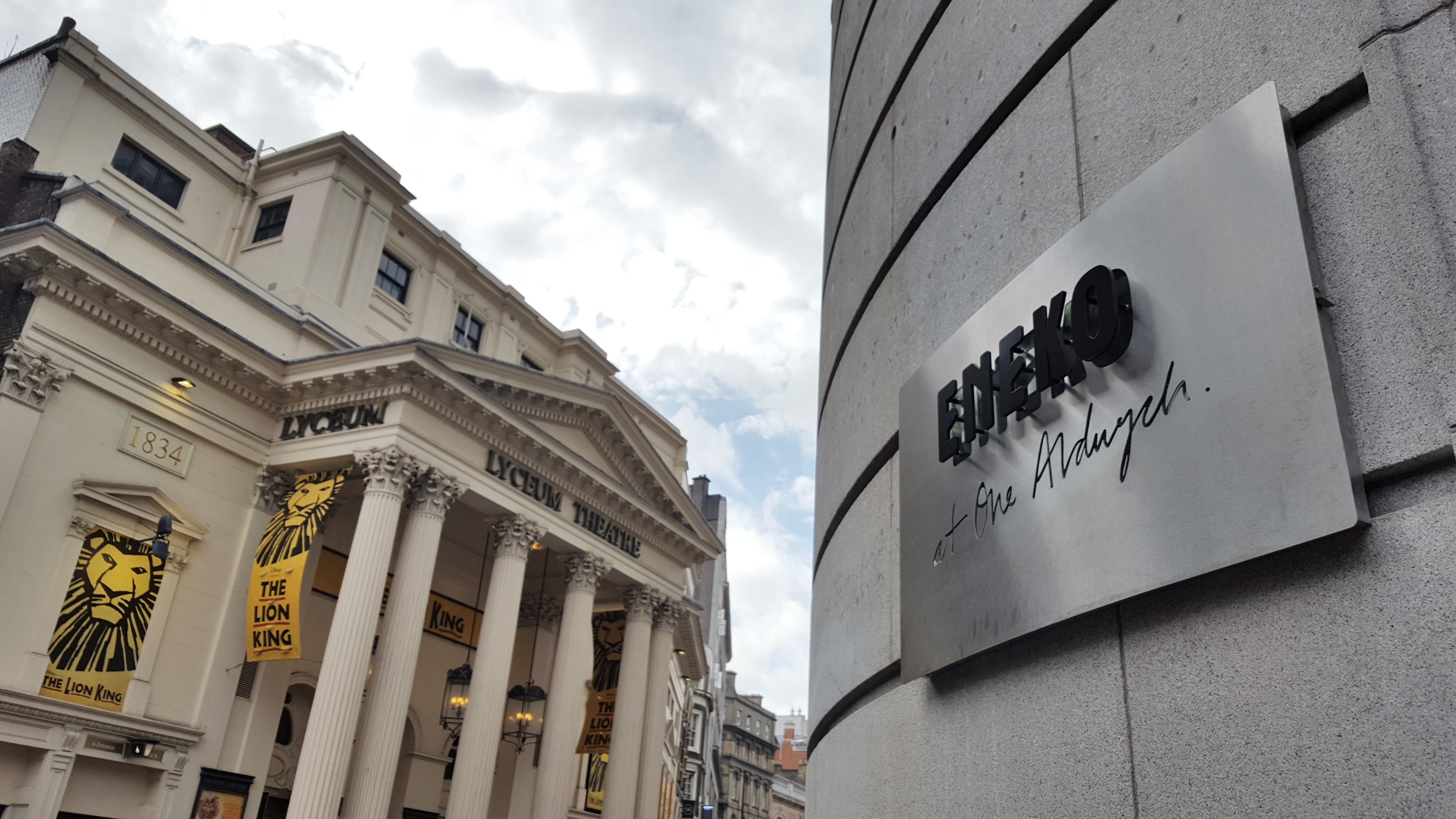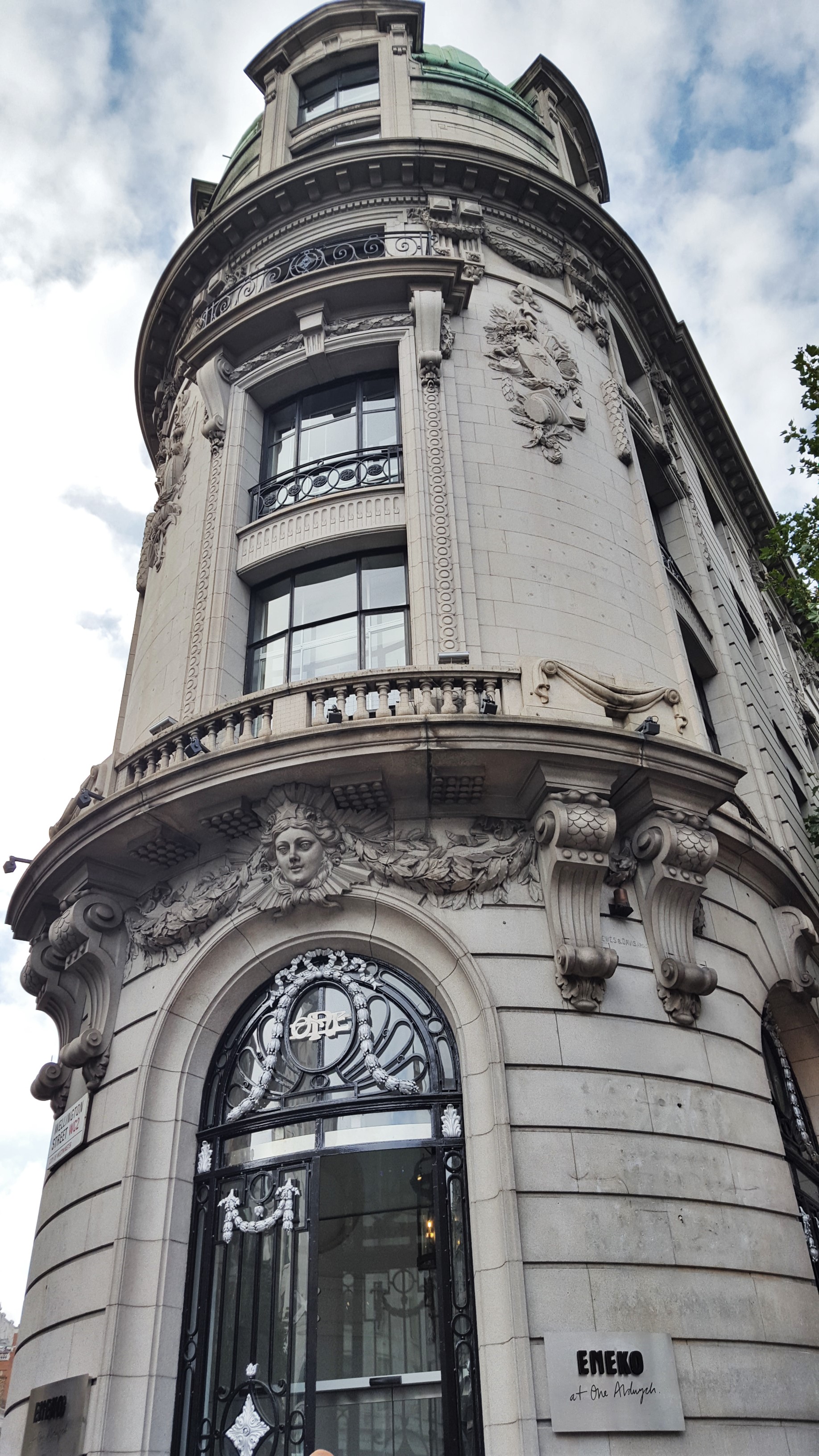 Writing objective restaurant reviews is becoming an increasingly difficult task these days, especially when you're still in seventh heaven after a fantastic meal earlier that day. Inevitable comparisons aside, you may have read critics' and bloggers' opinions online, seen photos on social media, heard about it on TV as well as discussed it with people long before your visit. Even the most impartial person's judgement is therefore likely to be slightly clouded by the good, bad and ugly words, tweets and Instagram posts. With all this in mind, I teetered down the stairs leading to Eneko at One Aldwych last Saturday, buoyed by Moët et Chandon (well, it was a day-long belated birthday celebration with my friend RP after all) for their soft launch.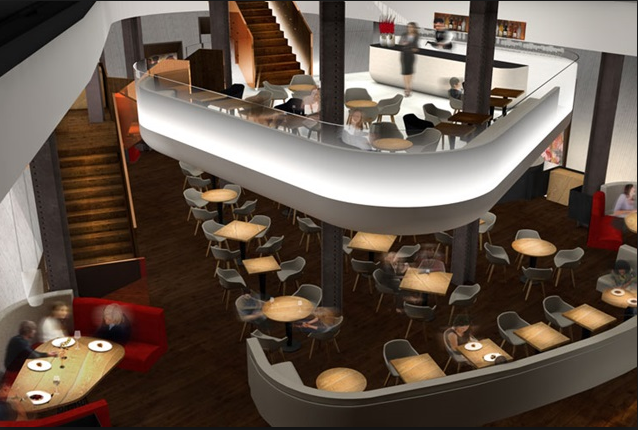 Ambience and décor: The creative force in the kitchen is Eneko Atxa, whose Azurmendi restaurant in Bilbao boasts three-Michelin-star status and currently ranks number 16 in the world. The Basque region is his speciality, and not only is this evident in his cooking, it also pervades throughout the interior: much of the furniture is bespoke and made from materials sourced from the Basque Country. The chestnut tables, for example, are crafted in Bilbao in homage to the woodlands, with skilled carpenters inserting a "butterfly" into one side to prevent natural shifting of the wood. The overall atmosphere is one of contemporary calm, the soothing greys and beiges interspersed with the deep red tones of the booths.
Service: We were shown to one of these booths and hand-carved tables where we settled in comfortably for the evening. The host didn't offer to take our coats, but there was plenty of space to stash them in the corner, and we might have been persuaded to have an aperitif if given the option. Our waiter was patient with us, and his returning at regular intervals gently reminded us to pause our conversation and place our order. Questions were answered well and passion for the menu was clear. Eneko Blogger Review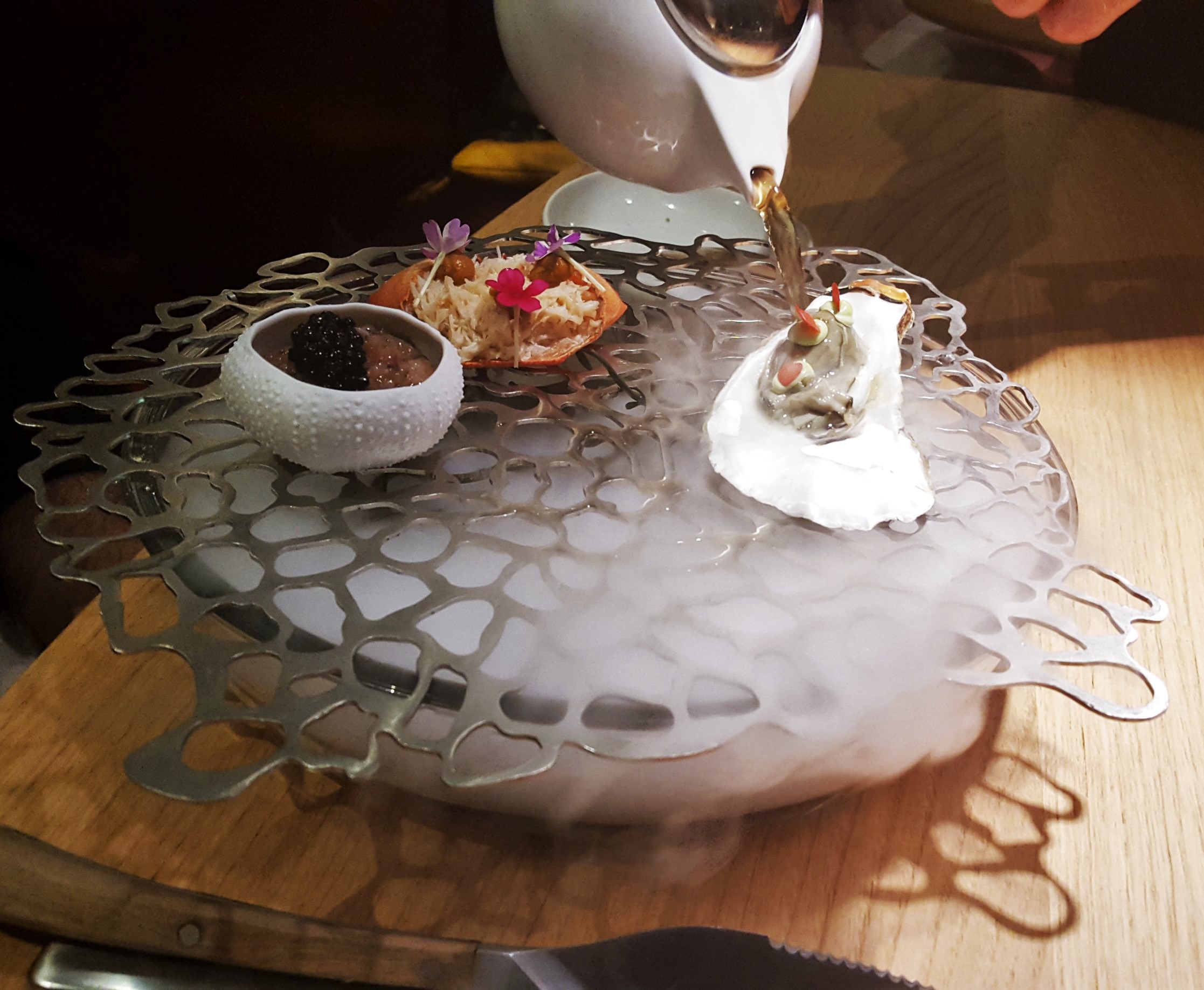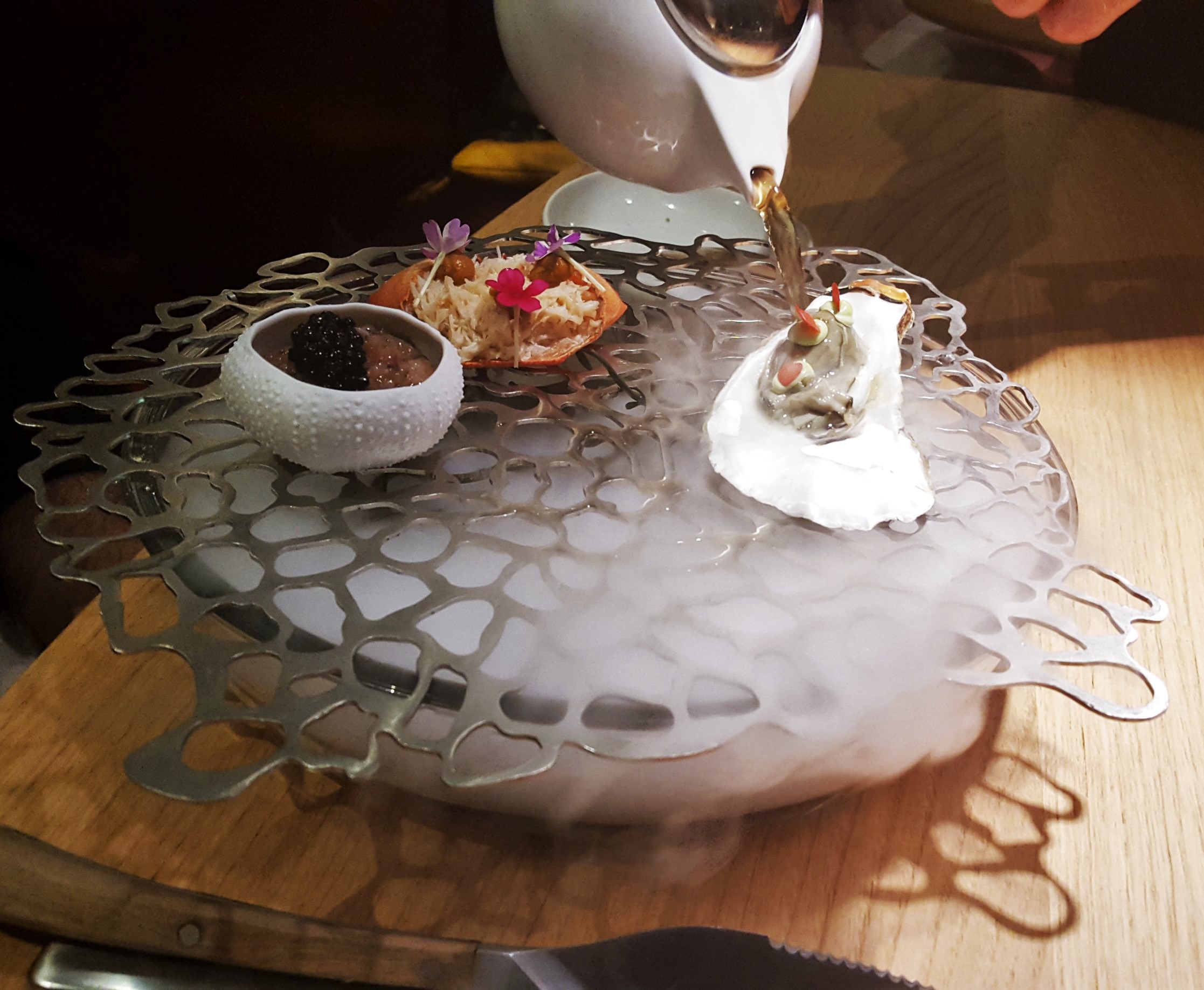 Food and drink: With bubbles on the brain, the whistle had to be wetted with Cava. RP kept things light with the Memories of the Bay of Biscay starter featuring crab, wild prawn tartare and oyster. Seafood presented in its shell on a latticed metallic tray is theatrical enough, so I felt that serving it with a side of dry ice was slightly excessive. Across the table, however, RP enjoyed the spectacle as it added to the otherworldliness of the dish. Distracting special effects over, his verdict was delivered in the style of modern-day Goldilocks and the Three Bears:  the crab was bland, the prawn oily and the oyster just right. Eneko Blogger Review
From the sea to the land with my Basque Chicken Liver Parfait and Txakoli Apple; I loved the alternating sweet and smooth tones in the delightful apple-shaped and coloured pot, with a hint of luxury courtesy of the wine-soaked apple compote and thin, curly pastry strips. Drama wasn't only reserved for the seafood trio; the lid is removed at the table with a flourish. The portion was rather generous – which usually isn't bad thing – although I was worried it'd affect my appetite for the main course.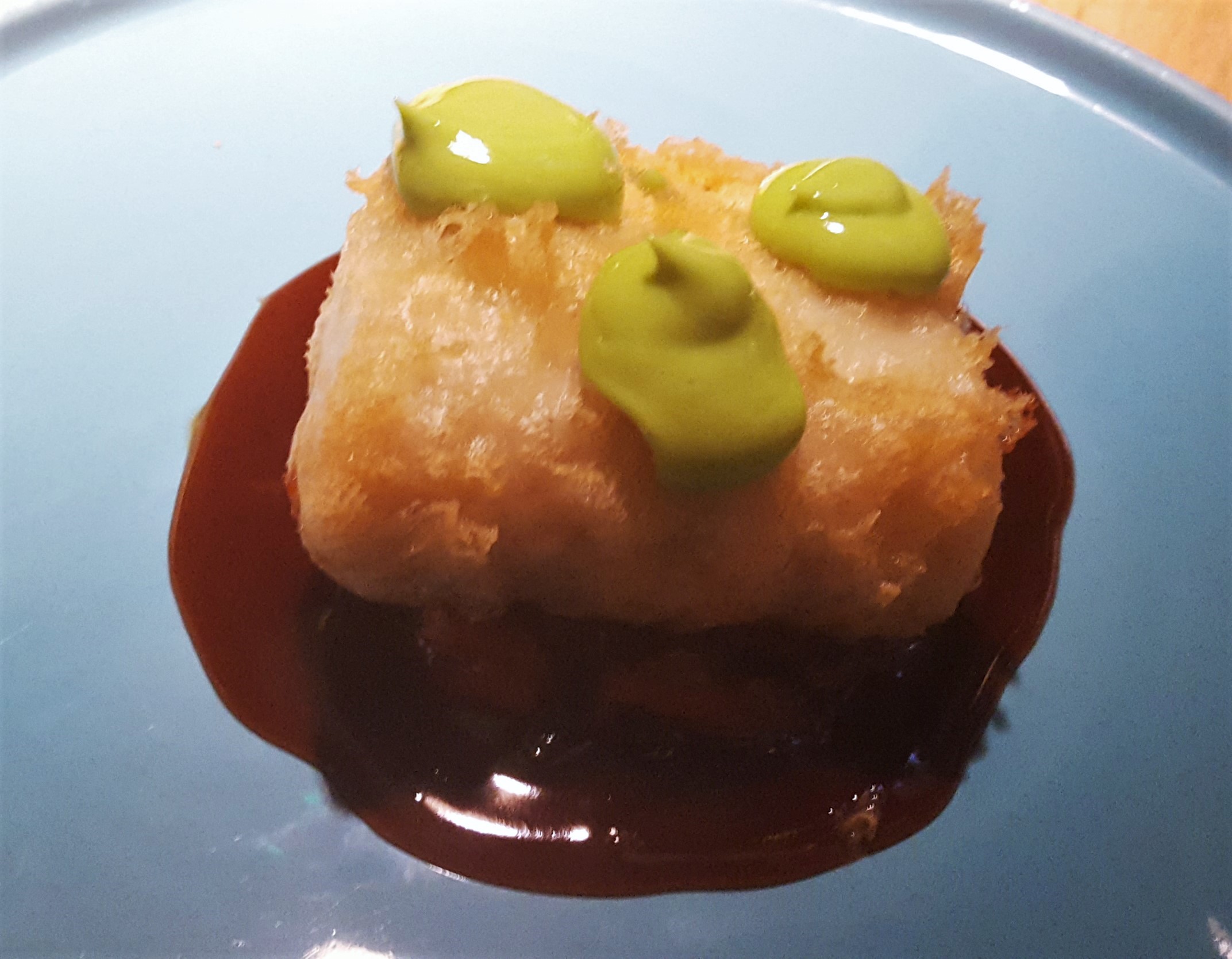 My Basque-style Hake in Tempura being smaller than expected, this concern was unfounded. I enjoyed the light, crispy-coated batter sitting pretty on a cushion of red pepper sauce and crowned with vivid green parsley emulsion jewels. This herb appears towards the top of my food faux-pas list, but I didn't find it as offensive in liquid form.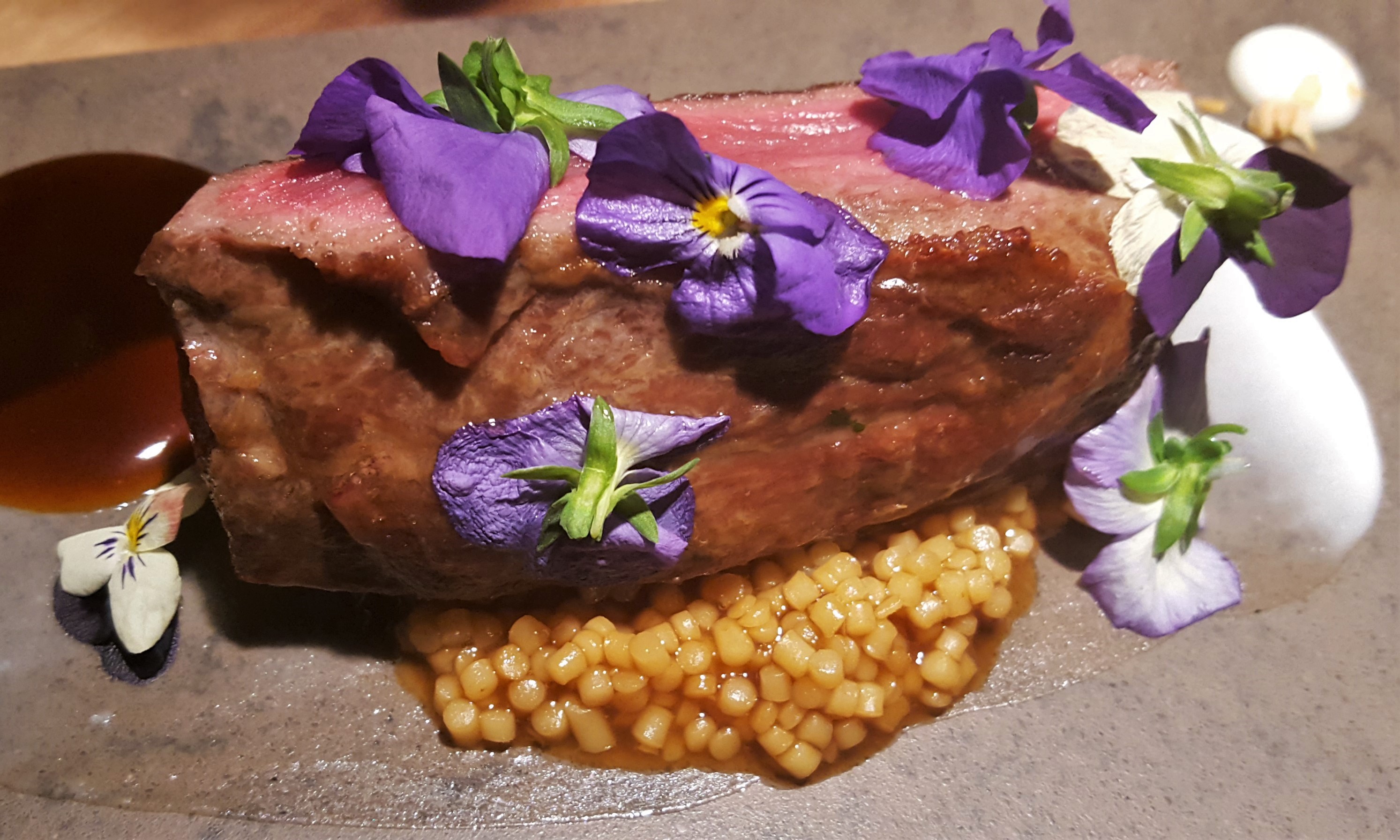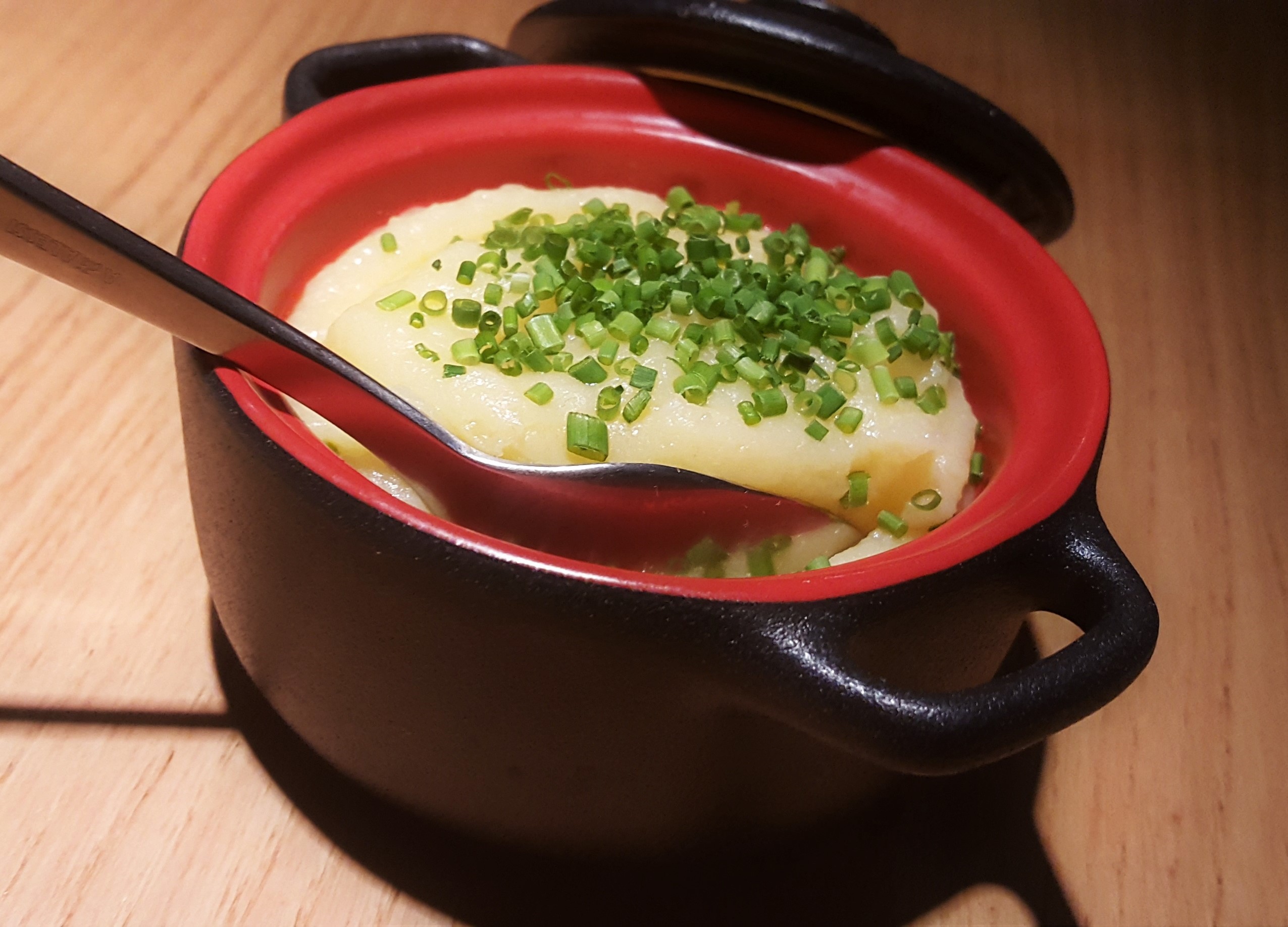 Returning to the land from the sea, RP's Roasted Iberico presa (pork neck) was pink, juicy and not too fatty. The wheat in chickpea sauce was a surprising spin on the carbohydrate component; an extra spoon or two wouldn't have gone amiss. Similarly, the garlic cream was missing its characteristic flavour. Our side of mashed potato was presented in an eye-catching black and red pot. Unfortunately, its lumpy contents were less impressive. Eneko Blogger Review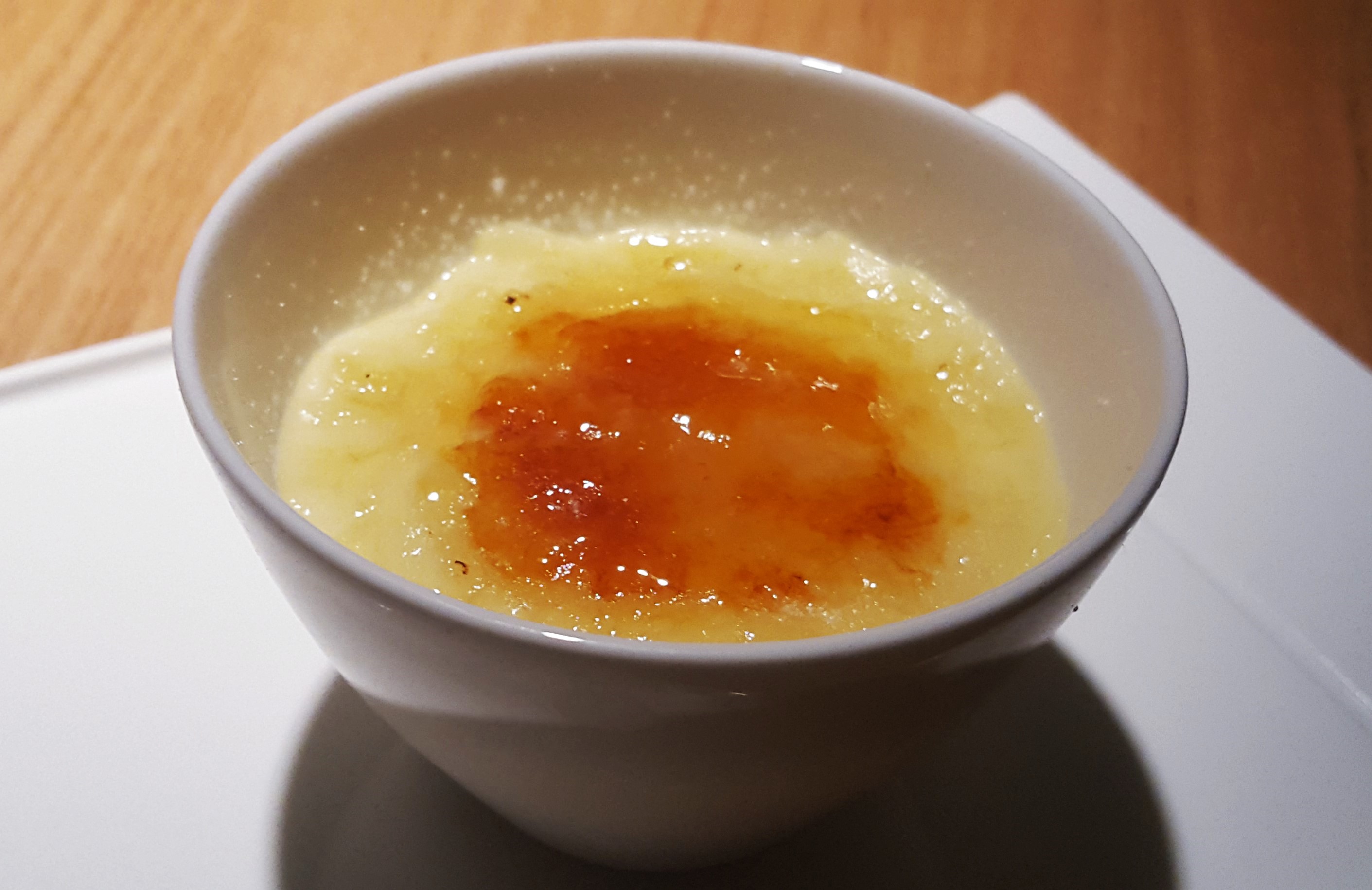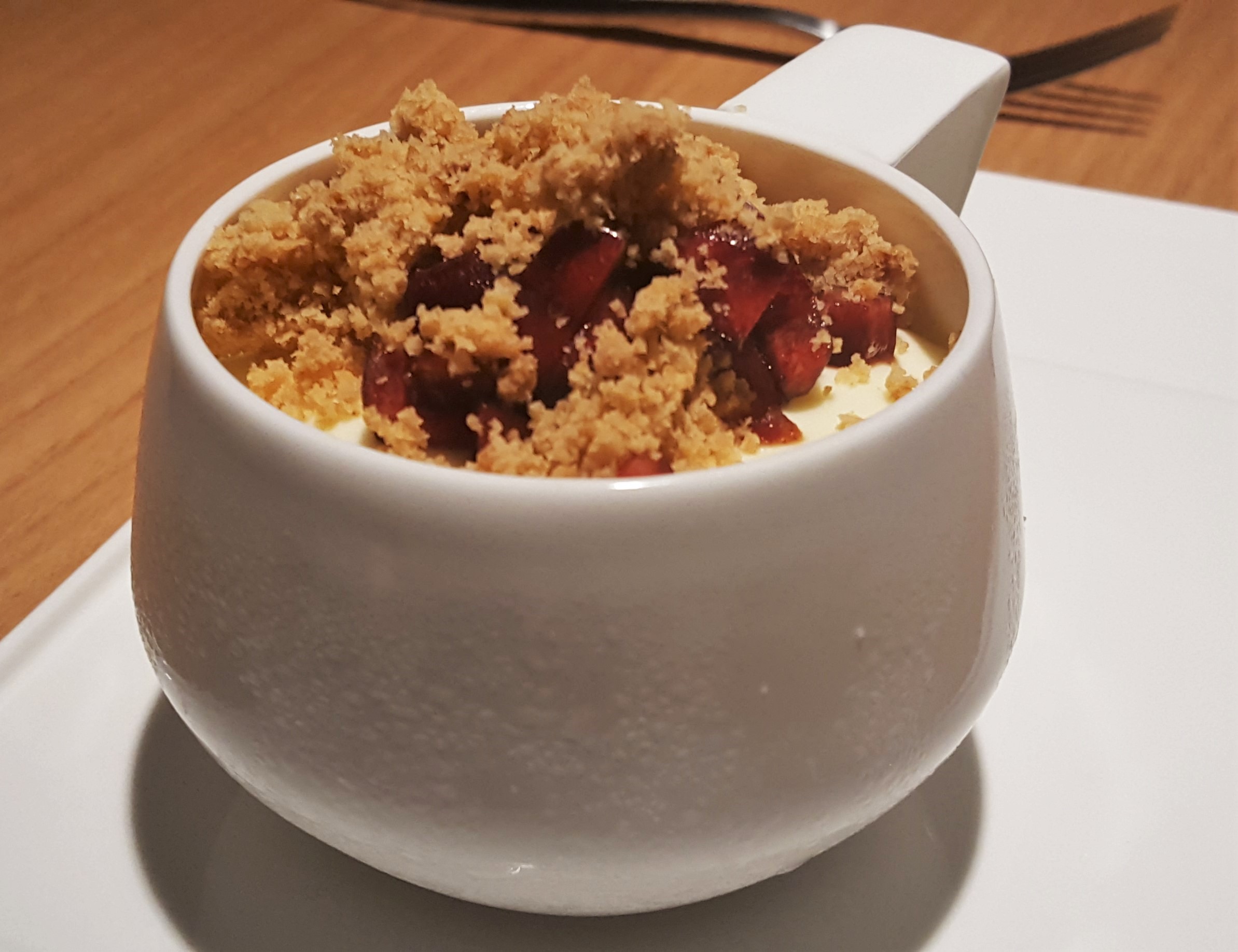 Eneko doesn't do dessert menus: they have a trolley. Instead of eyeing up the possibilities being slowly paraded around in front of you like the exquisite torture of a seductive tango, we had to cut to the chase by walking over to the static display in a dark corner; it's a bit of an anti-climax. The dimmed lighting made it impossible to take a clear photo, so I was grateful that our waiter had followed me to explain what was what. We picked out a caramelised rice pudding and a fruit crumble, both of which were tasty and comforting, although I prefer the former to be spiced up with green cardamom and scattered with crushed pistachios à la Indian (and not just because green is my favourite colour). Eneko Blogger Review
Our dessert stomachs were tested when the kitchen gifted us a chocolate ganache on a biscuit for my birthday, yet we found a way of squeezing it in. Incidentally, this rich, smooth and visually appealing dome was better than our chosen desserts. Eneko Blogger Review
Verdict: Lunch and dinner last Saturday were mirror experiences: the food was exciting and the service shoddy for the former whereas the service was pleasant enough and the food less adventurous than I'd hoped for the latter. The décor and its back story are lovely, as are some of the dishes, but consistency somewhat is lacking in the key areas mentioned. These issues will most likely be ironed out as time goes on, resulting in a seamless end-to-end experience, although given that I wasn't floored by anything in particular, there wouldn't be a repeat visit and certainly not at full price. Eneko Blogger Review
Budget: £49 pp (including 12.5% service). Eneko are offering 50% off the food bill until 31st August, 2016.
Links: Eneko at Old Aldwych, Azurmendi