What a year. With the threat of another lockdown on the horizon, it feels like nothing has changed. And yet everything has for Chef Savla and I. As many of you know, we left London for Berlin in late 2020; an exciting move, but also full of challenges (new language, job, flats, friends, etc.). That said, it was refreshing to step out of our comfort zones after so many years in the same city.
The biggest hurdle, however, was returning to London for our fifth IVF cycle (our first using an egg donor), finally getting pregnant then experiencing the nightmare of a lengthy miscarriage. Throughout the heartache, anxiety and uncertainty, food has been a constant source of comfort. It has also been an integral part of milestone celebrations and other happy occasions. So, here are my top 2021 meals in chronological order, covering casual eats to fine dining, because life is all about balance.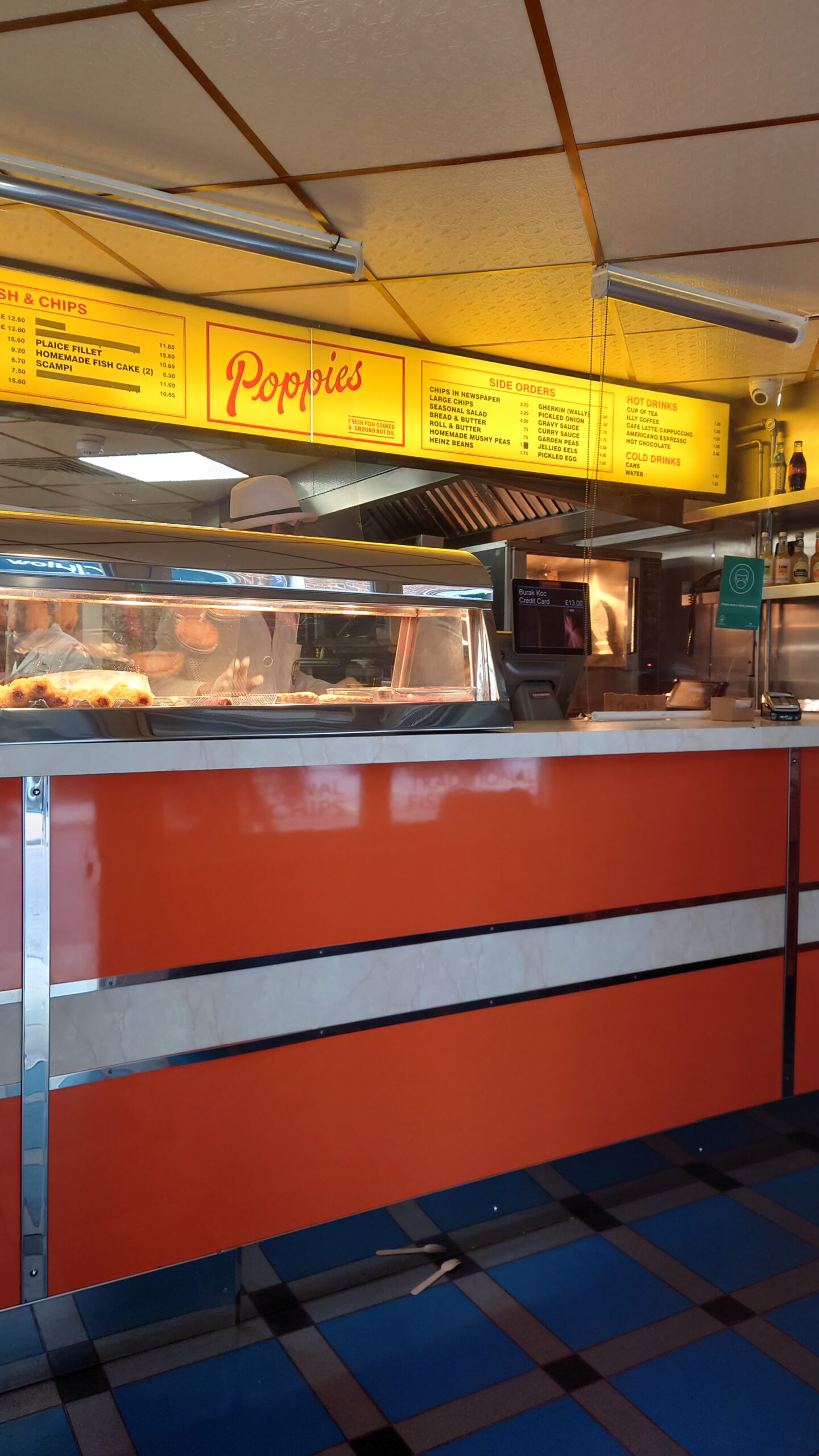 Poppie's Fish & Chips – Soho, London
It's difficult to come by decent fish and chips in Berlin, as you might expect given its geographical location. When I headed back to London in April for my embryo transfer, one of the must-have meals on my list was therefore this British classic. A couple of days before my appointment, my sister and I visited Poppie's in Soho, which has been around since 1952. We ordered haddock and chips to go and found a covered spot in Soho Parish School's public garden (it was raining, of course) to tuck in. Everything about it was perfect: delicious fresh fish from Billingsgate Market in a light, crispy batter, paired with chunky chips. No greasiness, heaviness or sogginess.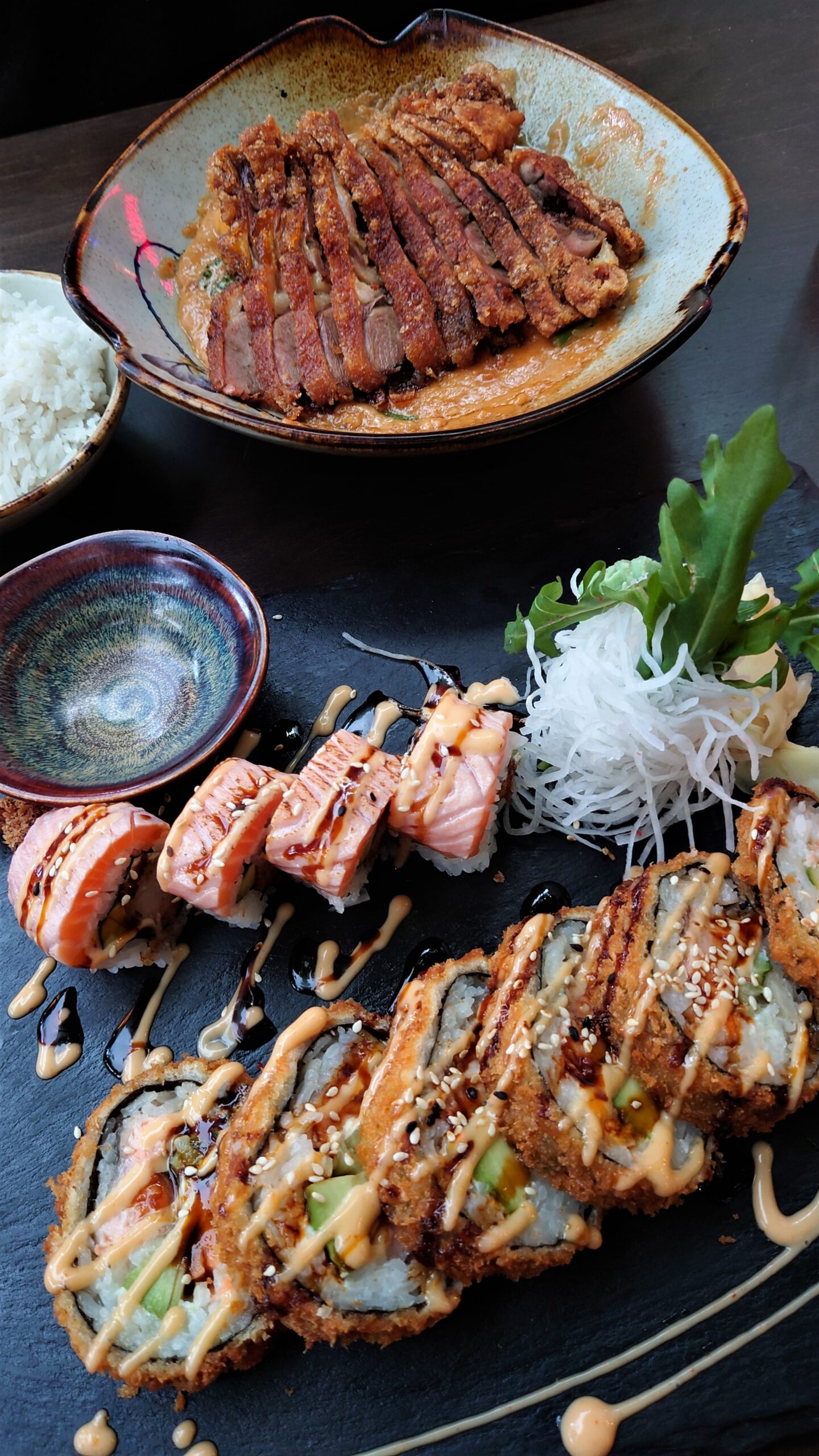 Xigon – Friedrichshain, Berlin
After 5 months in Prenzlauerberg, we moved east to trendy Friedrichshain in May for 3 months. Although there weren't many restaurants in close proximity, we were lucky to have Xigon down the road. Berliners are crazy about sushi, and in my limited experience, this neighbourhood restaurant is one of the best places to enjoy it. Over several visits, we've indulged in various sushi (the Salmon Prawns on Fire being a firm favourite), tempura rolls and crispy duck with a moreish peanut sauce, all washed down with Crémant de Loire. Writing about it now is making me miss it even more.
Mrs Robinson's – Prenzlauerberg, Berlin
Last year, London restaurants opened their doors 4 days before my birthday – talk about perfect timing. Luck was on my side again this year: after several months of lockdown, Berlin restaurants were back in business, just before my 40th in July. And where better to celebrate than at our produce-focused former local, Mrs Robinson's? After snacks and sourdough, we ate our way through multiple courses of modern European dishes, the highlights being an octopus and beef fat skewer, sea bass and mulberry cheese ice cream. It was our first meal out together in a year and it felt good to be back doing what we love.
Read more in my Prenzlauerberg food guide here.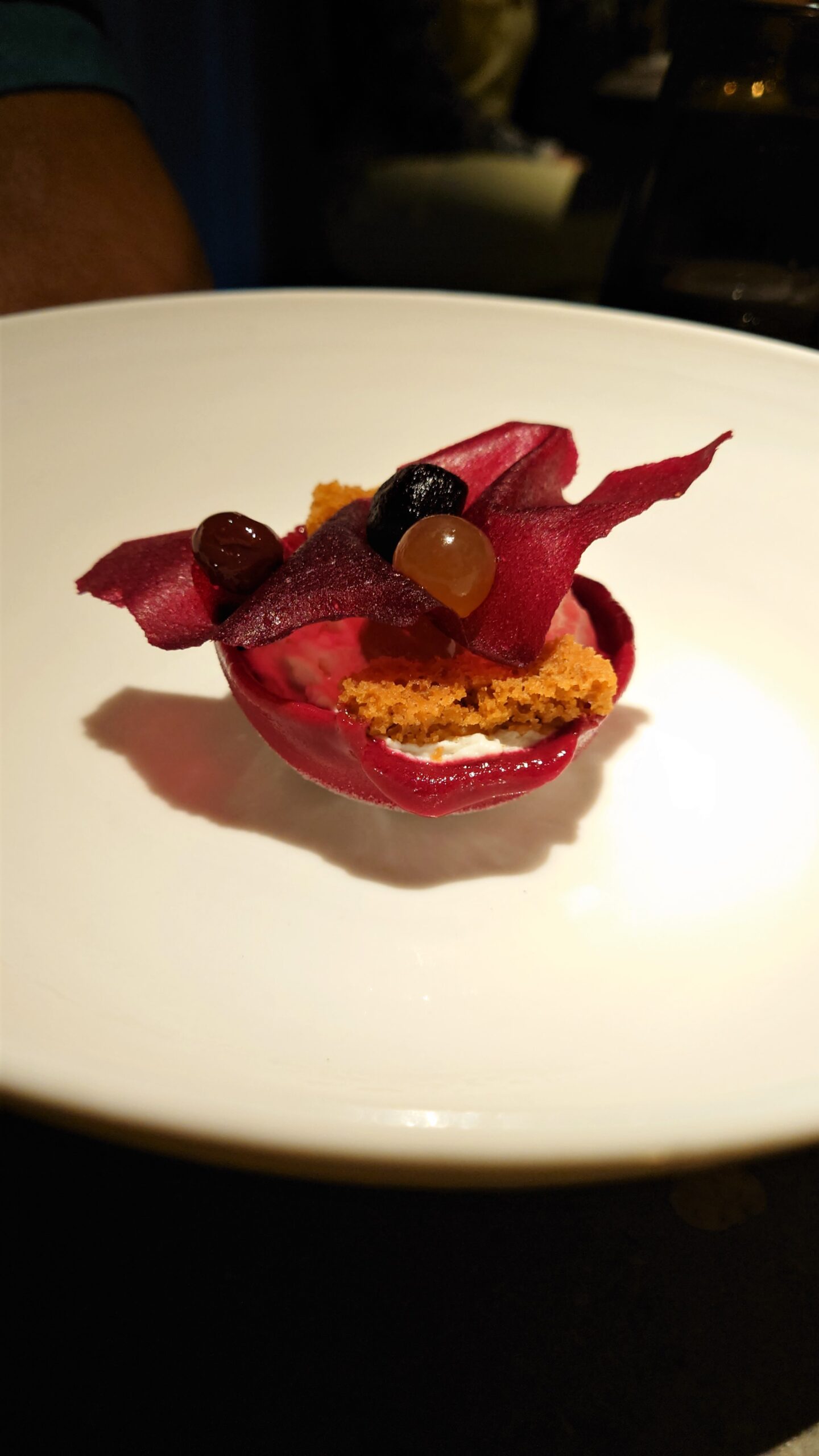 CODA Dessert Dining – Neukölln, Berlin
I've always wanted to have an entire meal made up of desserts, so when I read about René Frank's Michelin-starred CODA Dessert Dining, I knew that's where I wanted to celebrate my 40th. However, as it didn't re-open until August, I had to be patient. If you're thinking a 7-course meal here would leave you feel sick from all the sugar, think again: CODA shuns refined sugars, artificial flavours and processed products in favour of the natural sugar content found in both sweet and savoury raw ingredients. The result is a medley of exquisitely presented, innovative dishes which will surprise you in the best possible way. For example, one of our courses featured aubergine, pecans, apple balsamic and liquorice salt, or cheesecake with coffee and celery.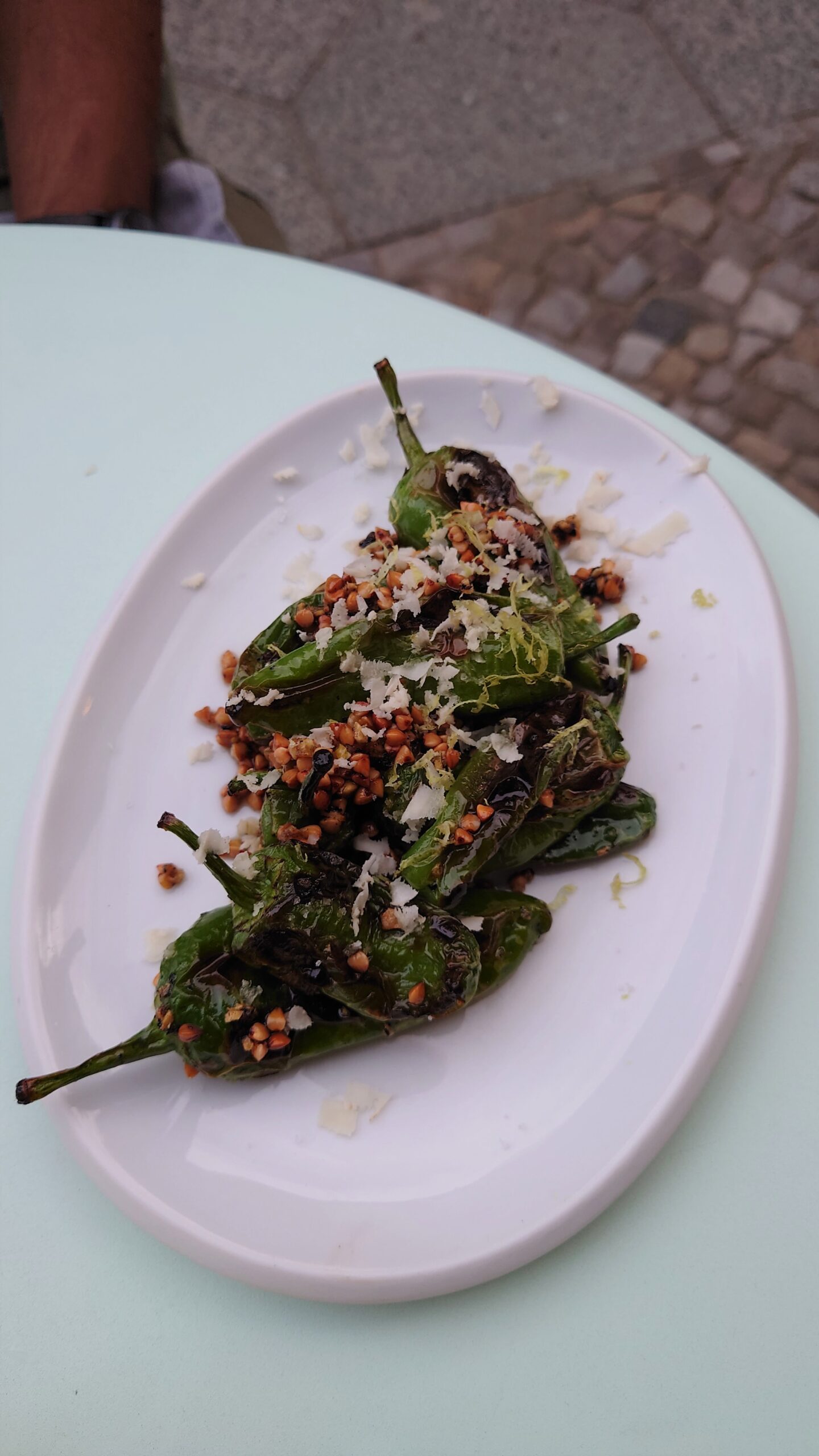 Estelle Dining – Prenzlauerberg, Berlin
If you've read my first food guide to Berlin (link below), you'll know how much love I have for this pizzeria and their team. While we were locals, we regularly ordered Neapolitain-style pizzas from their hatch, along with their decadent brownies and cookies, and our last meal of 2020 was their NYE celebration box. On a warm August evening, we finally got a chance to dine at the restaurant. As much as we loved the mini pizzas on their set menu, my favourite course was the steak tartare – it was everything I want and need from this dish. No complaints about the rest of the menu, which included fresh tomato salad, Padron peppers and ice cream from a local supplier (Süßfein).
Read more in my Prenzlauerberg food guide here.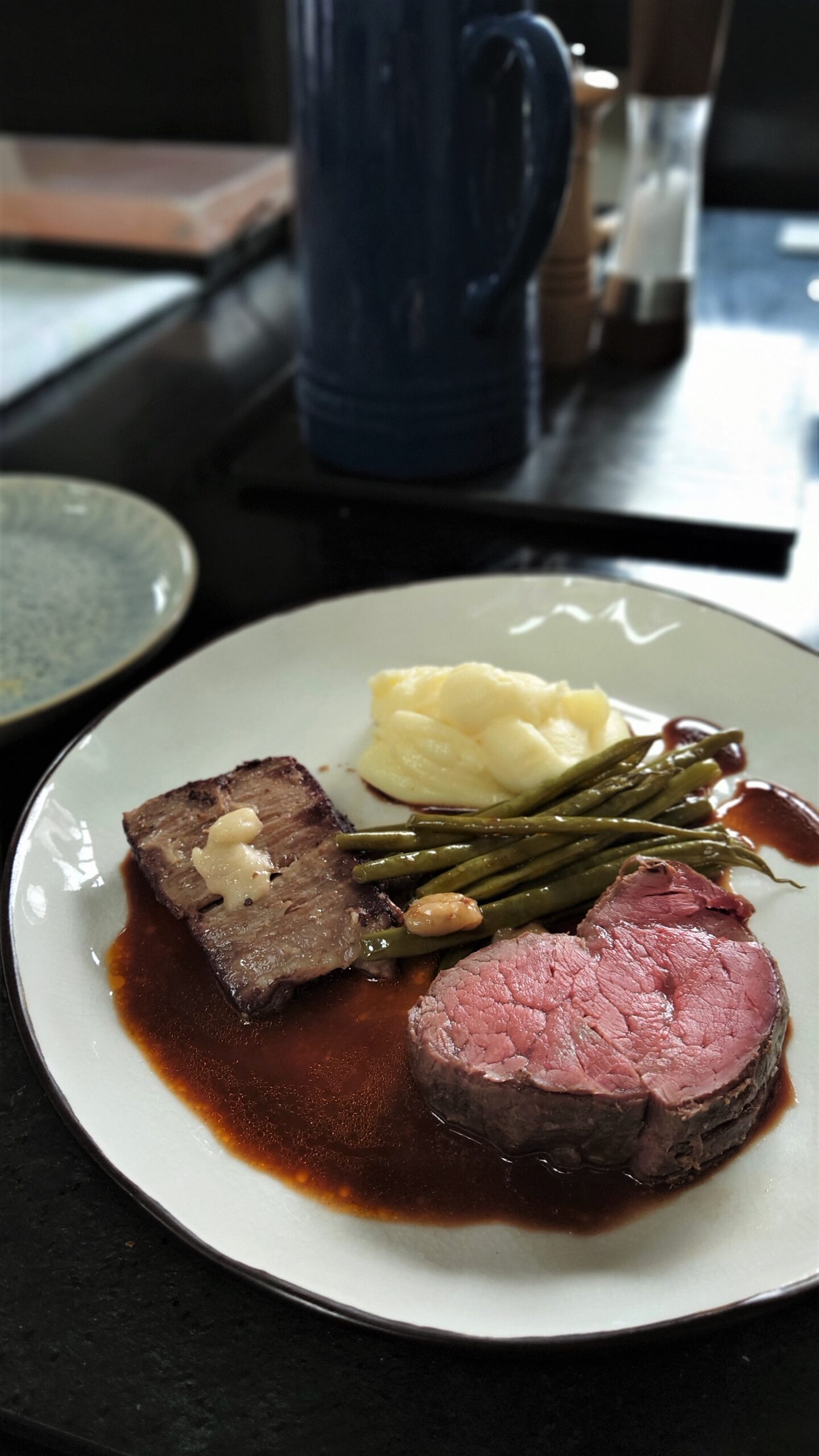 Lunch at my friend's – Tower Bridge, London
When my friend invited me around to his for lunch in August, I asked him to make a light meal as I had dinner plans that evening. Somehow, it turned into a 3-course gourmet feast. But no regrets when Champagne and caviar, grilled prawns, beef fillet and short rib with rich mash and bone marrow gravy, and white chocolate mousse with homemade brownie bits are involved, with paired wines to boot. It was rounded off with an excellent Espresso Martini which he rustled up under pressure as I was almost out of the door. We've enjoyed a few long lunches together – this one came in at around 3 hours, so not our longest (12 hours), but we made it count.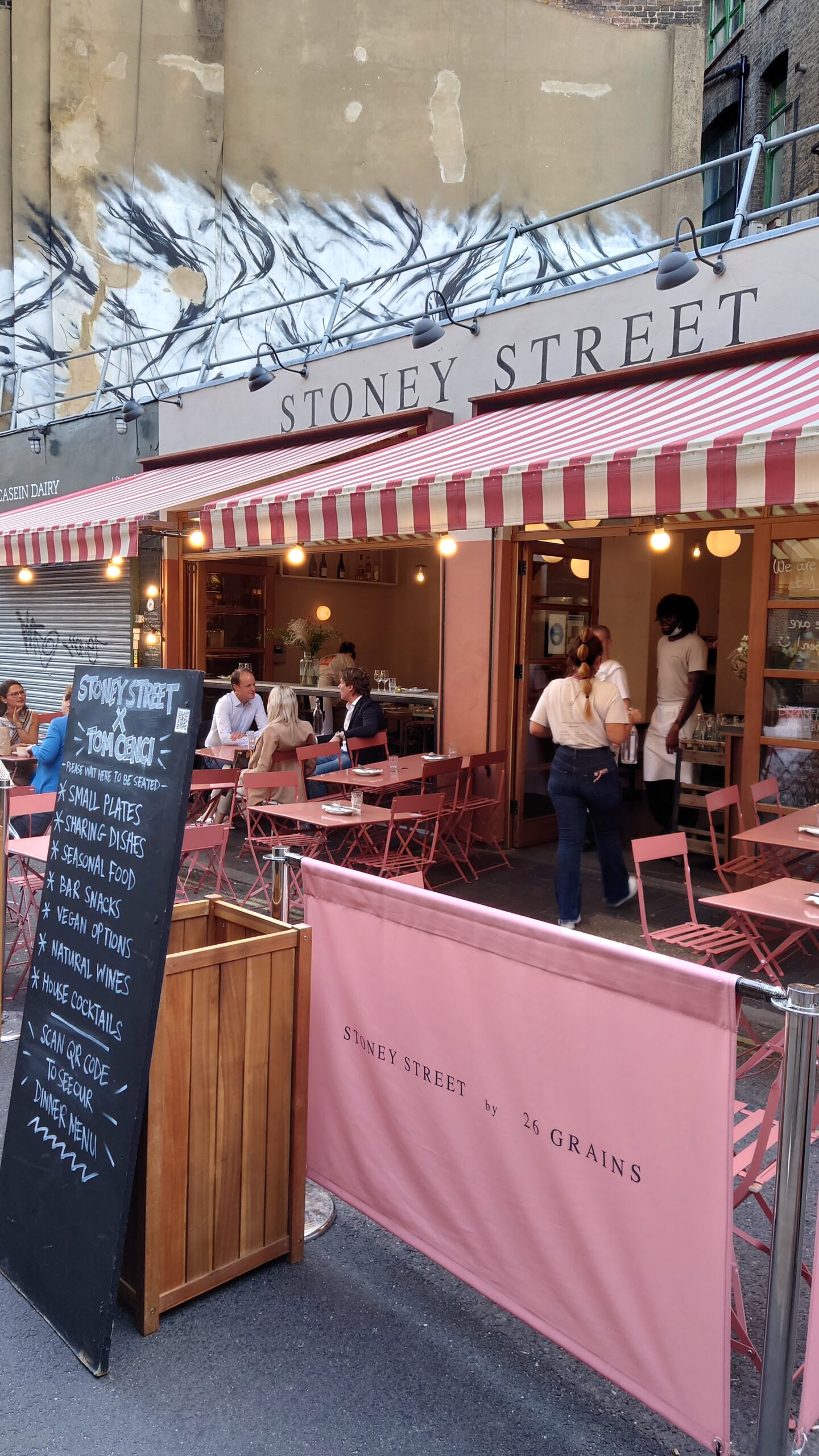 Stoney Street – Borough Market, London
This small restaurant on the outskirts of bustling Borough Market immediately catches your attention with its baby pink façade and terrace tables, but it's not style over substance. Having loved Head of Food Tom Cenci's dishes at The Loyal Tavern (now sadly closed), I'd been wanting to try the Stoney Street dinner menu for a while. After a long walk along the Southbank, a friend and I settled down here for a few hours and caught up over ceviche, a sweetcorn crumpet, flatbread and Mississippi mud pie (and a couple more dishes, but I forgot to take a photo of the menu, so am relying on my food photos and Instagram). If you want to escape the madness of the market for a bit, grab a table here, order some tasty snacks and watch the world go by for a while.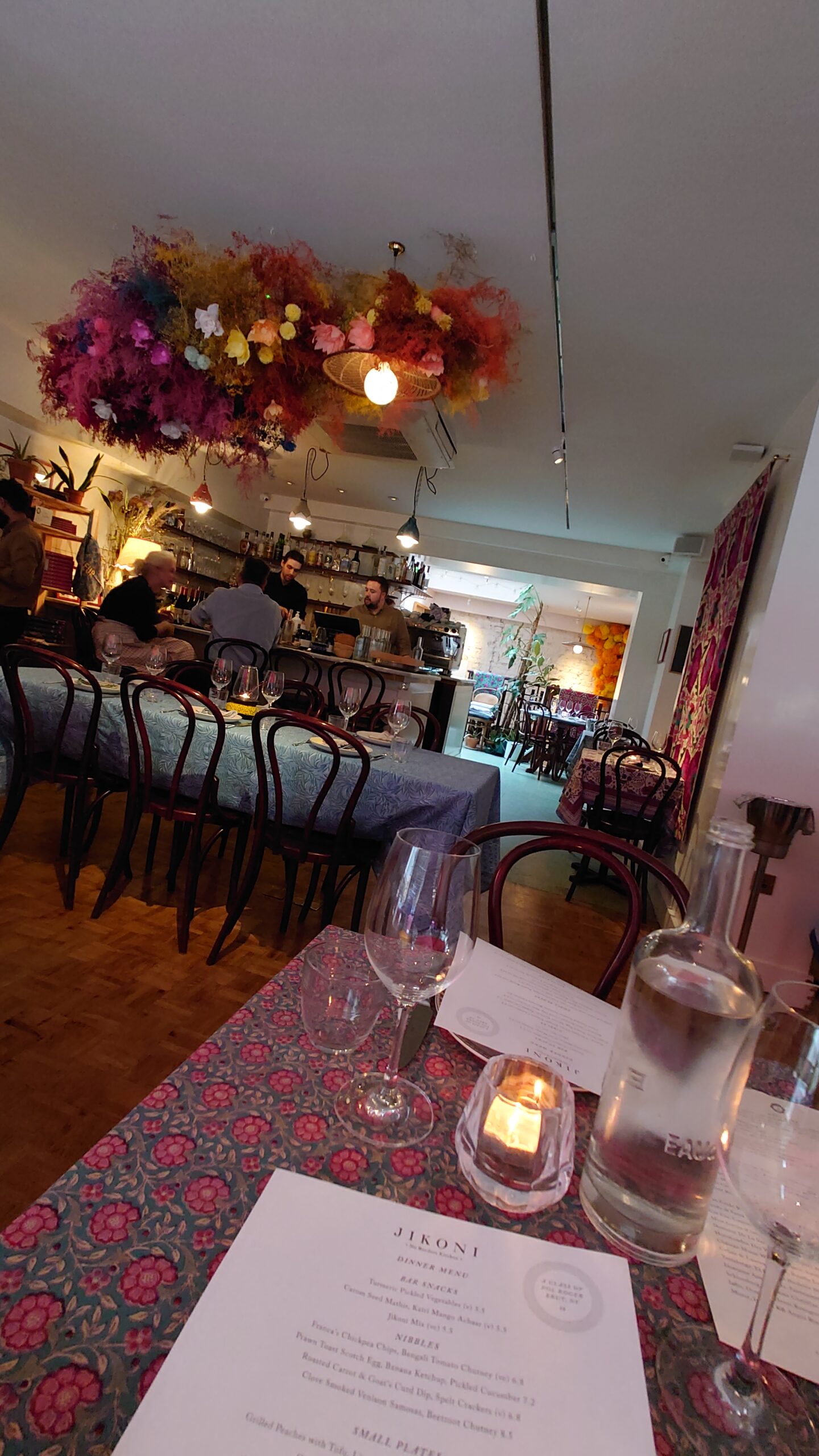 Jikoni – Marylebone, London
Instead of visiting new London restaurants in September, I wanted to return to and support my favourites. Jikoni also featured among my 2020 highlights because Ravinder Bhogal's restaurant is exactly what I look for when I dine out: a warm welcome; a casual and comfortable environment; familiar flavours combined with unfamiliar ones. This was my last meal out on that trip, and my friend and I didn't hold back. Along with the chickpea chips, okra fries and venison samosas, we polished off heavenly grilled peaches and whipped tofu, kimchi royales and lobster moilee (and a bottle of sparkling wine). Check out the Civilised Sundays events if you're interested in exclusive readings from well-known authors while enjoying a special menu.
Read my Spotlight on Chefs interview with Ravinder here, and my 2020 Highlights here.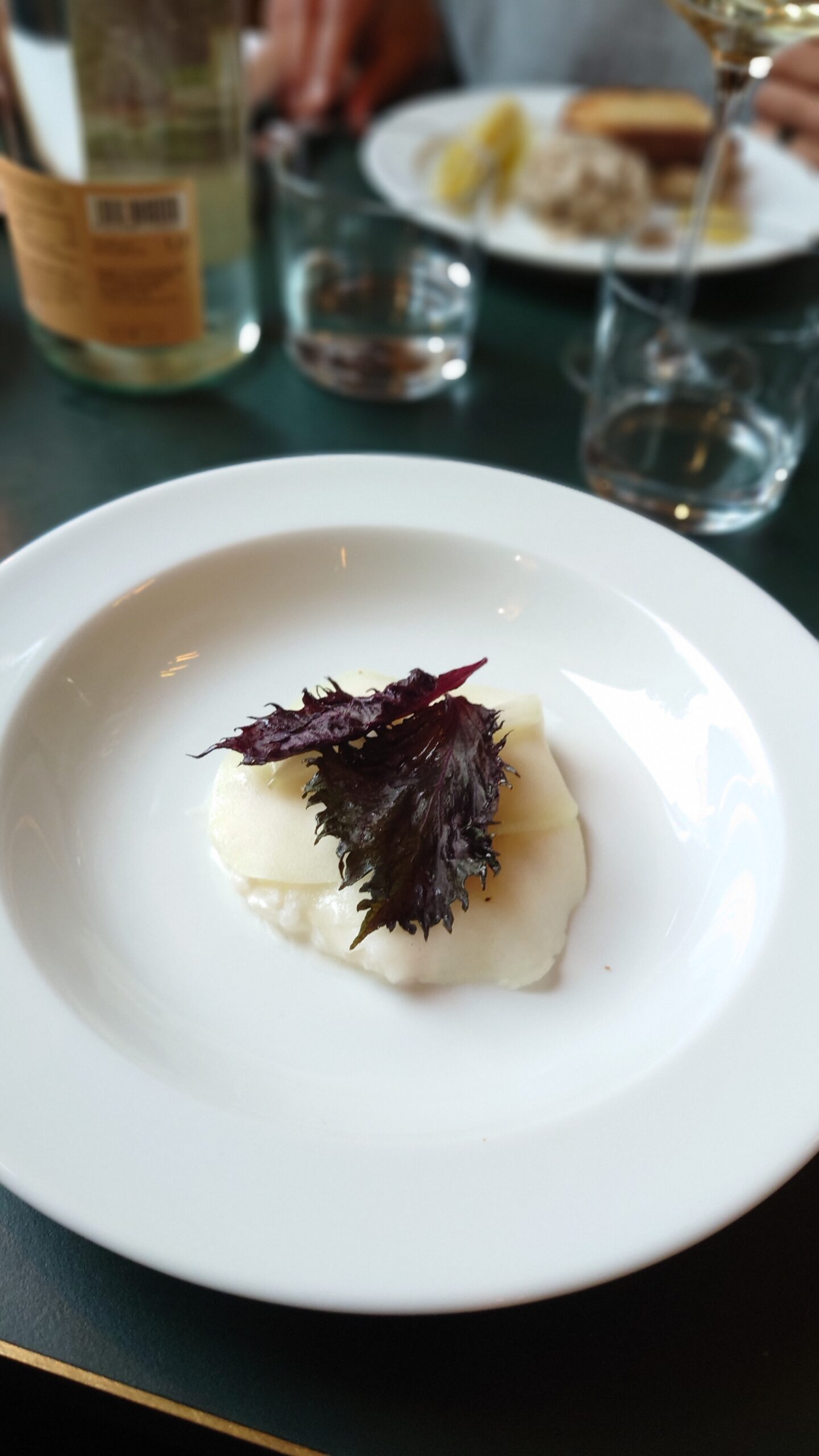 ORA Berlin – Kreuzberg, Berlin
If ORA Berlin was located on the other side of Berlin, I'd happily make the effort to trek there. Thankfully, this wine bar and restaurant specialising in seasonal European dishes is practically on our current doorstep. During our first dinner there in September, Chef Savla and I devoured monkfish crudo, pork rillette, baked plaice and grilled stone bass (a dish which took me back to a stunning seafood starter at Salsify at The Roundhouse in Cape Town) and fig leaf rice pudding (well, that was all me). We returned a few weeks ago and were blown away again, this time by the scallop crudo, sausage ragu pappardelle, grilled pork neck with anchovy, leek and carrots, and a frangipane mince pie to finish. At 2 courses for €36 (3 for €45 during December), ORA's menu is exceptionally good value for money. Add bubbly, knowledgeable service and a converted 19th-century apothecary vibe and you've got an incredibly special spot in Berlin.
Read my Salsify at The Roundhouse review here.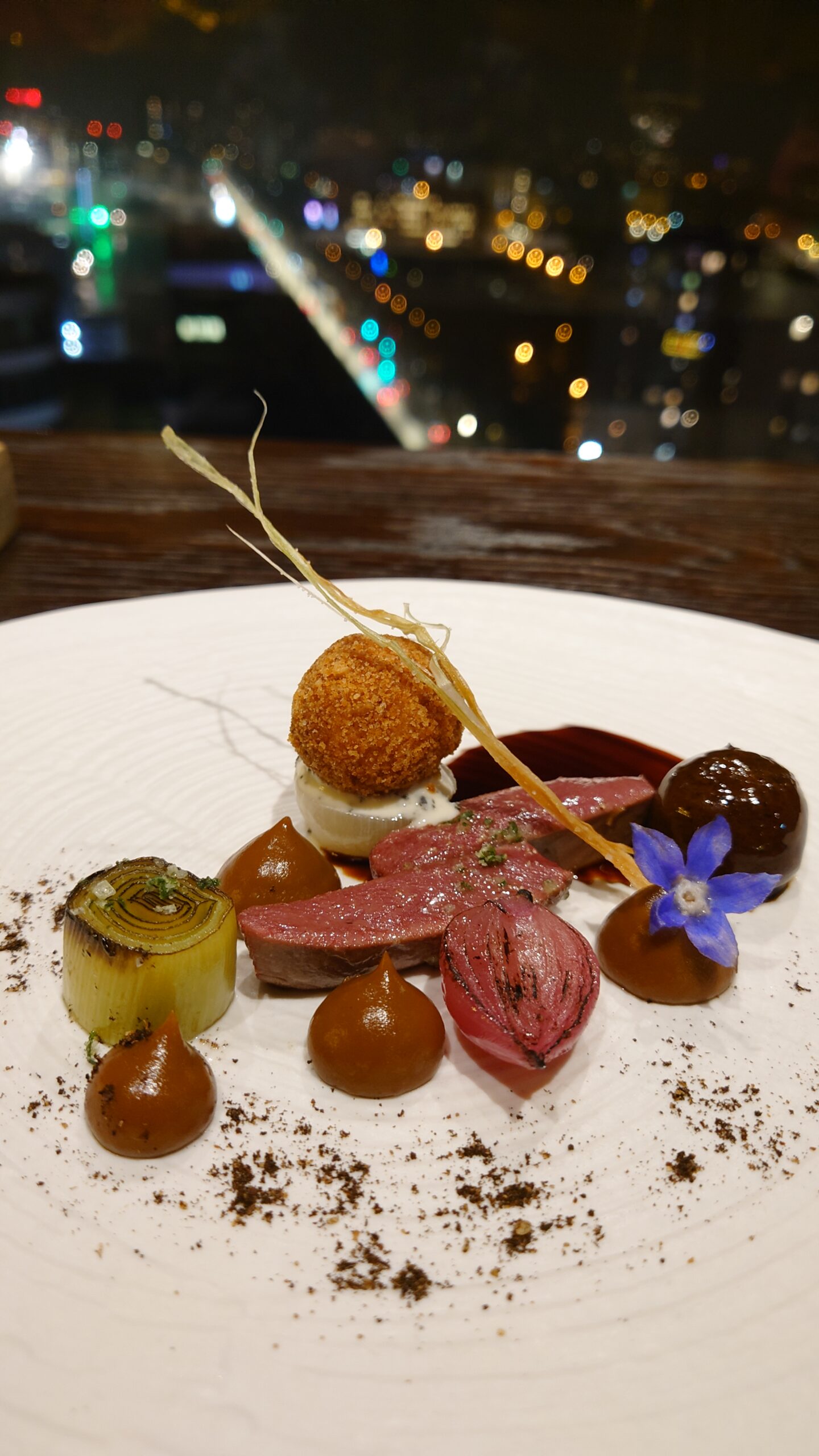 Sky Kitchen – Lichtenberg, Berlin
For his 40th birthday, all Chef Savla and I could do to celebrate was order chicken burgers and chase them with duty-free Champagne. Berlin was in lockdown back then, all restaurants were closed, and we were in a hotel, so I couldn't even cook for him. Had things gone according to plan, we'd have been having dinner overlooking Berlin at Sky Kitchen. A year later, we made it to the 12th floor of Vienna House Andel's Berlin to revel in chef Alexander Koppe's German meets French meets Asian cuisine. I couldn't pick a standout dish from the 6-course menu as I adored them all, from scallop with dashi and turbot with flamed gnocchi to Imperial Pigeon with truffle to Black Aberdeen with rowanberry. These basic descriptions don't do justice to the complexity of each dish.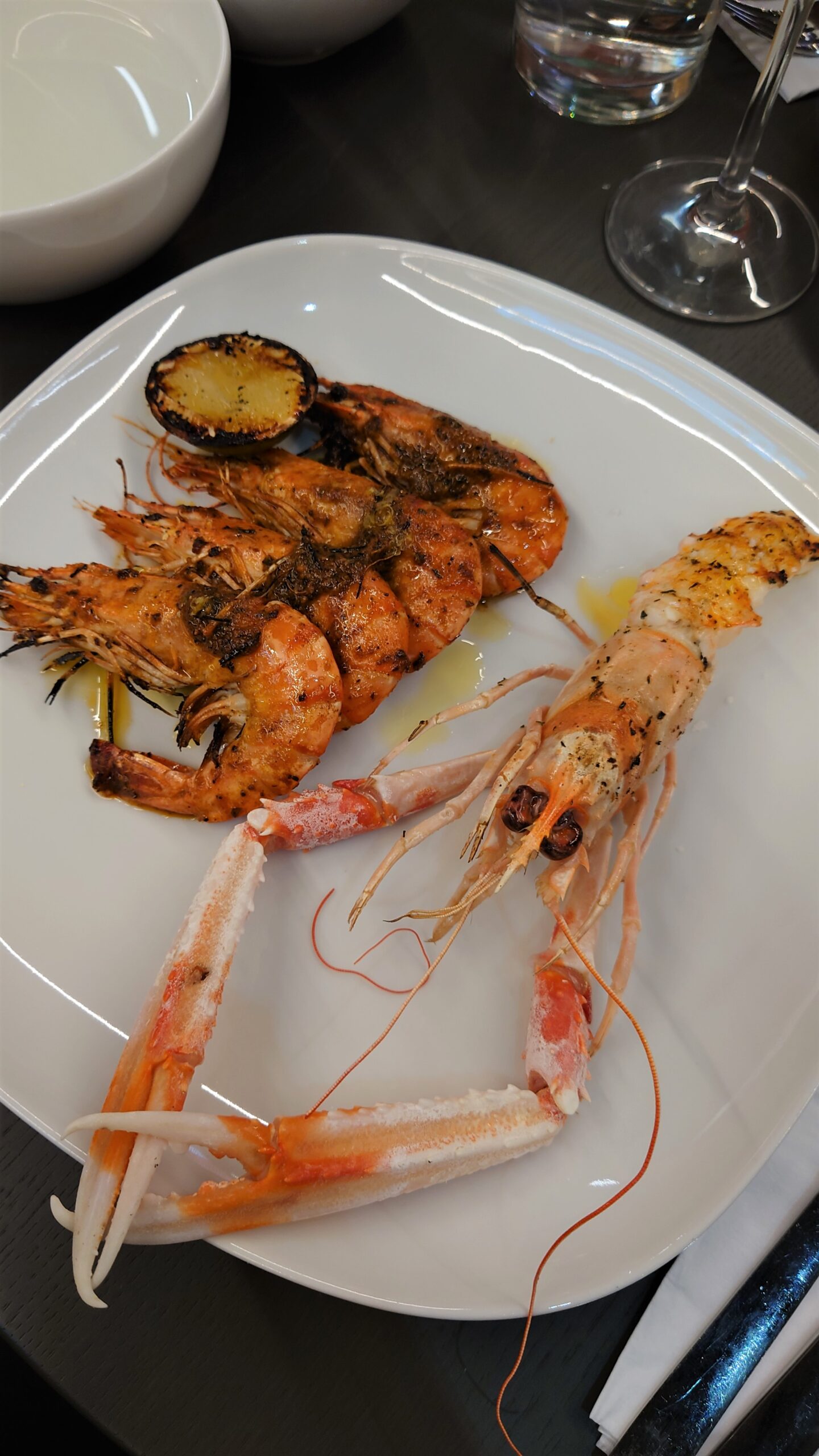 Fish Klub – Wilma Shoppen Markthalle, Charlottenberg, Berlin
There are local fishmongers, and then there's Fish Klub. Founded in 2017, all their oysters, fish and seafood are imported from France. Their passion, coupled with a strong focus on sustainability, traceability and freshness, is evident in the quality of each product. After buying some seabream from their seafood truck in Markthalle Neun, I ventured out west to sample the food from their kitchen on a rare day off. While getting my fill of French conversation, I filled my belly with langoustines, octopus, sea bass with kale, samphire and mushrooms and roasted brill with a pepper sauce and fries. It was enough to make me want to take every Friday off to have lunch there.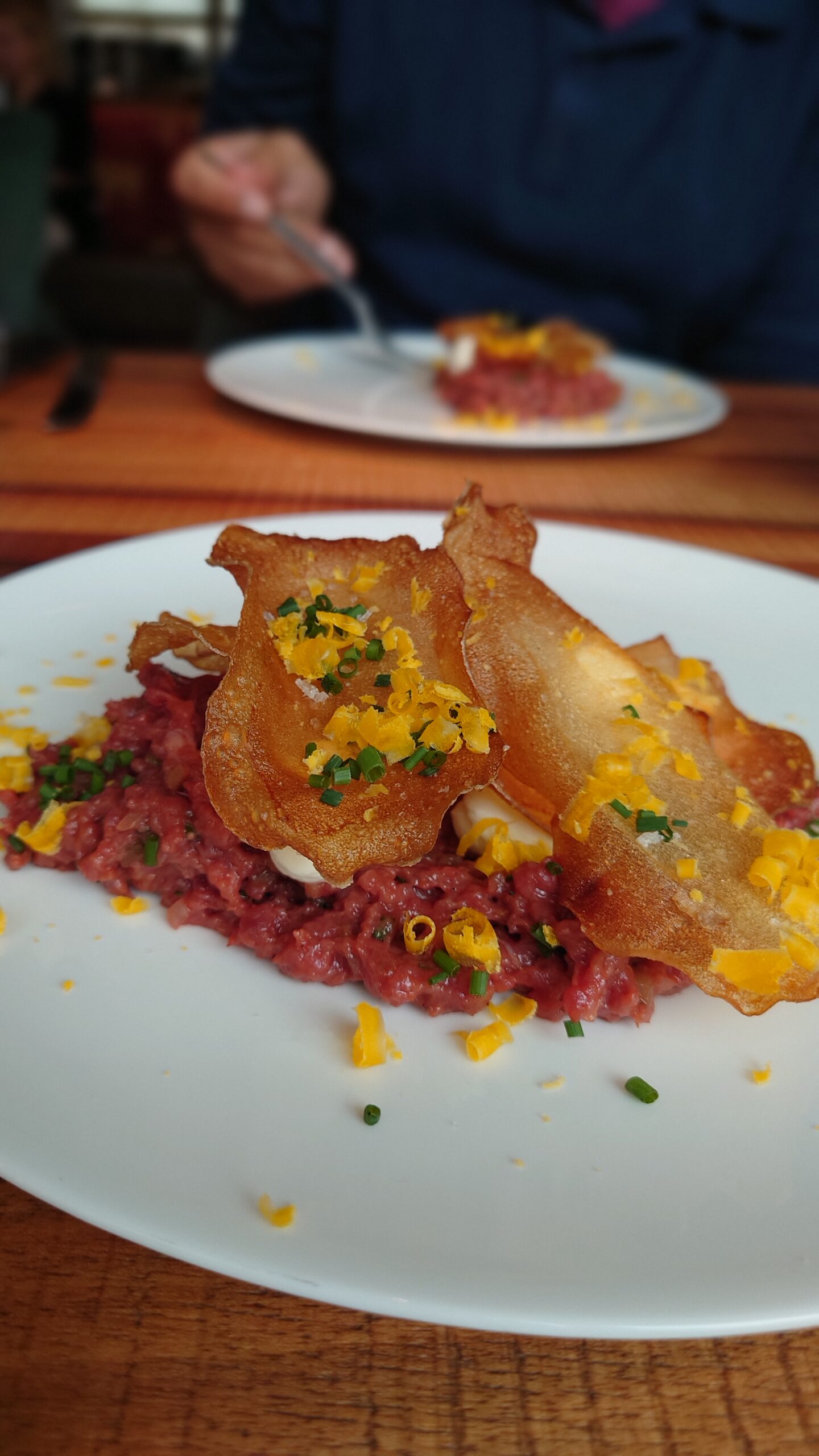 Orania Berlin – Kreuzberg, Berlin
I feel like I'm in the minority when I say I'm not a brunch person. There are two reasons for this: 1) I hate the idea of paying silly money for smashed avocado and poached egg on toast, which I can make myself, and 2) I used to be at the gym every Saturday and Sunday morning, so I could never make it to brunch before it became lunch. Now that my weekend routines have changed, I'm starting to appreciate this popular pastime more, especially if it takes places at Orania Hotel. Created by chef Philipp Vogel, the 8-course Lazy Brunch is a great way to start your Sunday. Dishes like Gillardeau oyster, Eggs Benedict, salmon ceviche taco and buffalo tartar are accompanied by live music, and Champagne. Given that Orania is very close to home, I suspect we'll be back in 2022.
---
HONOURABLE MENTIONS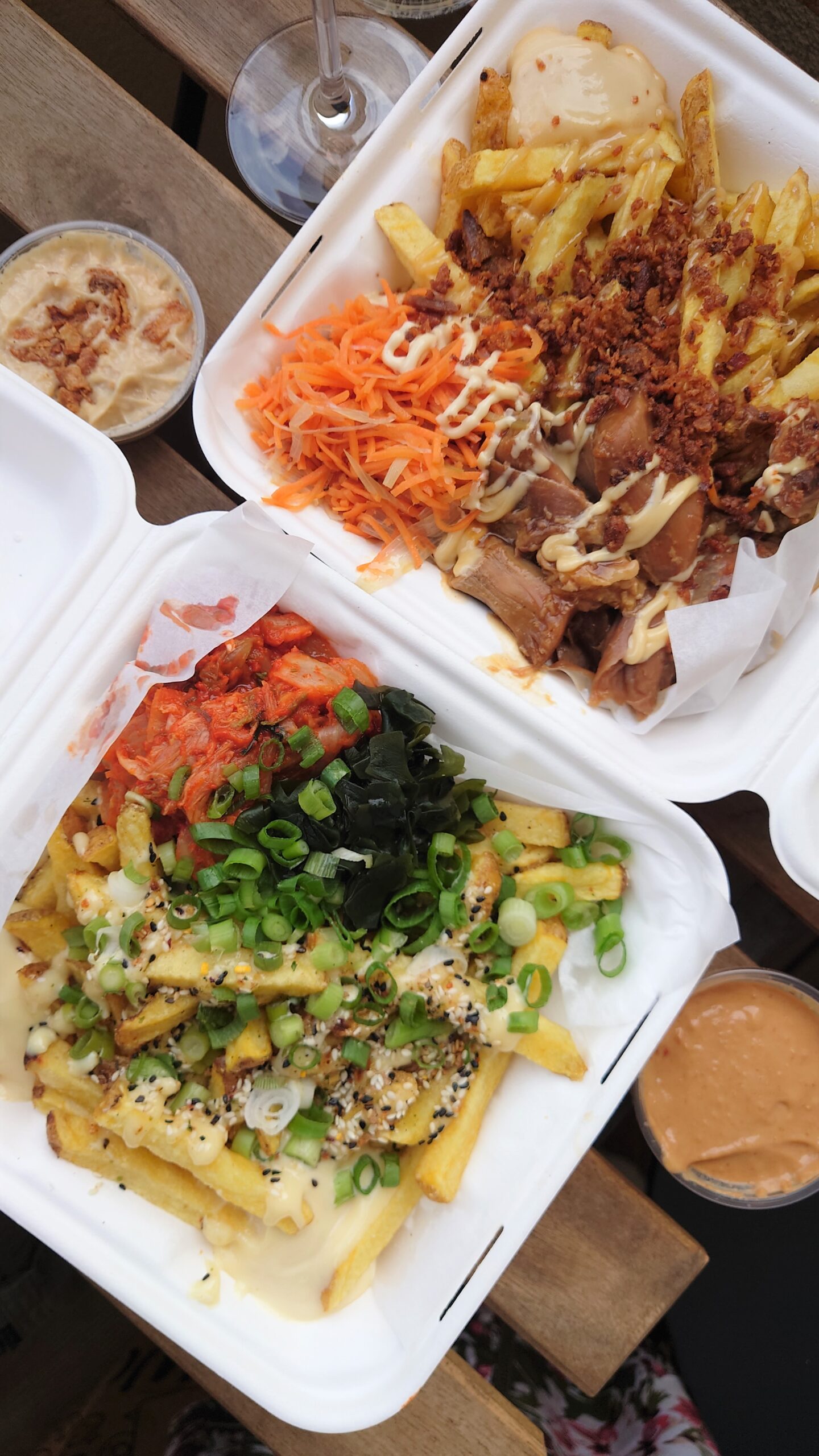 Goldie's – Kreuzberg, Berlin
One of the reasons why we were excited to move to Kreuzberg in August was to be closer to Goldie's. After years of finding loaded fries and fried chicken unappealing, I've somehow become a massive fan. The former can be a meal on their own here, with Kimchi Fusion taking my top spot (Peking Duck and El Gringo Loco are also tasty AF). As for the latter, it's best served with fresh green chilli, coriander and Sichuan chilli oil, or in a burger (I love both the chili and Béarnaise versions).
Moksa – Kreuzberg, Berlin
Berlin doesn't do Indian food very well, although that's slowly improving. I'd heard rave reviews about Moksa from different people, but was underwhelmed on my first visit. The potato and pea Rotzza (various curries with cheese in naan) was stodgy and rich, while the butter chicken was sour. I recently went back to try their butter chicken Rotzza, which worked much better in this format.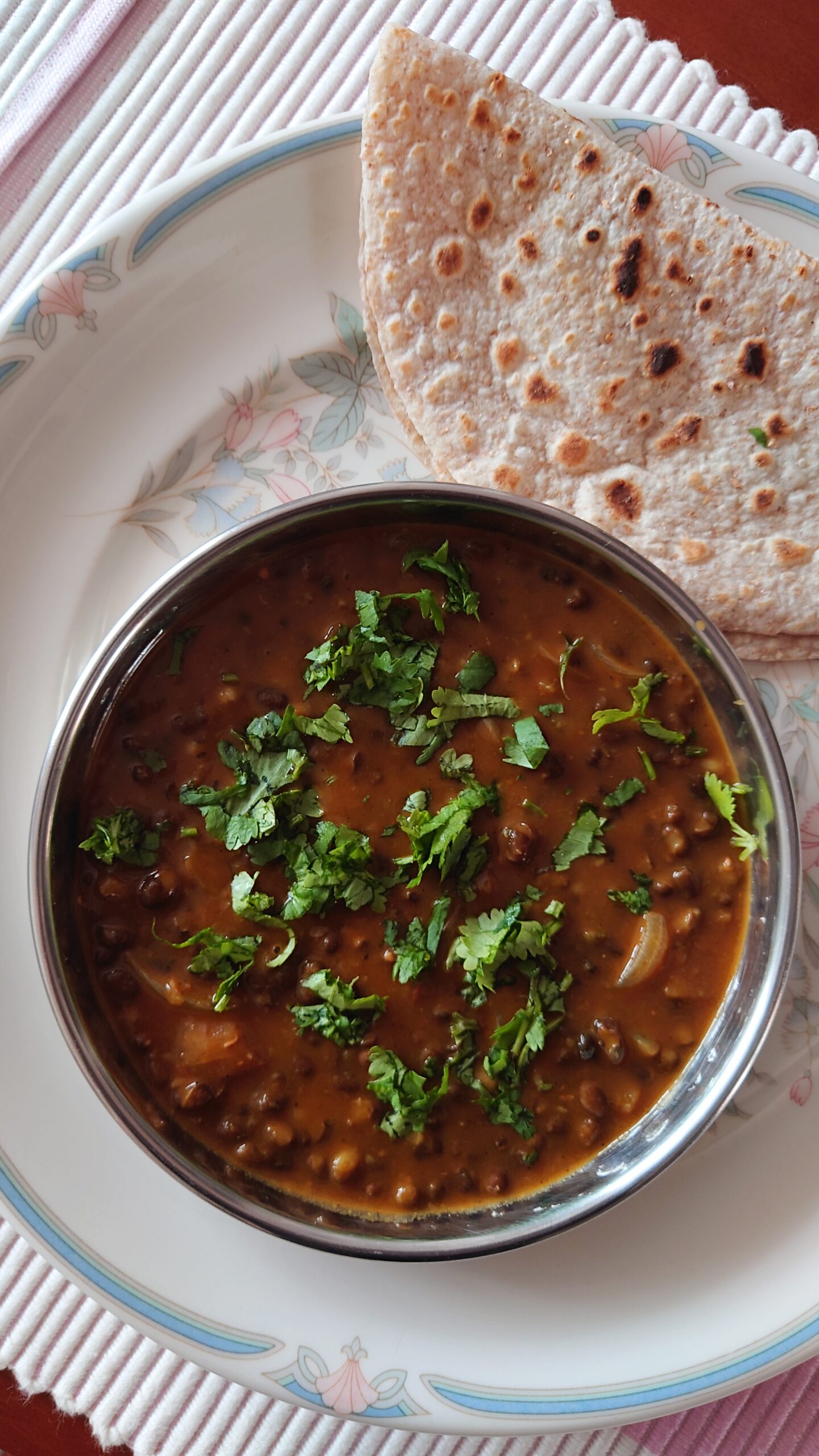 Mum's urad daal – Braunstone, Leicester
Not all memorable meals are served in restaurants or delivered to your home. When I headed home in November to celebrate my dad's 70th, the first dish my mum made for me was urad daal with fresh buttered chapattis, hot off the stove. As much as I love her meat and fish dishes, this is the one I constantly crave; I find its creaminess and richness so comforting.
---
Have you tried any of the above restaurants or takeaways? If so, what did you think of them? And what were your 2021 food highlights? I'd love to hear from you below or on social media!
---
All words and images are my own, unless otherwise stated, and remain the trademark of www.savlafaire.com.
Links to My Top 2021 Meals
Poppie's, Xigon, Mrs Robinson's, CODA Dessert Dining, Estelle Dining, Stoney Street, Jikoni, ORA Berlin, Sky Kitchen, Fish Klub, Orania Berlin, Goldie's, Moksa
PIN FOR LATER