In these unprecedented times… Just kidding, I wouldn't start my first sentence of my 2020 highlights posts with these overused words. That said, none of us have experienced a pandemic before and 2020 has been unpredictable, devastating and frustrating to say the least.
But amid all the sacrifices, heartbreak and uncertainty, there have been brief moments of pleasure. For me, many of these happy interludes have featured food in friendly company, the locations ranging from independent restaurants to supper clubs and pop-ups. Whenever life has thrown difficulties my way, I've always sought solace in food and this year was no different. Here are my 2020 favourites in mostly chronological order.
Darby's, Vauxhall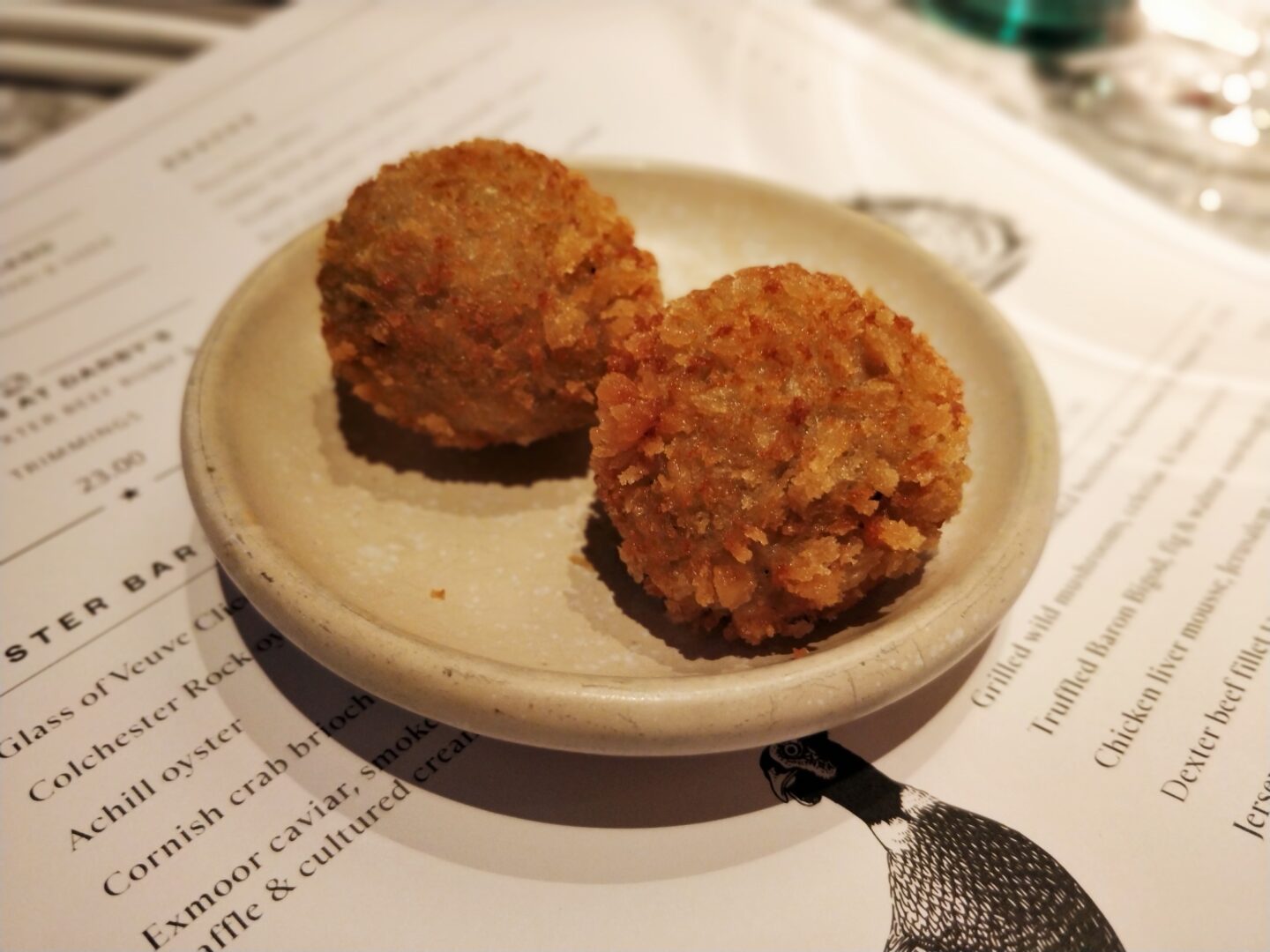 Dry January was never going to happen when my first meal of 2020 was with Chef Savla's cousin and his wife at Darby's (my lunch with the latter at The River Café was one of my 2019 food highlights despite the sad occasion). We met on the first Friday of the year for a long lunch which included beef nuggets, steak tartare, venison shoulder and Jerusalem Artichoke gelato. Oh, yes. The location may not appeal to everyone, especially North Londoners, but it's worth the trek for the excellent food by exec chef Dean Parker and warm service by GM Emma Underwood, all in elegant surroundings.
Read my 2019 highlights post here.
Brunswick House, Vauxhall
I've visited Vauxhall more during the last 12 months than in the 12+ years I've lived in London. As well as being home to Darby's, it's also where you can find Brunswick House. Everything I'd heard about it being one of the city's most spectacular dining rooms is true. With velvet drapes, antiques and opulent chandeliers everywhere you look, it feels like you've stepped back in time. In contrast, chef Jackson Boxer's menu is anything but stuck in the past. Along with raw beef tartare (yes, I'm obsessed with this dish), I've enjoyed curried monkfish, the most vibrant seasonal salad, fried gnocchi and fried prawns on separate occasions.
Pachamama, Marylebone & Shoreditch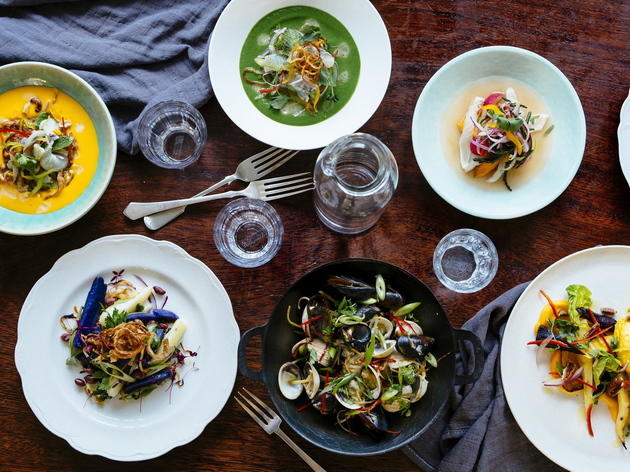 I'd had this Peruvian restaurant on my list for a long time and yet never got around to going. In early 2020, my office moved from Kings Cross to Shoreditch, so no more excuses. As soon as I walked through the door, I kicked myself for not having booked sooner: the casual atmosphere immediately appealed to me, as did the vintage crockery, natural greenery galore and funky music. On my first visit, my friend and I couldn't get enough of the seabass ceviche, Sichuan fried chicken and seafood fried rice. When Chef Savla and I went to the Marylebone branch, we tried the tasting menu and were floored by each dish, particularly the beef short rib croquetas, ceviche, fried aubergine with smoked yoghurt and pecans (aubergine is amazing in the right hands) and chocolate ganache.
Musa Dağdeviren, Camden
While most of us fixate on the new, some prefer to preserve the past. People like Turkish chef (and star of Netflix's Chef's Table) Musa Dağdeviren, whose mission is to discover and showcase ancient Anatolian recipes at risk of being forgotten in favour of Western dishes. In collaboration with the 'A Pinch of Anatolia' project by the Turkish Institute, I was invited to a dinner he hosted featuring some of these precious recipes, such as lamb stew, chestnut soup and roasted aubergine with yoghurt and grape molasses. Hearing about their origins while tasting the food itself, then having the pleasure of interviewing Musa and meeting his family, was an incredibly special experience.
Read my Spotlight on Chefs interview with Musa here.
Puff The Bakery, Shoreditch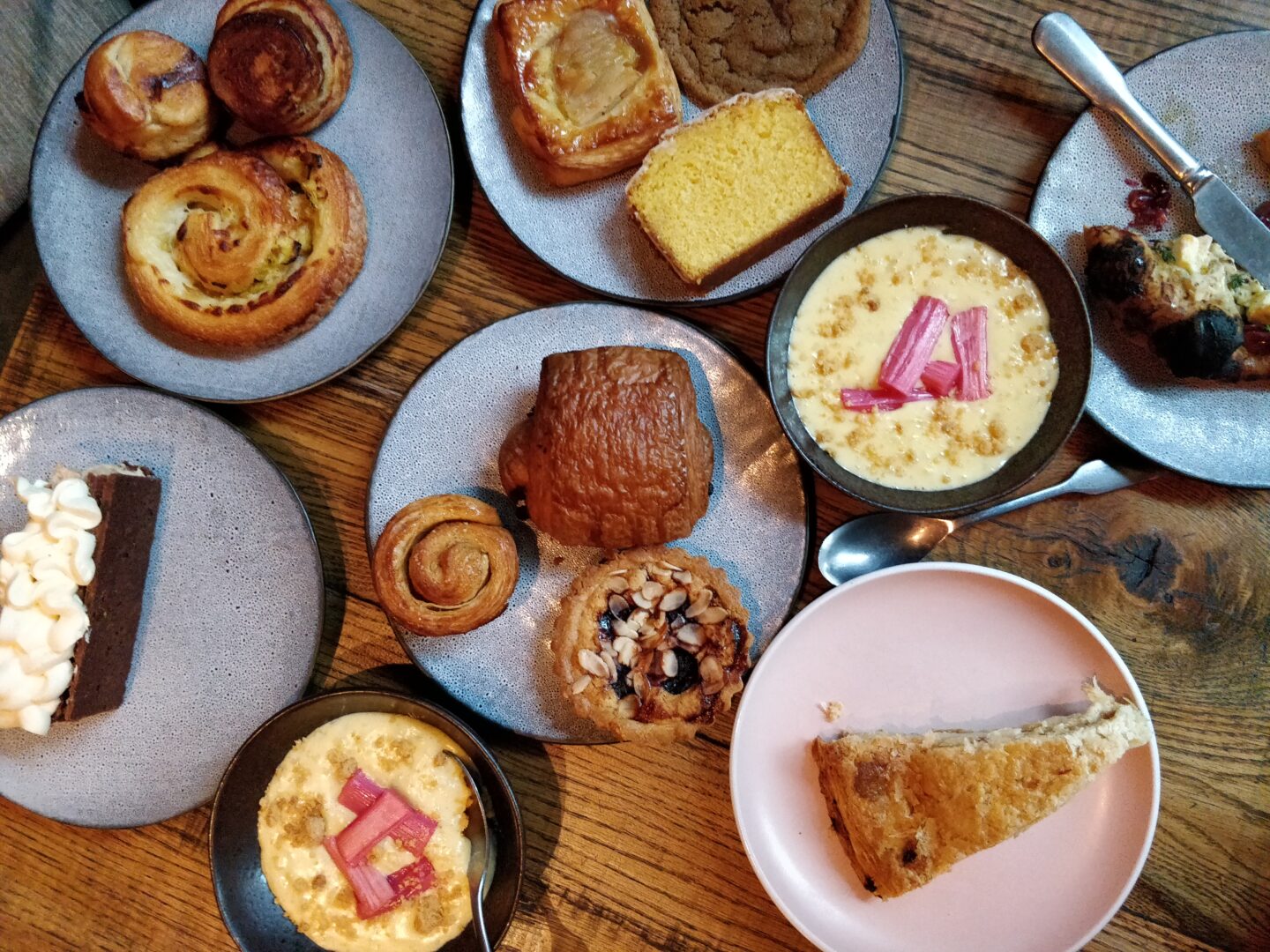 I hate the Instagram hype machine, which is why I avoid new openings for a few months until the crowds and number of social posts die down (waiting longer doesn't make the food taste better in many cases, sadly). However, when it comes to pop-ups, you don't have the luxury of time, so I made an exception for Puff The Bakery by stellar pastry chefs Ravneet Gill and Nicola Lamb. Not only was I in the queue at 8:50am on a Sunday, I waited for over an hour in the cold (this was during that February weekend with crazy storms). I barely recognised myself. But when I left laden with chocolate cookies, pastries, tarts and flatbreads (after having dived into the most decadent rice pudding), I had no regrets.
Read my Spotlight on Chefs interview with Rav here.
Zoe's Ghana Kitchen, Hackney
My last outing with Chef Savla before lockdown #1 was our first experience of Ghanaian cuisine courtesy of Zoe Adjonyoh. Her supper club had piqued my curiosity for some time then fate intervened when I sat next to her at another event. Zoe mentioned that she had a couple of spots left for her upcoming dinner, so I instantly grabbed them. We had a wonderful evening in her Hackney home, trying West African ingredients and flavours for the first time, such as Bambara beans, Suya and Kelewele, and chatting to the other guests about food, culture and travel. Spending a few hours in Zoe's passionate, knowledgeable company was a lovely moment of normality in 2020 before the pandemic changed life as we knew it.
Ben Spalding X Stir, Woolwich
I was lucky to have several last hurrahs with different people, and my final dinner with my sister and a friend was at Stir, a social enterprise café in Woolwich offering mental health support. In March, Ben Spalding, who swapped Michelin-starred kitchens for making and promoting music and artist and social media management a few years ago, returned to London to regale us with a one-off five-course feast. He introduced it by sharing his struggles to beat his lengthy battle with depression for the first time. Ben's menu was as wild and wonderful as always ('Peruvian Szechuan Ginga Banana' anyone?) and his story will have undoubtedly encouraged others who are suffering in silence for various reasons to seek help.
Read my review of Ben's #AllGunsBlazing dinners here.
A Wong, Victoria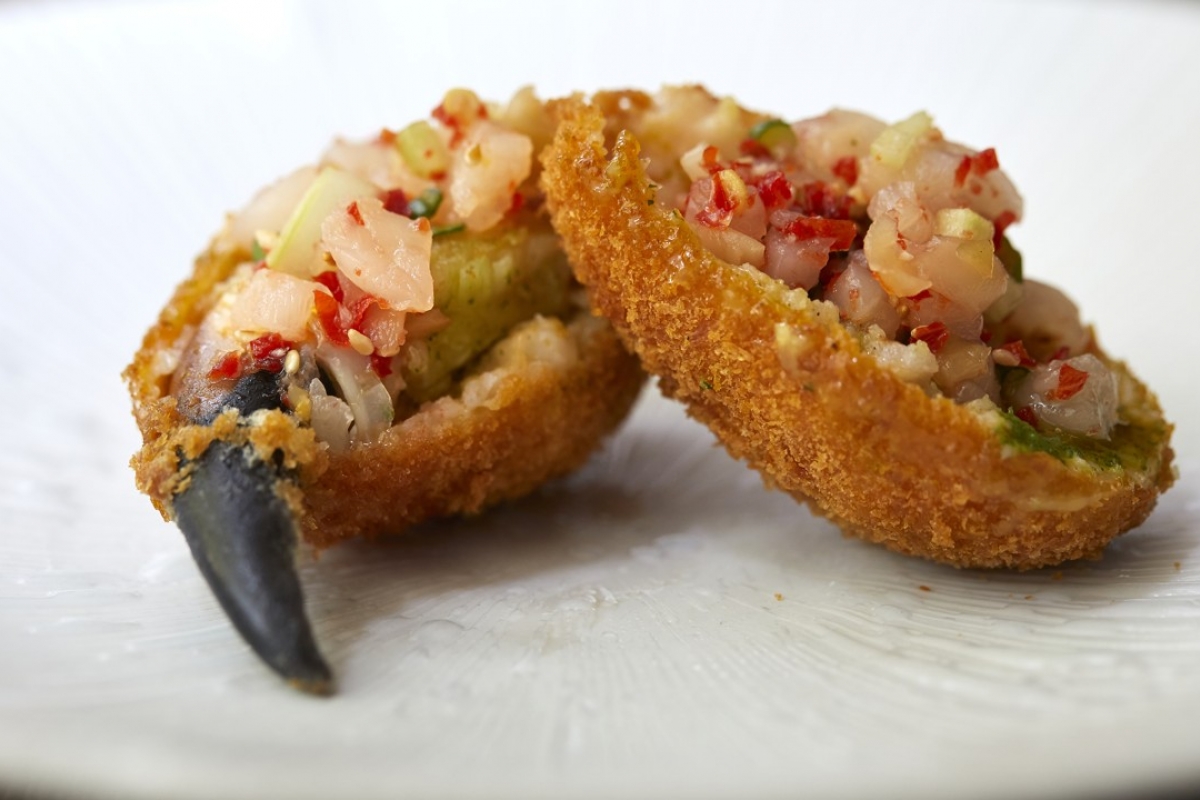 In 2020, I made an effort to revisit some of the restaurants that I've previously loved; I adore trying new places, but there's nothing like the familiarity of a favourite. When restrictions eased after the first national lockdown and restaurants reopened four days before my birthday, Chef Savla and I dressed up in what felt like the first time in forever and headed back to Michelin-starred A Wong to celebrate. Our first meal there had been a dim sum feast for lunch, and this time we splurged on the 'A Taste of China' menu with paired wines, every bite and sip of which was exquisite, from the cured scallop and stuffed crab claw to the braised abalone and Gong Bao chicken.
Norma, Fitzrovia
On the night I had dinner at Norma to celebrate a friend's birthday, we'd actually planned on dining elsewhere. Unfortunately, that option didn't work out and we were left wondering how to salvage the evening. Cue Norma, with its enticing entrance, utterly charming waiters and beautifully decorated booths, perfect for an intimate celebration. We ordered and devoured a few dishes from chef Ben Tish's Sicilian-Moorish menu, including wild mushroom and truffle arancini, pasta alla Norma, grilled lamb and tiramisu. My top pick was the Aubergine Parmigiana – I'm not a massive fan of aubergine unless it's in babaghanoush form, but this rich, deeply flavoured dish won me over.
Jikoni, Marylebone
This neighbourhood restaurant is exactly the type of place I wish I had in my neighbourhood. The menu reflects Ravinder Bhogal's diverse heritage and champions the beauty of immigrant cuisine. To give you a little taste, I've had prawn toast Scotch egg for a snack, fenugreek waffles with bacon for brunch, spiced stone bass for dinner and banana cake with Ovaltine kulfi for dessert. Ravinder has previously said that the restaurant is an extension of her kitchen and every time I enjoy a meal at Jikoni, that's precisely how it feels. Recreate the food at home thanks to the new cookbook or simply order a Comfort & Joy meal box if you prefer to sit back and savour the flavours.
Read my Spotlight on Chefs interview with Ravinder here.
Dumplings Legend, Chinatown
The clue is in the name: this place is indeed legendary. The décor is very simple, the service efficient and the tables so close together that you and your neighbours might as well be a table of six (this is pre-Covid, of course; I've been since and tables are a bit more spaced out now), but don't let any of that put you off because the food is brilliant. It's also fantastic value for money if you go for a midweek lunch when all dim sum dishes are half price. As well as my beloved dumplings, there are plenty of stir-fries, noodles and snacks on the menu. They're all great, but I just want steamed, fried and baked dim sum for days, especially the Xiao Long Bao (soup dumplings) and Cheung Fun (filled rice noodle rolls).
Goodman's, Mayfair (City & Canary Wharf)
If you love steak, you must go to Goodman's. London has no shortage of amazing steak restaurants and this is one of the best by far. Well, it depends on what you're looking for: there's no compromising on quality here and that's reflected in the price. Chef Savla and I started with Champagne at the bar (we were in a very "F**k Covid and 2020" mood that day), he relished the lobster bisque then we tucked into a Porterhouse steak together with chips. Even though we had sauces on the side, there was no need for them because their beef is far from bland. After all that and a bottle of bold Australian Shiraz, there was no room for dessert; the second stomach thing is a myth.
Wander, Stoke Newington
Way before I read any reviews about Wander, I somehow came across their Instagram feed and immediately knew that it'd be my kind of restaurant. It was the simple shots of the dishes, mouth-watering ingredients and cheeky tone of their captions that did it. During late summer when lockdown #2 wasn't quite on our radars, my sister and I walked an hour from her flat for dinner at this Australian gem. I had high expectations and the 5-course tasting menu didn't disappoint. I can't pick a single standout dish because I loved them all, from the smoked cod's roe with polenta chips and sourdough with whipped vegemite butter to cider-steamed mussels with 'Nduja and coriander to the pavlova. And I'm not even a pavlova person.
---
Honourable Mentions
Beigel Bake, Shoreditch
A Brick Lane institution which is open all day and night. They say the salt beef beigel soaks up the booze after a heavy night, but I want it sober so I can fully enjoy each bite.
Delamina, Marylebone & Shoreditch
Another place I hadn't visited until 2020 and then went twice with different friends, including a vegan who was delighted with the options on Eastern Mediterranean menu. For me, it's all about the roasted spiced cauliflower, turkey shawarma and burrata on za'atar pita.
Goila Butter Chicken, Marylebone
When Indian chef Saransh Goila partnered with Carousel in February, tickets for his two-week residency sold out in record time. His signature smoky butter chicken was the star of the show, which you can enjoy at home by ordering online.
Read my Spotlight on Chefs interview with Saransh here.
JAE, Dalston
Chef Jay Morjaria, winner of the BBC's 'Million Pound Menu' show, is the man behind JAE, which you'll find at Untitled Bar. It's a beautiful partnership of Korean-inspired bar snacks, like fried chicken sandos I can't get enough of, with inventive drinks you'll wish were bottomless.
Read my Spotlight on Chefs interview with Jay here.
Lupins, London Bridge
I loved revisiting this intimate restaurant with my sister on a day that we both needed to set the world to rights. Which we did over incredible food – especially the beef shin crumpet, cocoa carrots with tahini cream and chilli and dark chocolate ganache – and a bottle of Crémant.
Rye, East Sussex
I loved everything we ate during our week in Rye, which ranged from casual fish and chips from Mario's and pizzas at Tillingham to seafood panache at Webbe's Café and lobster risoni at Landgate Bistrot. 2020 wasn't all bad.
Read my Guide to Rye here.
The Angler, Moorgate
I love taking myself out for a meal: I can go where I want and there's no need to share or rush (I'm a slow eater). My last one in London this year was at Michelin-starred The Angler, where a set lunch only set me back by £35, which is a bargain for this quality (and all the snacks).
The Bull & Last, Highgate
This popular pub reopened in February 2020 after a long refurbishment then lockdown happened shortly afterwards. Thankfully I managed to score a highly coveted table for a Sunday roast with my siblings before I moved to Berlin. Their beef is a generous thing of beauty.
---
Have you tried any of the above restaurants, supper clubs or pop-ups? If so, what did you think of them? And what were your 2020 food highlights? I'd love to hear from you below or on social media!
---
All words and images are my own, unless otherwise stated, and remain the trademark of www.savlafaire.com.
LINKS
Darby's, Brunswick House, Pachamama, Puff The Bakery, Ghana Kitchen, Ben Spalding, Stir Woolwich, A Wong, Norma, Jikoni, Goodman's, Wander