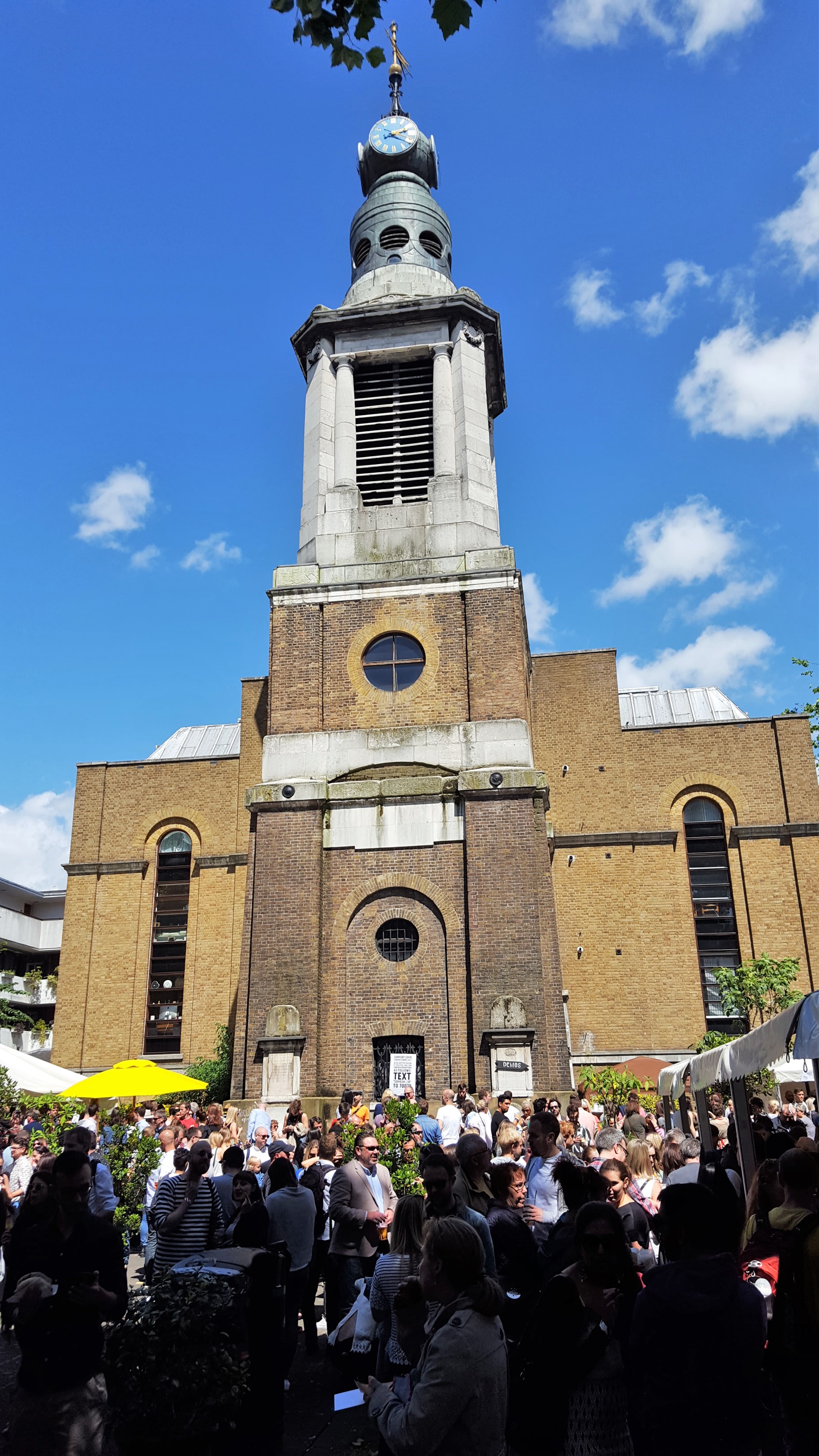 I almost didn't make it to this year's Soho Food Feast. Having been to Taste of London 2 weeks earlier and indulged in plenty of rich and tasty dishes, the idea of repeating it so soon wasn't entirely appealing. However, even though I'd also eaten at a few of the featured restaurants, there were quite a lot that I'd been wanting to try for some time, such as Ceviche and NOPI, so when I saw a friend was selling their Saturday tickets on Twitter at the eleventh hour, I snapped them up, telling myself it was a sign.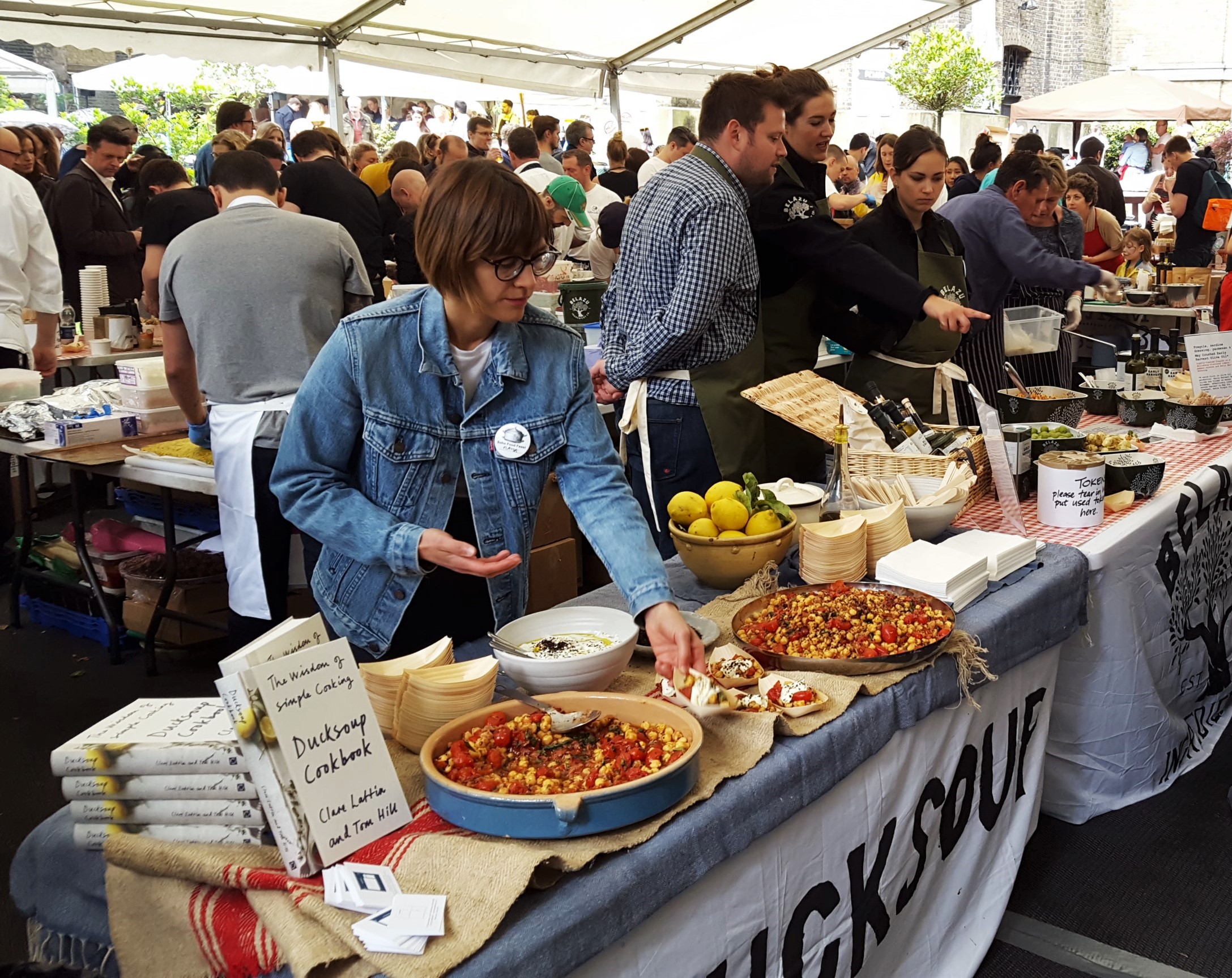 This was the sixth outing for the Soho-based food festival, where top restaurants in the area offer a range of their signature dishes to raise money for Soho Parish Primary School. The event was initially created to support the school's healthy eating kitchen, which almost closed due to budget cuts. Funds are now put towards improving other areas, including the building itself as well as the playground. Tickets for the two-day event are bought in advance (entry only, premium or weekend passes available), with Feast tokens being exchanged for tapas-sized dishes (1 token = £2). In order to minimise the wait and maximise the eating, Chef Savla and I chose the premium tickets, which got us bonus tokens (7 each) and 2 raffle tickets.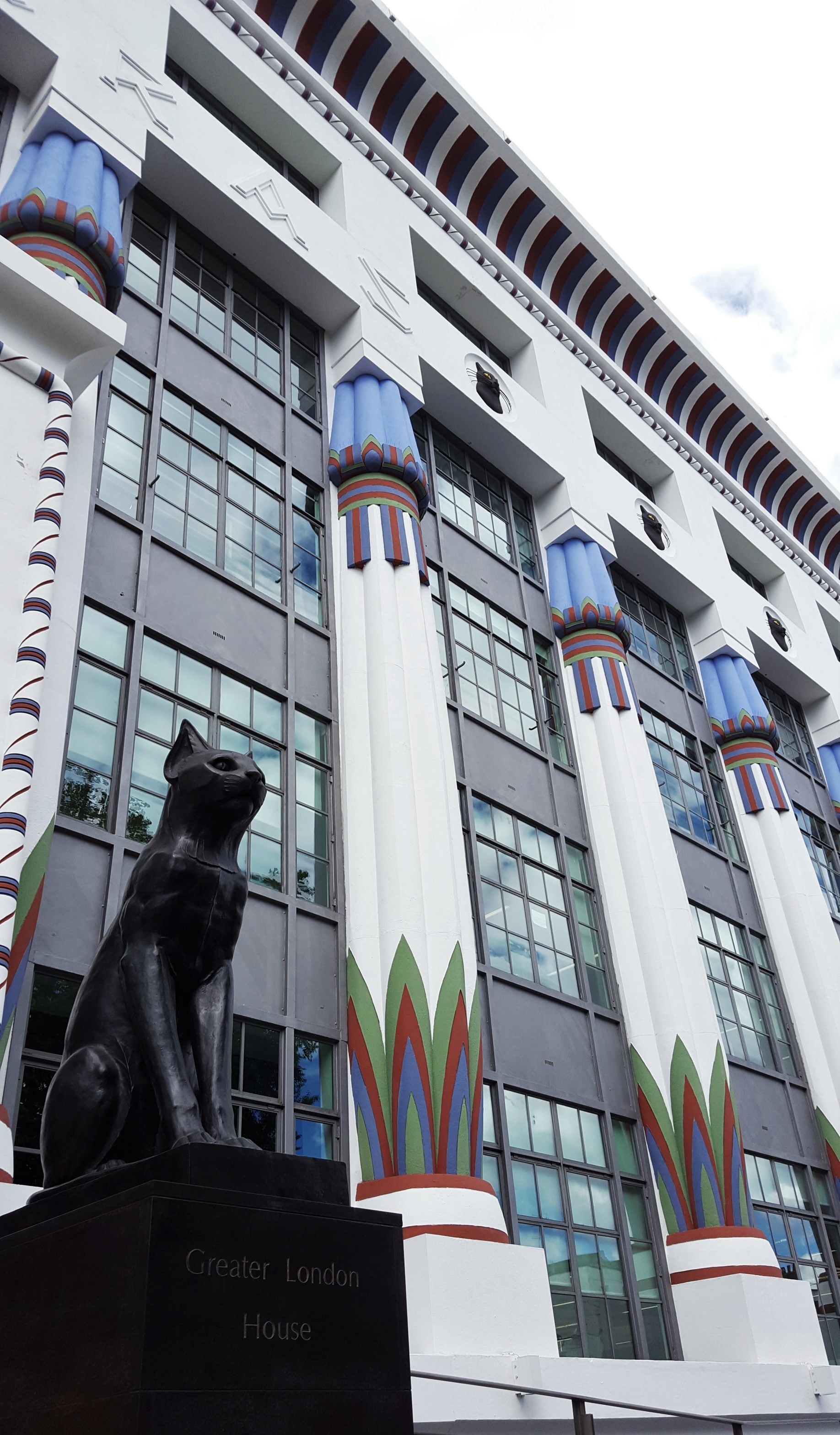 Knowing we'd be blowing our calorie count for the day in the space of a few hours, we walked the 6 miles to St Anne's Gardens from home. Walking around London is a great way to discover the city, and this was the first time I'd come across the Carreras Cigarette Factory in Camden, a beautiful Art Deco building in the style of 20th-century Egyptian Revival architecture. There was no time to sit down when we arrived on Wardour Street, as the festival was in full swing and we didn't want to miss out. As our bellies were rumbling, we made a beeline for Pizza Pilgrims and wolfed down their ricotta, salami, tomato and cheese-filled calzone: the flavours were fresh, the colours vibrant, the dough soft and delicious, and the photo non-existent due to hangriness.
The hunger pangs started dying down as we strolled around the food tent. Here's an overview of what we sampled in chronological order: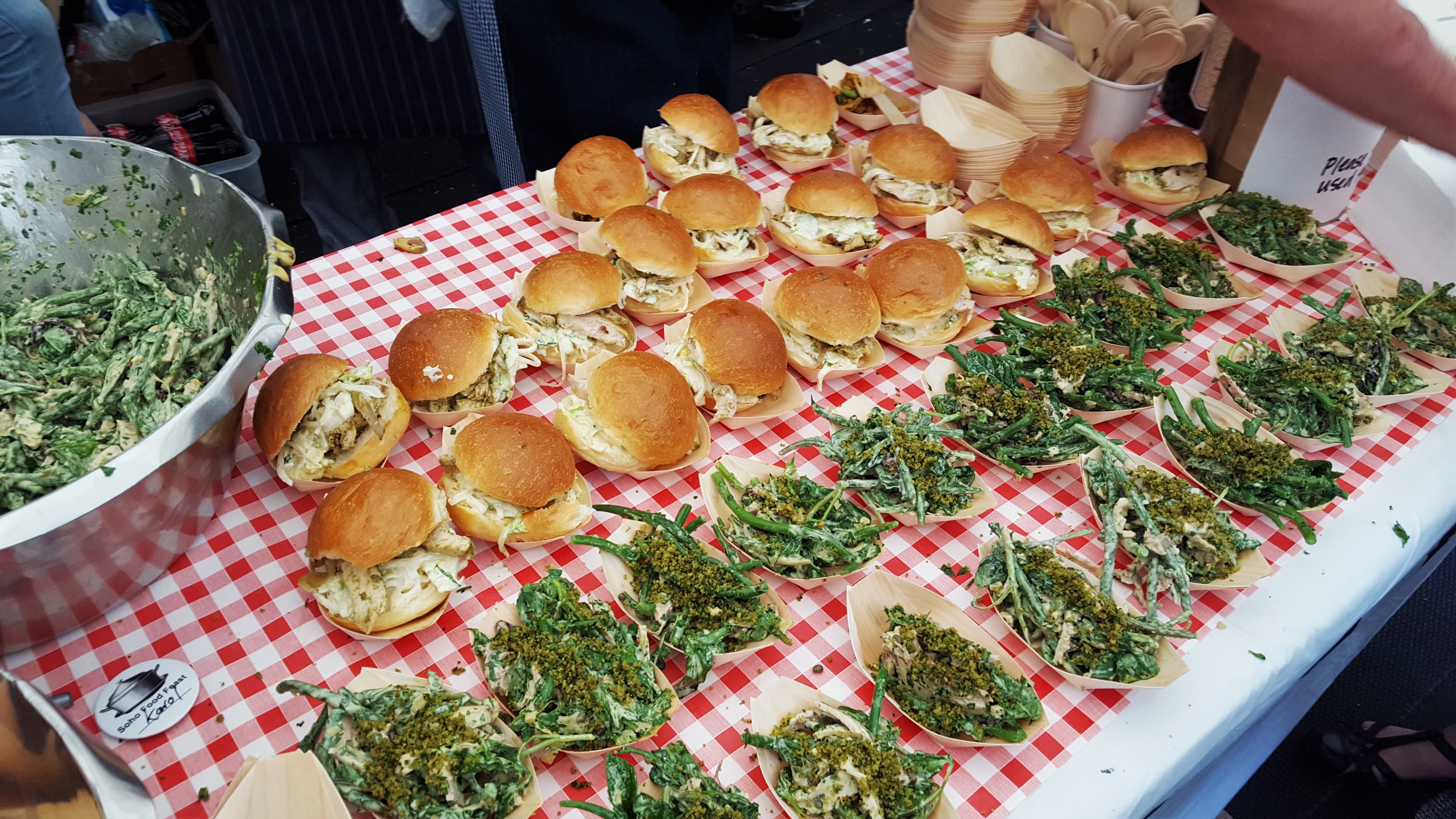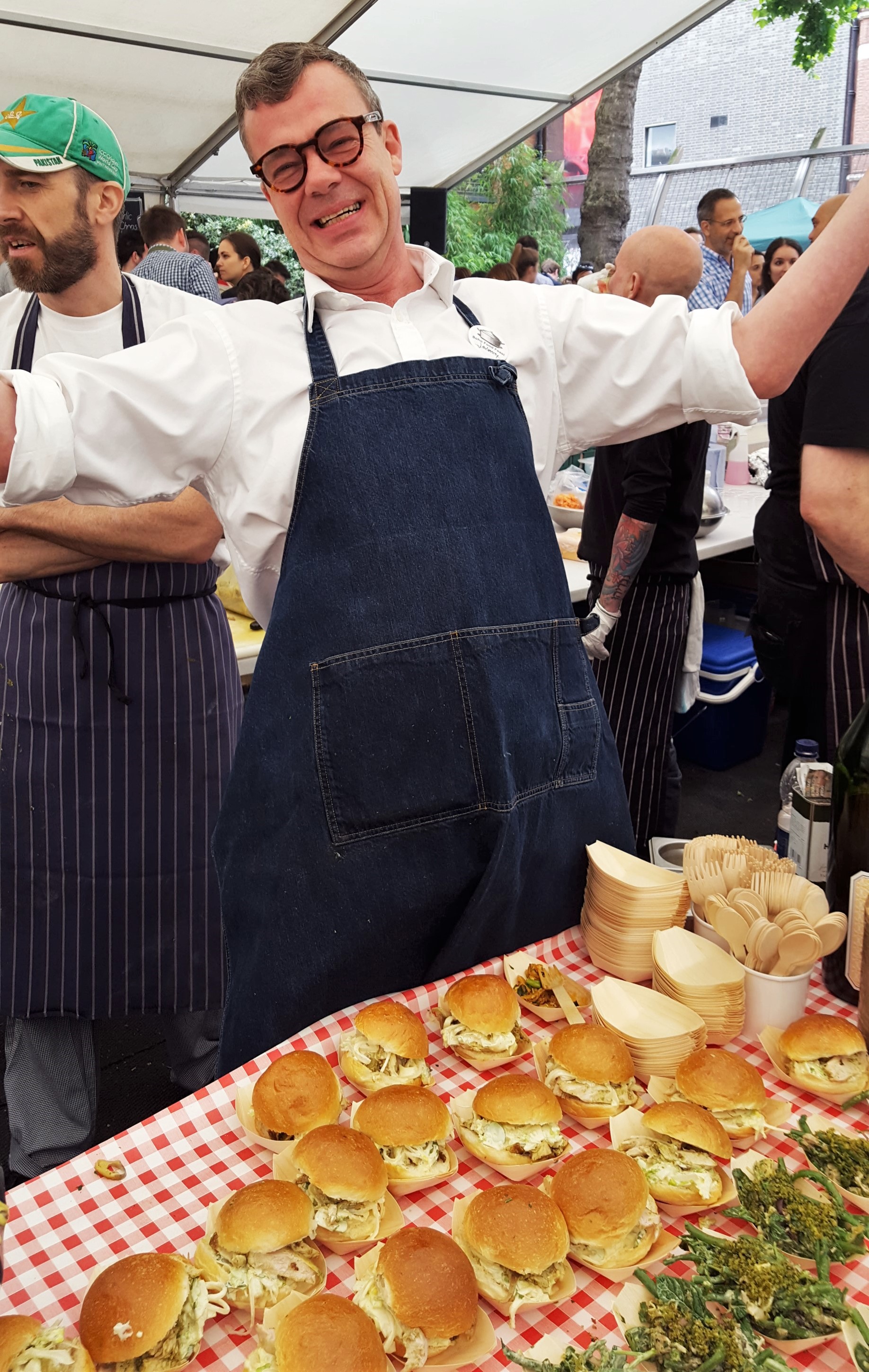 Quo Vadis: Strips of guinea fowl served in a soft manchet – light, crunchy and the perfect way to ease into an afternoon of dining decadence. We chatted to the charming Jeremy Lee as we tucked into the burger. My overriding memory of visiting the restaurant on Dean Street years ago is the indulgent sticky toffee pudding, and they have a cute terrace for some wining, too.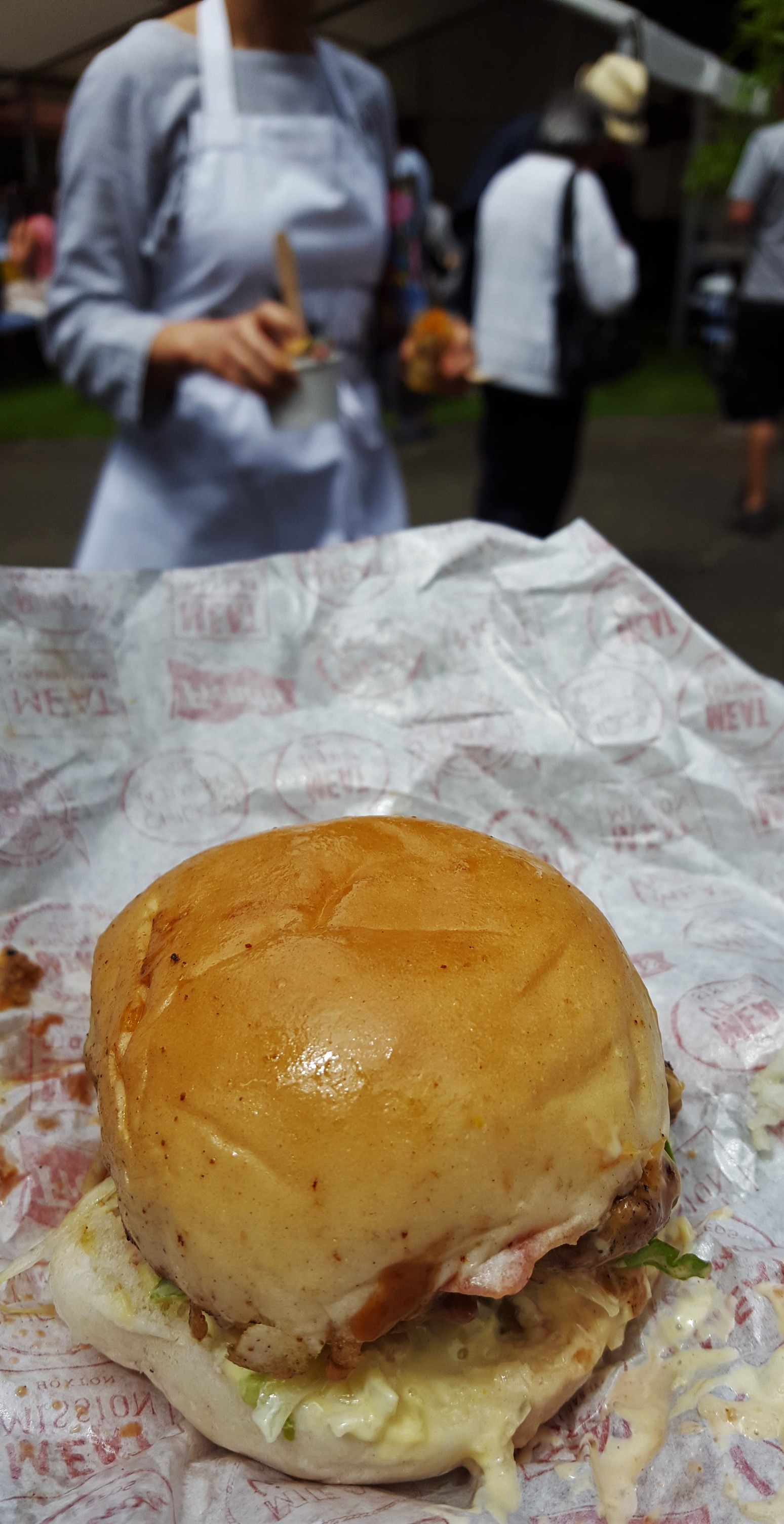 Meat Liquor: I would never have chosen this stand, especially since I vividly remember my hands being completely coated in meat juices when I last ate at the Covent Garden branch. No major messiness this time around, though, just a lovely rare patty which I could've had twice over; shame about the mayonnaise. Soho Food Feast Review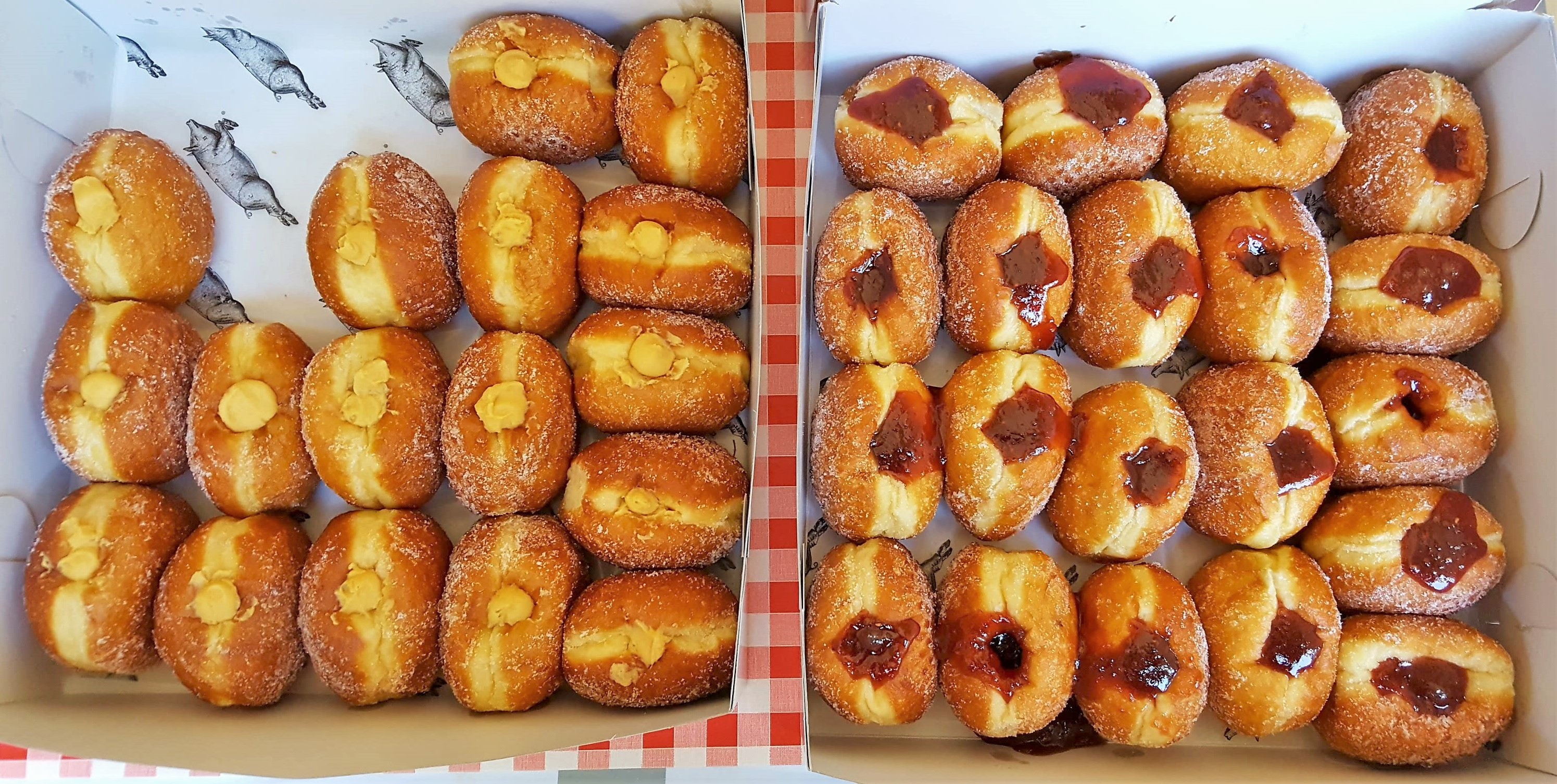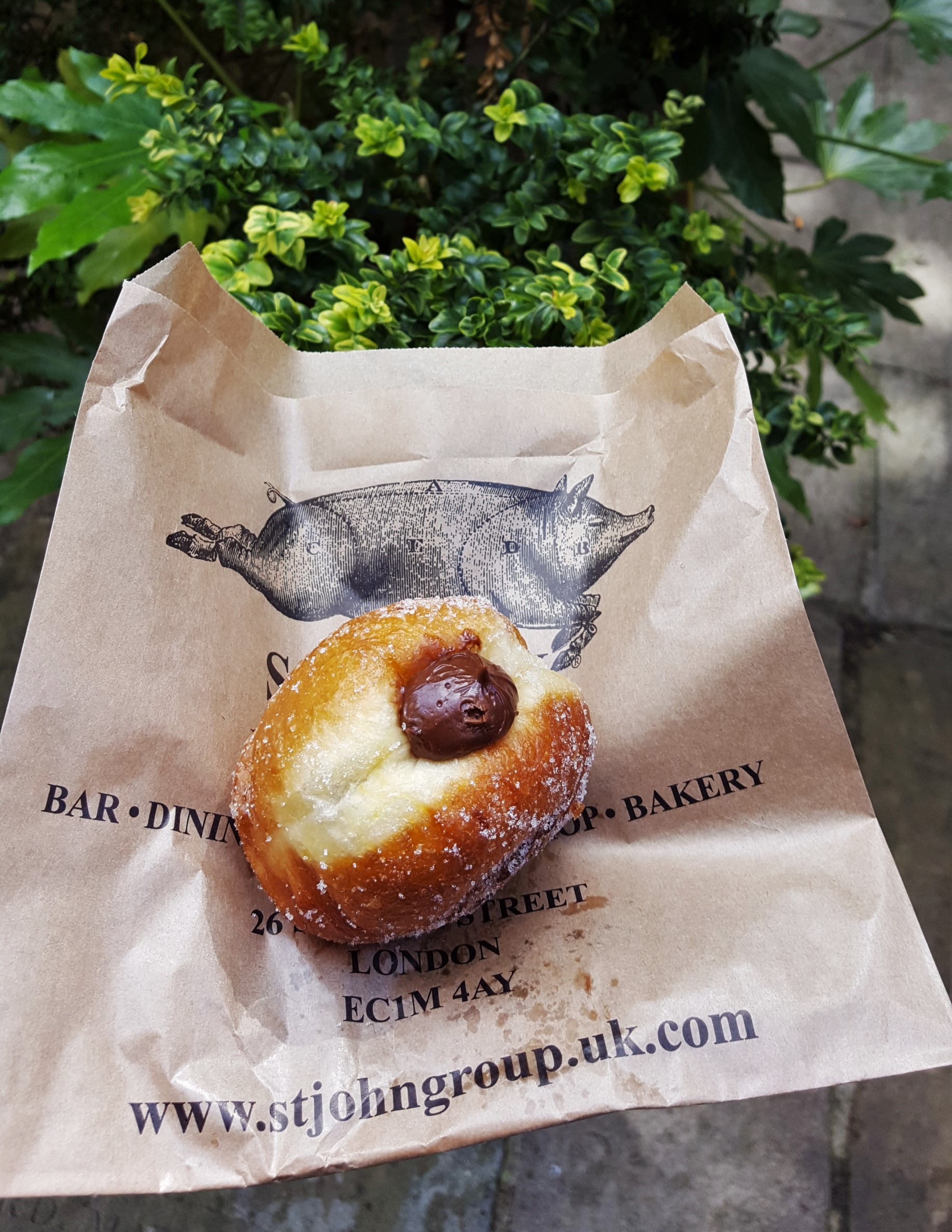 St John: Doughnuts from their bakery are classic comfort food, and they look as good as they taste. Fillings were lemon curd, raspberry and chocolate; we had one of the latter and it was a struggle to share something so fluffy, sweet and chocolatey. I'm definitely getting my own one next time.  I've heard so many glowing reviews about the restaurant and this is one more reason to go.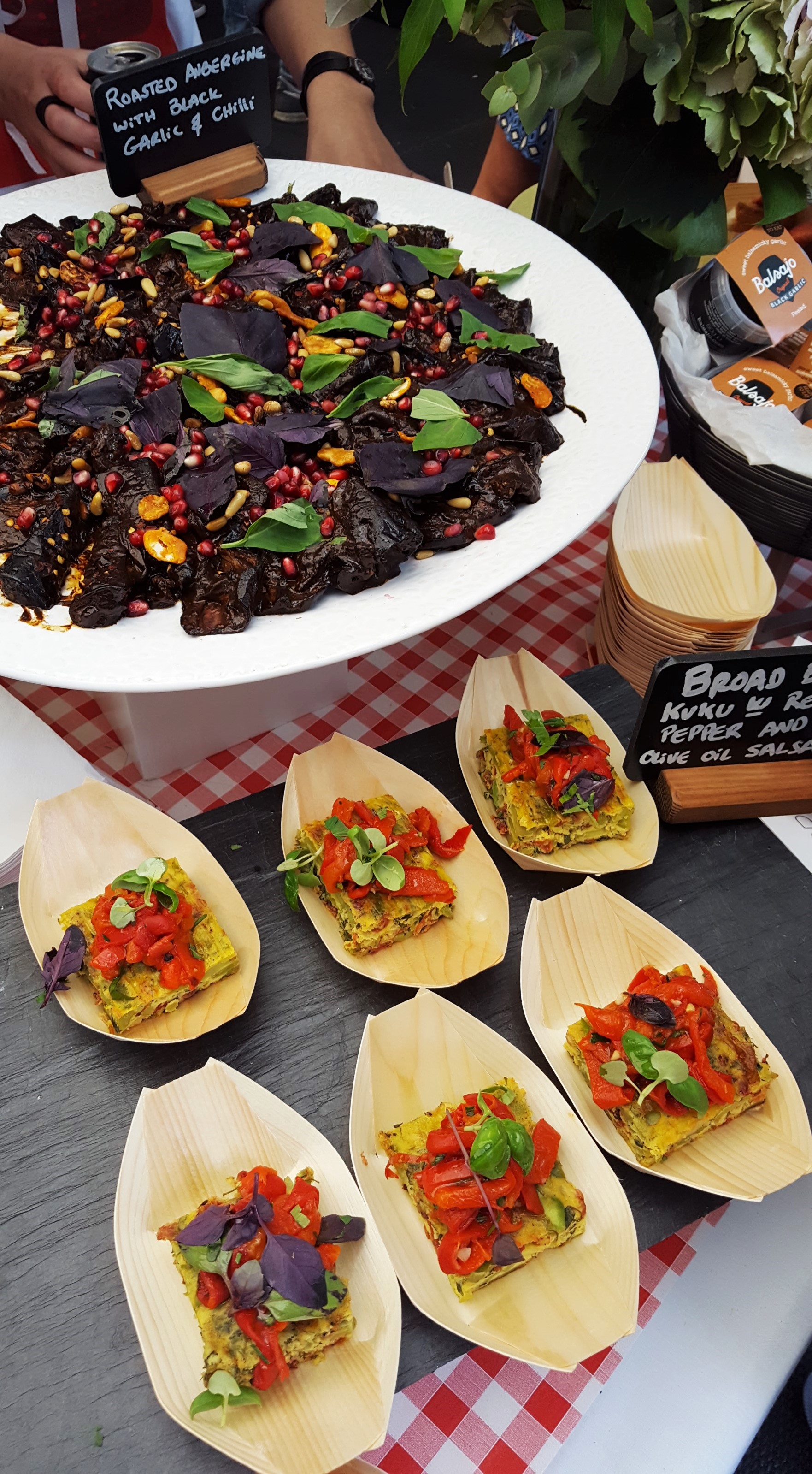 NOPI: Chef Savla took me to Ottolenghi's Islington outpost years ago and I remember being impressed with the intense flavours of the veg dishes. Once again, he made heroes of the veggies, the roasted aubergine with black garlic and chilli being our unanimous winner: deep smoky tones, crunchy pine nuts and garlic slices then hits of sweetness from the pomegranate seeds. We also enjoyed the broad bean kuku with red pepper and olive oil salsa (albeit to a lesser degree), but went out on a high with the almond and bergamot cake, which was simply divine. It was a pleasure talking to Yotam about his festival dishes and how his shakshuka recipe went down a storm at Casa Savla.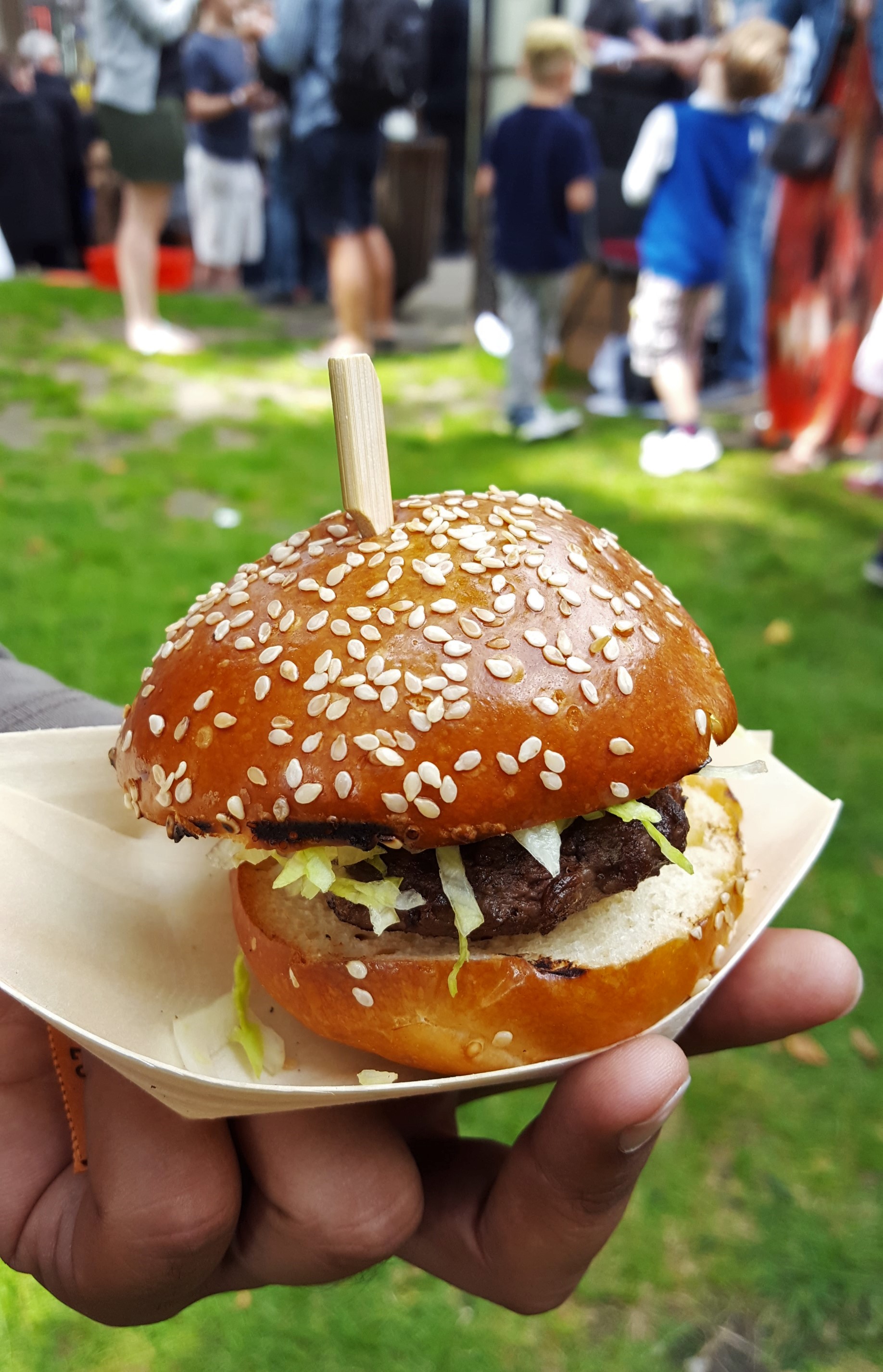 Randall & Aubin: In the interests of balance, we went from vegetarian to carnivore, choosing this beef and foie gras slider. I was expecting a slice of foie gras, but instead we got a flavoured mayonnaise on a well done patty; nice burger overall, although a tad disappointing after having Meat Liquor's juicy version. Soho Food Feast Review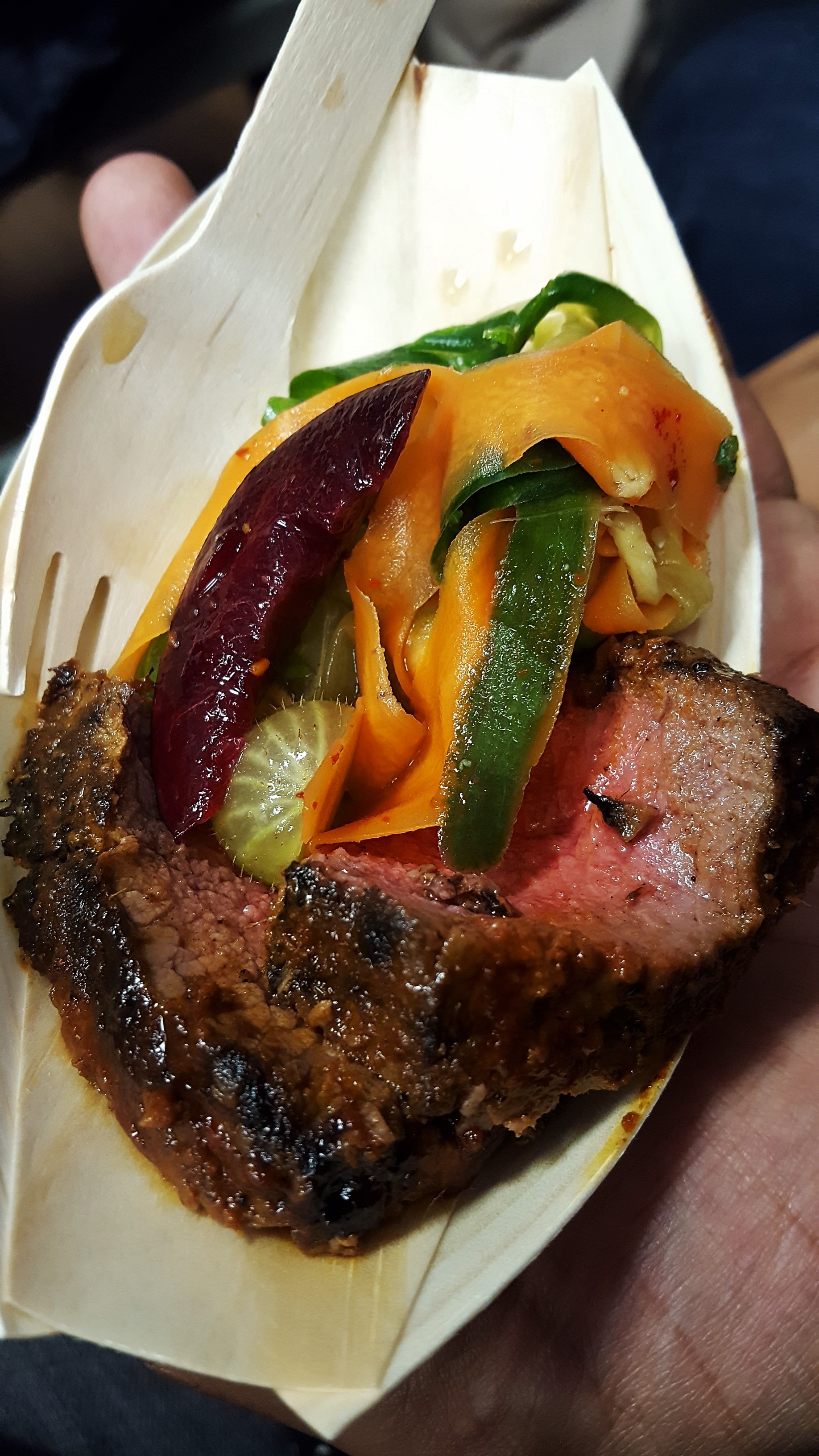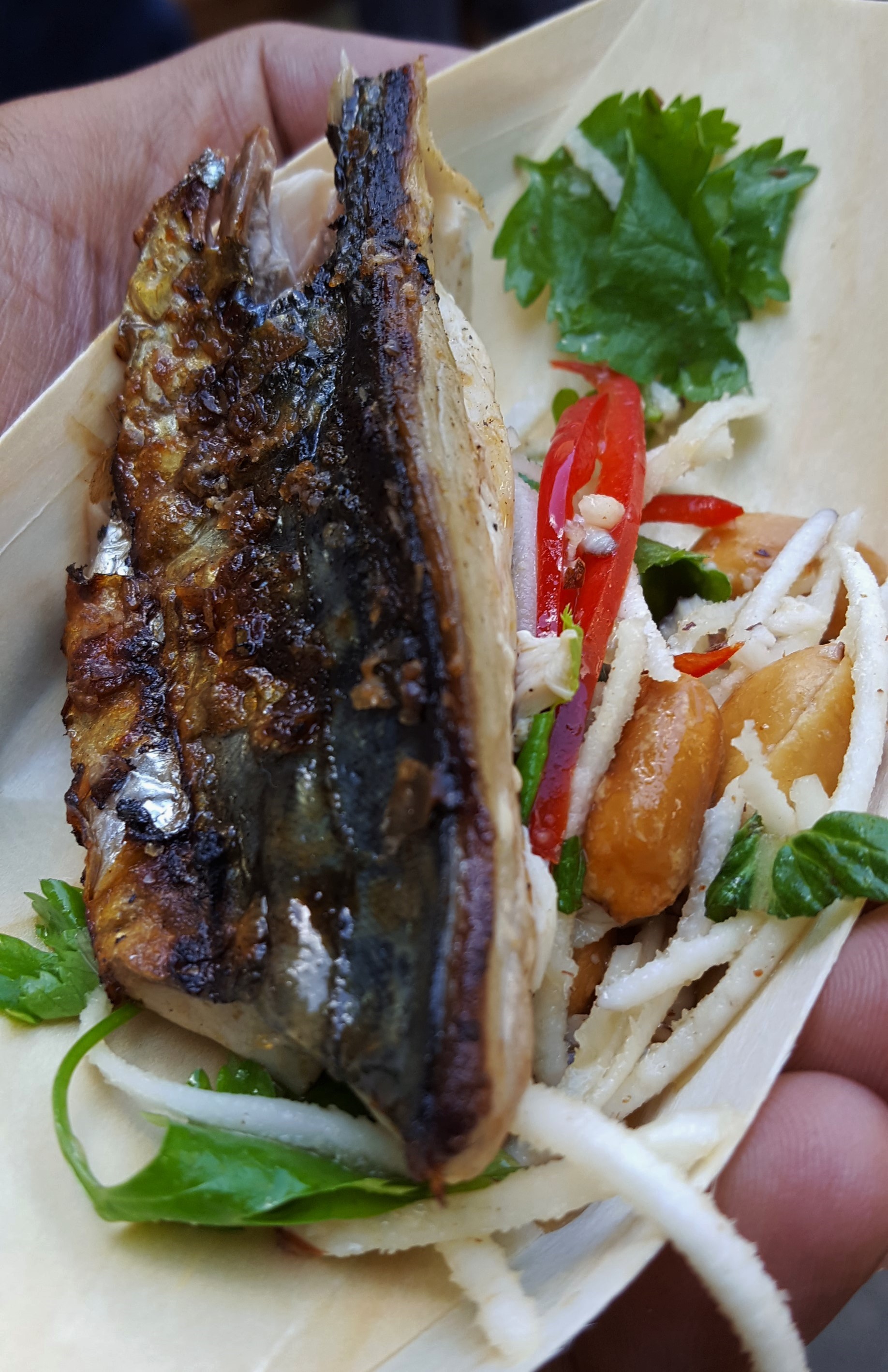 Yotam Ottolenghi & Ramael Scully demo: One of the 5 demos that day focused on NOPI classics such as pan-fried mackerel and spiced roast beef. We tasted both, and favoured the latter for expertly combining meat with sweet salad and fruit. Soho Food Feast Review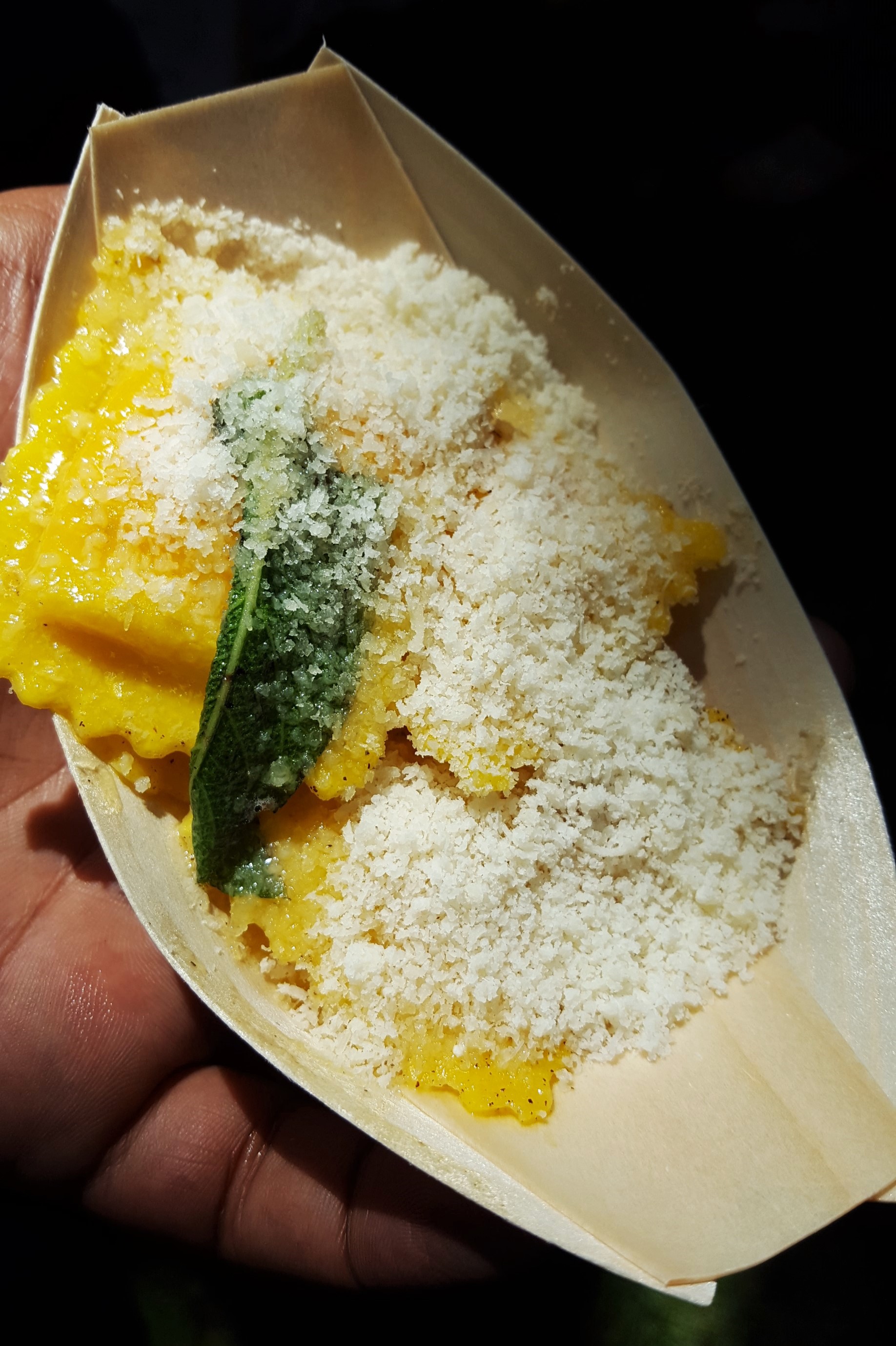 Lina Stores: I'd already tried and liked the ravioli before, so was keen to experience new fillings. Smoked mozzarella, artichoke and truffle oil, sausage and gnocchi were all very tempting, but we opted for the Nduja and smoked ricotta ones, which were cooked fresh, lightly fried in butter with sage leaves and topped with a generous sprinkling of grated Parmesan. Suffice it to say I'll be popping into the store more often from now on.  Soho Food Feast Review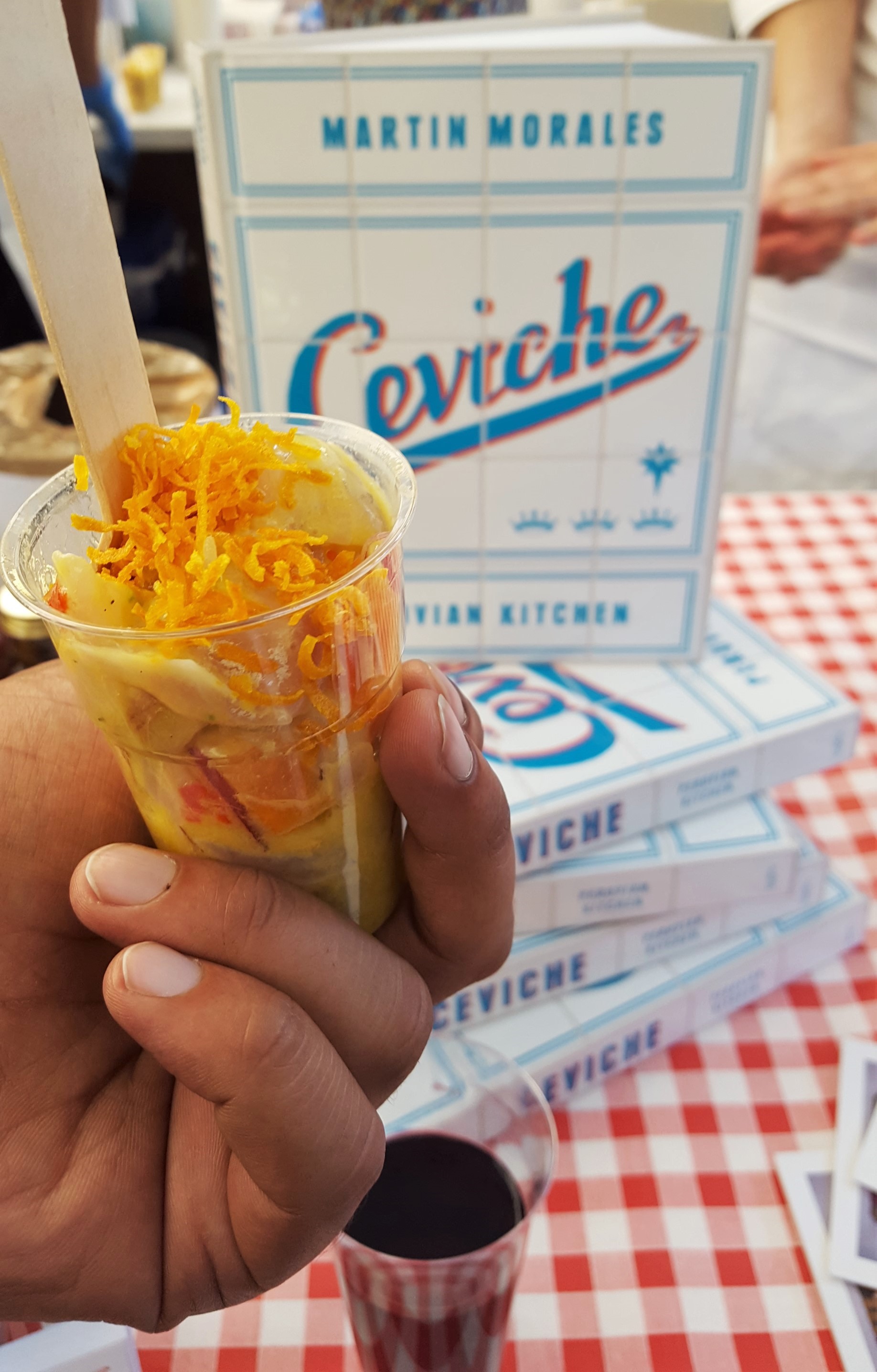 Ceviche: My old office was down the road from the Soho restaurant and yet I'd never crossed the threshold of this Peruvian pearl. I was adamant about trying the Don Ceviche: raw sea bass, crispy sweet potato slices, red onions and chilli, all brought together with tiger's milk. This was zingy, vibrant and yet another dish which I could've easily eaten all day long.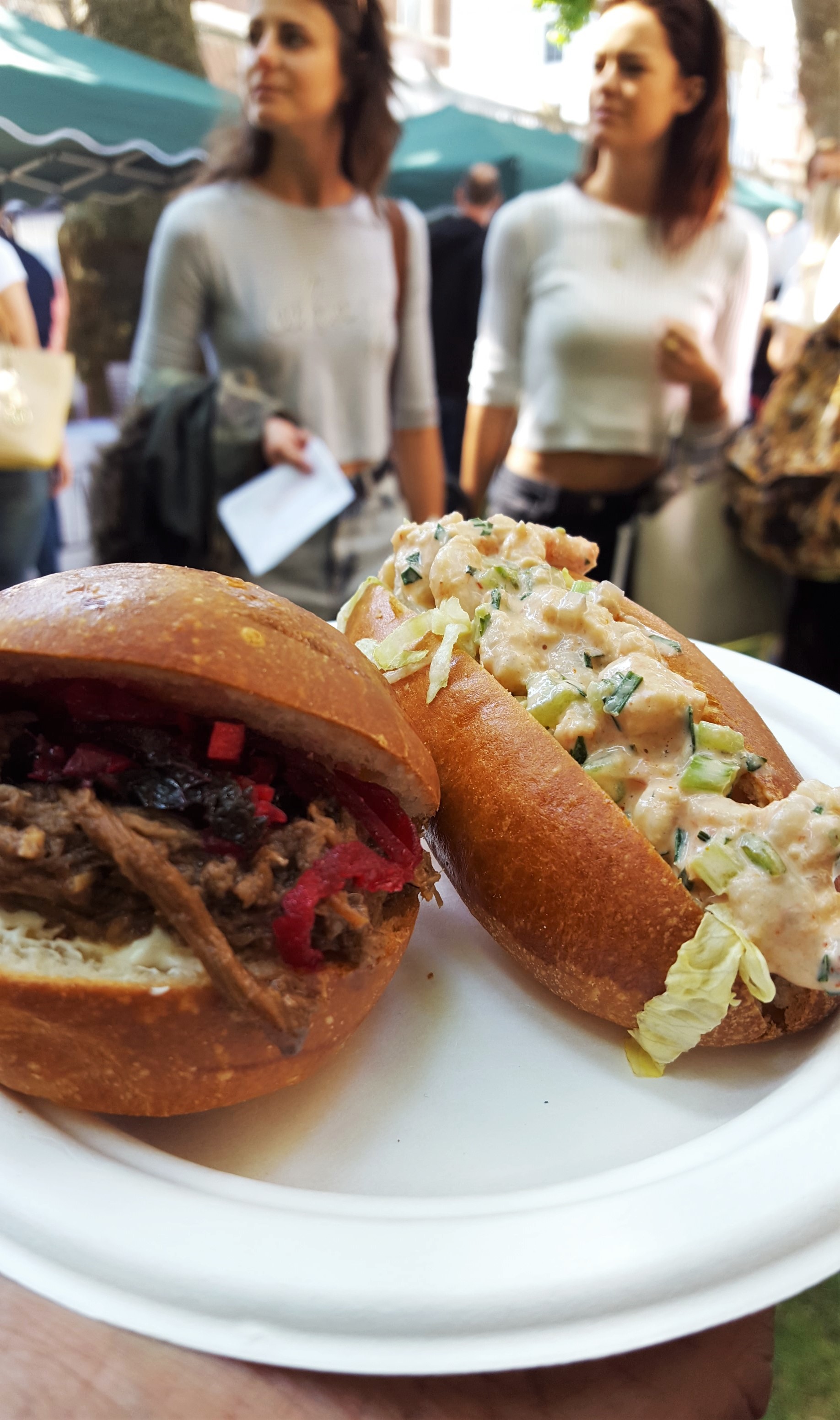 Gail's: In my opinion, this is the home of London's best brownie, white chocolate cheesecake and carrot cake. I've devoured these more times than I can count, but I don't recall ever going for their savoury options. After seeing their pulled lamb sliders and prawn cocktail rolls doing the rounds, we headed over to their stand and swiftly gave them two thumbs up for both. Often with burgers, the buns have no flavour or disintegrate into pieces as soon as you can a bite, which didn't happen here as they tasted delicious and held their shape well.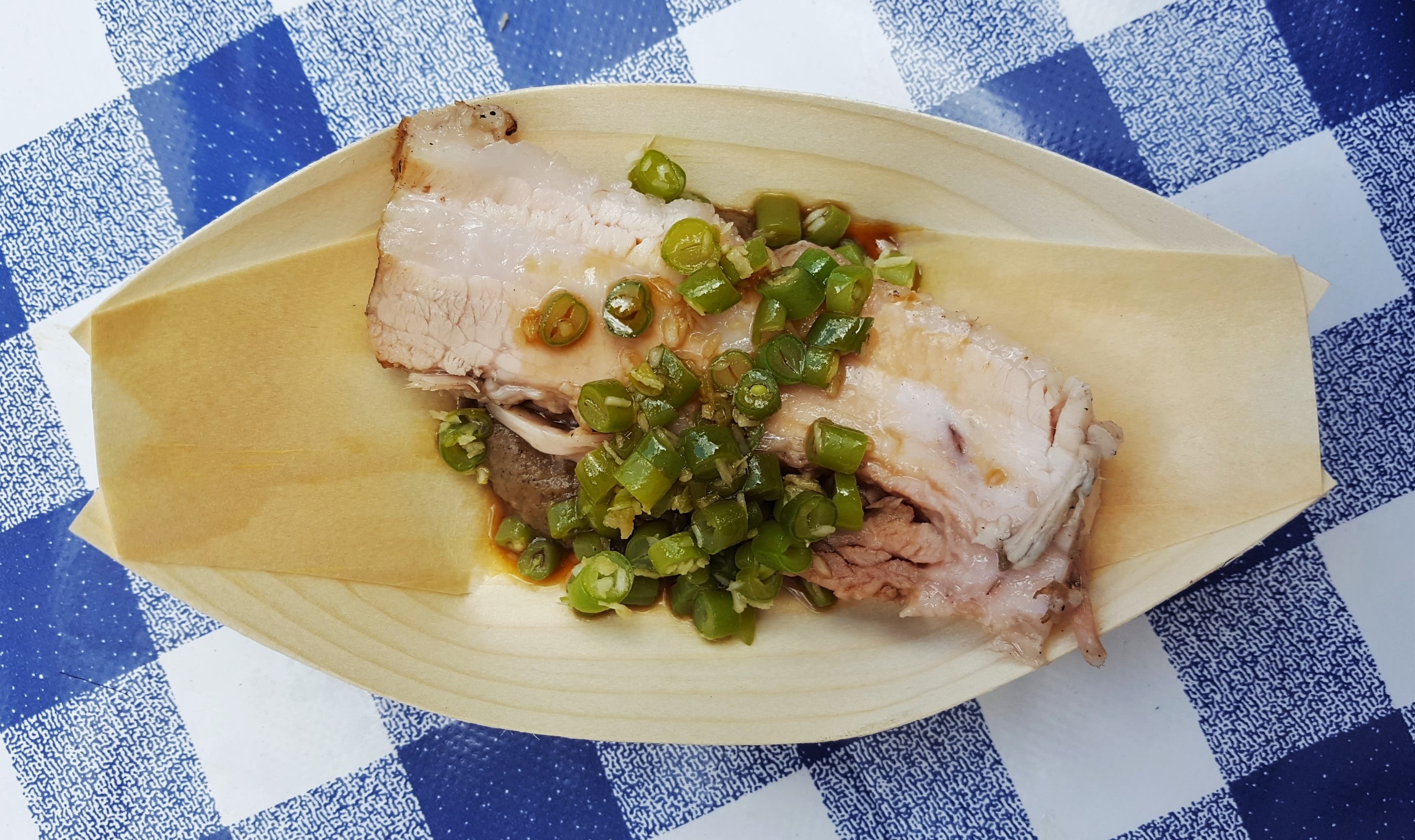 Social Eating House: Most of the stands had sold out of food about 3 hours in; it was the same story for SEH, who were able to pop back to the restaurant for more miso-glazed pork belly, served with green beans, coconut, burnt aubergine and miso butterscotch. Although it was a lukewarm, it was lovely little meaty dish which had me wanting to reserve a table for a proper meal soon.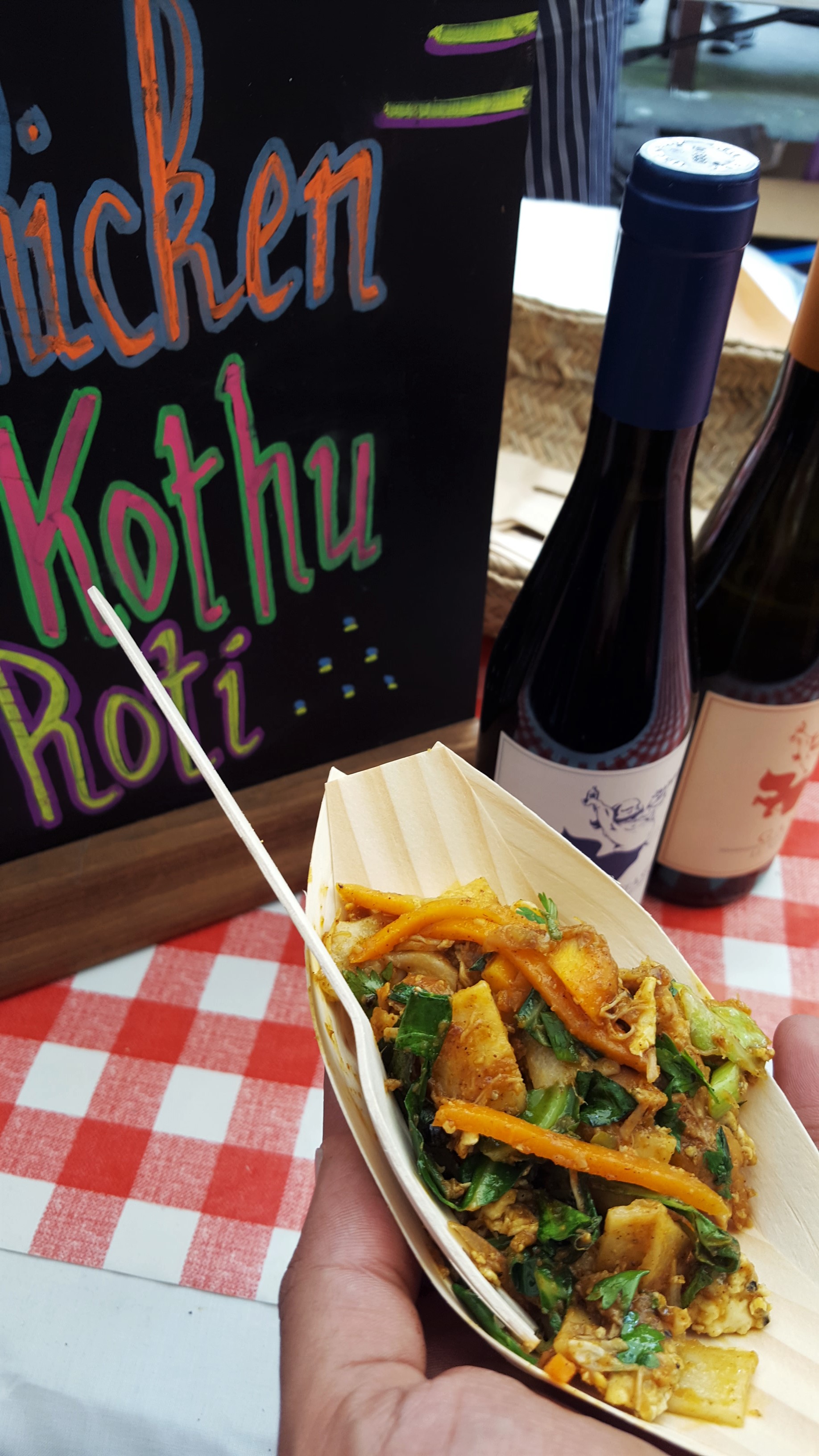 Hoppers: Having been to the restaurant earlier this year (link to review below), we knew they wouldn't let us down, and the chicken kothu roti was colourful, flavourful and wonderful.
We then caught up with friends old and new while sipping on Prosecco in the sun. Sadly the good weather wasn't to last, and we dashed to a nearby bar to sit out the heavy rain for a bit. The group disbanded after that, but since Chef Savla and I started feeling peckish again, we felt round 2 of Pizza Pilgrims had to happen. So to make up for the lack of a pizza pic earlier, you can feast your eyes on this classic cheese and tomato-laden beauty: Soho Food Feast Review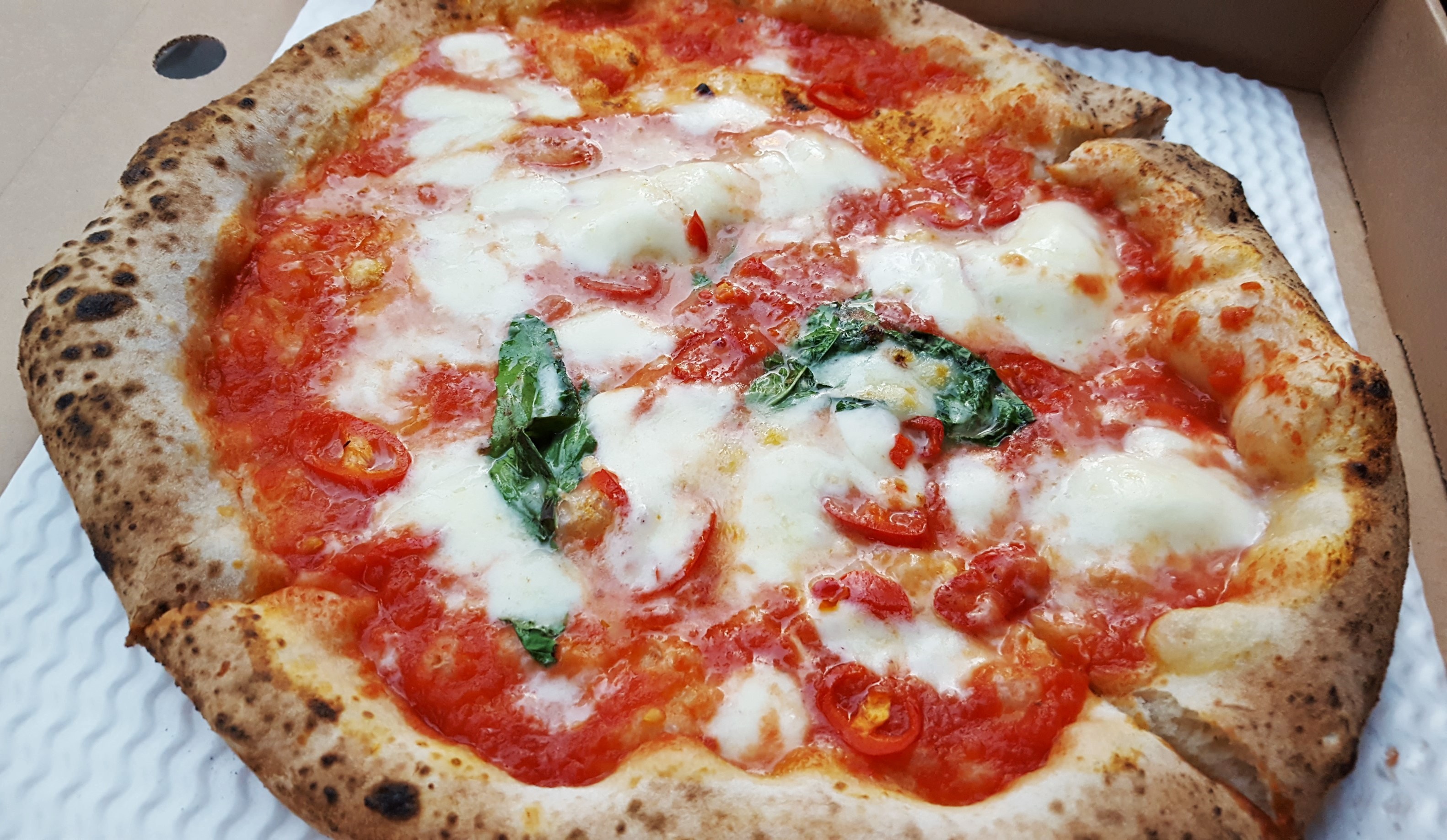 We may have expanded our waistlines slightly, but I don't regret eating good food, drinking Pimm's/wine/beer/Prosecco in sunny Soho, surrounded by fellow foodies, while raising money for a worthy cause. The atmosphere is very relaxed in general, and families are very welcome, with free entry for under-16s. Food is of a high quality, and since the festival takes place in a relatively small courtyard, it feels quite intimate, unlike an event like Taste, which has quite a corporate vibe to it. Keep an eye out for next year's dates and make sure you dedicate the weekend to some gastronomic giants. Soho Food Feast Review
Links: Soho Food Feast, Taste of London Review, Ceviche,  NOPI, Soho Parish Primary School, Carreras Cigarette Factory, Pizza Pilgrims, Quo Vadis, Meat Liquor, St John, Randall and Aubin, Lina Stores, Gail's Artisan Bakery, Social Eating House, Hoppers Soho Food Feast Review