It's that time of the year: what and where was your best dish of 2018? Before sharing my own, I put this question to a few London-based food writers and influencers and challenged them to describe it in 200 words (or thereabouts). I might turn the 'Tell Me in 200' theme into a regular series featuring different topics and contributors each time. But before I digress, here's the first post.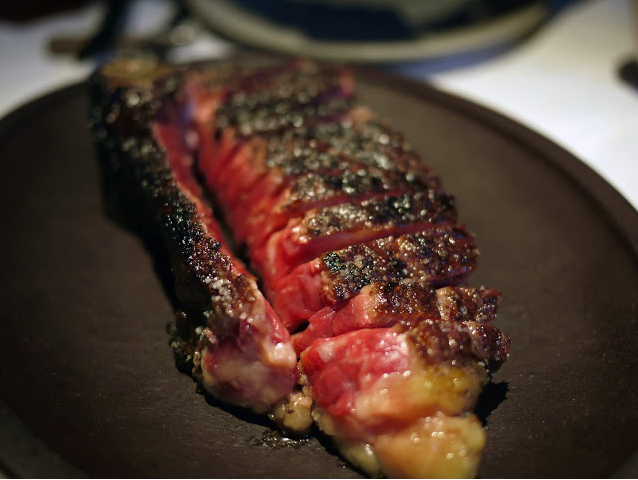 I spend a great deal of my waking hours – far more than is healthy, at least – searching for the best steak. In London I've bounced from Hawksmoor to Goodman at the top end, from Flat Iron to Zedel Brasserie on a budget, and have found a great deal to enjoy in all of those places. But much as it hurts my reputation as a 'reverse snob' to say so, I'm afraid the best steak I've ever eaten in my life was at the €180-head Asador Etxebarri in northern Spain.
Everything about it was perfect. Deeply marbled and meltingly tender inside, it somehow also had the most delicate of dark crusts, thick enough to provide a crunch but not so much to be bitter or carry too much of the flavour of the coals. It had a dense, mineral taste of a life well lived, but was not over-aged or funky – just 3 weeks we were told, compared to certain restaurants that seem to take pride in ageing their beef well past the point of edibility. It was presented simply sliced, not over-rested so the juices were still running, and it was in every way the very best steak can be, possibly can ever be. I will never forget it.
Chris Pople, Cheese & Biscuits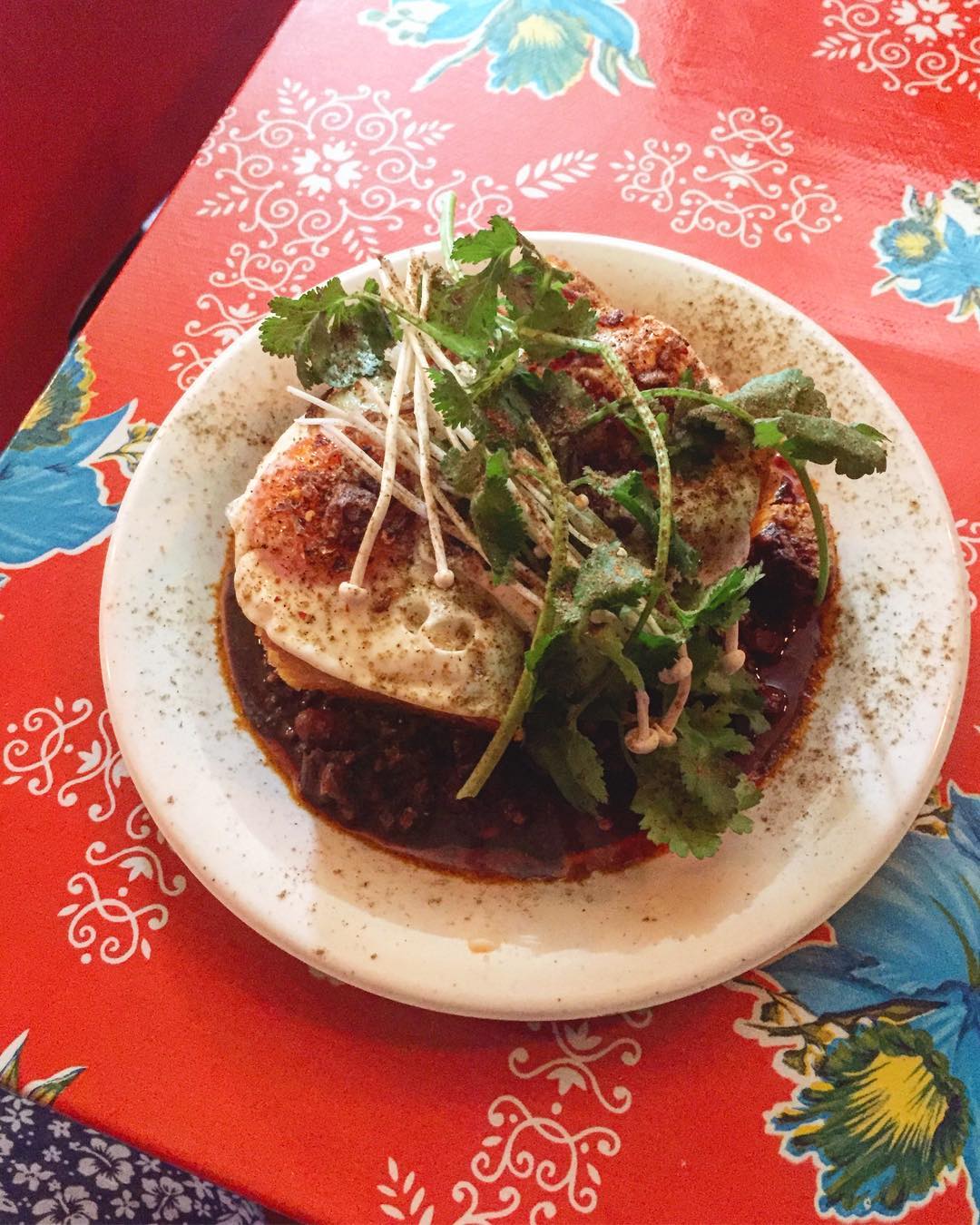 I've eaten well (again) this year. One dish stands out, though, in part because I've had it multiple times, and when I'm not eating it I crave it: the mushroom mapo tofu brunch dish at Black Axe Mangal. There are a couple significant hash browns underneath, and a fried egg or two on top. But it's the wickedly balanced mix of shrooms (there are numerous varieties involved) and silken tofu that stands out. Layers and layers of earthy, savoury flavour plus a healthy dose of citrusy-spice courtesy of Sichuan pepper. I can't think of a better, more satisfying thing to eat in the morning. Nor afternoon or evening for that matter.
Ed Smith, Rocket & Squash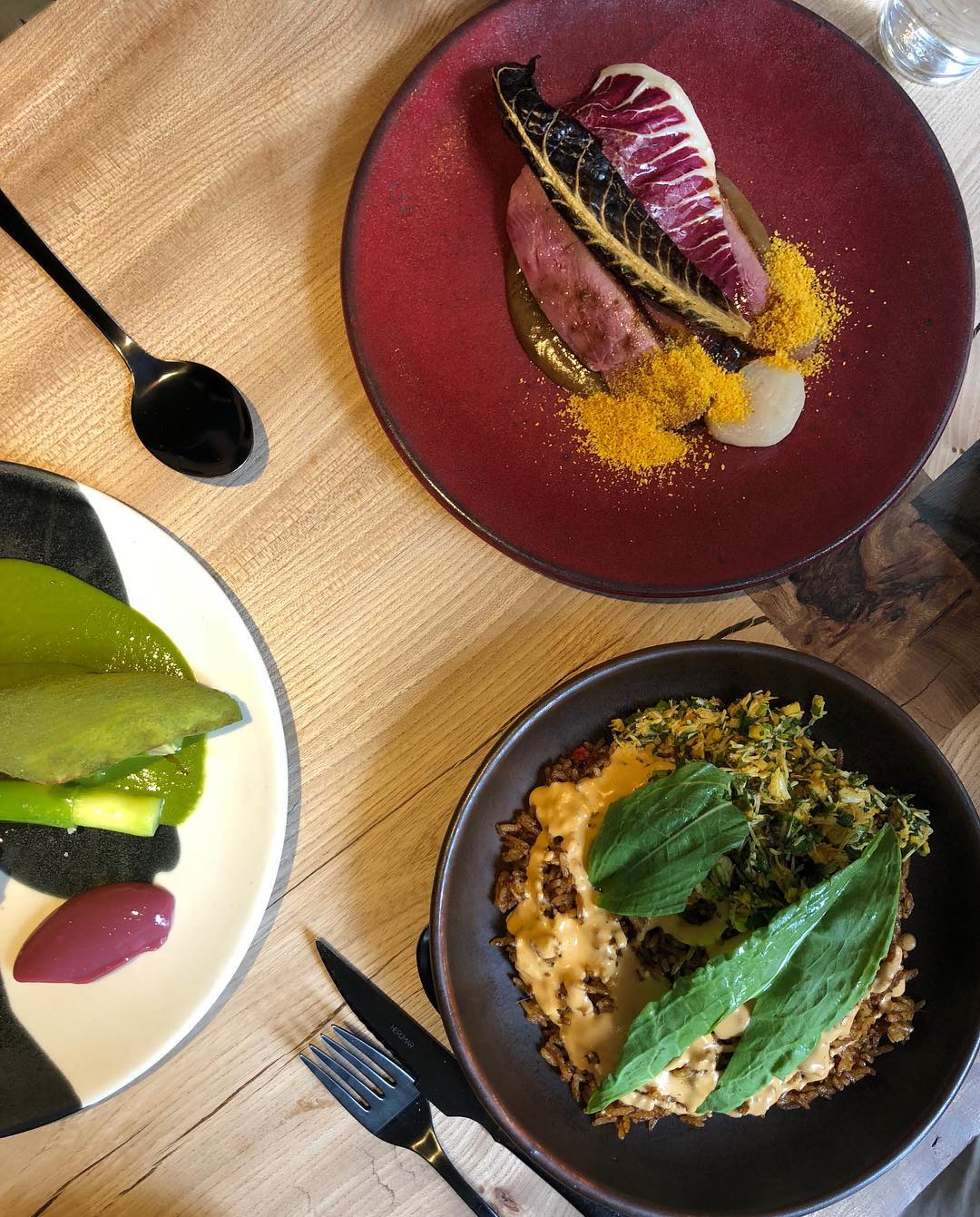 The dish my mind keeps coming back to this year is the Jollof Rice & Tamworth Fat from the Ikoyi x Kiln x Skinny Bib / Jeremy Chan x Perm Paitayawat x Nick Molyviatis collaboration at Kiln. The whole meal was wonderful. And that's the thing, a dish is more than the ingredients, or the cooking. Memory is fickle it remembers something because of the moment, and that was an autumnal night, Kiln's windows were covered in newspaper – making the space mysterious and dark, and I was catching up with an old friend.
To me that dish was smoky, it was rich and fatty. The rice coated my tongue, it felt like home but was still surprising, like seeing a childhood place as an adult – the same but everything feels different to touch. It must have had a sharpness to it, because I remember the taste stayed on the sides my tongue. All these elements might not have been what the dish was to the chef, but the wine, the open kitchen, the dark night had its place on my palette.
Other worthy mentions:
The Special laksa, hot, with an egg, at Sambal Shiok – solo dining, I order before I even sit down, a side of pickle, a glass of Riesling and my book. The smoked chicken, leek heart cooked in truffle butter tortellini in chicken consommé, charcoal oil and lovage at Stem. The fried chicken at Smoking Goat, after an Eater Talk and a few beers, near the end of their service with industry friends and more beers.
Anna Sulan Masing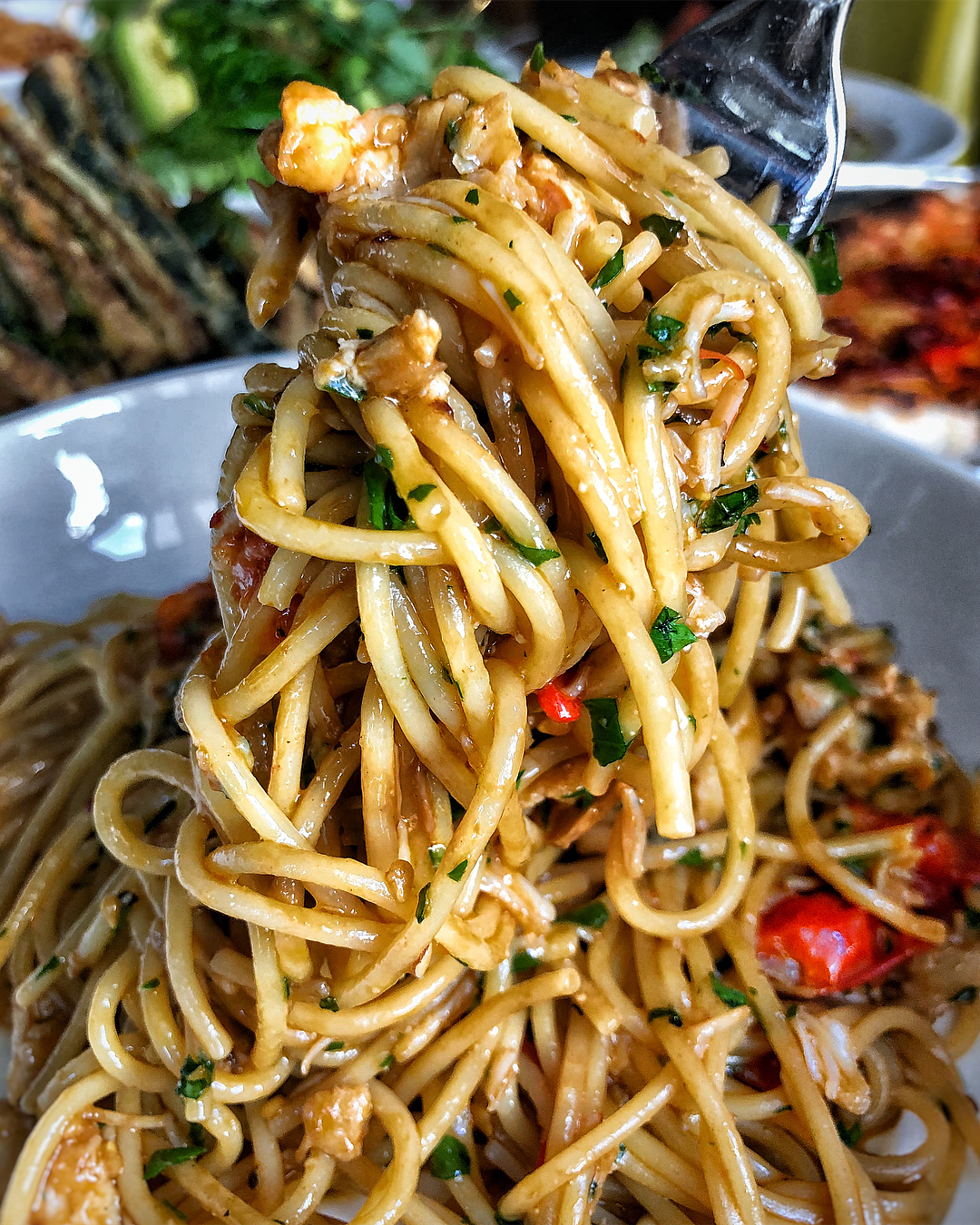 Talk about difficult! I think I have to give strong consideration to the Crab Pasta from Cecconi's in SoHo. For whatever reason, everything about it just work for me on the day and I haven't been about to recapture that with any other dish ever since. It was exactly what I wanted at that exact moment in time. Super fragrant with a deep crabby with a slight chilli kick. It was just awesome in a warm summer's day sitting in that beautiful dining room against an open sachet window with the whole family. Couldn't be happier than in that moment.
KS Ate Here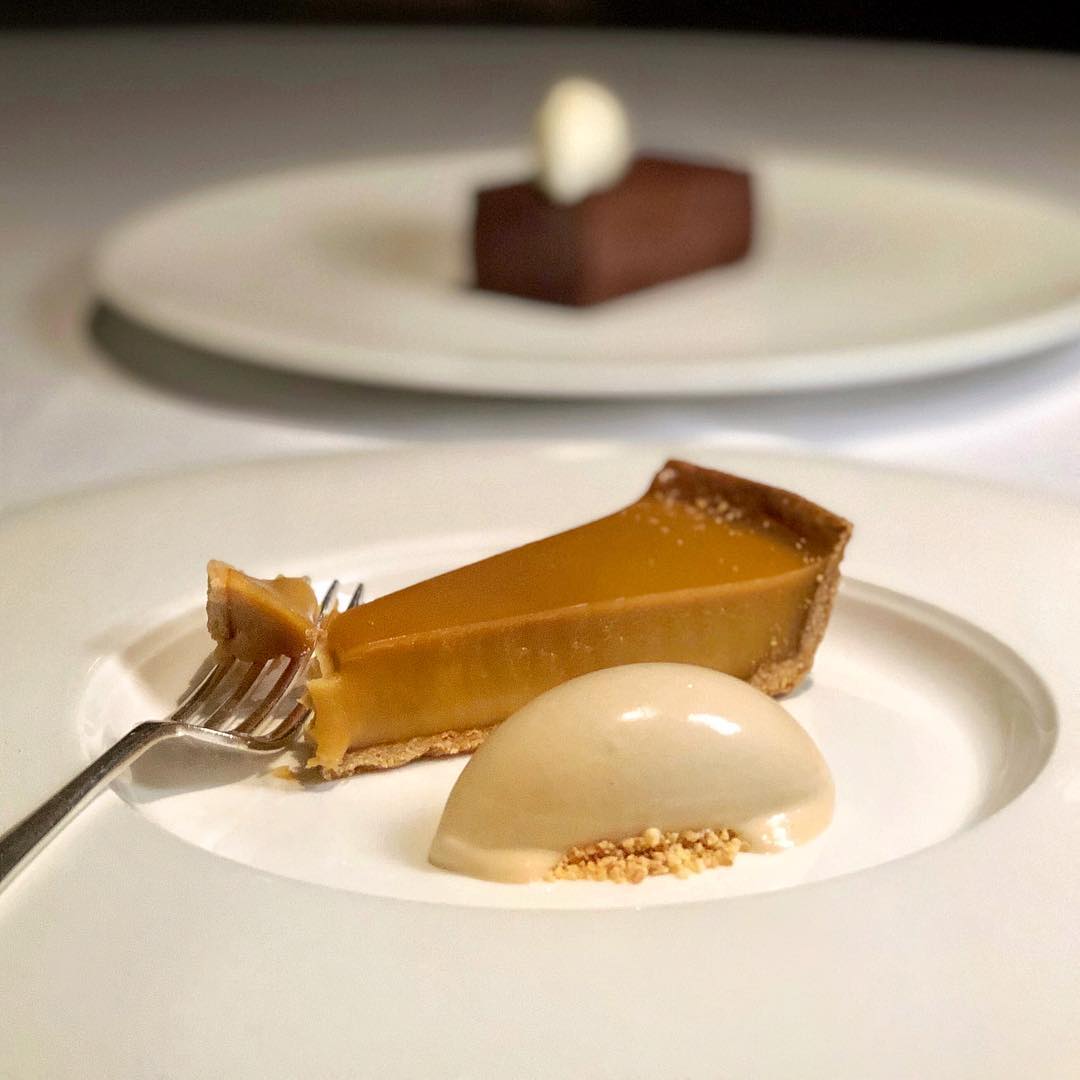 In a year of about 350 meals out… too hard to pick one best dish, even one dessert, even 10 desserts. So I've narrowed it down to London restaurants, and my favourite tarts:
At Roganic, the perfectly caramelised spiral of apple tatin was a thing of great beauty.
Tom Booton at Alyn Williams produced a majestic caramel tart with custard which was ethereally light.
At the Holborn Dining Room, the spiced custard tart was a classic done utterly brilliantly.
The warm molten chocolate tart at Beck at Browns was magnificent – so decadent!
The mirabelle frangipane tart at Oldroyd was all my favourites in perfect harmony.
Henrietta Inman at Yardarm is a baking genius – I loved many of her tarts, perhaps best of all the pear and mincemeat with cobnut frangipane.
Merlin Labron-Johnson's honey custard tart with pumpkin gelato at The Conduit was an utter joy.
And the rhubarb frangipane tart at Salon with its geometric brilliance was another highlight of the year!
Felicity Spector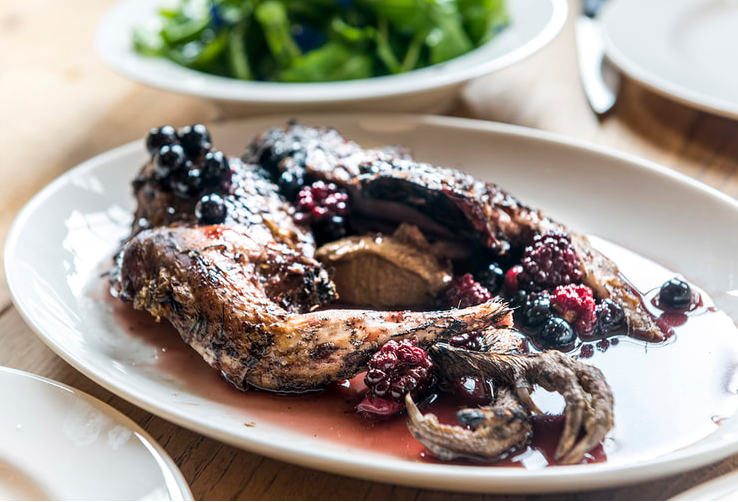 The changing of the seasons brings about of course a change of available ingredients and one of the big compensations for the end of summer is surely the appearance of game on the menu. This year we were lucky enough to be eating at Tomos Parry's new restaurant Brat in August where grouse was on the menu. Parry, formerly of Kitty Fishers, is all about cooking by fire and when deftly executed, as it is here, that adds a depth of flavour that gives many a dish a lift but imbued the grouse with a smoky complexity that took it to a whole new level. Infused with red and black berries, it also further moved the dish away from the traditional presentation of game chips and bread sauce. Clearly, even in season, there's no guarantee to find this on the menu as Parry changes the menu to accommodate the best of available produce on any given day, but the good news is that Parry's menu and execution were consistently both surprising and brilliant. Whatever you order, you can expect Brat to put the biggest a smile on your face that will last long after the meal has finished.
David, Critical Couple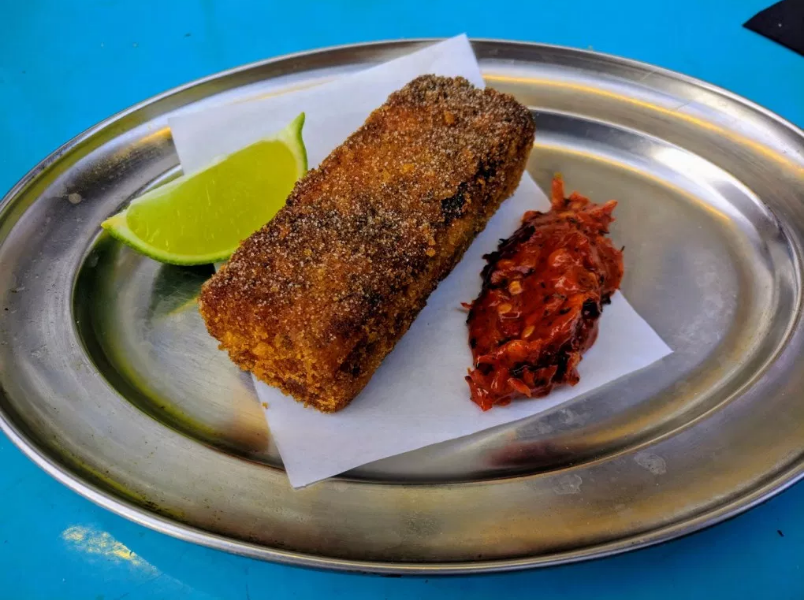 I have for a while lived by the creed: If In Doubt, Deep Fry It. Of course, this applies more to food than to, say, general objects or abstract thought. Like tarmac or existentialism. In any case, I can't confirm it wasn't what was running through the minds of BAM's team when they came up with this dish in all its lucid brilliance. A slab of slowly cooked rabbit, shredded, pressed, breaded and chucked in hot oil. Then plated with a wedge of lime and blitzed peppers. Has all the salt, fat, acid, heat Samin Nosrat would be happy with. And, by the way, the 'fucking' – I would hazard – is not necessarily an invitation. Or maybe, in a purely oral way, it kind of is. Or maybe, given the rate at which rabbits multiply, eating those goddamn 'fucking rabbits' (incidentally, a good thing to order when you're angry) is rightly on the agenda. Whatever, I first ate it back in January, and I still dream about it.
Hugh Thomas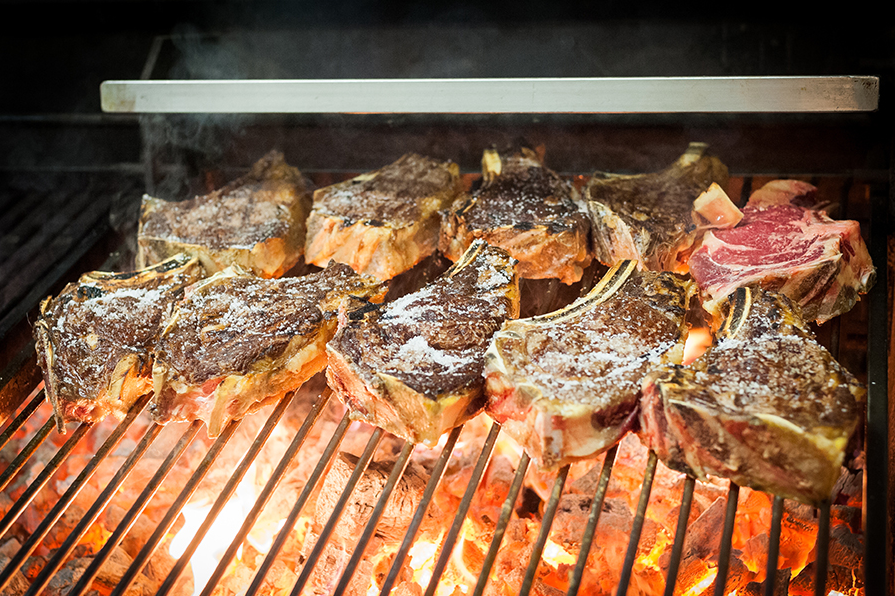 Basque cider houses are cold places I discovered on a November visit to Zapiain, a family-run cider business in Gipuzkoa with a long, proud history. The cold temperature helps slow down the fermentation of the cider, explained Mikkel, a burly bear of a man, who wore his thick coat as he gave us a tour of the cellars filled with barrels and huge vats.
As the cold sunk into my bones, the sight of two hefty, seriously thick steaks resting on a plate near the fireplace was a hopeful one. Sure enough, with characteristic Basque hospitality, we not only got to drink cider straight from the vat – catching it in our glasses as it spurted out – we got to eat as well, standing up at the high tables as is traditional in these cider houses. First, a freshly cooked salt cod tortilla, made to Mikkel's grandmother's famous recipe, then that steak. Carefully cooked on a grill over glowing charcoal by Mikkel's father, it was served rare, a deep, bloody, dark red inside. Speared with forks, washed down with refreshing draughts of cider, it was the ultimate steak. One that will live on in my memory.
Jenny Linford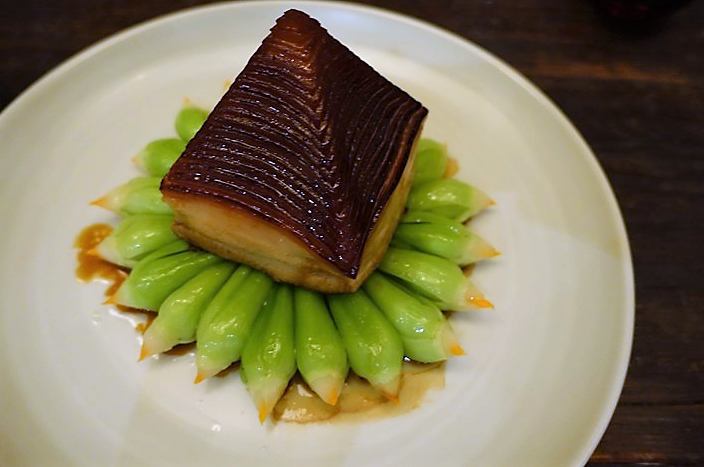 Dongpo pork at 28 Hubin Road, Hangzhou, involves a slab of pork belly that has been through a multi-stage cooking process. It is braised, simmered twice, sautéed and steamed, the slow cooking process reducing much of the fattiness. It should be of a precise consistency that allows slices to be easily separated from the slab by chopsticks. Here it was shaped into a rectangular slab and presented with baby bak choi and chestnut pancakes. Lurking inside the pork slab was a centre of bamboo shoot hearts, only the most tender parts of the shoots being used. The pancakes are designed to be little pouches, into which you place the thin slices of pork and the bamboo shoots before consuming them together. The texture of the pork belly was remarkable, and although it was rich there was none of the overt fattiness that you usually encounter. The cut is crucial to have a uniform fat to meat ratio, otherwise the pyramid shape won't be even since the expansion of the fat is different than the meat when cooked. Considerable knife skills are required to make this dish. The chef targets 20 spirals in the meat (twice that of some alternative recipe versions), meaning his cuts have to be ultra thin. The pork is slowly steamed for three hours to get all the grease dripped out from the belly; this ensures the creamy fat structure remains without the pork seeming oily. The bread is made with chestnut powder and flour, so that any excess grease will soak into the bread. Finally, even the bak choi themselves were exceptional, very tender and an ideal foil to the richness of the pork, along with the very tender bamboo shoot hearts. This was an impressive and gorgeous dish that tasted every bit as good as it looked.
Andy Hayler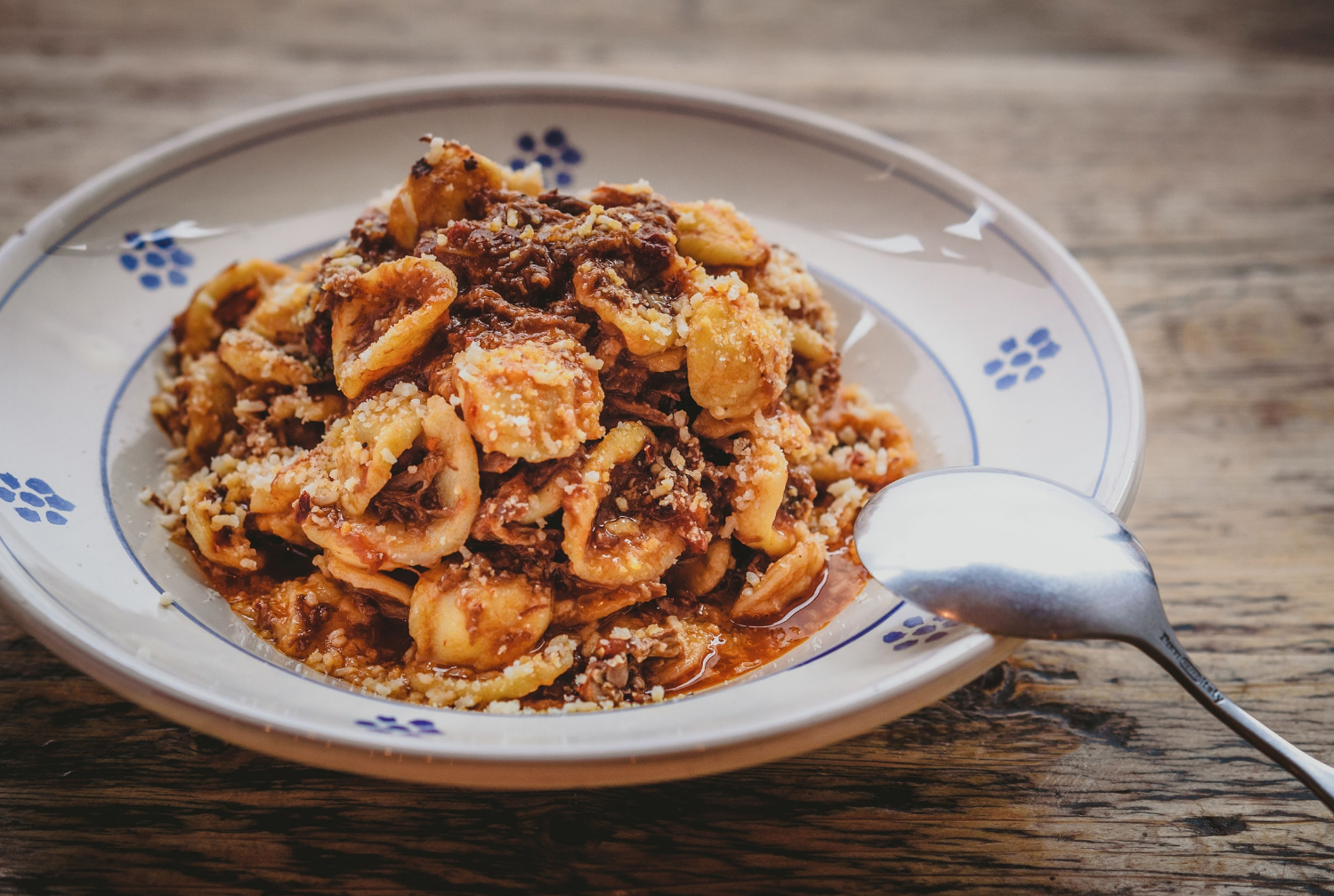 My favourite dish of the year came from a gem of a restaurant in the North of England called Sugo Pasta Kitchen in Altrincham. Sugo are very clever at honing in on the flavours of Southern Italy, creating simple dishes influenced by their heritage. Their menu is short and sweet and changes seasonally, offering starters, pasta, sides and desserts. It's a great example of taking a particular cuisine from a region or area and doing it well. The kitchen uses fresh Pugliese pasta by the Ligorio family in San Vito, Puglia. It's difficult to think of a tatsier dish than their House Sugo, with Orecchiette pasta, slow cooked beef shin, pork shoulder, nduja ragu and Parmesan. In 2019, I think we'll see a stronger focus on regional cuisine and restaurants specialising in shorter, more geographically focused menus."
Ren Behan
Photos taken by the contributor, apart from Crispy Fuckin' Rabbit (Straight Up London), Txuleta steak (Sagardoaren Lurraldea) and Orecchiette (Sugo).
Links: My 2017 Highlights, Holborn Dining Room Review, Calum Franklin Interview, Heinz Beck Interview
PIN FOR LATER