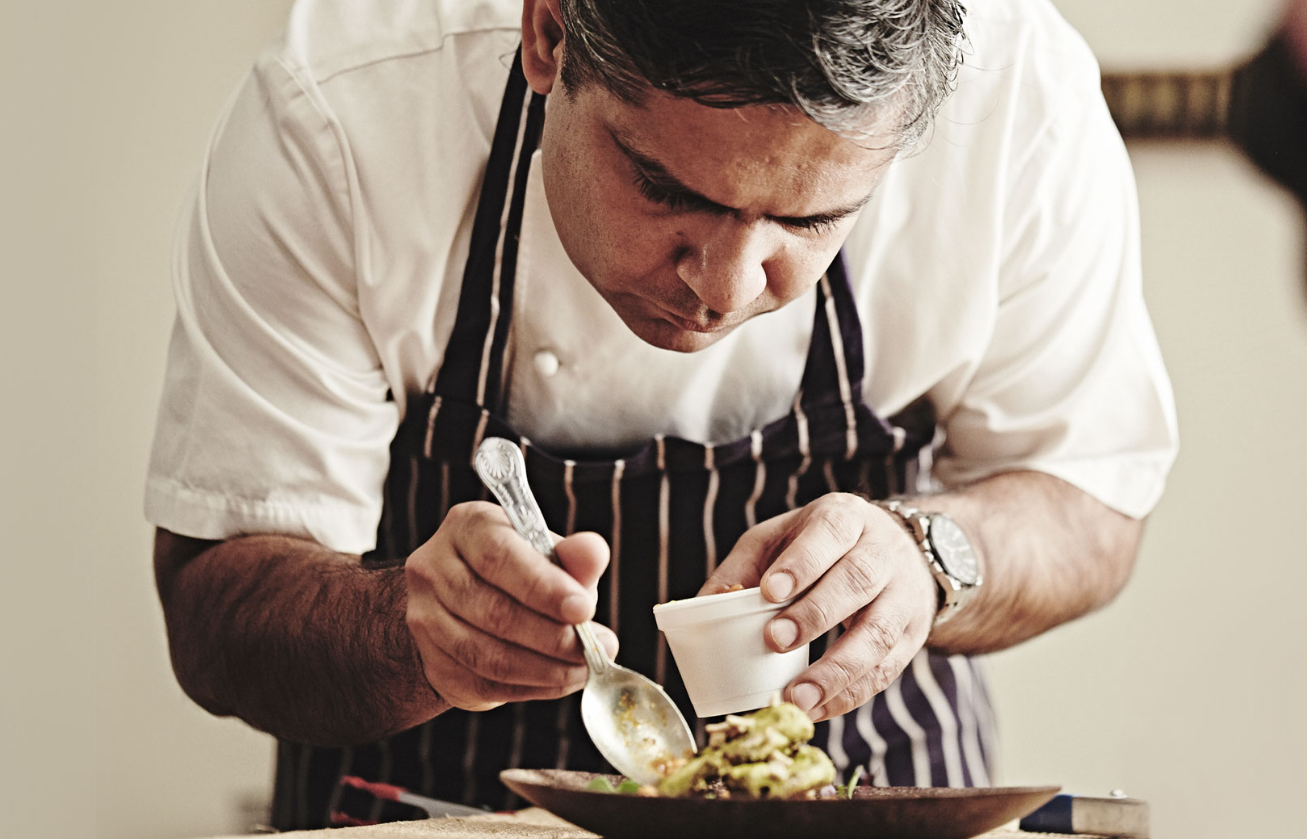 Shunning a career in engineering in his native India, Vivek Singh instead chose the hospitality sector, working in some of the country's finest hotel kitchens, including The Oberoi Rajvilas in Jaipur. After a chance meeting at a wedding reception, he joined forces with PR guru Iqbal Wahaab. Their original idea of cooking Indian food using French techniques came to fruition in March 2001 in London in the form of the seminal Cinnamon Club. This was followed by Cinnamon Kitchen, Cinnamon Soho and, more recently, Cinnamon Bazaar, alongside several cookbooks. Ahead of his latest release, "Vivek Singh's Indian Festival Feasts", which focuses on the dishes prepared for celebratory occasions, I caught up with Vivek for a chat.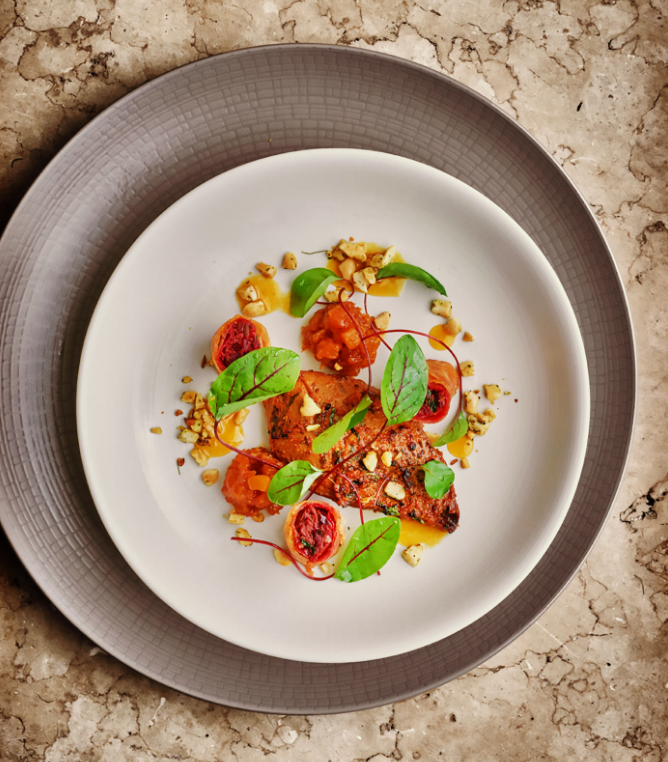 Which one town or city would you encourage first-time travellers to India to visit and why?
It's a tough one!  If one has never been to India, knows very little about it and has a wide range of interests – heritage, culture, shopping and food – I'd recommend Jaipur, simply because it has a sense of liveliness and colour. There are plenty of historical monuments to see, shops and, of course, a good range of food, for vegetarians or otherwise. It's very "sticky": not in terms of the weather, more that it offers so many things that will stick in your memory!
If you could abolish one piece of modern technology, what would it be and why?
I'm a bit of an addict to the modern technology we use in everyday life, so I can't pick anything I use daily, like my phone, tablet and so on. But in terms of cooking, it'd be the foam gun: I just think it's completely pointless! The whole point of cooking is to extract water and maximise flavour, so to take anything out and pump artificial air into it then be unable to taste it doesn't make sense. It's a very popular toy that a lot of young chefs reach out for first and I just absolutely have no time for it.
In an interview with Country and Townhouse, you mention that reading helps you to unwind. What was the last book you read that you loved and what was it about?
The Ibis Trilogy: Sea of Poppies, River of Smoke and Flood of Fire. It's an absolute juggernaut. The entire trilogy only spans a period of 30-40 years, but it covers so much: indentured labour; the migration; and the British using farms in India to grow indigo and opium to supply to China and then take silk and tea from China and bring it back to the UK. They're just such phenomenal books; they put things in perspective.
My reading is really scattered nowadays. I always read about three or four books at any given point in time: I have one book for the morning, another for the evening… If I'm reading four books, two will be fiction, e.g. business management, and the other two non-fiction, such as a cookbook. The biggest compliment for any book – and I buy a lot of books – is that if it makes its way with me to the bathroom, then it's good! There's always a great selection in there. At the moment, I've got The Hare with Amber Eyes [by Edmund de Waal] on Japanese netsuke [miniature sculptures] and Incarnations: India in 50 Lives [by Sunil Khilnani]. It's quite a lot, so I do want to slow down and finish one or two off before I start more.
If you could go back in history, who would you like to meet and why?
I'd like to meet the people who worked in the royal courts of the Nawaabs. In those days, they used to spend the equivalent of £100,000 per month on one kitchen, and they'd have seven of them! I'd like to see what really happened when there was that much excess. In almost 25 years of working as a professional chef in high-end places operating in luxury, I just haven't seen, and can't imagine, anything like it. When it came to serving cold drinks in court, they didn't have any refrigeration, so they'd actually send people to farm ice off the Himalayas then cart it back all that distance for days, with much of it melting en route… It's absolutely unimaginable!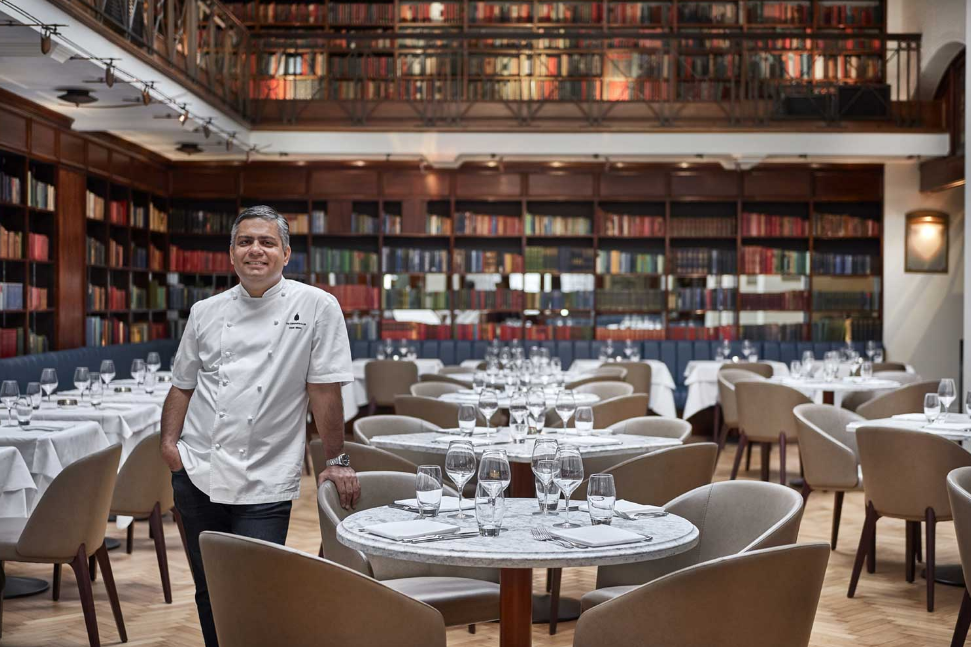 Which failures have taught you the best lessons, either inside or outside the kitchen? 
I've been lucky as there haven't been many failures, but there have been lots of learnings. You can always look back and think you could've done things differently, but as long as you learn from it, that's important. From a kitchen standpoint, I've found that no matter how long you've been working and had people working with you, assume nothing! That's never truer than in the kitchen: you don't assume people have ordered things; that they've arrived; that they're good; that they've been properly prepared. Always check! Then when I give outdoor demos at food festivals, I like to know what kind of kit they have. They don't need to have state-of-the-art ovens and induction hobs, but if they just have one flame and one tap, I need to know that so I can prepare myself.
In terms of business, I've learnt that you can never cut corners on the guest experience. Every time I've done that, it has always come back to bite me in the backside! It's just not worth compromising on.
What is the one thing that people usually ask from you?
People like to know what my favourite dish is, which is quite a hard one! Sometimes – and this does annoy me – complete strangers ask me for a recipe. If you met a solicitor at a casual cocktail party or a bar, you don't ask them for advice, do you?! Why do people treat chefs differently? Usually, if they're guests at the restaurant, they ask for a signed copy of a book or in which book they can find certain recipes, which is perfectly fine!
In which ways are you the same as your childhood self?
I'd like to think I'm completely the same: I'm easy-going; I don't take myself too seriously; I'm quite cheeky. I like to push boundaries and challenge everything that's expected of people. I like to test the waters and see what happens if you do a bit of this and a bit of that. As far back as I can remember, I've always been a good organiser; I'd always find any excuse to get people together for a celebration. At school, when a couple of people had birthdays coming up, I'd suggest doing something in our lunch break to celebrate. I'd then suggest extending the lunch break into our PE class. The teachers would agree and then that became the norm. After that, I just took it for granted and organised one off premises! My entire class left school and went to a local restaurant. But that time, because I'd broken the rules, I got into a lot of trouble! The process was gradual: I was slowly pushing the boundaries and hadn't realised that I'd crossed the line.
If you were invited to speak about a topic totally unrelated to food, what would it be and what about it appeals to you?
I like to think of myself as the eternal outsider in pretty much every aspect of my life. If I've been successful as a chef, it's only because I can look at the profession as an outsider. The same goes for business: I can see things from the customers' perspective. I have a very different view of Indians, India and the hotel scene compared to most.  I started out in an Anglo-Indian school in Kolkata with people from diverse backgrounds and industries and so I've never been stuck in a rut. I live in south-east London, so I perhaps see an aspect of London that many people don't. I think that life is a bit like an onion: it has one layer after another and every time you think you've seen it all, there's another layer under it! I'd love to be able to talk about a different point of view, and there are so many of them: there's no such thing as an absolute truth. I do talk about this within my teams: chefs think people who work in restaurants are idiots (apart from fellow chefs!); front of house think chefs are all hot-headed and have no respect for others; restauranteurs think customers have more money than sense; customers think no-one understands them. Everyone has a view and I've learnt that there's no right or wrong.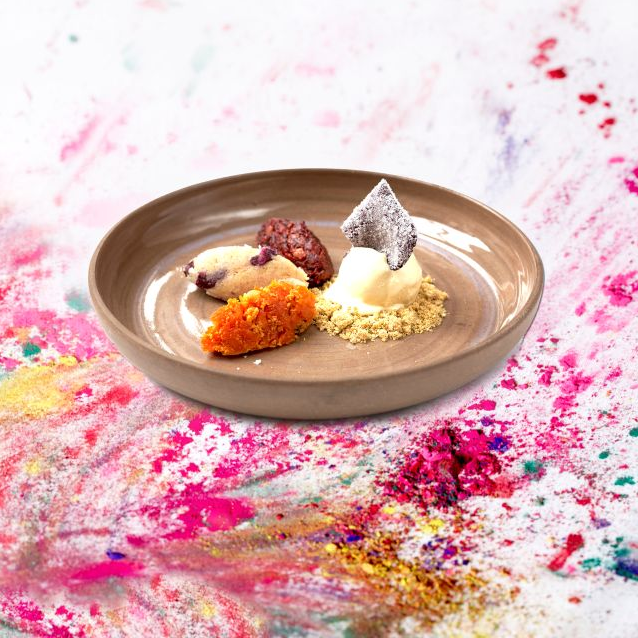 Is there anything that you miss the most about life in India?
I don't miss much about my life in India because London is such a great melting pot, and I have plenty of friends and family here. If I had to say something, maybe memories of how things used to be, but that's time gone by, which no-one can bring back. Other than that, I'm perfectly happy with my life in London. I guess it depends on the circumstances of your move; if they were painful or triggered by an unfortunate incident, such as when thousands of people had to leave Kenya and take refuge in the US and the UK. During the days of indentured labour when people were forced to move to work on sugar cane plantations because they had so much debt, they didn't have a choice and that's a different situation: you're in a foreign land; you can't communicate; you're uneducated. I was very fortunate when I moved here that a) there was already a lot of love, affection, understanding and appreciation for all things Indian, in London at least, and b) I wasn't making that transition under any duress. It was simply an opportunity.
What's your most valuable possession, how did you acquire it and why does it mean so much to you? 
My favourite thing that I own and absolutely love is my brass pestle and mortar at Cinnamon Club. I've had it since day one, so it just reminds of a time when I knew nothing! Every time I take it to a demo, I tell people that this piece of kit is older than my son: I've had it since March 2001 and he was born that October! It's possibly the thing that I cherish and value the most. We still use it at the restaurant, and it shows. We even have it as the logo on my personal website [link below].
Which smell instantly transports you right back to your childhood and which memory is most strongly associated with it?
I think it has to be the smell of panch phoran, the Bengali spice mix – fenugreek, cumin, mustard, brown mustard, nigella and fennel – frying in oil. I grew up in Bengal and my mother hadn't cooked a lot until she was married, so a lot of the dishes she picked up were from our Bengali neighbours! That smell reminds me of tomato chutney, stir-fried potatoes and things we ate every day.
Are there any ingredients that you oppose using and for what reason?
The only thing I've never used, and don't suppose I will resort to using, is foie gras. Yes, it's the epitome of luxury as far as fine dining is concerned, but it's neither particularly Indian nor is it ethical; I find it quite cruel to force feed animals that way. I used to have a similar view on veal because of the conditions to which they were subjected, but I've come full circle because I've since seen much improvement in the way calves are treated until slaughter. I do put veal on the menu sometimes, but I've never done foie gras, and I don't use quail unless it's free range.
As part of your upcoming guest chef series of collaborative dinners at Cinnamon Club, you will be joined by Adam Handling, Mark Hix, Agnar Sverrisson and José Pizarro. What do you admire and respect about these chefs' cuisines and characters?
First things first, they're all incredible chefs who are at the top of their craft and have been doing this out of sheer passion, innovation and creativity for years. All of them are at the forefront of their countries' cuisine and embody their culture in food form. José is such a great mascot for Spanish cuisine: you almost think of him as the face of it. I think Mark is the most quintessential British chef you can come across. In his treatment of British produce, he's years ahead of others, and he's been doing what he does in such an understated way. For me, it's about acknowledging their commitment and passion, and it's a great privilege to be associated with them. It's great for my team as well: when I go to their kitchens, some of my team accompany me so they get see another kitchen and vice versa. For our guests, it's an amazing opportunity to experience one-off dinners which are a bit like jamming sessions! We curate a menu that's a combination of ingredients and influences that we're passionate about.  It's a fun thing for chefs to do, too.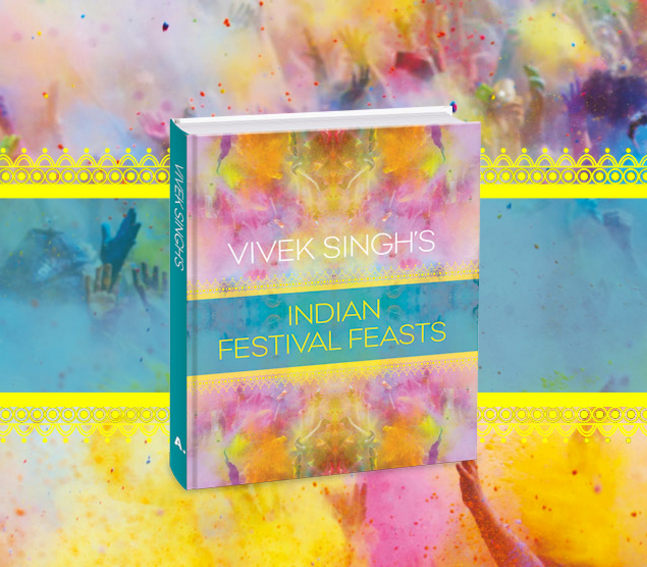 You will be releasing your latest book, "Vivek Singh's Indian Festival Feasts", on 1st June, a gastronomic guide to some of India's most celebrated festivals. What was the inspiration behind this book?
My wife unintentionally inspired the book. When she and I were on our way home after the launch party for Spice at Home, she said, "How many cookbooks have you got left in you?" I said, "What do you mean?!" She said, "Aren't you a bit bored of writing recipe books?" I said, "We've just come from the launch of this one and I'm not even thinking about the next one!" She said, "You should, because you should write about something other than cookbooks." I thought I was finished as far as cookbooks were concerned and then a year later, my publisher approached me and asked what I thought. I didn't think could do another one as they'd become a bit samey and I didn't think I had it in me. But my then-assistant and I would often talk about dishes I'd tried at Bengali weddings or at Holi and I'd put them on the menu. So we thought, "Why not create a book centred around the dishes we eat during festivals?" Every time I think of a celebration, food is just a manifestation of it. No matter whether it's Eid, Ramadan, Easter or Christmas, the expression of that celebration eventually ends up on our dinner table.
You have previously mentioned that Holi is your favourite Indian festival. What do you love so much about this celebration and how do you personally mark the occasion?
The one thing that really makes Holi special for me is that the only rule about Holi is that there are no rules! It doesn't involve fasting, sacrifice, abstinence or following strict rituals: it's the one festival which brings people together in the most democratic, unpretentious way. It's a great leveller: for a traditionally hierarchical society like India, where people have got to behave a certain way, this is the one day when everyone lets their hair down and there are no rules to be respected. It's an amazing time of fun, fanfare, colour, and of course food!
I love it so much that I've brought it to London by organising celebrations and launching new menus across our restaurants. But we also get stuck in and play Holi for two weeks at House of Holi at Cinnamon Kitchen, not just a day! Thousands of people participate and I'm proud of have brought it to this city.
Have you ever tried a dish in another restaurant or at an event that you wish you had created, and if so, what made it memorable?
There are lots of dishes about which I feel that way. There's a risotto-like dish at ROKA with cuttlefish, squid ink and so on, which is served in a pot with a flame underneath and they stir it at the table. It's like seafood khichri [rice and lentils], and it's a dish that I wish I'd created, but didn't sadly! I recently tried Adam Handling's 'Beetroot, Beetroot and More Beetroot': I love the technique and what he does with it. He really pushes the boundaries, taking something familiar and presenting it in an exciting, beautiful and flavourful way.
You actively support various charities, including Action Against Hunger, Find Your Feet, Wooden Spoon and Mosaic. Why is philanthropy so important to you and are there any other organisations with whom you would like to work in the future?
I also work with the Zoological Society of London various conservation projects. I don't believe that it's either possible or right to adopt a view of, "I'll look after myself first, collect enough so that I don't run out, then I'll collect everything for my family and children and then at the end, I'll think about charities and the environment." I don't think it works like that: everything has to happen simultaneously because you might never have enough. You want to be able to further yourself, inspire people and help people less fortunate than yourself, so it has to be a simultaneous process. It's like juggling many balls and wearing many hats, but I've not known life to be any other way.
Apart from your own, which books do you gift most often to people and why?
Buying books for other people is a bit like buying perfume: you only do it if you know people really well! If you get it wrong, you can get into a lot of trouble, like giving someone a self-help book and causing offence. I only do it if I come across something I think someone I know will love, and it has to be agenda-free; I'd never buy multiple copies of a friend's book and just dole them out!
If you enjoyed reading this Vivek Singh interview, you can check out more exclusive Spotlight on Chefs interviews here.
Links: Vivek Singh, Cinnamon Club, Guest Chef Series, Adam Handling Interview, The Frog Review, Vivek Singh's Indian Festival Feasts
PIN FOR LATER