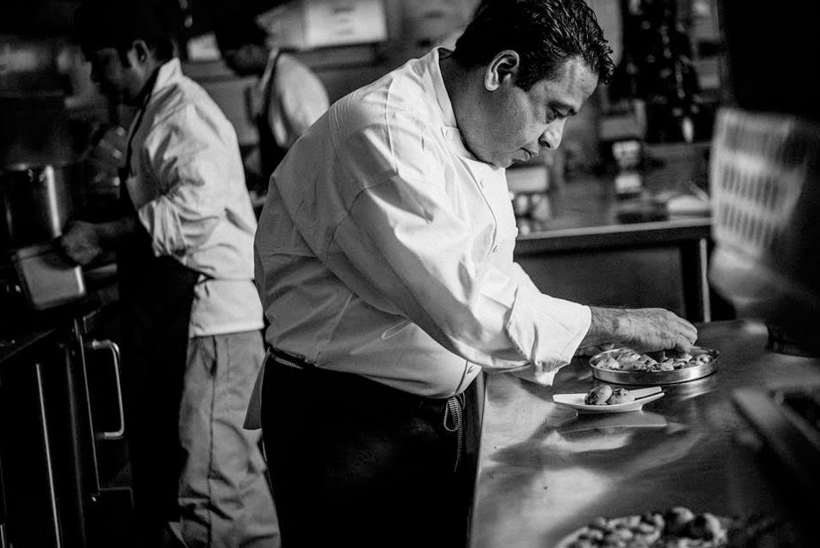 Indian Accent has taken London by storm since it arrived in late 2017. Heading up the team is Chef Manish Mehrotra, whose signature dishes include the infamous blue cheese naan. Born and raised in Bihar, he joined the Taj Group of Hotels as a management trainee, where he made the bold decision to pursue a career as a chef. Roles at Old World Hospitality-owned Oriental Octopus, Habitat World and India Habitat Centre later beckoned. In 2009, Chef Mehrotra opened Indian Accent New Delhi, which is currently the only Indian restaurant in India to appear on the World's 50 Best Restaurants list. On a recent trip to the London branch, I caught up with him to discuss idols, inspiration and innovation.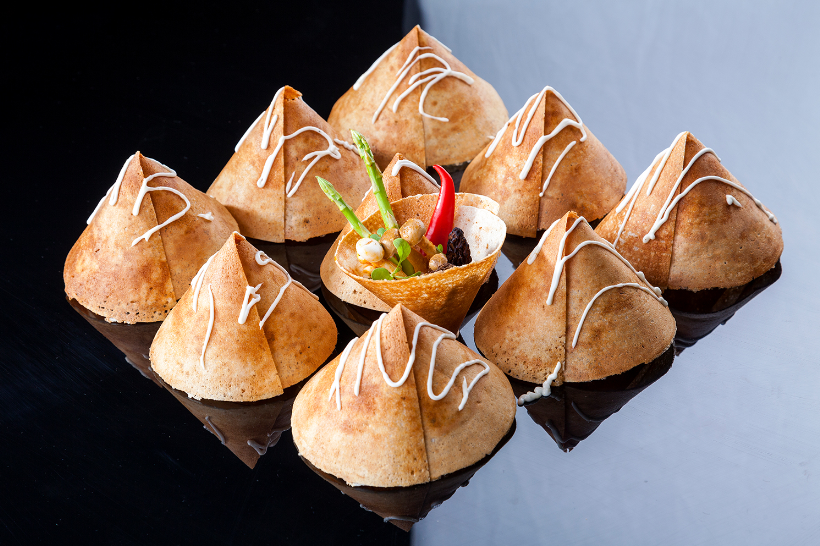 What is the most common question that you are asked about Indian Accent London?
"You really don't have any curry or Chicken Tikka Masala on your menu?" My response is that we have these flavours on our menu, but in different guises. Once they have tried them, they are then convinced. I used to say the same thing nine years ago when we started Indian Accent Delhi when people would ask me to make Butter Chicken; some things don't change.
India is such a vast country with so many cultures, so we have something for every palate. Until now, only Northern Indian cuisine was familiar internationally, but let's not forget the rest of the country. A decade ago, barely anyone knew what dosas were outside of India! But now, people know them in America and the UK, especially with the rise of restaurants like Hoppers. They serve a Sri Lankan version of it, but it's similar to the Indian one.
Speaking of casual restaurants in London, which ones have caught your attention and what do you like about them?
Obviously, there's Hoppers, but also Kricket; it's a good twist on Indian food. The flavours are mostly authentic, and I enjoy their menu. On my next visit, I will make a point to visit two restaurants in particular: Darjeeling Express and Gunpowder.
What I do at Indian Accent may be fine dining, but it's very different from the likes of Gymkhana, Jamavar, Tamarind, etc. We wanted to make traditional dishes from people's homes and the lesser known parts of India in a relatable way. Indians move so fast nowadays that they are forgetting their culinary traditions, like aam papad, candied mango that we ate before Belgian or Swiss chocolates were available.
You have dined in some of the finest UK restaurants when you first moved to London. Which ones stood out to you and what are your fondest memories of them?
The first one I tried in 2006 was The Fat Duck. I was really, really impressed with that concept back then as it was so different; such a memorable experience.
I follow Rick Stein a lot; his dishes use basic ingredients, so his cuisine is very honest. Unfortunately, I have yet to visit his restaurants.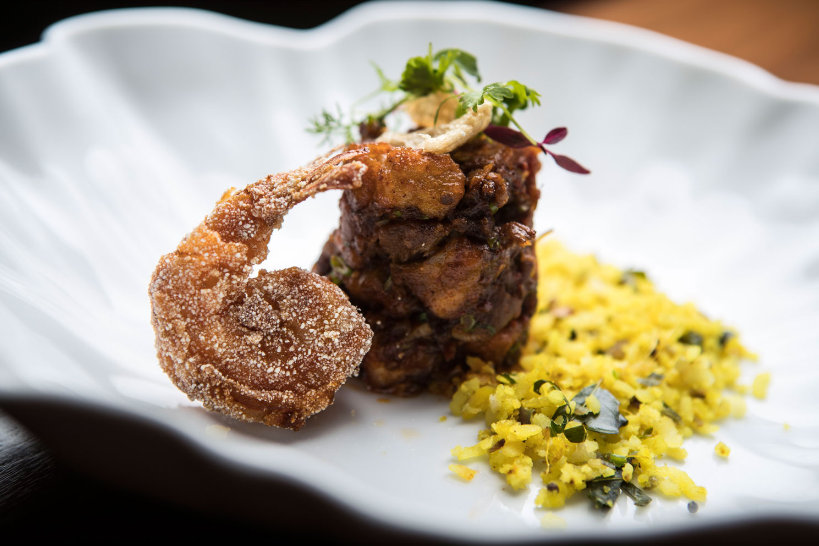 To what extent do you tweak your recipes per location to trigger diner nostalgia?
I don't tweak my recipes that much, but if I do, it's so that people that relate to it. For example, we have a pulled jackfruit phulka because I used to take phulka rolls in my tiffin to school. When you make it like a taco, then people think, "OK, this looks like a taco, but it's different." It's a very traditional dish which I grew up eating at home.
When we opened New York and London, we had pastrami and black pudding kulcha on the respective menus. For Delhi, we had langoustine, which goes so well with a Keralan moilee curry: garlic pepper langoustine with coconut. There are so many cuisines in India that non-Indians can easily enjoy. When we cook at home, you won't see oil floating on top, or have extra chillies and masalas. India is identified as the land of spice, so people tend to overdo it. The stereotype is having a cheap takeaway at the weekend washed down with lots of beer and this is what I want to change.
You are known for your innovative flavour profiles. What is the wildest ingredient or dish you have ever eaten and how did it taste?
There are so many, especially in Asia! I have tried live baby octopus, stinky tofu, Balut in the Philippines [developing baby bird embryo boiled and eaten in its shell], Century Egg in Hong Kong… But then there are things like blue cheese, which is quite alien to Indians. When I tried it for the first time, I wondered how anyone could eat it regularly! But now, blue cheese naan is one of our signature dishes.
Growing up in a pure vegetarian household meant that garlic and onions were not used. As these are often core components of Indian cuisine, how was the food adapted to avoid them?
Garlic and onions are indeed an integral part of Indian cuisine, but there are a few communities which don't use these ingredients. In my household, I learnt that when you combine spices well, you really don't miss garlic and onions. For example, we have millet khichdri on our menu, which is a very Rajasthani recipe. We also have beef laal maas – another famous Rajasthani dish made with lamb, not beef – which people thoroughly enjoy.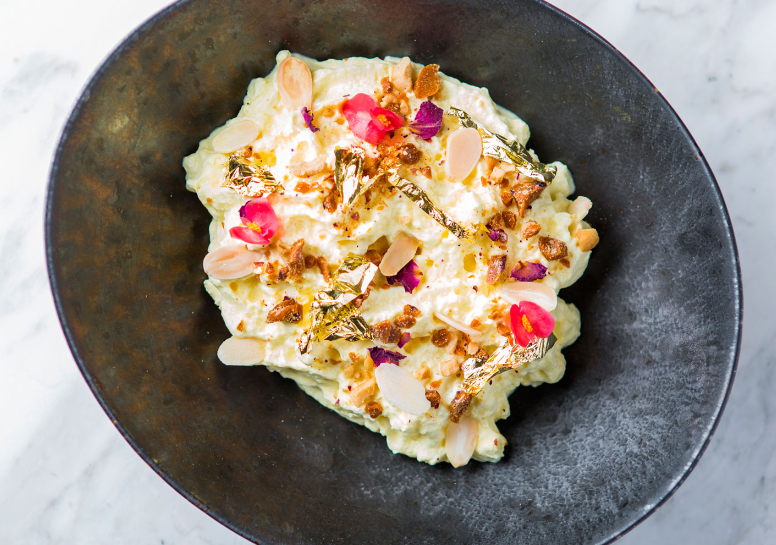 You were considering opening Indian Accent in Dubai, Doha and Mumbai. Why were these plans shelved?
Opening this kind of restaurant is very testing. We train people to cook Indian food our way, so we hired them in London, flew them to India, trained them in Delhi then sent them back. There are also a few chefs who we brought over from India. Training chefs this way makes it tough for me to open more, and I need to oversee the training so that I can run each restaurant consistently.
Before it was banned in 2014, foie gras featured on your menus. What do you love about this controversial ingredient, and have you tried the ethical alternatives?
We used foie gras to enhance the overall dish rather than have it as the protagonist, e.g. in a Kashmiri korma or aloo methi [dry potato and fenugreek curry]. We are trying to procure an ethical version so that we can we put a proper foie gras dish on the menu. Back when it was allowed, we used to have Tandoori Foie Gras: a big chunk of marinated foie gras on a skewer dressed with pomegranate and pineapple. I personally think it's very difficult to differentiate between the two versions, and if we could get a good supply of the ethical one, I would love to use that.
Rick Stein's "honest creativity" is a source of inspiration for you. If you were to collaborate with him, what would be your dream dish or menu?
I would LOVE to do something with seafood! In India, we have so many seafood dishes which are lightly marinated with basic spices to retain the true flavour of the seafood; the spices enhance its flavour instead of overpowering it. On the Delhi menu, we have a Kashmiri-style lobster dish served with haak saag, a special type of greens cooked with mustard oil, asafoetida and a few whole Kashmiri red chillies. It's a watery broth with these flavourful, slightly mustardy leaves and crunchy stems, so you can really taste the flavour of lobster.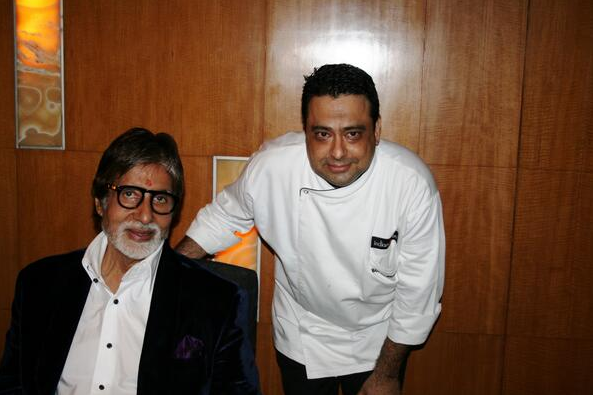 If you could choose a well-known personality with whom to be stuck in a lift for an hour, who would top the list and why?
I'm from Bihar and have grown up watching one person who I really admire: Amitabh Bachan. He is such an icon! I have cooked for and met him several times, but I would still choose him.
You previously said that your kitchen superstition is sitting on tables. Do you have any other superstitions and where do they stem from?
Indians worship their work equipment. We have an auspicious day in October where we clean our tools then say a prayer of thanks. We are taught this sense of respect from childhood, and I used to do the same at my father's petrol station as well.
If you could go back in history, who would you like to meet and why?
There are so many people who have inspired me. For food, I would say the old Nawabs in Lucknow who created Indian cuisine in the absence of equipment, refrigeration and so on. The same goes for everyone in the world at a time when people did not have modern-day techniques and equipment at their fingertips. I would love to meet the people who made dishes without these things.
What item is widely considered a luxury that you cannot live without?
Luxury is also very subjective. In terms of ingredients, there are some which I really love, such as coconut. I love it for its versatility because it can be used in many different ways.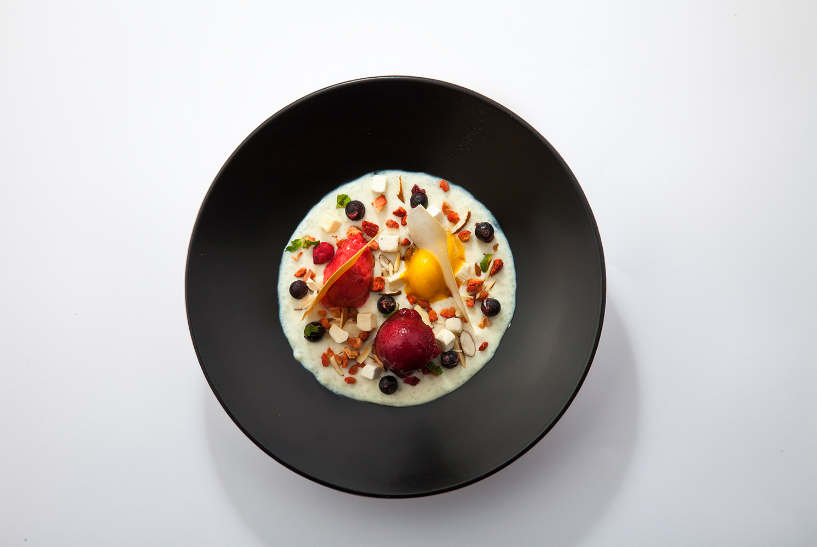 What would the perfect version of you be like?
Whatever I am, I only want to be like that! I don't want to change. If someone asks me, "What is a perfect dish for you?", I tell them that it does not exist. For me, perfection is an apple created by God. Dishes, cuisines and ingredients are so subjective; what one person loves, another will hate. So, it's difficult to say any one thing is perfect. That includes people: nobody in this world is perfect. I'm happy the way I am.
We should always be ready to learn. Not a single chef in the world can say that they have learnt everything; every day is a learning process. Learning can come from anywhere: I have picked up ideas from our maids and cooks at home, for example. You just have to be ready.
Are there any opportunities that you wish you had taken, personally or professionally, and what were the consequences of not having done so?
I think I'm lucky in that I made the right decisions, which is why I'm where I am now. I chose to be a chef and there are certain sacrifices you have to make to be where I am. Sometimes I don't give enough time to my daughter because I'm away for so long while opening restaurants outside India. But that is what is required and I made this choice.
When have you felt your biggest adrenalin rush and why was it so exciting?
Probably opening a restaurant. Everyone always asks me why I work for someone and have yet to open my own place, but I always thought that the moment I have that, especially in India, I'll be the last person thinking about the food. There are so many other things involved when it comes to running a business that the food will take a backseat. If you work for someone, then they take care of the business part and I can concentrate on the food!
If you enjoyed reading this Manish Mehrotra interview, you can check out more exclusive Spotlight on Chefs interviews here.
Links: Indian Accent London Review, Hoppers Review, Darjeeling Express Review, Spotlight on Chefs: Asma Khan
PIN FOR LATER