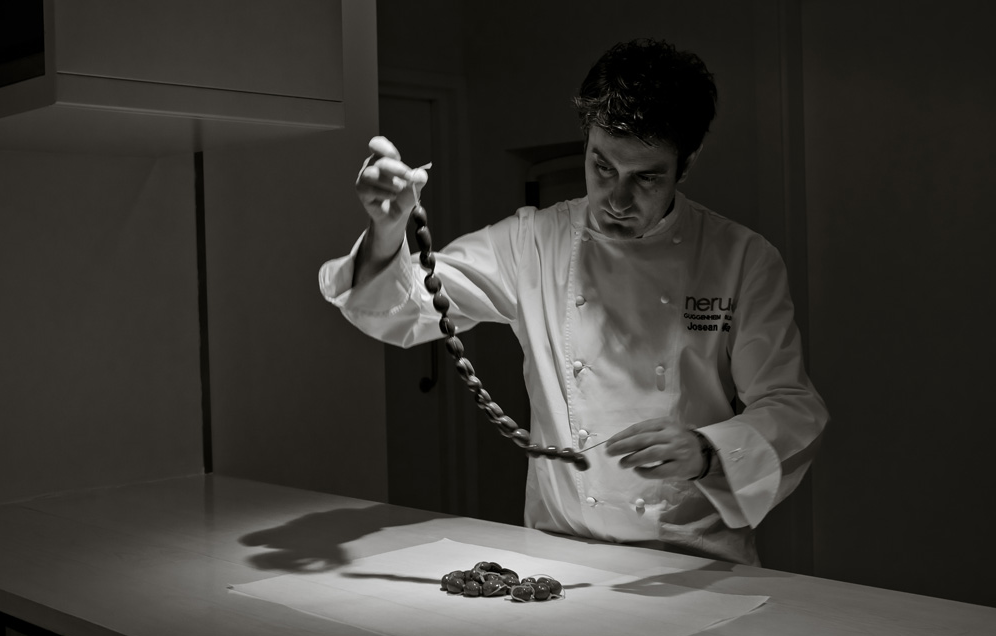 Some people just know what they want to do with their lives and never deter from that vision. Josean Alija is one of them. A Basque Country native, he was seduced by food from a very young age. Even when he lost his sense of taste and smell following a motorbike accident, he refused to let fate choose his future for him. Defying all odds, he entered and won Best Young Chef. Retraining his palate took him down the research route, the ongoing lessons from which shape his menus at his Michelin-starred restaurant Nerua in Bilbao's Guggenheim Museum. In this Spotlight on Chefs interview, we chat about Basque cuisine, Bilbao and books.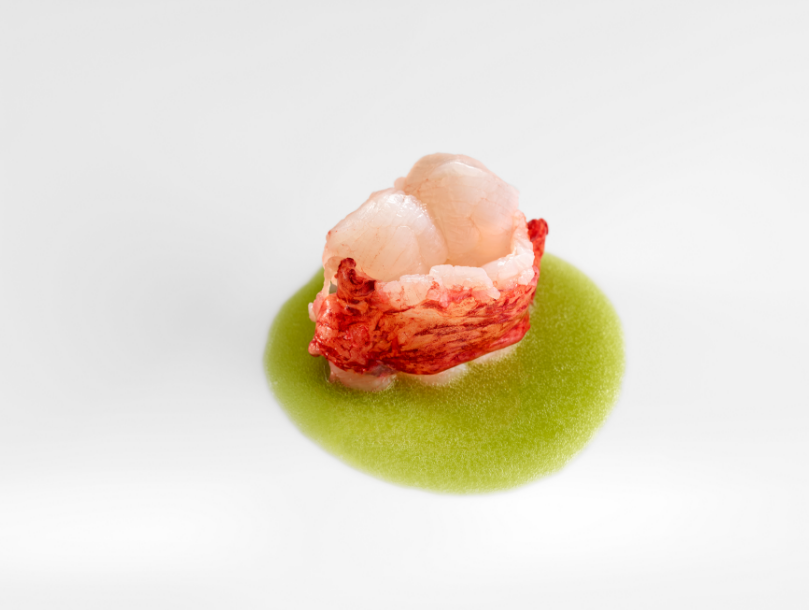 For those who are unfamiliar with Basque cuisine, what are its characteristics and why is it so highly revered in your opinion?
Basque cuisine was born from the environment and is very faithful to local products and seasonality. With such a rich pantry, in which the mountains, the countryside and the sea coexist, you just need good chefs who appreciate this. For decades we have done this work; we have learned from each other to make food which originates from roots and feelings.
In the Basque Country, there are many ways of eating, which exist thanks to the people, who consider gastronomy as a way of life. We can eat pintxos, a fun way to try different snacks in different places and meet different people. We can go to the taverns, where we find traditional kitchens. Then there are the 'asadores': food made using the heat of the grill.
Modern Basque cuisine revolutionised the history of Spanish cuisine. And you can find also the avant-garde cuisine. Each one defends its position to please local customers and more and more people who come from around the world to enjoy our culture, landscape and cuisine. And we cannot forget something that is very much ours, inaccessible to the world, called the 'txokos' [closed gastronomical societies where people experiment with cooking and socialise]. Here, we promote friendship, family and the pleasure of enjoying what unites us: gastronomy.
It is so highly valued because of its quality and honesty.
What has been your least extravagant purchase, but the one that's had the most positive impact on your life?
I remember when I bought a Ferrari for one euro and spent all day playing with it, dreaming as I have never dreamed before.
After working with Ferran Adrià at elBulli, did you ever feel any pressure from the industry or media due to that association, and if so, in what way?
The only pressure I feel daily is the motivation to do things well, to evolve and to defend what I feel. I'm lucky because I enjoy my work so much and am fortunate to have worked with Ferran. He shows you different ways and lets you choose the one which makes you the happiest.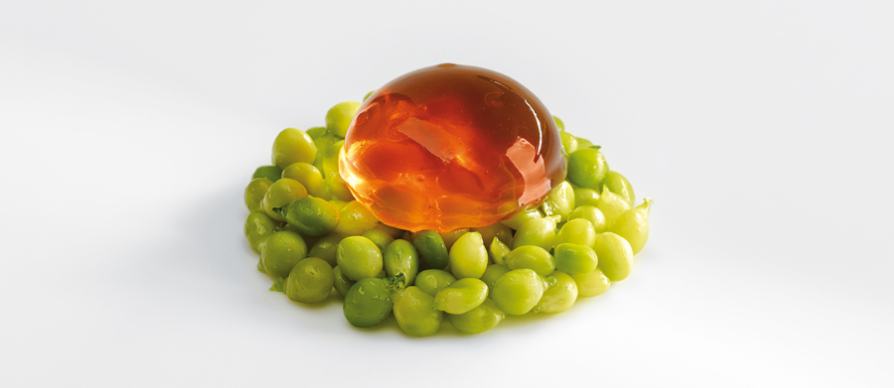 As well as researching local ingredients, you also study cancer prevention nutrition. What motivated you to enter this area of research and what have you learned so far?
This project allowed me to understand a little more about the importance of a good diet to maintain good health, and to work on prevention instead of the cure.
Published in 2013, your book 'Muina' is about the very essence of the ingredients that you use at Nerua. How would you describe your 'muina' as a chef?
Core, heart, essence… Muina has no direct translation in English, but is the term that best describes my way of seeing things, including food. It is the world that best defines me. It refers to the soul, the substance, but also to the brain and knowledge.
Muina is a general concept which encapsulates who I am and what I offer. It enables the creative process to be viewed as a journey to the source of things, to their roots, allowing their true potential to be developed fully through the description of rounded, complete and pleasurable sensations. This is what Muina holds: a very personal representation of the world and the reality that surrounds me. Acceptance, specification and loyalty to a series of values lead me to follow the same path constantly, never straying from it. It is the determination to share knowledge, research, projects, life experiences and emotions.
Muina is the way in which I understand a complete gastronomic experience, the unique result of focusing attention on the purity of things.
Does jealousy have value in driving humans to improve themselves or is it a purely negative emotion?
The only thing that brings envy is unhappiness.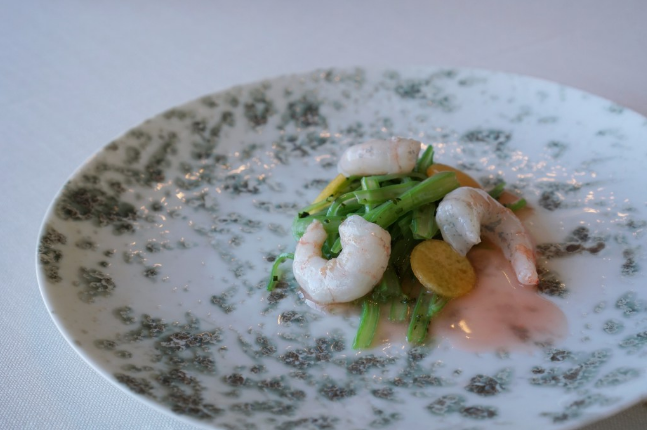 While some restaurants are moving away from offering solely tasting menus, you are doing the opposite. Why have you chosen not to provide diners with à la carte options?
Within a creative cuisine, the value is in offering a complete proposal. It is the best way to live an experience and to break away from tradition, which relates to another time and style of cooking. I have chosen it because with the tasting menu, you can try more things and above all, have more fun. It is about people discovering and dreaming about our products.
Bilbao saw a surge in tourism following the opening of Guggenheim 20 years ago, dubbed 'The Guggenheim Effect'. The world's eyes were on Bilbao again last month when it hosted The World's 50 Best Restaurants awards. What have been the effects of this event, both positive and negative?
This event has only resulted in good things and allowed us to show the world who we are and what we do. But the people who can best answer this are the ones who attended. Thanks to this important celebration, today we have hundreds of new cultural and culinary ambassadors . We are a bit more known. It was an honour to welcome them to my city.
What do you consider a wasted life and what are your reasons for thinking this way?
A wasted life is doing something you do not enjoy and not having fun. Always choose to do things which make you happy!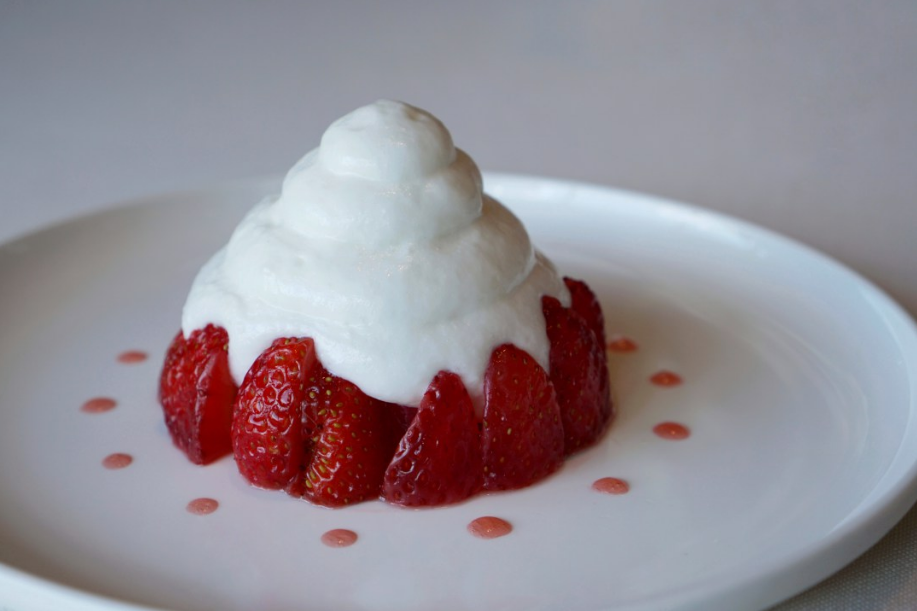 Bilbao is known for its abundance of pintxos bars. Do you have any favourites and what do you love about them?
I love the ones which are true to their principles and have an identity, where you feel that you are in Bilbao; those old taverns with a simple yet high-quality menu, where the owner creates an unforgettable experience. The best part is that you can try different things, including each bar's specials, and meet different people. It is like a big party with food and drink. That is called 'txikiteo', when the 'kuadrila' (group of friends) meet to 'txikitear': have some 'potes' (drinks) and eat something while we chat.
What item which is widely considered a luxury is one that you could not live without and why?
I could not live without good health and friends; it would be so sad.
To celebrate the Guggenheim's 20th anniversary, you collaborated with international chefs to host a series of special dinners. If you were to repeat this with British chefs, who would you like to work with and why?
It is called 'Ongietorri' and involves working with a chef from another country to bring our teams together to learn from one another. It is enriching for both parties and gives the chef a chance to introduce their cuisine to my customers and spend a few fun days learning about the Basque Country and our secret places. There are some very good English chefs and I would choose Heston Blumenthal, Isaac McHale or Mikael Jonsson, because they offer cuisines with a very personal stamp. I think they complement my cuisine and that we could create a unique and enjoyable dinner.
If you enjoyed reading this Josean Alija interview, you can check out more exclusive Spotlight on Chefs interviews here.
Links: Best Pintxos Bars in Bilbao, Top 10 Pintxos Bars in San Sebastian, 3 Things To Do in San Sebastian,
PIN FOR LATER