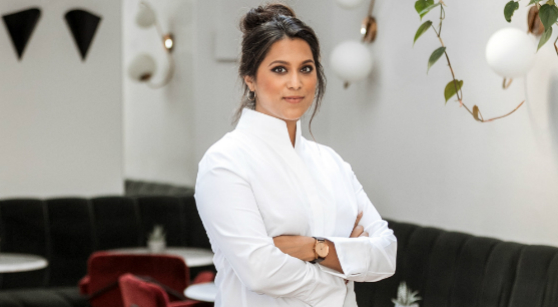 Wolverhampton native Sabrina Gidda started out in fashion before finding her way into the world of food when she became head chef at a gastropub aged 21. After working at The Dorchester, head chef roles at The Sanctuary Spa in Covent Garden and Bernardi's, she was appointed executive chef at the AllBright, an all-women members' club in London in late 2018. Her accolades include being the only woman to have reached the prestigious Roux Scholarship finals twice (in 2014 and 2015) and taking home the Tatler Rising Star awards in 2016. I sat down with Sabrina on the sunny terrace at AllBright Mayfair to talk about Champagne, the importance of sleep, mental health and her fascination with Leonardo da Vinci.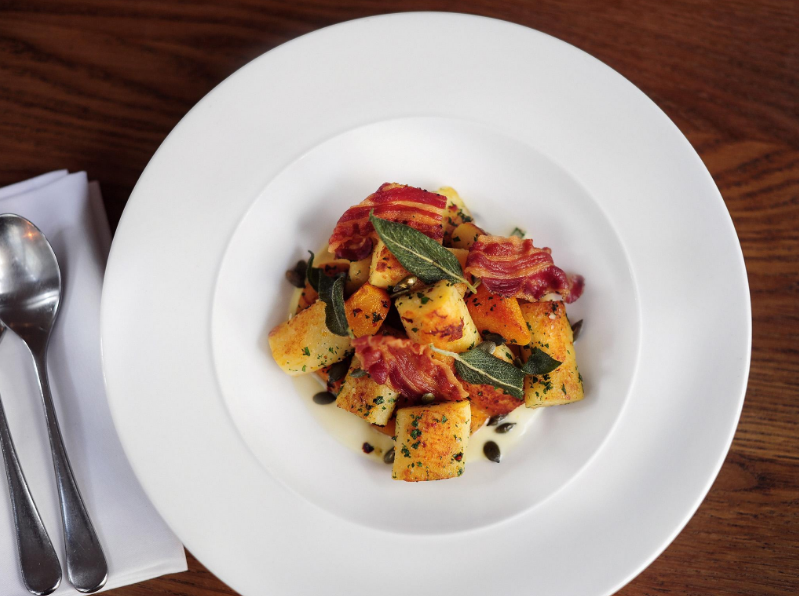 When you swapped a career in fashion for one in food, how did your family react to the news and how do they feel about your choice now?
The agreement was that I'd finish my degree before I went on to do what I really wanted to do and there was never any pushback. I was so sure of my decision that there was no room to question it. They were concerned because the hospitality industry doesn't have a great reputation. My parents were thinking, "You've just graduated and now you want to be a chef?" In a way, they were right to be worried because of the long hours and perceived aggressive environment. Then I was featured in a book, the only woman alongside names like Michel Roux Jr and Gary Rhodes. Albert Roux signed the book, which I gave to my parents and that's when they understood. It was a pretty intense journey to get there, but I wanted it so much that no-one was going to get in my way.
It's nice to celebrate different aspects of my career with them and get them involved, like Great British Menu. I also enjoy the entrepreneurial side of the job, not just sourcing ingredients, cooking them and creating dishes, but the PR, marketing and business development. It makes the role more dynamic and gives my career longevity, allowing me to enjoy it in many different ways.
I really do believe that we're in complete control of our destiny. Traditional roles like doctors, lawyers and accountants are considered "proper jobs", especially coming from Punjabi culture, but being in the culinary arts guarantees you a job anywhere in the world, with a skillset that transcends any language and culture because once you know how to cook, it's a level playing field everywhere. Everyone talks about having your cake and eating it and I think that approach is a struggle.
"Everyone talks about having your cake and eating it and I think that approach is a struggle."
You would like to use your current role to encourage more women to pursue a career in professional kitchens and to champion female-led food businesses and suppliers. How do you plan on achieving this?
I've met so many phenomenal women, like Asma Khan [Darjeeling Express] and Ravinder Bhogal [Jikoni], and I'm always looking for Indian chefs who are doing brilliant things in their field. I want to make sure everyone knows that this is a respectable career choice and one that should be valued. That comes from the individual committing to this path, the people who support them and the industry welcoming and supporting them throughout that journey.
At AllBright, my kitchen team is 50% men and 50% women, which isn't as common as it should be. We support women returning to work; four of my chefs have children (including a father doing part-time childcare), so they work flexible hours which work for them and the business. If you're going to champion women, it can't just be the ones who can work 80 hours a week because they're 22 and out of college. We say, "Every age at every stage" – you can't pick and choose when you want to show that commitment.
As for ingredients, it's not about being 100% female-focused; it's about the majority of the time. We work within certain parameters and then exercise our creativity in that remit. I can also source the best ingredients from established suppliers, but I have the freedom of choice. It makes us work harder and go further to find brilliant things. We still have to be mindful of what's commercially viable: if I need lots of something and a company only produces a small amount, it'll just be something specialist that we'll dip into.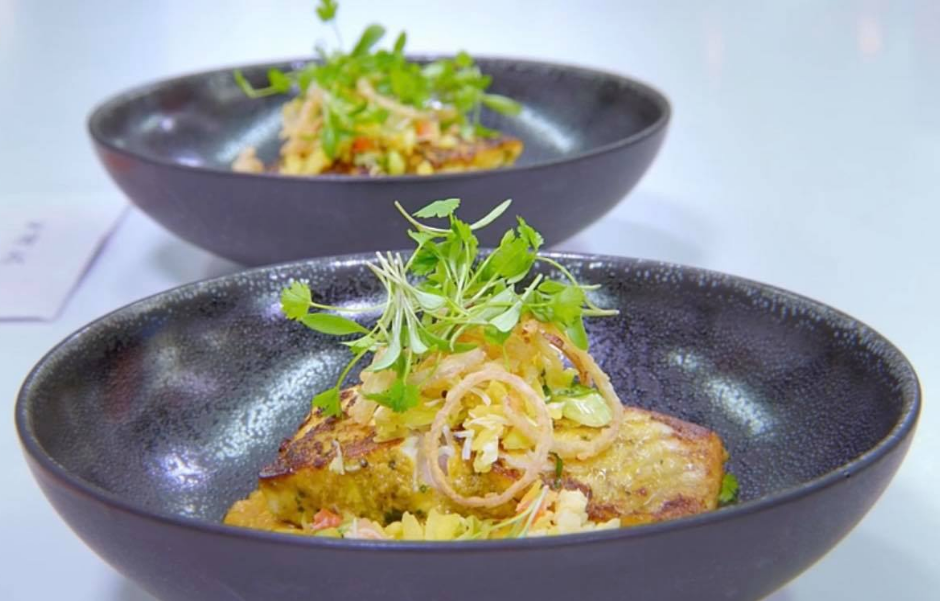 Who at your previous place of work gave you the most energy and why?
It sounds horribly contrived, but I've been so lucky with my teams; incredible people who have been so supportive. I'm 32, but when I started out, I was a 21-year-old chef running a gastropub in south west London. Lots of people were like, "What do you know? Guess you do know something because that wouldn't have happened if you didn't." There have been brilliant people along that journey who encouraged me whenever I questioned what I was doing. They reminded me if why I put in the graft until then, because you do get tired.
It's not about just needing a holiday: I needed reminding of what my bigger picture was. Sometimes when you've got your head down working, you forget to look up and appreciate everything that's happened. It has been a whirlwind and part of me regrets that I never stopped to enjoy the moment, like when I was collecting the award for Tatler's Rising Star at The Savoy. I never thought that I'd win it in a million years and should've taken a minute longer there and then to be proud of that moment.
According to an interview with The Caterer, Champagne is your favourite drink. Which brands do you prefer and why?
If you've had a good day, you should celebrate, but if you've had a bad, you can commiserate. And if it's just a day that's in the middle, then why not?! Every day is a good day for Champagne; that's my motto. There are lots of brands that I enjoy – I guess It depends on the wine list!
I also love English sparkling wine. Not too far from where my parents live, there's a vineyard called Halfpenny Green. We went together and it was weird to see grapes growing in the middle of Shropshire! They make sparkling, red, white and rose and I thought it was crazy because we were so close to home and not in the South of France.
"Lots of people talk about being kind to yourself and that's the hardest thing. "
What surprised you the most about opening a restaurant, both good and bad, and why?
That's a great question. I think it was just how hard I could work; I didn't think I was capable of working hours like that. It's bizarre because you stop thinking about your physical self: it's all about what you're there to deliver. I was also surprised by how much I loved the challenge. When I left contract catering, I got to the point where I thought, "If I'm going to cook food, I want to share it with my friends and family and that can't happen in this environment."
That's why I moved into commercial restaurants, which is where I came from in the pub days. It was a big leap and I was so nervous. When I think about it now, the untrained Punjabi girl from Wolverhampton who did a fashion degree then decided she wanted to cook and is now opening an Italian restaurant in Marylebone, you just think, "Really?" Even saying it, it feels like reading an unbelievable headline. But it shows what commitment to what you want looks like and proved to me that it was absolutely what I wanted to do.
Opening Bernardi's was extremely challenging and rewarding, and something I'm still very proud of. Whenever I go past now, I think it was nice to have made it happen, but it's the nerves of Fay Maschler coming in and opening yourself up to being critiqued. We had people questioning what this Indian girl knew about Italian food, but nobody ever professed to be cooking traditional food. I just wanted to find the best Italian suppliers and cook my way. It was funny because we had a Punjabi running the kitchen, a Brazilian head chef, a Turkish sous chef; it was a real cultural motley crew mash up of people! It didn't matter where you were from: if you loved pasta, cooking and what we were doing, then you were welcome to our team.
If you were given a one-minute ad slot during a worldwide sporting event that you couldn't sell, what would you fill it with?
We'd have to make it something charitable; that'd be fun. You get one minute to see how many people could donate to Action Against Hunger – how cool would that be? Wonder how many people we could get to donate £1 or $1 to charity?
Speaking of sports, there's a lot of discussion about what it takes to be successful, who's successful and whether those traits are in everyone. I find it fascinating to know how people get to where they are. I went to the gym for the first time in a couple of weeks yesterday. I really didn't want to go, I wanted to buy a bottle of wine and make a yummy dinner and relax, but I still went and thought, "Do they have days like that when they just don't want to train?" If they're a 100m hurdles champion, they don't really have a choice. It's absolute commitment and dedication.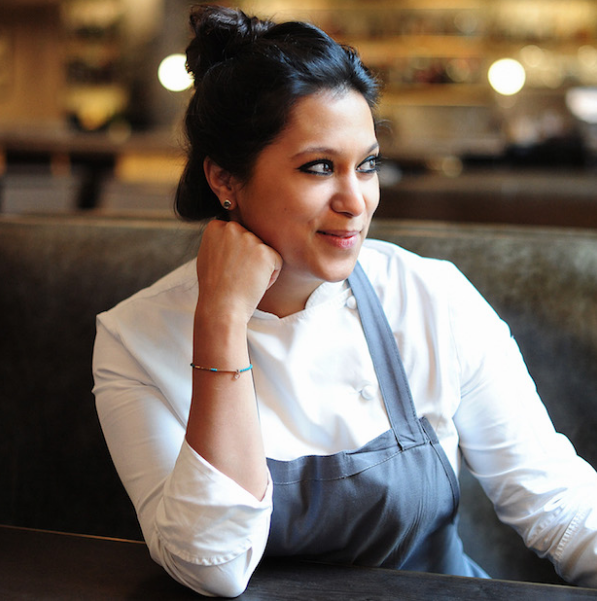 Cultural appropriation in food is being discussed more frequently, most recently in relation to Gordon Ramsay's new Asian restaurant. As a person of Indian origin, what's your view on this?
It's about respect. Someone has an idea, we prep the ingredients with love, we cook them with love, we serve them with love, so there's respect and joy running all the way through. I think the joy of cooking is knowledge and learning, so the least we could all do is ask questions, learn and do justice to people's culinary heritage.
It worries me about how fast these conversations escalate on social media. People think it's OK to say what they say and do what they do online as if there are no ramifications. It's important for everyone to have a voice, but I think we need to be mindful of how we choose to express ourselves.
If you could go back in history, who would you like to meet and why?
My grandfather passed away during my A Levels, so he never saw me become a chef. I really wish that he'd been here to see it because I just know that he would've loved it and thought that it was wicked! If anyone had said, "What's she doing?", I know he would've said, "Just keep quiet and watch this." It would've been amazing for him to see what the last few years have been about.
He was the first Indian man to own a pub in the UK and he was just amazing. He had a great sense of humour and was always so sweet. Every year, my grandparents would spend summer with us as India was too hot, so my brother and I would have the best time ever. I just remember watching Wimbledon with him or being in the garden; just amazing, joyous memories. My grandmother doesn't eat meat, so I'd always make sandwiches for her. He'd say they were the best because I always seasoned the vegetables properly then go, "Put some ham in your grandma's one!"
There are also people like Nelson Mandela because of his drive to do things for others, and Leonardo da Vinci to find out more about how his brain worked. Maybe Escoffier as well: he set the foundation. To understand the master sauces from the master himself would be a dream come true.
That's a pretty eclectic dinner party…
"Every day is a good day for Champagne; that's my motto."
What does success look like for you?
Making more time to do the things that I would really love to do.
The last ten years of my career have gone by so quickly that it's a little disconcerting. We're halfway through the year now and the months are flying by. Success for me is having the ability to be in control of what my career looks like, how I choose to engage in projects, only doing what I feel passionate about and doing it as best I can. At this exact point, success looks like a two-week holiday in Mexico with an endless supply of margaritas!
It's important to call time, and lots of chefs are discussing mental health in our industry. It's great to be the one who can just keep going, but it's not sustainable and it's not good for you. There's a book called 'Why We Sleep' which explains what happens to you if you don't get eight hours' sleep a night and it's an eye-opener. You realise how important it is to look after yourself, eat well, rest, not drink way too much wine…! As an industry, we need to do more as well. We watch people come in every single day and need to tell them to take time off because we want them to stay and be happy.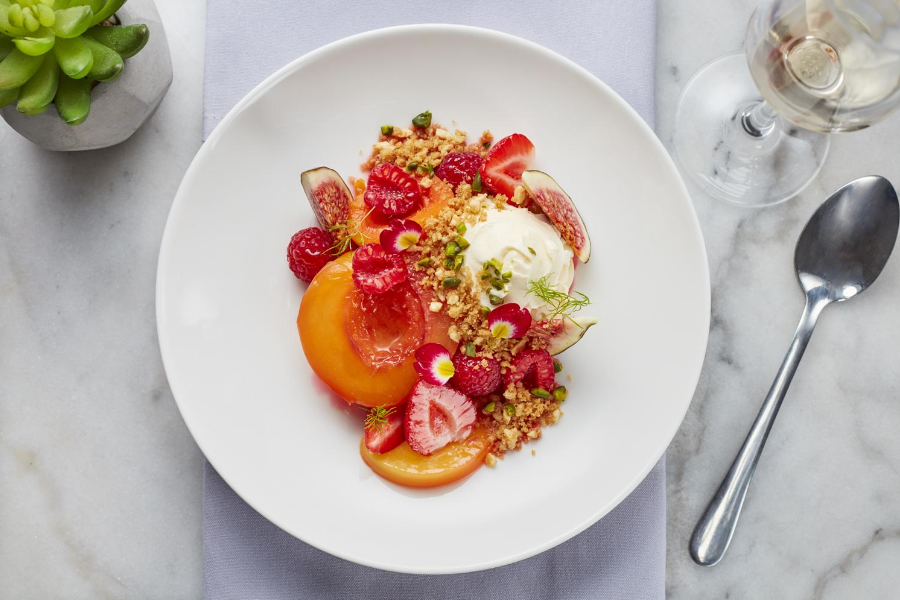 Have you ever tried a dish in another restaurant or at an event that you wish you'd created, either in London or elsewhere, and if so, what made it memorable?
There's one mackerel dish that Ollie Dabbous did at HIDE when we went for the opening, which was served in a bowl, they poured dry ice on it and it was all a bit magical. I ate it with my other half and we both just stopped for a minute and looked at each other after taking our first bite: it was so perfect in terms of acidity, texture and everything.
There was also a guinea fowl dish at The Waterside Inn larded with black truffle and I remember eating it thinking, "This is so extra!" It was so extravagant, but so bloody delicious! I could barely contain myself.
I also adore the lamb Kothu roti at Hoppers. I love how the food is so perfectly addictively spicy; it just makes me happy when I eat it.
One more: I went to Midsummer House recently and they had a quail dish on. It was just stunning: a beautiful piece of quail breast, it had these thin scales made from grapes, then a brioche crostini with a liver parfait. It was outstanding.
What have been the best and worst phases of your life and which lessons have you learned from them, if any?
Everyone talks about having your cake and eating it and I think that approach is a struggle. I'm getting to a point where things are where I want them to be, but there's always one thing that's not quite in line. The worst phase was a couple of years ago when I was completely burnt out and I realised that you can't go at 100mph for nine years and expect everything to be OK. I was doing different projects and you carry the burden of delivering day in, day out. You take everything so personally: you want it to be right because you've put so much effort in and people have invested.
It really took its toll physically and mentally; my body was just giving up. I couldn't get out of bed, I didn't want to cook, I stopped being able to create things and I'd had enough. Well, it wasn't that I'd had enough; I just needed a break to reset and reassess how I wanted to work moving forward. It made me realise that work is who I am and what I am, but there are also other parts of life which need to be nurtured, too. The worst part was feeling like I didn't want to do what I loved anymore.
I've been very lucky to be gifted a voice with AllBright and people are happy to listen to it, so I want to use it in the correct way. Lots of people talk about being kind to yourself and that's the hardest thing. When you have three weeks off work, you can sleep at least eight hours a day and use that time to take care of yourself. There's always something you could or should be doing, but you have to proactively choose not to do it today and focus on relaxation instead. If I fancy walking around Borough Market eating and drinking and then spend five hours cooking a nice meal, then that's what I'm going to do. Nurture what you're feeling and make it happen.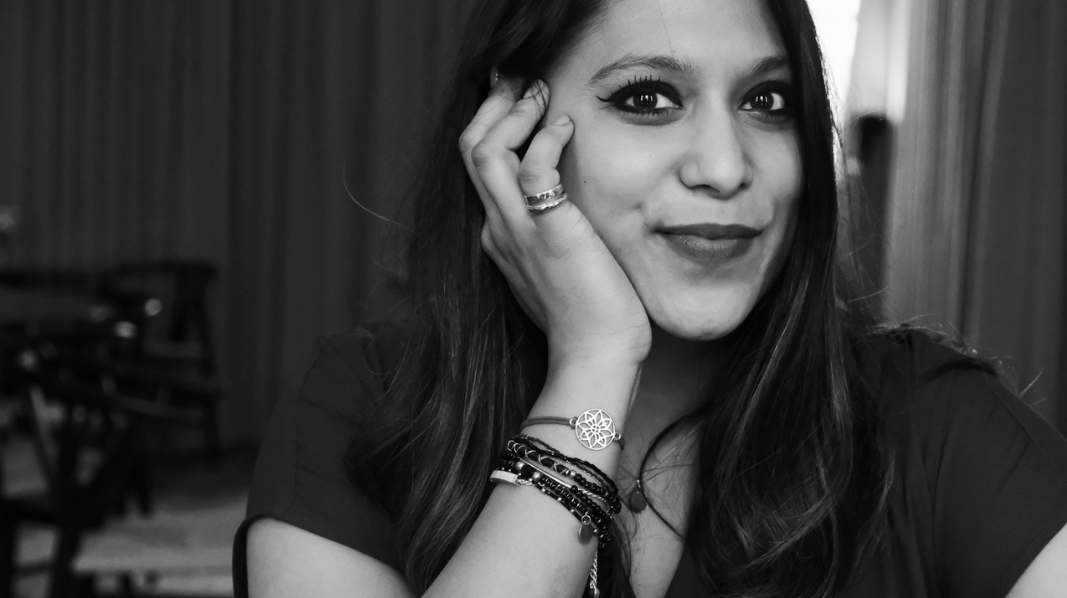 As a food writer, I'm often asked to name my favourite restaurant(s). Which questions are you asked the most and how do you feel about that?
Often it ends up being, "What's it like to be a woman in a kitchen?" or "What are your priorities surrounding your work and personal life?" I also get, "Where should I go for dinner?" I love that people come to me for advice and then I recommend restaurants that they ordinarily wouldn't visit. There are so many amazing independent restaurants, but people tend to go for the big names. The food at Picture is phenomenal; I tell people to go because they might not have read about it and everyone who has been agrees with me. It's important to keep people engaged in smaller business operations, not just the big hitters. Forget about the Instagrammable dishes: go to these places, enjoy the food, tell them you loved it and then go there again and keep going. It's that simple.
I also get asked about the Roux Scholarship every year – not this year because Olivia [Burt] from Claridge's made it to the final. I hope she'll enter again and win it next year. It was an incredible journey and there are people who thought that I should've done it a third time. Every time I do these things, and the same for Great British Menu, I'm also running these big operations, so I don't have time!
I just went for it the first time I entered Roux and wanted to try it and see, who knows? I absolutely adore classical French food – three days to make a sauce – which is probably because I didn't work with it for years and so haven't got sick of it; I have a real love and admiration for it. I remember when they called my name at the regionals and I burst into tears; I had no idea how I'd done it! I felt the pressure the second time because I did so well before and it almost tipped the balance of my focus. Then I realised that I was living my dream. If I'd won, I would've chosen to work at The French Laundry. Now it might be somewhere in Japan because their approach to food is mind-blowing.
AllBright Mayfair opened this year and the LA branch will be opening later. If you had to pick another destination, where would it be and what about it appeals to you?
New York is on the cards, which would be wonderful. I'd love to see AllBright expanding into Asia because the club celebrates women in business and supporting one another, a concept which would resonate throughout that region. Specifically, I'd love to see what we can achieve in India. What excites me is how we'll have to adapt and evolve to settle in different cultural environments. In London, we champion a diverse, dynamic team that's led by women, but in other cultures, it'll have to be led solely by women due to various cultural norms. I love the idea of the clubs branching out and being there for women who really need their own spaces.
Links: AllBright, Darjeeling Express Review, Asma Khan Interview, Dabbous Review, The Waterside Inn Review, Hoppers Review, Midsummer House Review
PIN FOR LATER