It's time to turn the 'Tell Me in 200' torch on myself and recap my 2018 highlights in 200 words. That's 200 words per dish/meal, otherwise it'd be a pretty short post. While a lot of it was consumed in London, there are some shout-outs to restaurants on the other side of the M25 and ones for which I boarded a plane. I don't enjoy flying at the best of times, but if there's a memorable meal lined up, I'm willing to put up with some temporary pain. In alphabetical order, with all links at the end: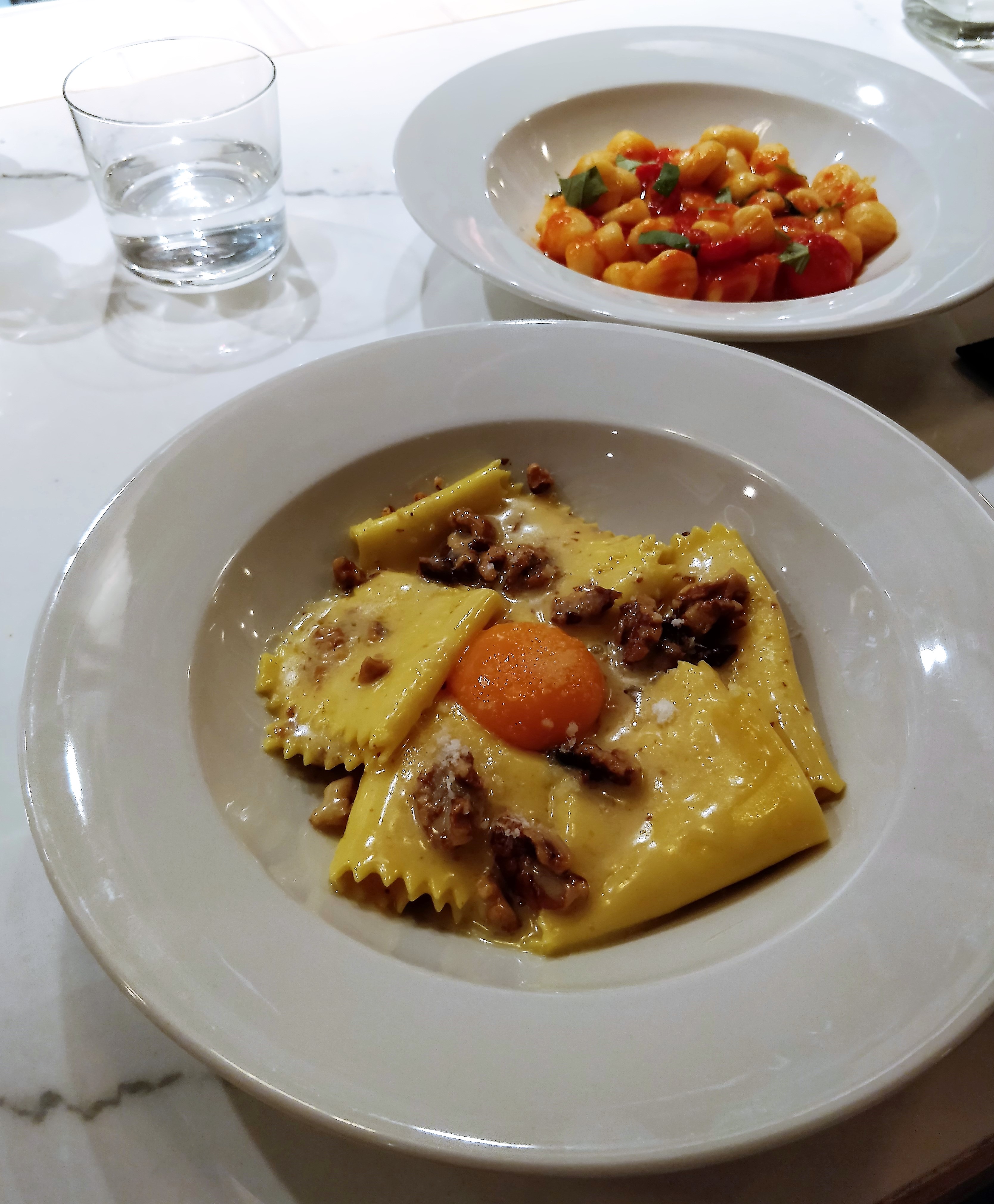 BANCONE
Padella has reigned supreme on the casual fresh pasta scene since 2016. It hasn't lost its touch over time, but now has some serious competition in Covent Garden newbie Bancone. You'd think a short menu would make it easier to order; not true when every dish speaks to you. Going in a large group would solve this problem. As it was, I went with lifestyle and travel blogger Lucie Loves and neither of us can put away that much pasta in one sitting. So, we got strict and picked silk handkerchiefs with walnut butter and confit egg yolk (dreamy), beef shin 'ossobuco' ravioli with saffron butter (decadent) and potato gnocchi with cherry tomatoes and basil. I want to use more than one word to summarise that last dish because the moment the gnocchi melted on my tongue, I was transported back to eating it in a small Venetian trattoria. It made me appreciate how simplicity is also a form of culinary art, albeit far removed from the starry kind.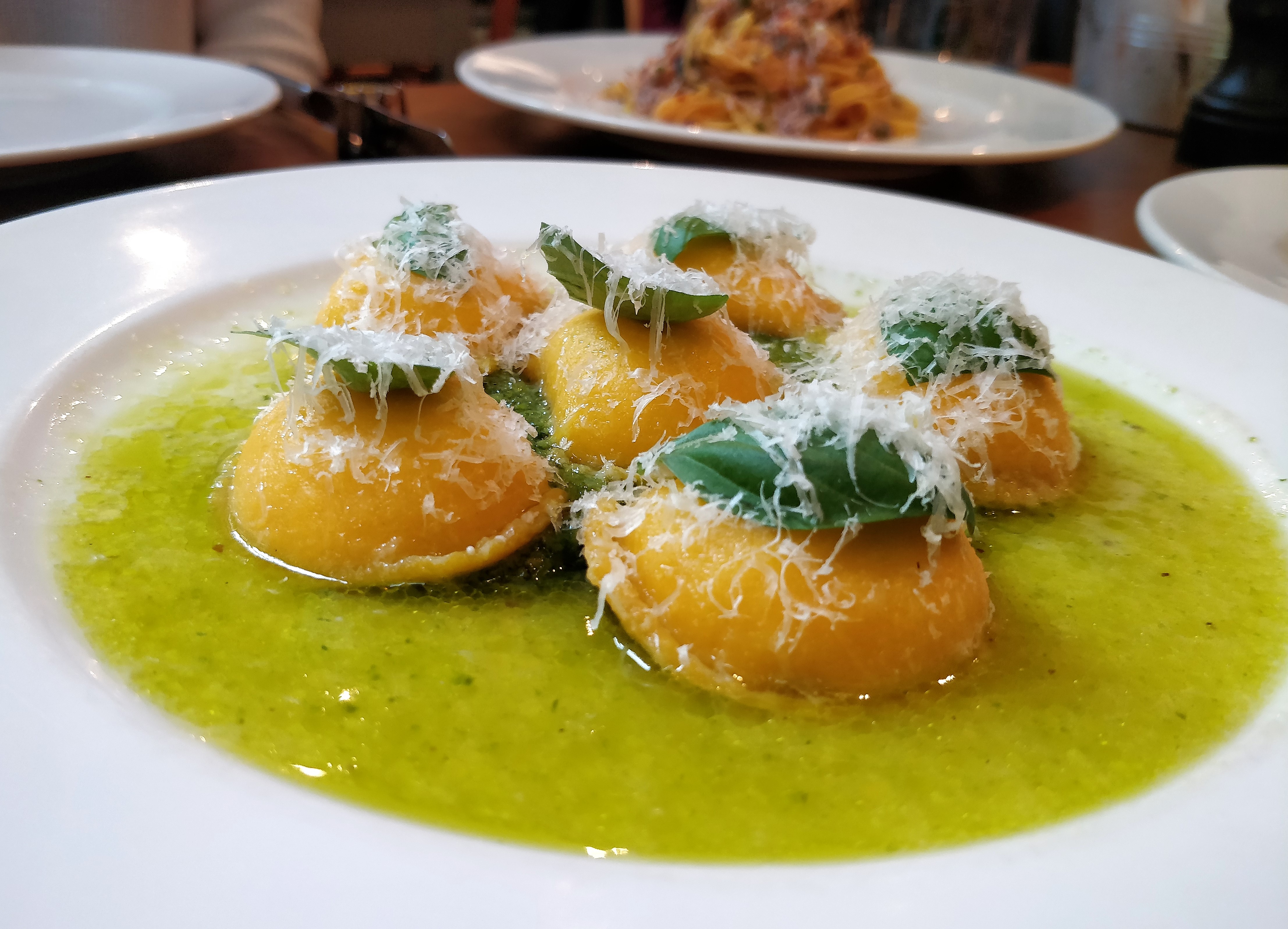 BRAWN
Some evenings are simply magical. Dinner at Brawn in Hackney with a couple of old colleagues was one such experience where everything came together so perfectly that it could've been scripted. We caught up as the sun went down, the low light casting seductive shadows around the sparsely decorated restaurant. The ambiance was so intimate that we felt as though we were dining at a friend's place. We had no regrets about favouring fish and veg, with the aubergine, feta, pine nuts and oregano being a firm favourite for its depth of flavour (and I'm not generally crazy about aubergines). Top marks, however, went to the ricotta ravioli and pistachio pesto. Fresh al dente pasta with a creamy filling drizzled in a bottle-green sauce, plated up on a glistening, golden pool of melted butter – what more could you want?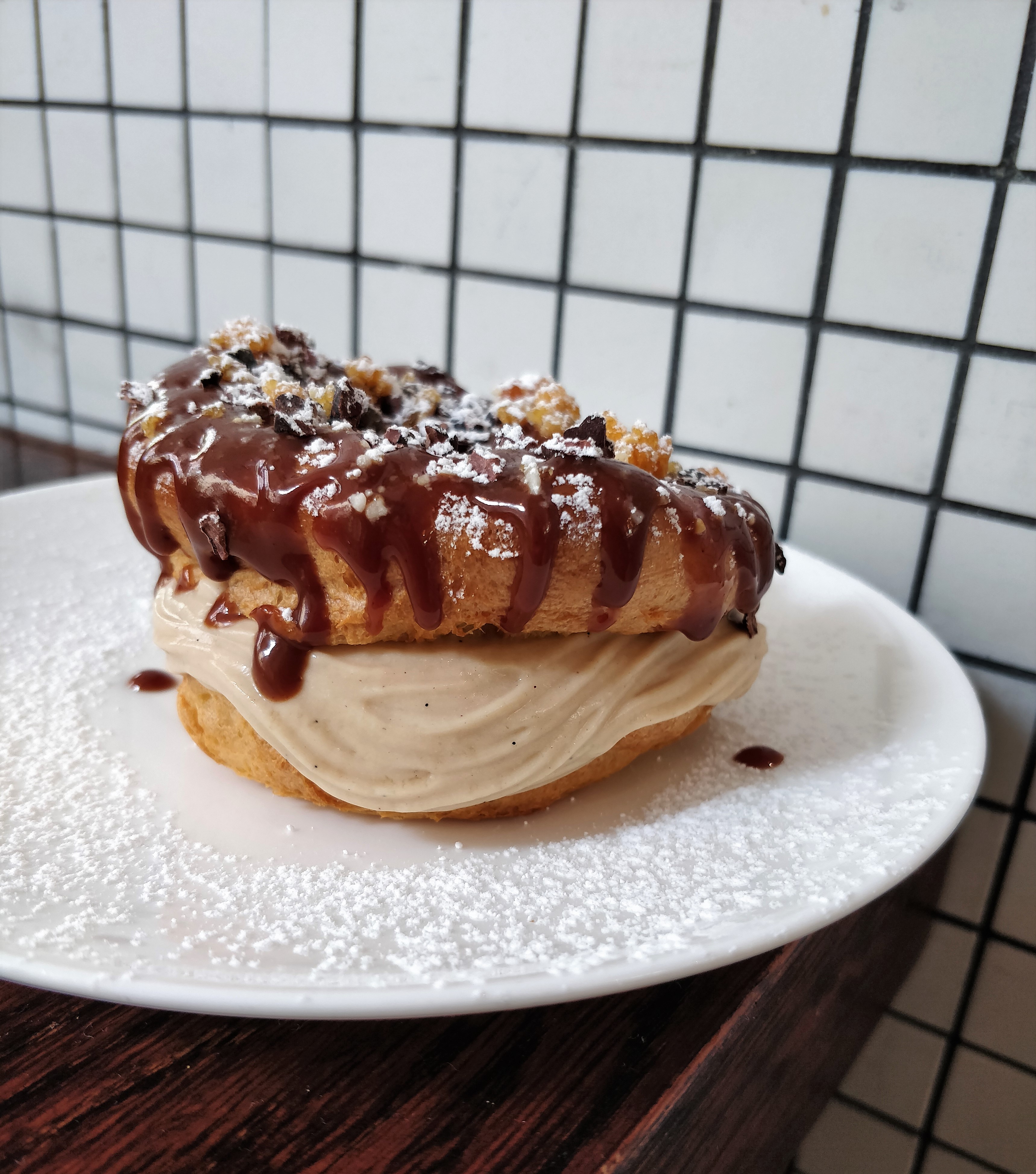 CLIPSTONE
If you follow me on Instagram, you know how I feel about choux pastry. For those who don't, 1) it's not too late to start (@SavlaFaire), and 2) I generally avoid it; soft pastry with a soft filling and a soft topping does absolutely nothing for me. And yet a Paris-Brest appears on my list of top 2018 eats – why? Because Clipstone added an element of crunch on top, combining contrasting textures to make it less like flavoured mush, albeit wonderful ones, and more like a classy French dessert. It was a seminal moment. It's highly likely that you'll experience a similar sensation when you visit as every dish on their frequently updated menu is special for different reasons. Chef Merlin Labron-Johnson has left the Portland team since my last visit, but you're in good hands with the new head chef, Zach Elliot-Crenn.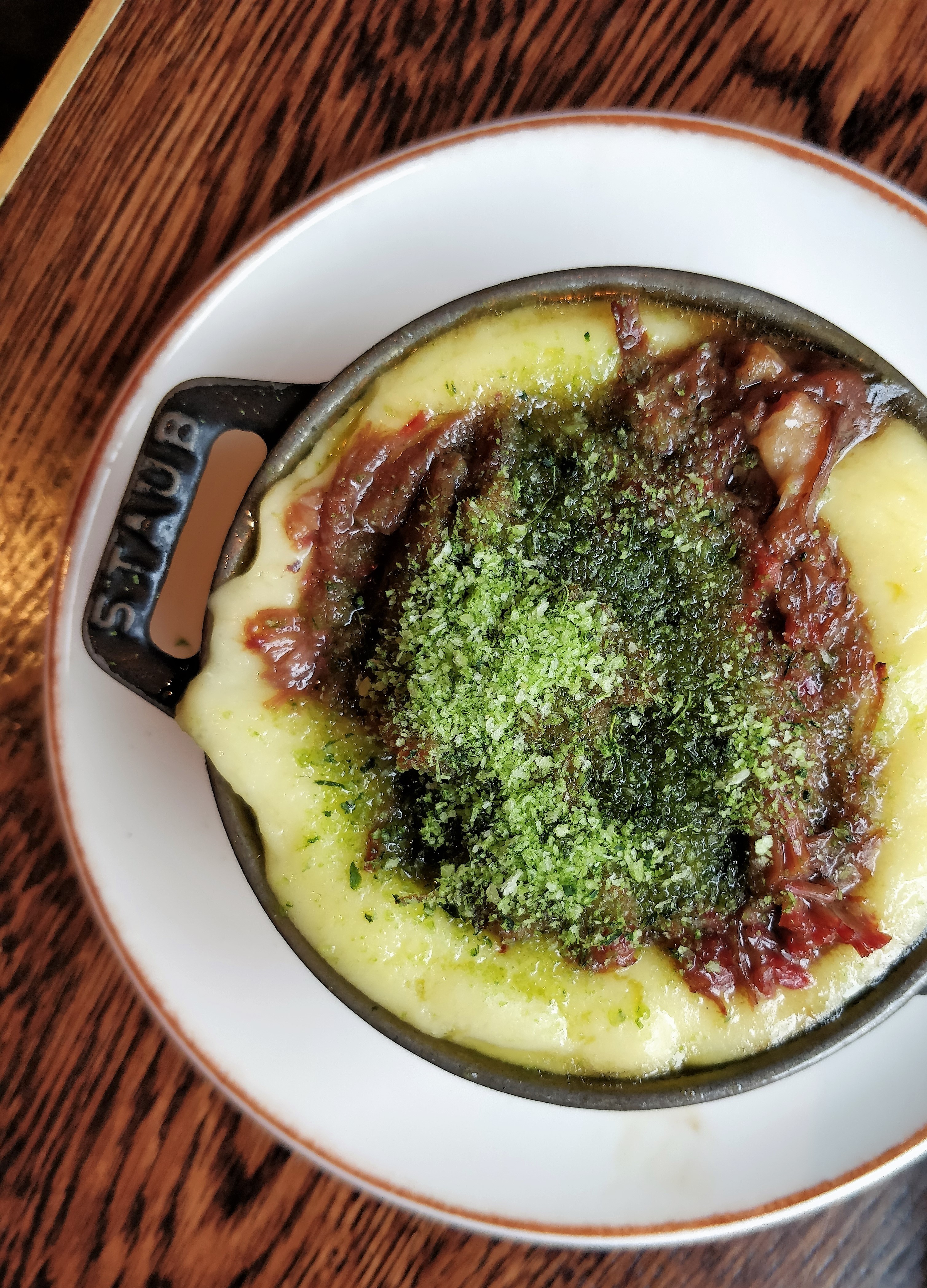 COAL SHED
The first thought that usually comes to mind when you mention a British beach is fish and chips. While we did polish off a platter for two in a chippy during our weekend in Brighton (Bardsley's), it was another dish altogether which floored us. The bone marrow mash at Coal Shed, a restaurant known for its grills and roasts, is a little pot of meaty, carby paradise for carnivores. Imagine the smoothest, creamiest mashed potato underneath a layer of melted cheese, crowned with a generous handful of pulled beef in a rich bone marrow gravy. Based on previous experience, I thought we'd be served a simple mash with some gravy swirled through it and what we eventually slid our spoons into delivered infinitely more. We loved the laid-back atmosphere and bistro-style interior so much that we booked a Sunday roast at their beachfront sister restaurant, Salt Room, the following day.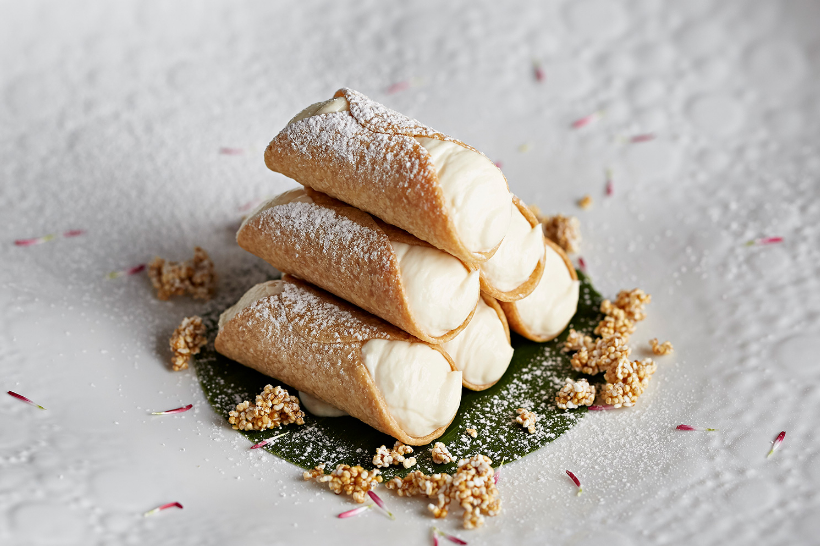 INDIAN ACCENT
As I mentioned in episode 10 of the Cheftimony podcast (#SorryNotSorry for the cheeky plug), I grew up eating some of the best North Indian food around thanks to my mum and grandma. As such, eating out tends to disappoint, not to mention often cause an upset stomach due to heavy spice levels. There were no such issues with lunch at Indian Accent, which opened its first European outpost in London in 2018. I've written about my meal at length in my review, so to recap, what surprised me the most was how Chef Manish Mehrotra has gone back to the drawing board and created some truly innovative dishes. "Indian cuisine with a twist" is a standard tagline these days, but at Indian Accent, you won't recognise the food that you've been enjoying for years. A great example is the Mishti Doi Cannoli, which is the mouth-watering marriage of two cherished and compatible Indian and Italian desserts.
LA COLOMBE
The plan was to visit Table Mountain first thing, freshen up then head to La Colombe, one of South Africa's top fine dining establishments, for lunch. Unfortunately, the plan went wrong when we decided to walk down instead of taking the cable car. Contrary to staff advice, the descent took over two hours, not one, meaning that we were on the verge of losing our table. As soon as we could, we called the restaurant, who kindly pushed our reservation back. We were flustered (and most likely malodourous) on arrival, but there's nothing like a gourmand tasting menu overlooking a wine estate to reinvigorate a person. There were many highlights from the 10-course menu, with the biggest surprise being the sweetbreads (pancreas gland in this case). Previous encounters haven't wowed me, so I was stunned to find myself devouring the tender, creamy morsels, dredging them through coriander foam, chipotle and buttermilk en route to my mouth. The accompanying curls of beef sirloin were good, but the sweetbreads were in a league of their own.
LA PACHAMAMA ORGANIC
It's Veganuary at the time of writing, which has never appealed to me. I've always been a meat-eater, and although there's increasingly less of it on my plate nowadays, I prefer to adopt the flexitarian approach instead of going cold turkey. Which is why I was taken aback by how much I enjoyed La Pachamama Organic's brunch spreads during the inaugural Pocket Rocket Retreat in Tarifa, Spain. The daily post-workout feasts were aesthetically pleasing, incredibly filling and surprisingly tasty. Apart from the tofu omelette, which missed the mark for me due to the dense, spongy texture and faux bacon bits, I hadn't expected the food to be so vibrant, both on the plate and palate. The vegan banoffee pie, with its base of crushed oats and seeds, soaked dates and peanut butter filling, whipped coconut cream, fresh banana and grated dark chocolate, deserves a special mention. With desserts as delicious as this, I could be persuaded to cross over.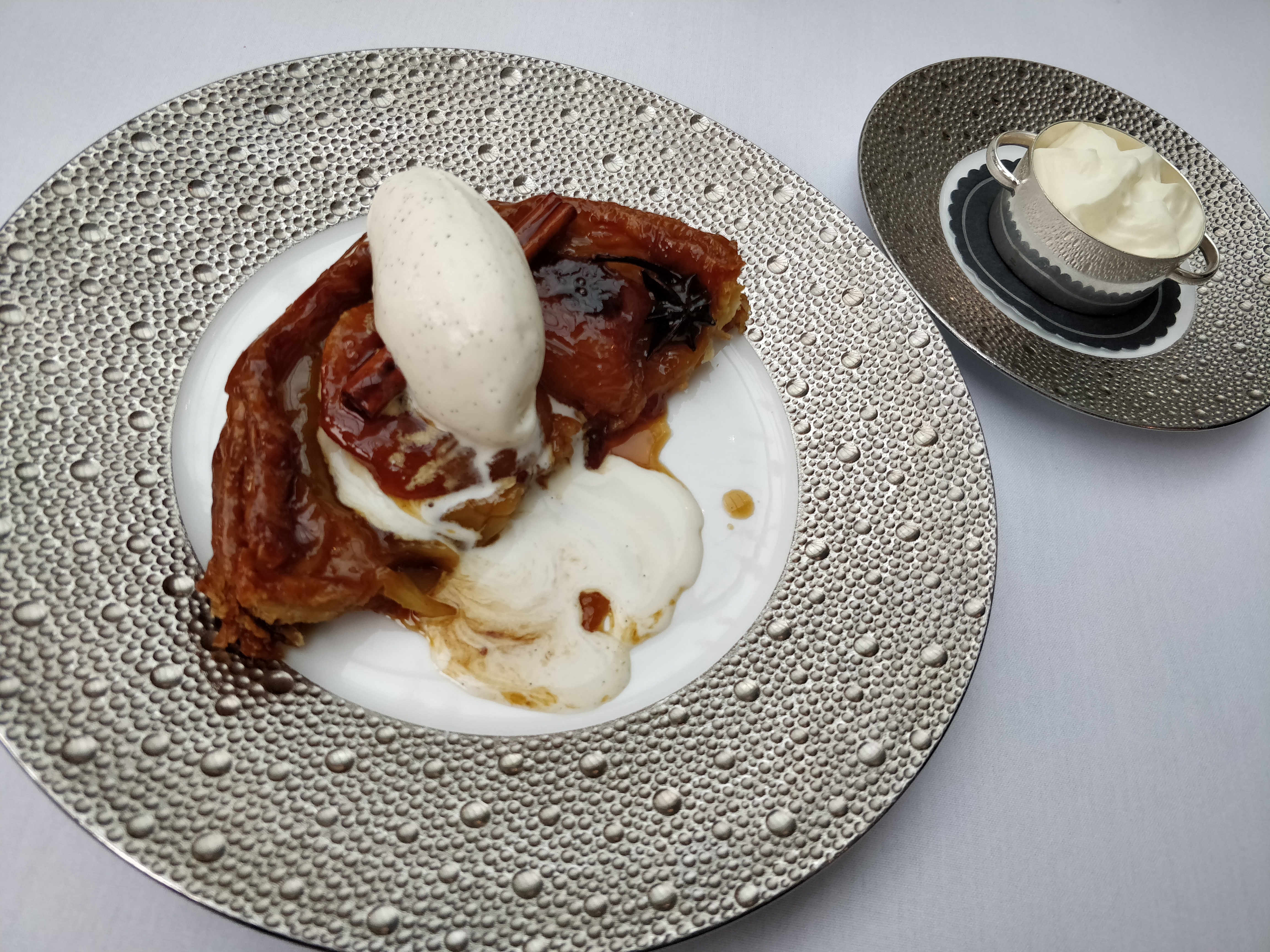 MIDSUMMER HOUSE
The day that I dined at Midsummer House, the two-Michelin-starred temple of fine food in Cambridge, it was raining cats and dogs (or 'like a pissing cow' as the French say; one of my favourite expressions). I couldn't have cared less, however, because I was nestled in a comfortable armchair in a conservatory trying one exquisite dish after another in good company. My review covers them all, including the unforgettable dessert: Apple Tarte Tatin with vanilla seed ice-cream and a garlic bay foam. Yes, that's garlic in a sweet course. I must single out this dish for daring to be different: too much foam with the fruit takes that particular bite into dangerous territory, but get the balance right and you're rewarded with a unique savoury/sweet pairing with a delicate herbal aftertaste.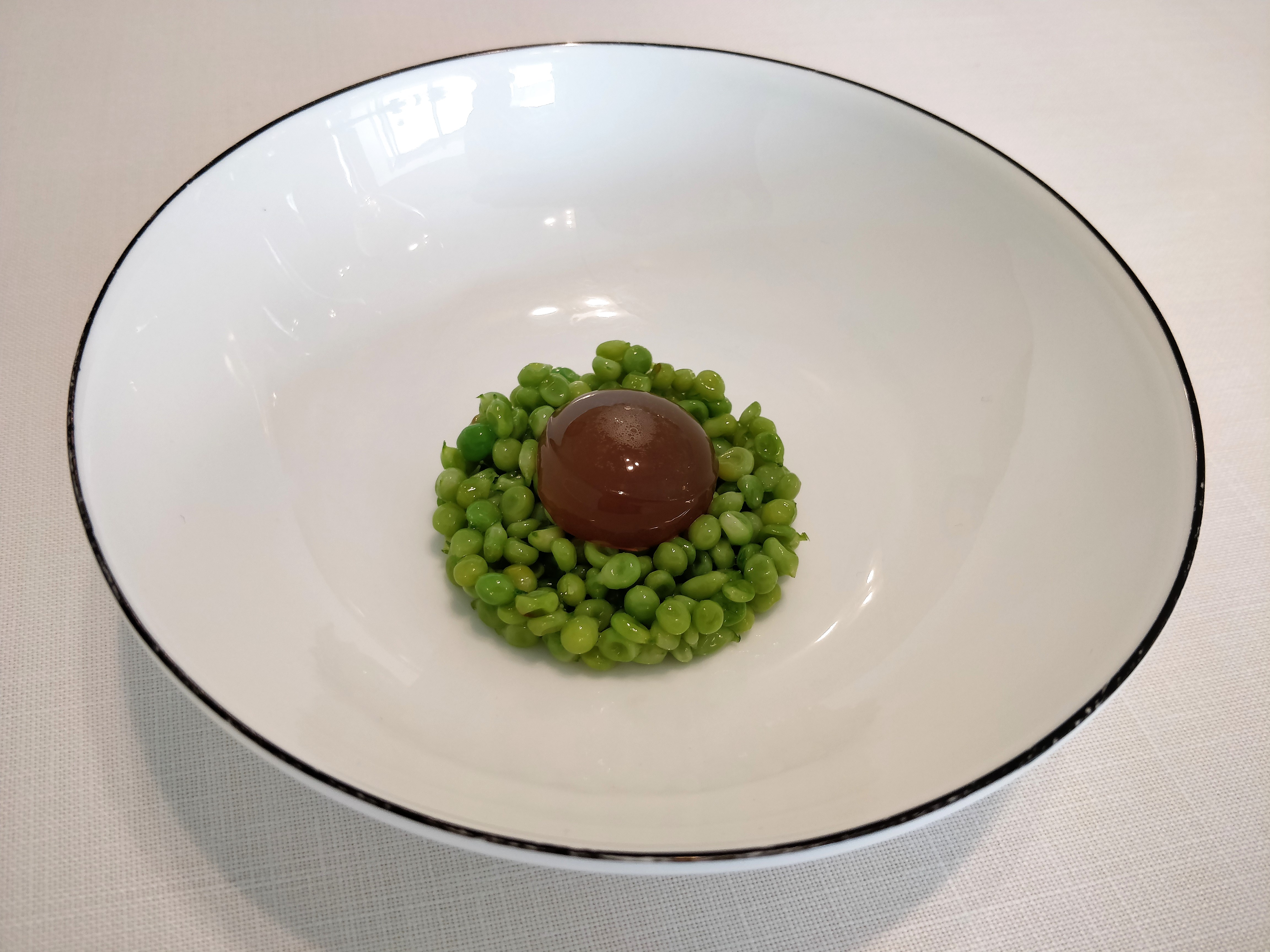 NERUA
Before touching down in Bilbao last year, I'd never heard of guisantes lágrima, the tear-shaped peas in season between March and June. Referred to as "green caviar", they are revered by Basque chefs for their unique sweetness. We got lucky as we were travelling around the Basque Country in late May and early June, so we tried them to see what the fuss was about. The best incarnation was at Nerua, the Michelin-starred restaurant in the Guggenheim Museum run by Chef Josean Alija. Here, an egg yolk-shaped squid jelly was perched on a disc of peas, which, when broken, oozed all over the prized pearls, adding smokiness to sweetness and making two people very happy.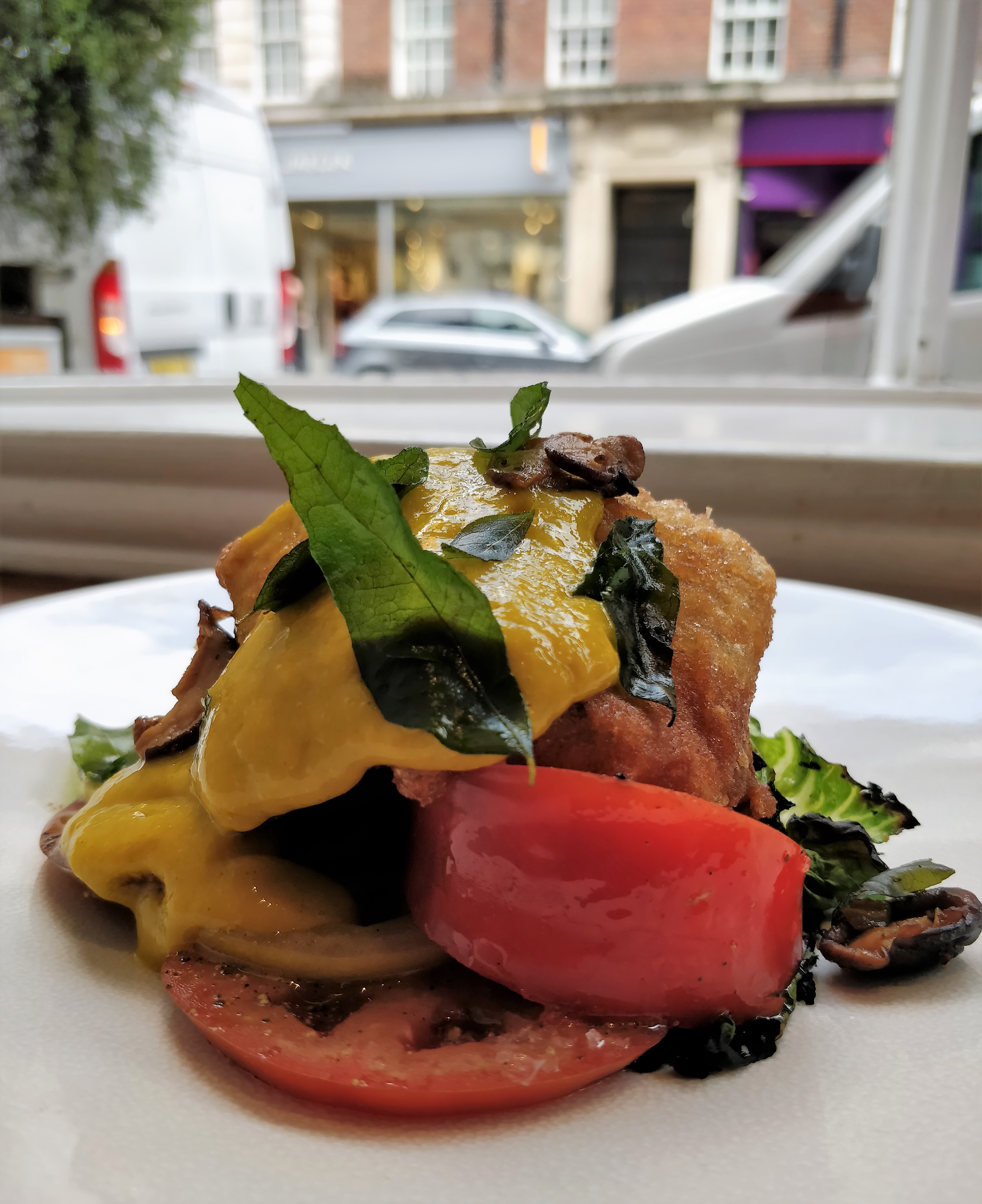 THE PROVIDORES
Food is always the answer, especially when the problem seems insurmountable. I'd heard many good things about The Providores from reliable sources, including its former partner Anna Hansen, whom I interviewed for my Spotlight on Chefs series two years ago. Marylebone and Fitzrovia saw a lot of me in late summer, and since I had more time on my hands, it was the perfect occasion to finally try this fusion food for myself. New Zealander Peter Gordon's eclectic menu is influenced by global ingredients, flavours and textures, hence why it remains one of the most exciting in London for almost two decades. The spiced dahl-stuffed inari pocket with shiitake, heritage tomatoes and tarragon nam phrik num is a game-changer: I took one bite and my eyes expanded like a mini hand towel on contact with water. Combining cuisines can be a risky endeavour, but this is one which has unquestionably paid off.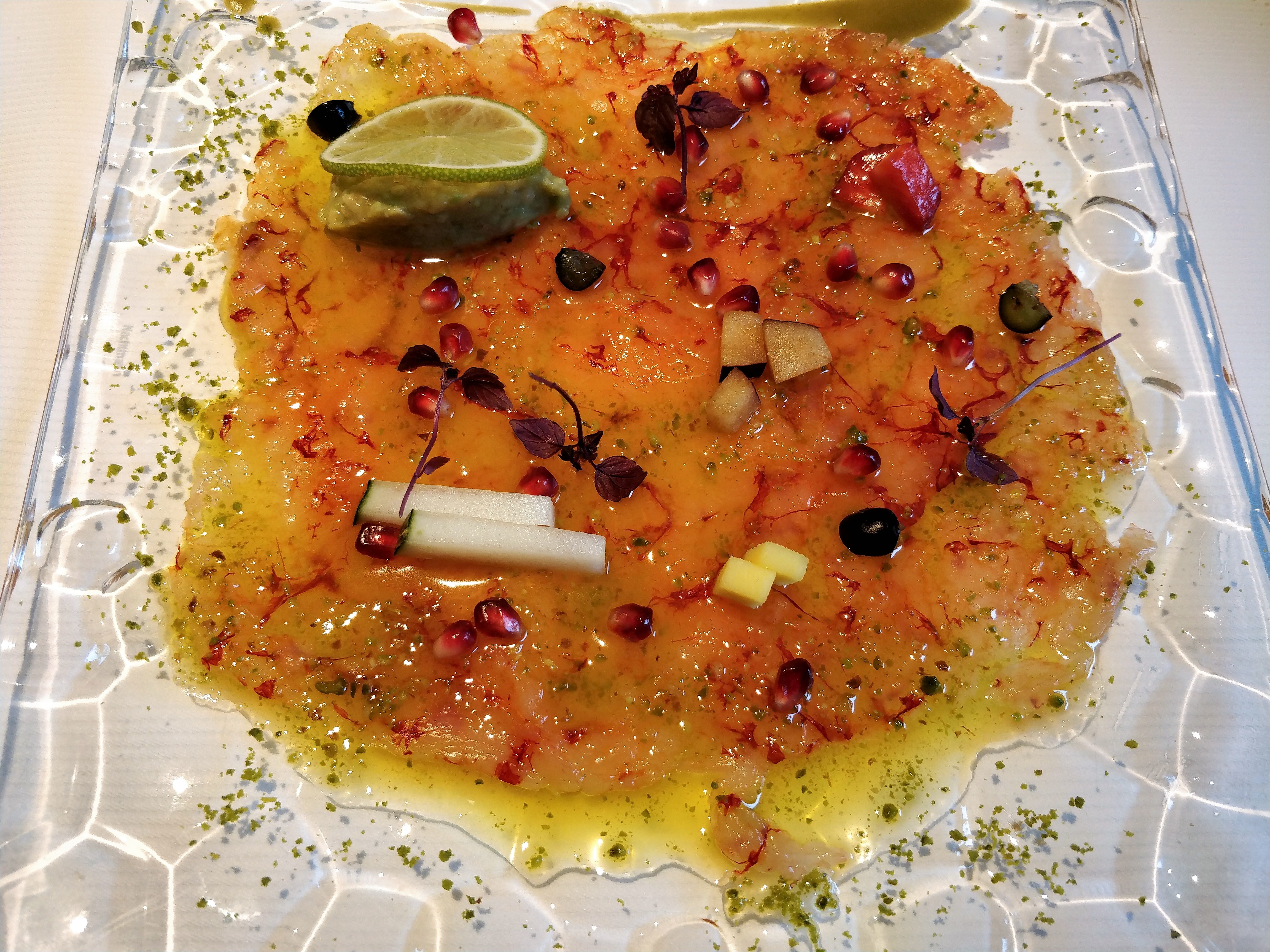 REKONDO
The first time we visited San Sebastian, our Airbnb host recommended Rekondo for its excellent menu and hilltop views. Even though we walked past it while trying to burn off pintxos pounds, we didn't cross the threshold because we'd reached peak food. When we returned in June, it was one of the first restaurants we booked, curious to see why the locals loved it. It's a traditional Basque menu, with meat and seafood featuring heavily in each course. One dish is on the tip of our tongues when we recall our lunch: red prawn carpaccio. Accompanied by guacamole, pistachio vinaigrette, pomegranate seeds, blueberries and cubed strawberries and sliced apple, it sounds like someone in the kitchen went a little overboard. However, each element was very much intentional, lending subtle fresh, sweet, sharp and crunchy notes to the raw, sweet flesh. The final flourish was a healthy dose of olive oil. It's a triumph of a dish on every level – down to the forms in the clear plate giving you the impression that its contents are floating through sun-dappled water – and will stay forever engraved in our minds.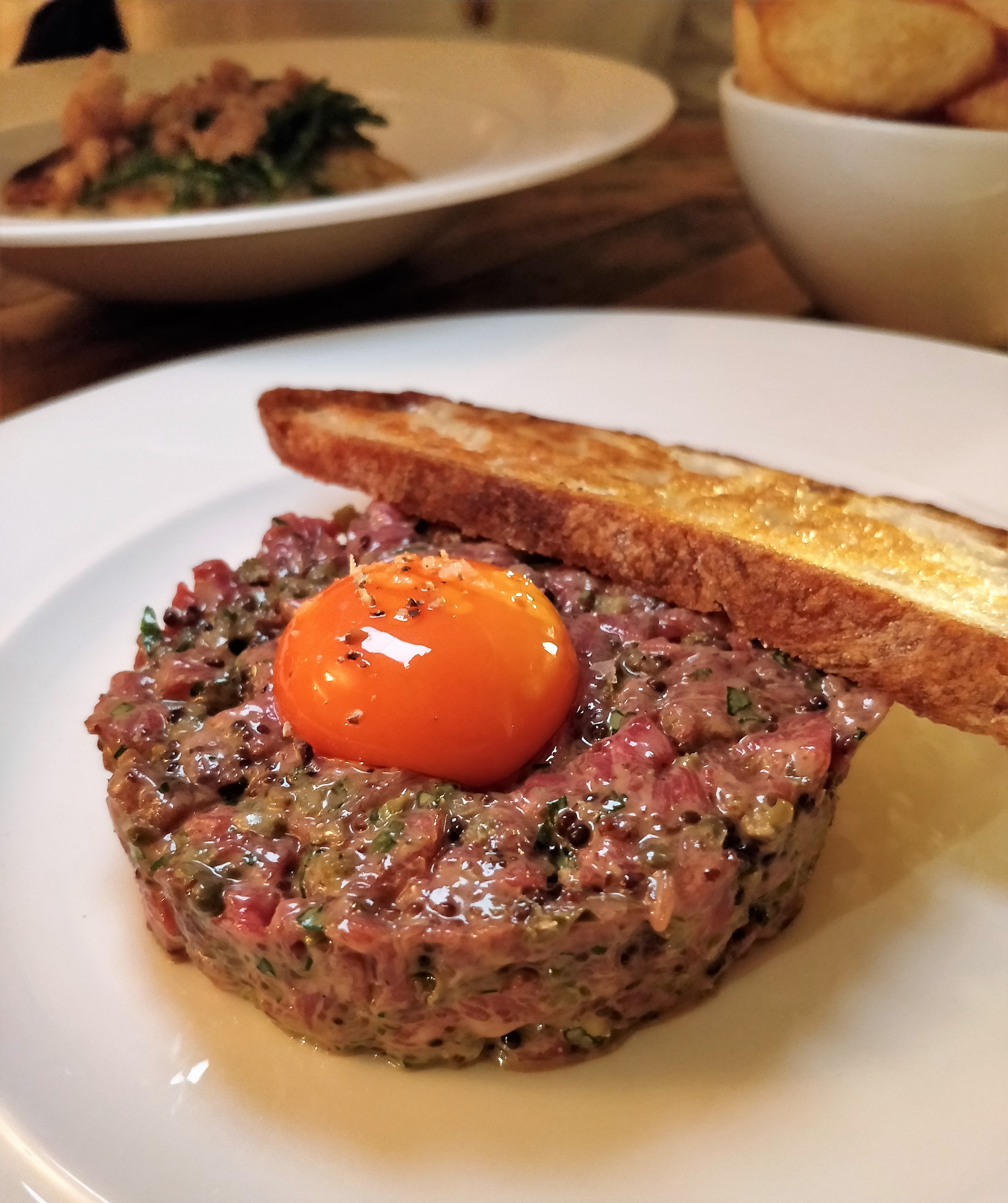 THE ROYAL OAK
A beef tartare dreamed and dished up by Dan Doherty, the former Exec Chef of Duck & Waffle, was never going to be a disaster. I've had a fair few versions of this raw classic over the years, including the Angus beef tartare on the D&W menu, and this one is head and shoulders above the rest in my view. As soon as the plate arrives, you'll want to stick your fork into the deep orange egg yolk and take a moment to watch it slowly dribble down the meaty puck. After you've come out of the trance and have taken your first bite, you'll taste smokiness, saltiness and then richness, as well as some top-quality beef. As with most tartares, it's available in starter and main portions; I obviously advise the latter, with a side of chunky chips. You could share it, but even if you're the most generous person in the world, you'll want to have it all to yourself.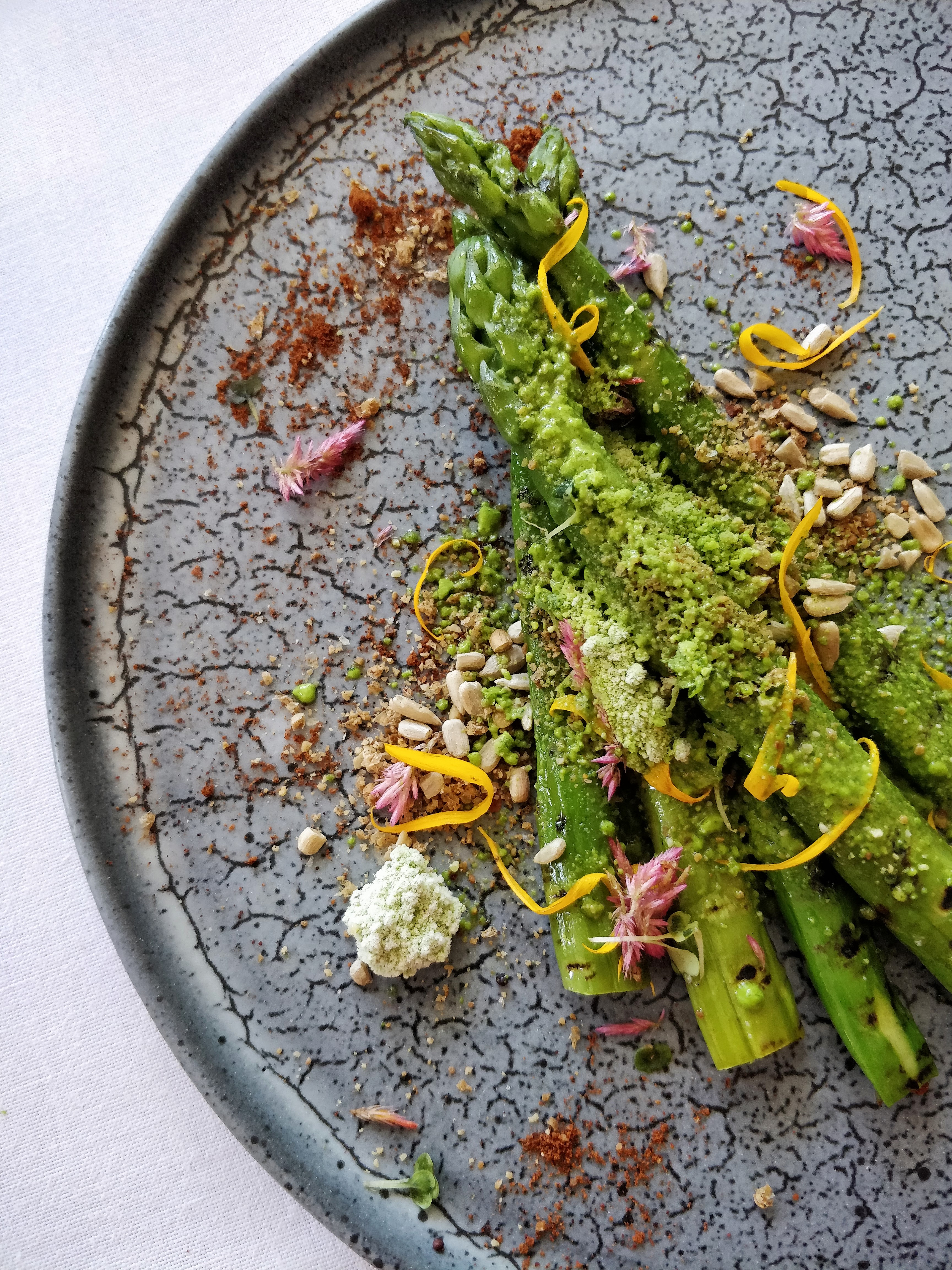 SALSIFY AT THE ROUNDHOUSE
I almost cancelled our reservation at Salsify at the Roundhouse in Camp's Bay, Cape Town, last month after reading some lukewarm reviews. A table at The Test Kitchen, currently 50th on the World's 50 Best Restaurants List, was what I'd tried and failed to get, so I booked at the latest jewel in Luke Dale-Roberts' (founder and chef) and Ryan Cole's (head chef) crown instead. Which turned out to be one of the best dining experiences of our lives to date. Not only could we admire the bay and mountains from our table, the tasting menu couldn't be faulted. I'll dive into the details in a separate review, but long story short, we fell in love with asparagus. Fire-roasting them, scattering them with sunflower pesto and dipping the stalks into a hollandaise foam makes all the difference, elevating this humble vegetable to heavenly status. We ate and drank at our leisure, witnessing a wedding on the lawn below, before strolling down to the bay to watch the sunset, cocktail in hand. What a wonderful day.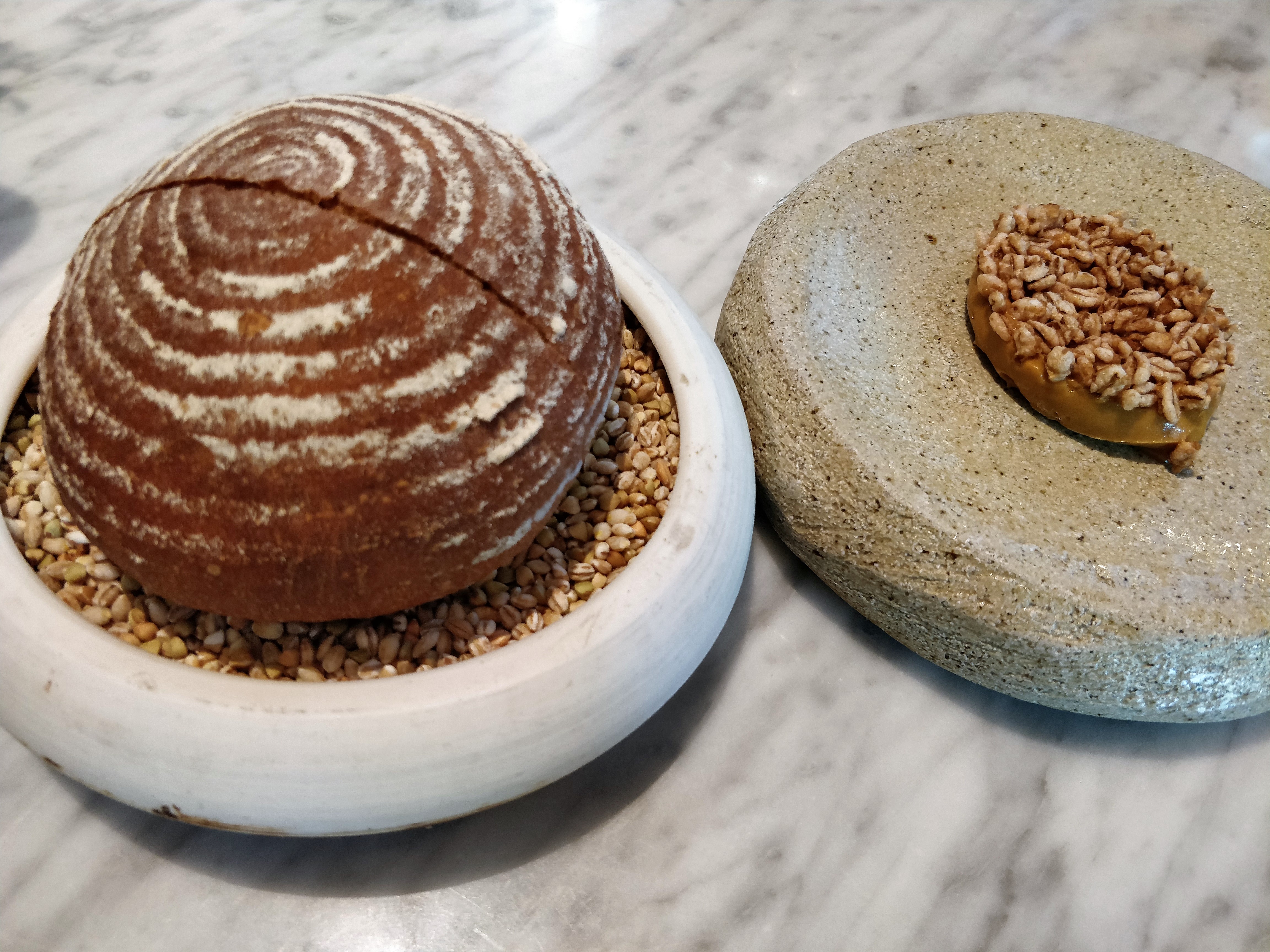 TYPING ROOM
Two years ago, I'd booked a table at this fine dining restaurant in Bethnal Green's Town Hall Hotel to celebrate my birthday and somehow ended up at Kitchen Table. When I heard that Chef Lee Westcott was shutting up shop, I immediately called and managed to score a reservation for the last lunch service. Having read and heard one glowing review after another, I'd expected to be impressed and that was certainly the case. I remember it being a sunny summer's day, with natural light flooding into the modern, minimalist room. Each dish on the tasting menu was a delight, and the ones which have lingered the longest in my memory (without resorting to checking my phone) are the warm IPA sourdough served with Marmite butter and pearl barley – familiar flavours in an unfamiliar yet successful setting – and yeasted cauliflower with raisins, capers and mint. Throughout my life, I've mostly eaten cauliflower in curries; having a few florets with varied accompaniments and topped with a leaf-thin slice made an extremely pleasant change. Although Typing Room is no more, Lee will be opening Pensons on the Netherwood Estate on the Hertfordshire/Worcestershire border later this month.
Sadly, I don't like everything I eat. Here are some of the disappointments:
1251: Adore James Cochran's fried chicken, but the rabbit version didn't come close, mainly because it was missing that legendary Scotch Bonnet jam. Mussels were very salty, service was slow, but the custard tart was good.
FARANG: Went back expecting fiery food, but we were served much milder dishes this time around. Still tasty, but missed that unique Thai heat.
DOMINIQUE ANSEL: Finally got my hands on a Cronut and was seriously underwhelmed: too sweet, sticky and greasy. But there's no denying their pretty pastel appeal.
THE GOOD EGG: The roasted cauliflower was very undercooked; the short rib shawarma should've been served on a larger plate to make it easier to eat; the service was lacklustre at best.
OSLO COURT: The dated décor, silver service, huge portions and heavy French classics aren't for me.
PASTAIO: Nice pasta (particularly the agnolotti) and Prosecco slushies, but the fried 'nduja and mozzarella sandwich was greasy and the cacio e pepe a bit dry.
POPHAMS: Tried the maple and bacon and strawberry and basil custard pastries and found them to be slightly dry. Loved the flavours, though, so will go back and give them another go. It's a hard life.
All words, images and costs incurred are my own, unless otherwise stated, and remain the trademark of www.SavlaFaire.com.
Tell Me in 200: Your Best Dish of 2018
Padella Review
Top 3 Restaurants in Venice
Lucie Loves
Clipstone Review
Cheftimony podcast interview
Indian Accent Review
Spotlight on Chefs: Manish Mehrotra Interview
La Pachamama Organic
Pocket Rocket Retreats
Midsummer House Review
Best Pintxos Bars in Bilbao
Nerua Review
Spotlight on Chefs: Josean Alija Interview
Spotlight on Chefs: Anna Hansen Interview
Top 10 Pintxos Bars in San Sebastian
Best Pintxos Bars in San Sebastian
Spotlight on Chefs: Dan Doherty Interview
Duck & Waffle Review
Kitchen Table Review
James Cochran EC3 Review
Farang Review
Best 12 Dishes in London: 2017 Highlights
PIN FOR LATER